celebrating 14 years of ting


the ones responsible for selling things you don't want to buy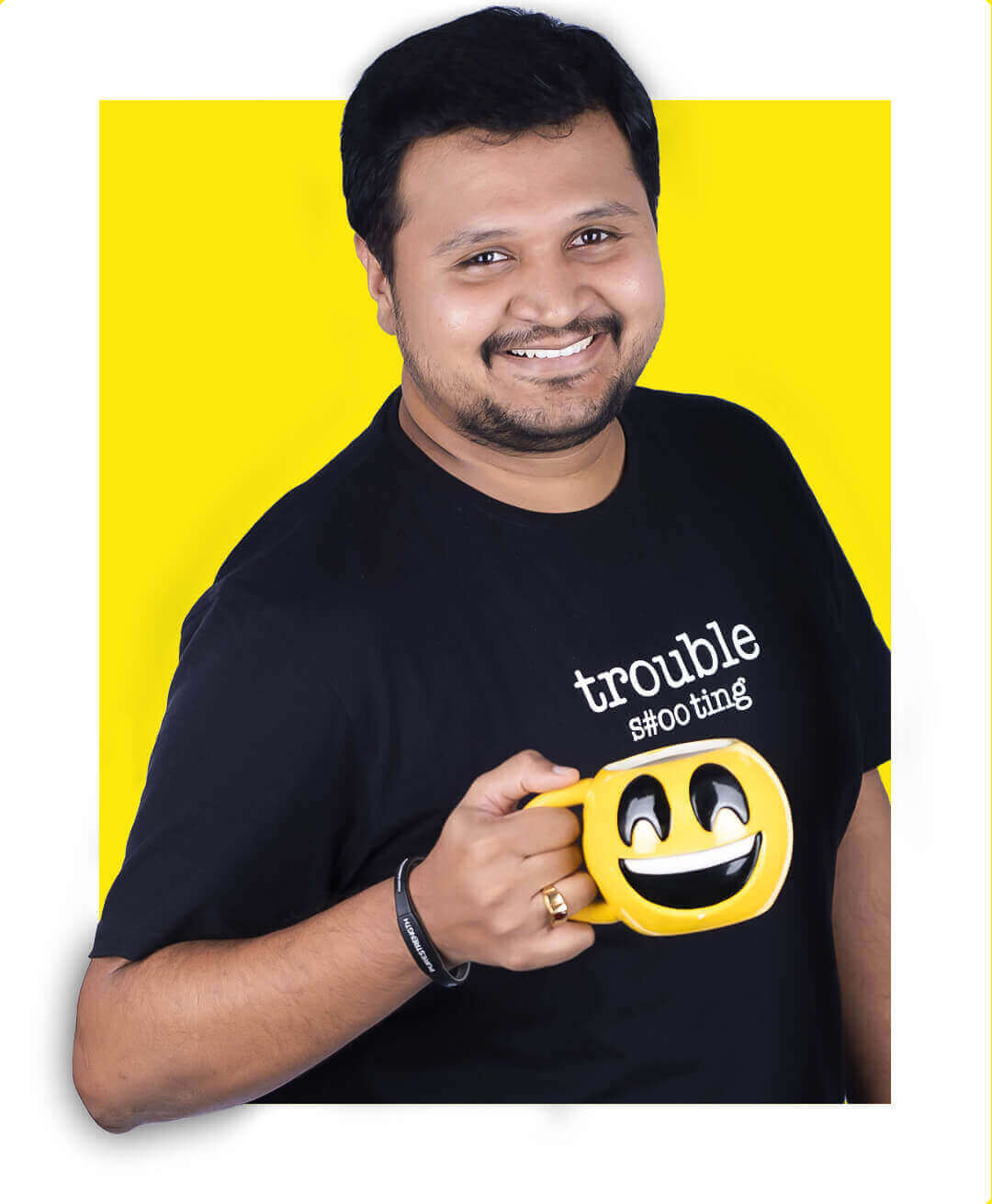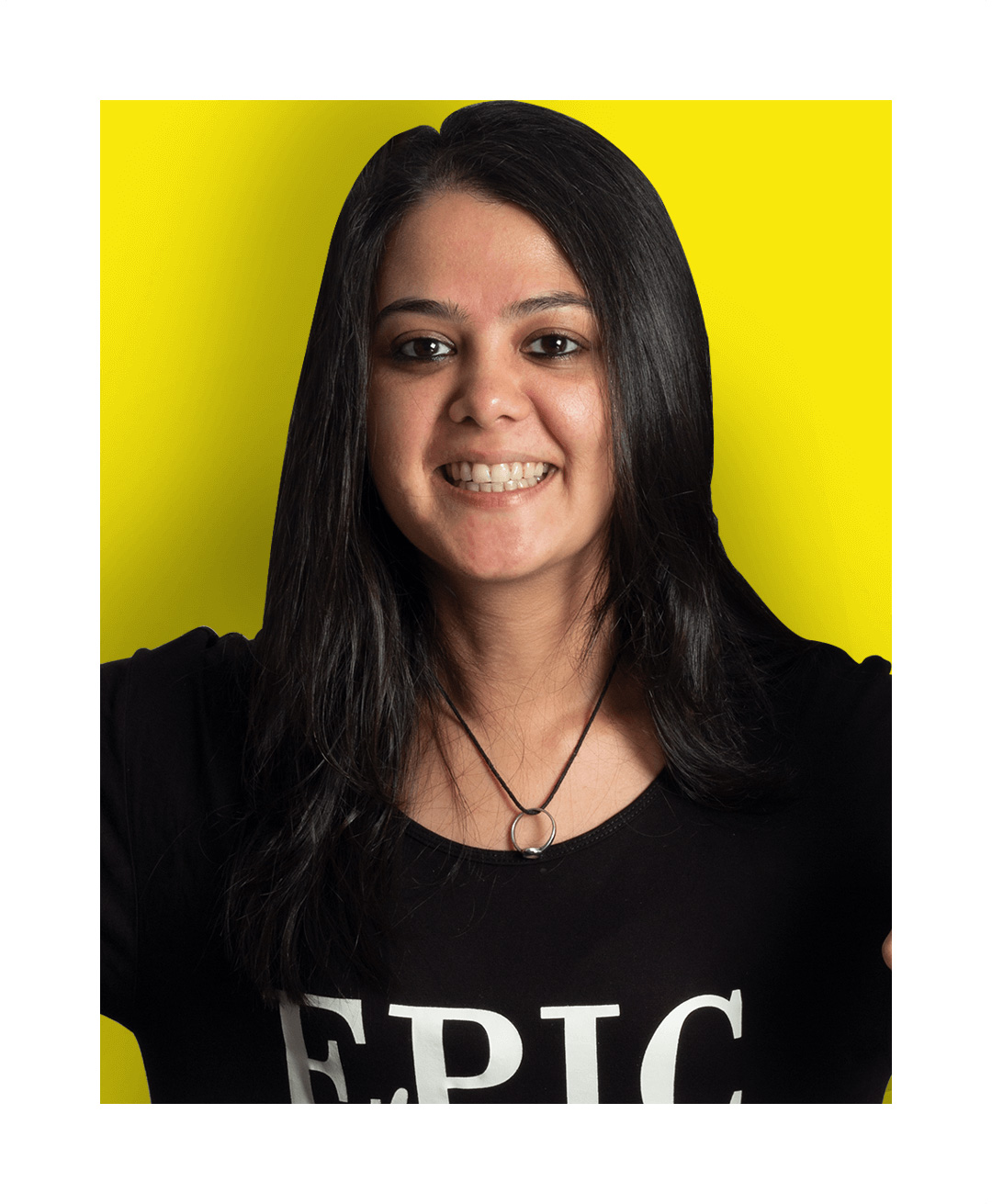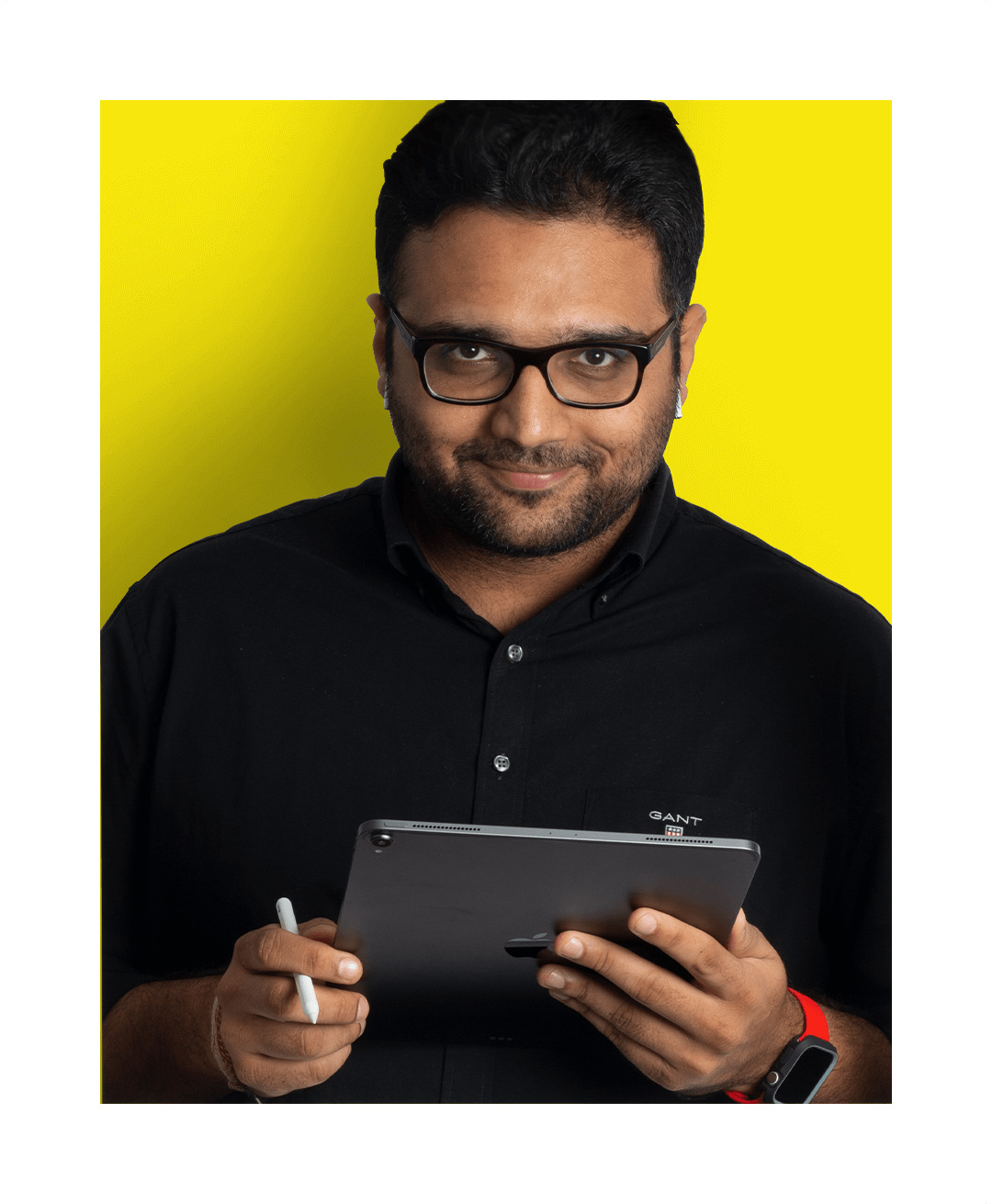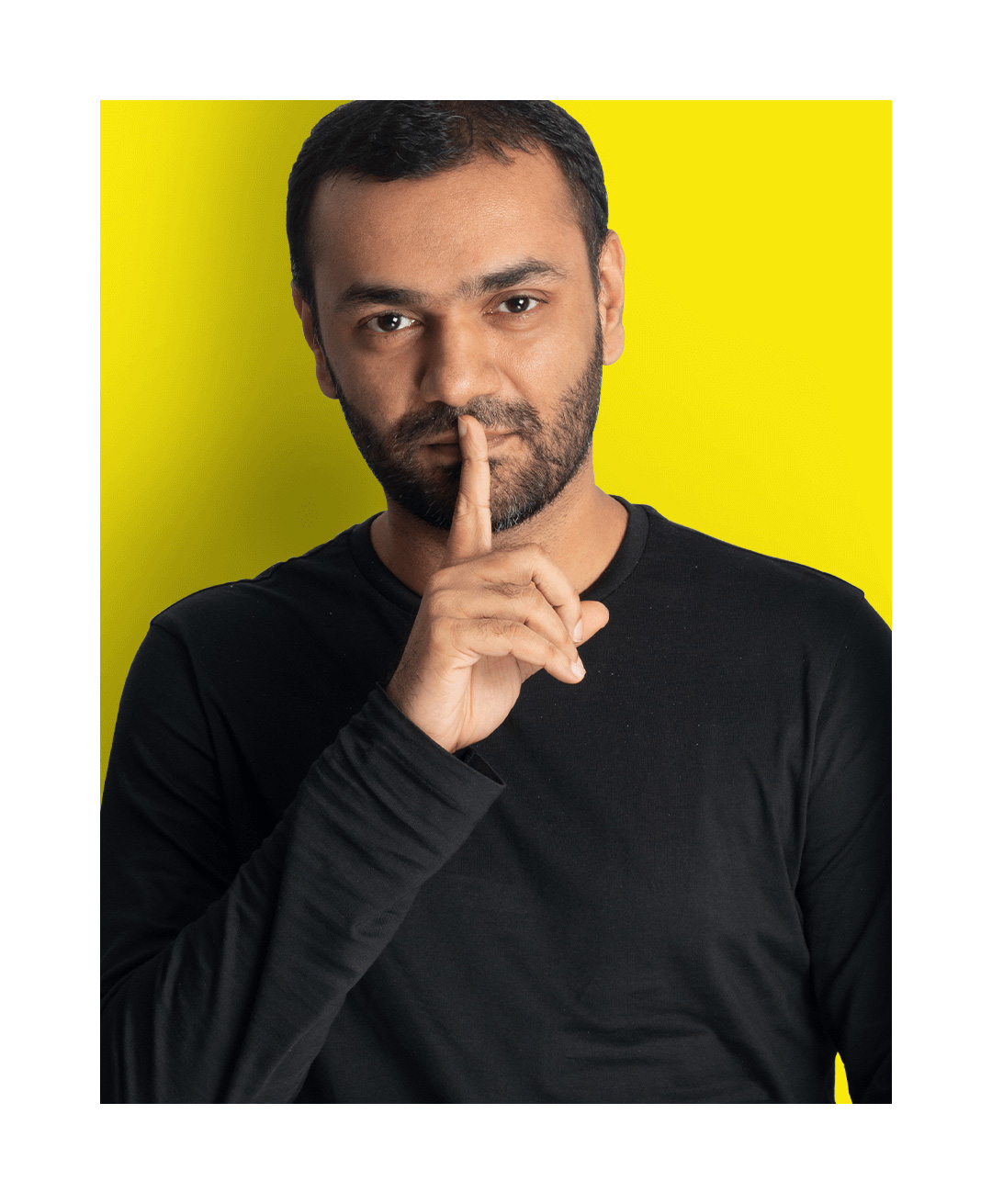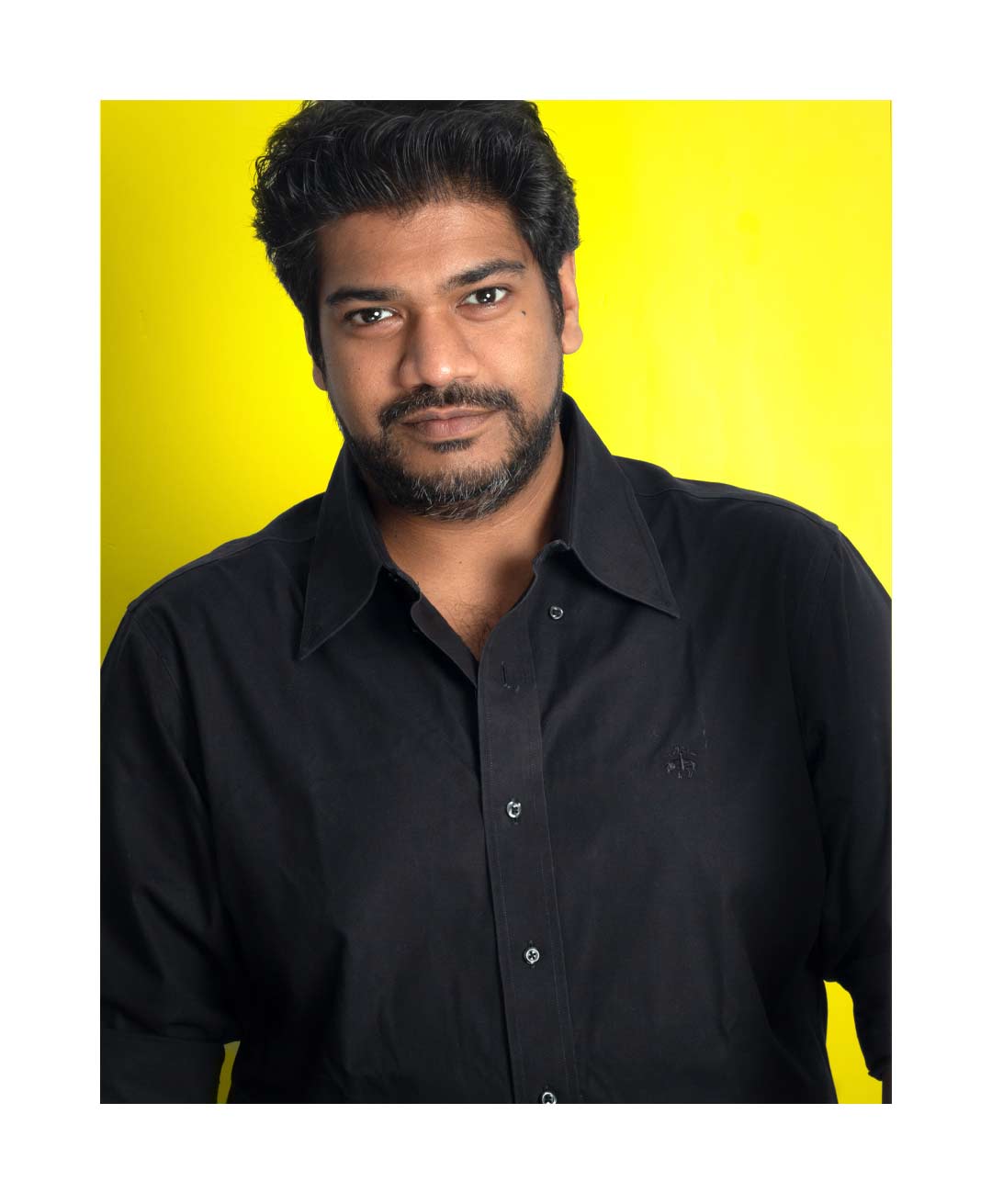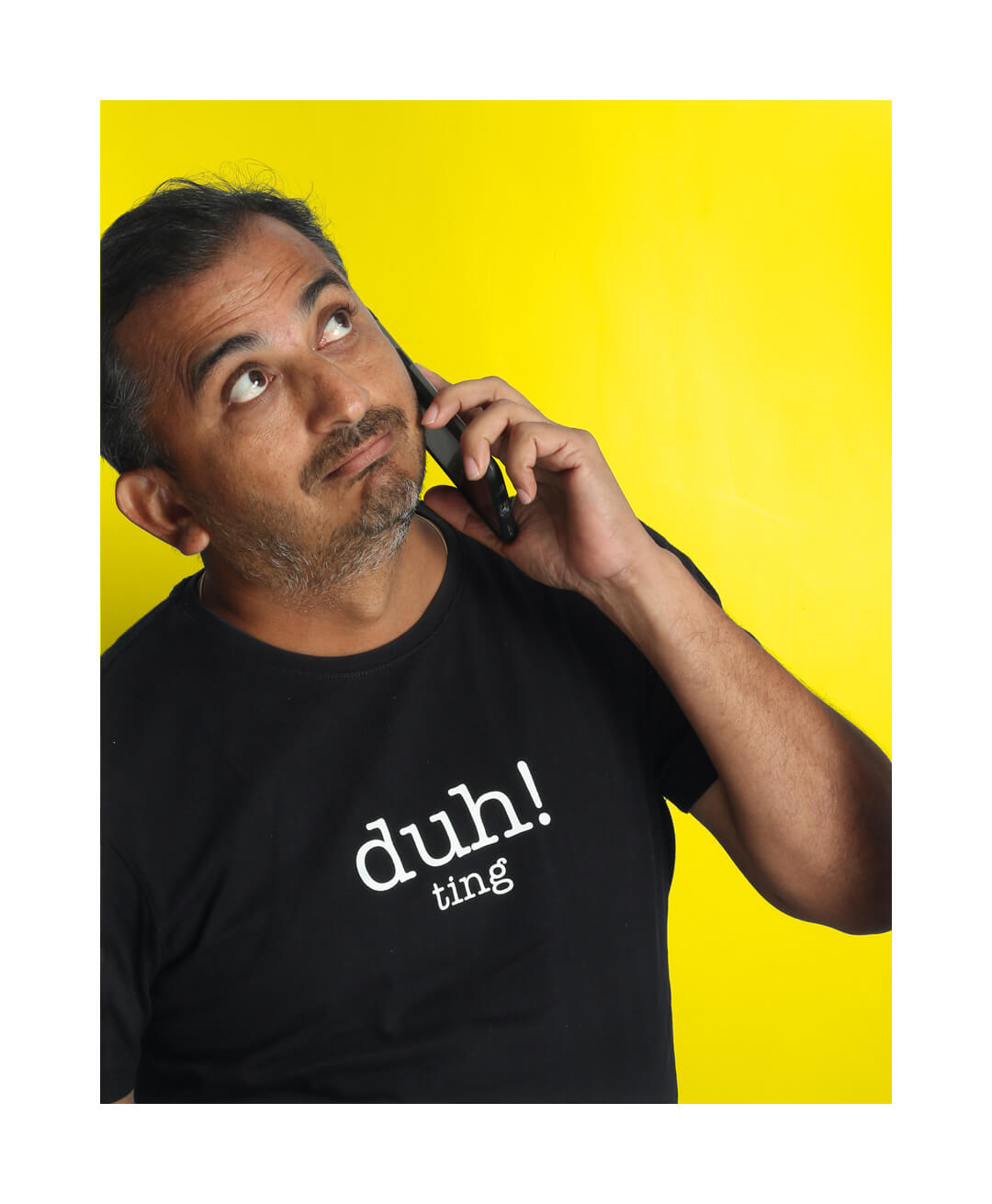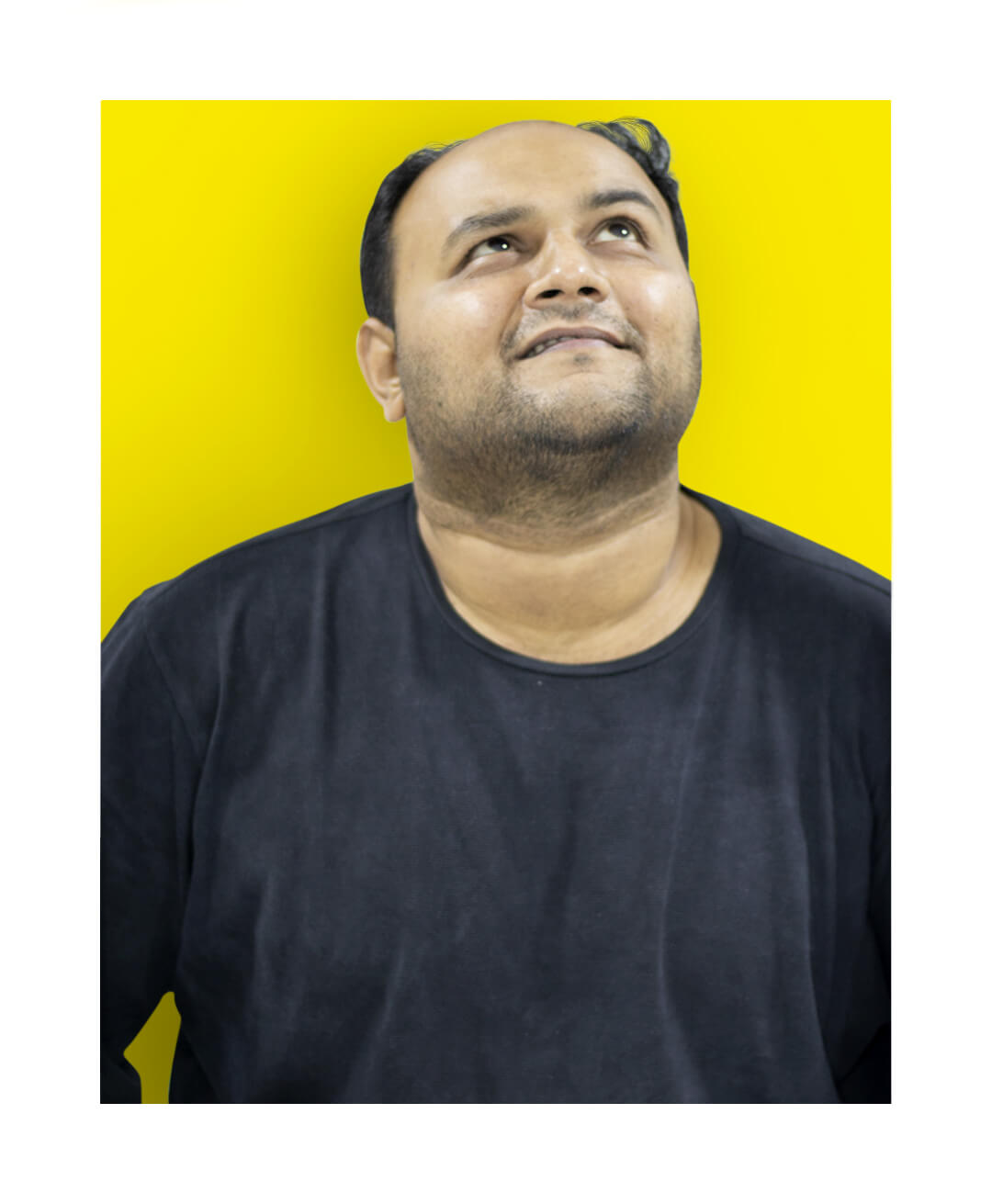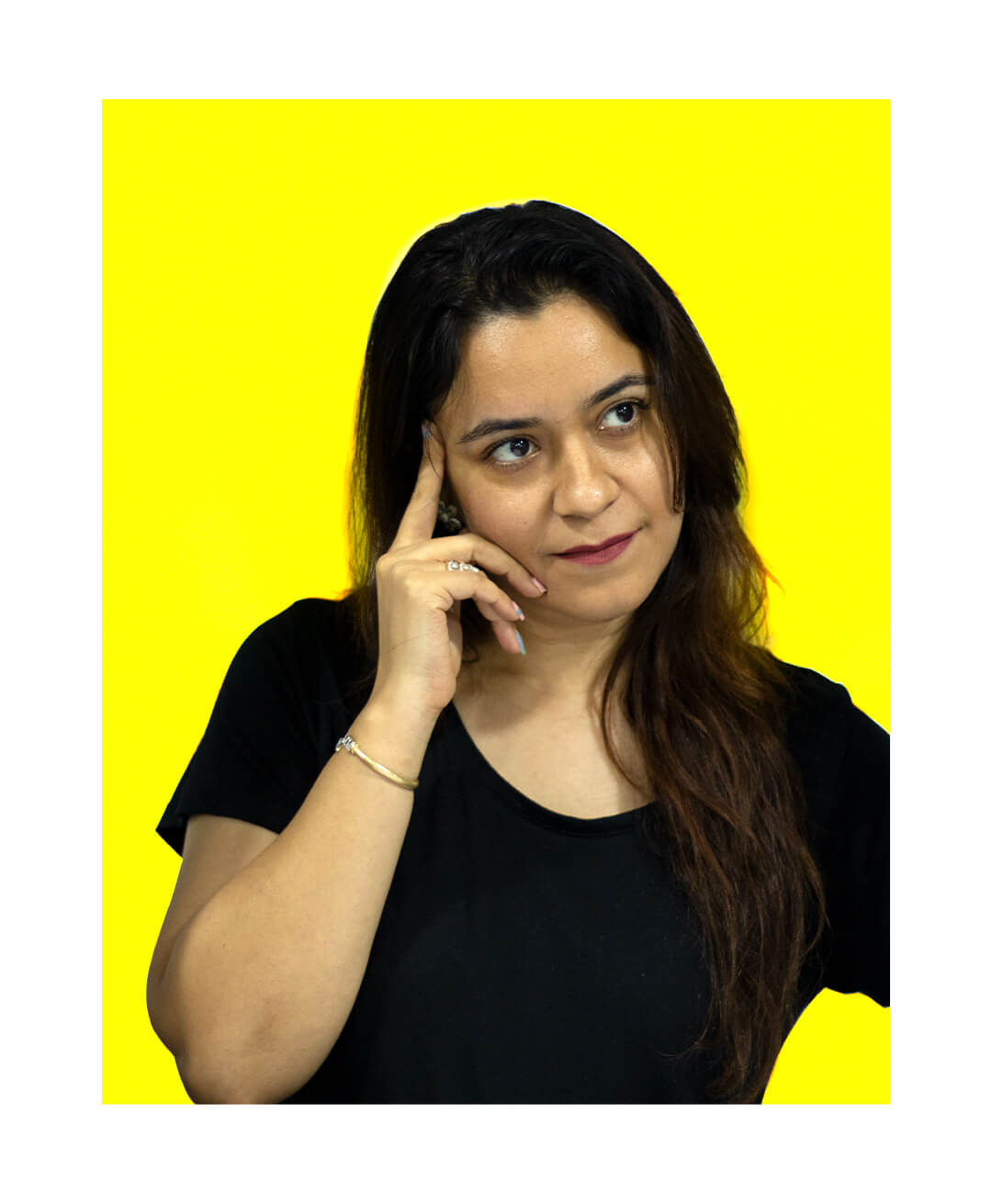 design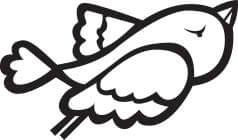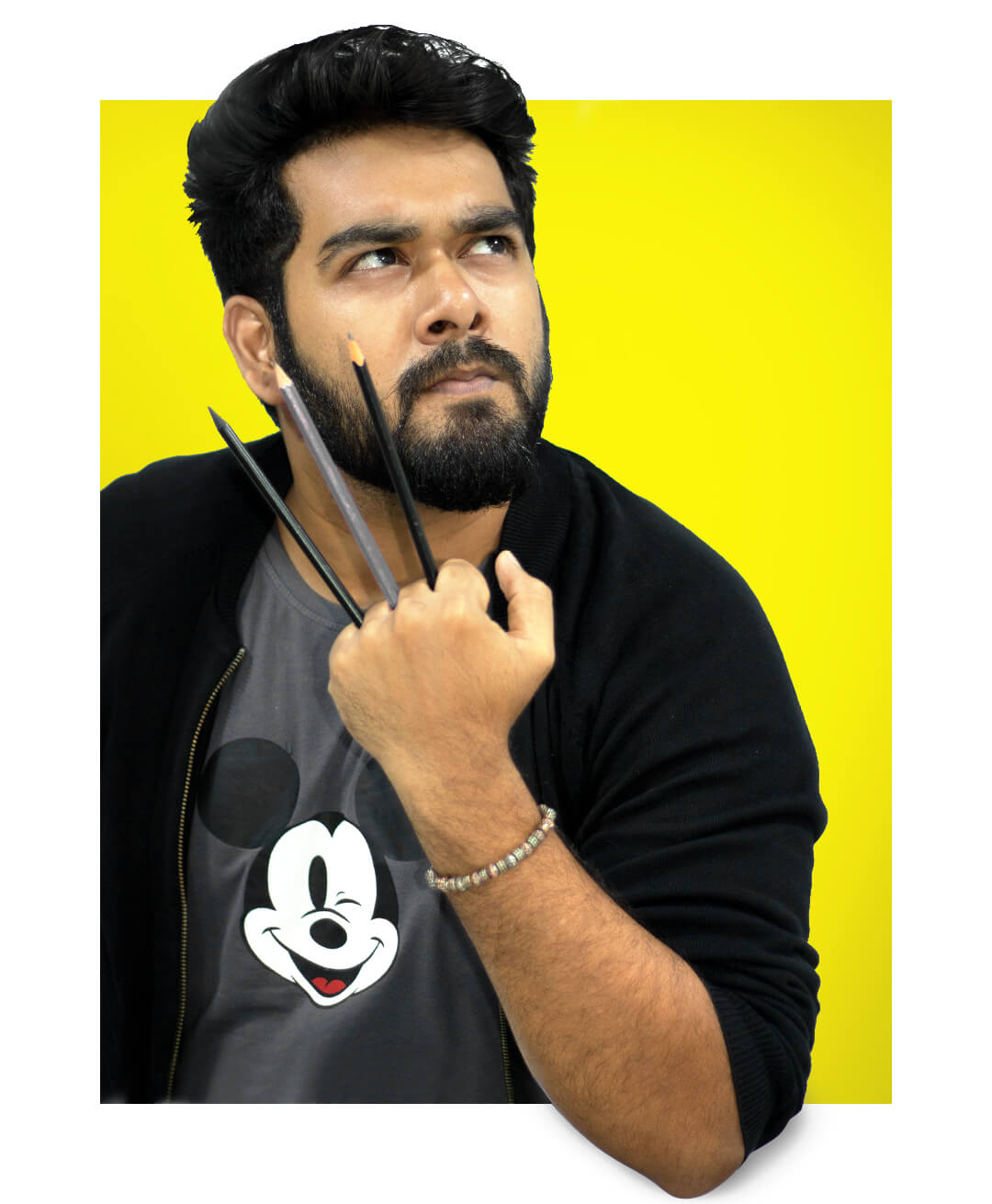 "I make pitch-perfect."
Viraj Kale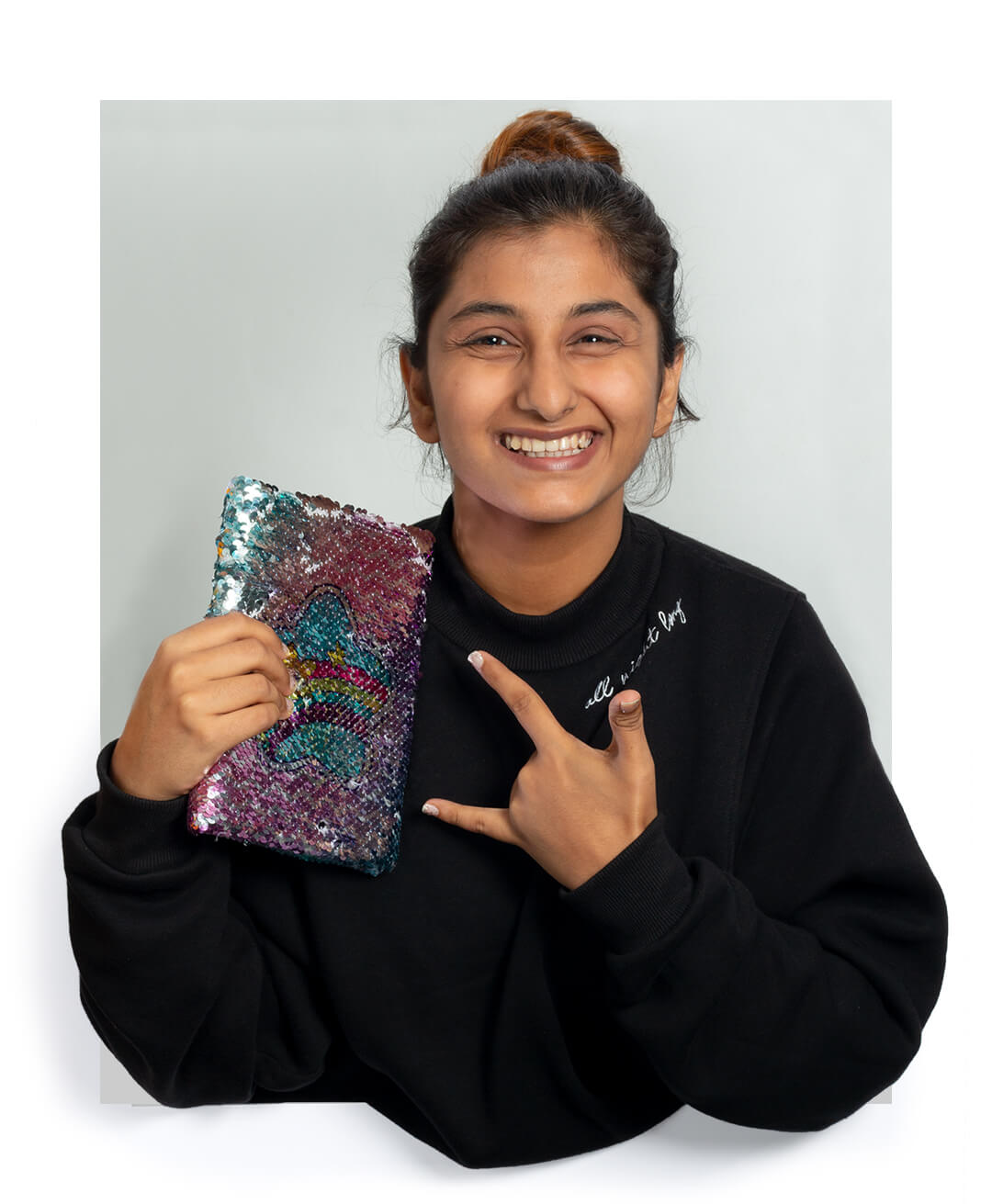 Queen of the World Wide Web!
Darshana Dhakan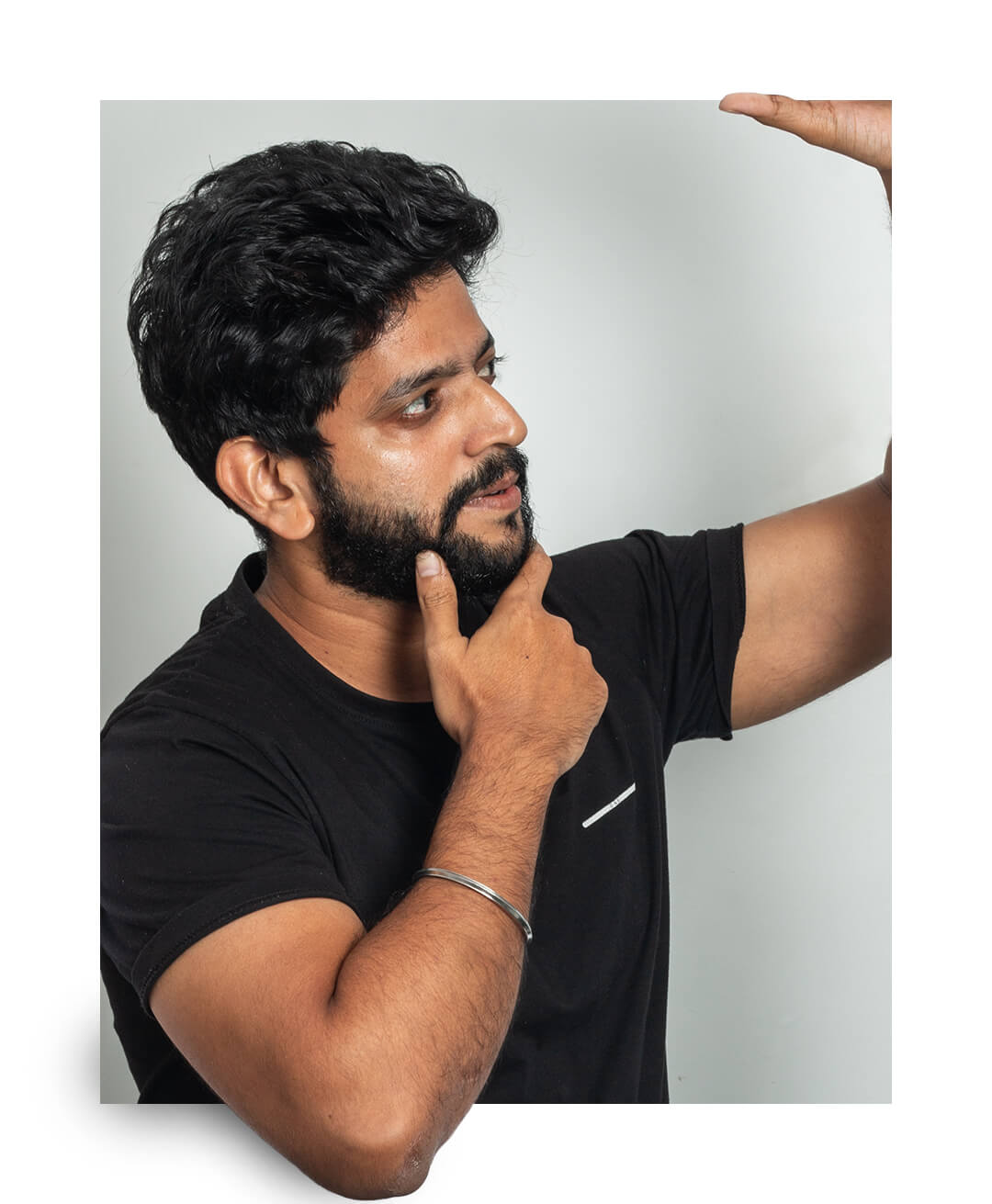 Permanent member of the overtime gang!
Mayur Belnekar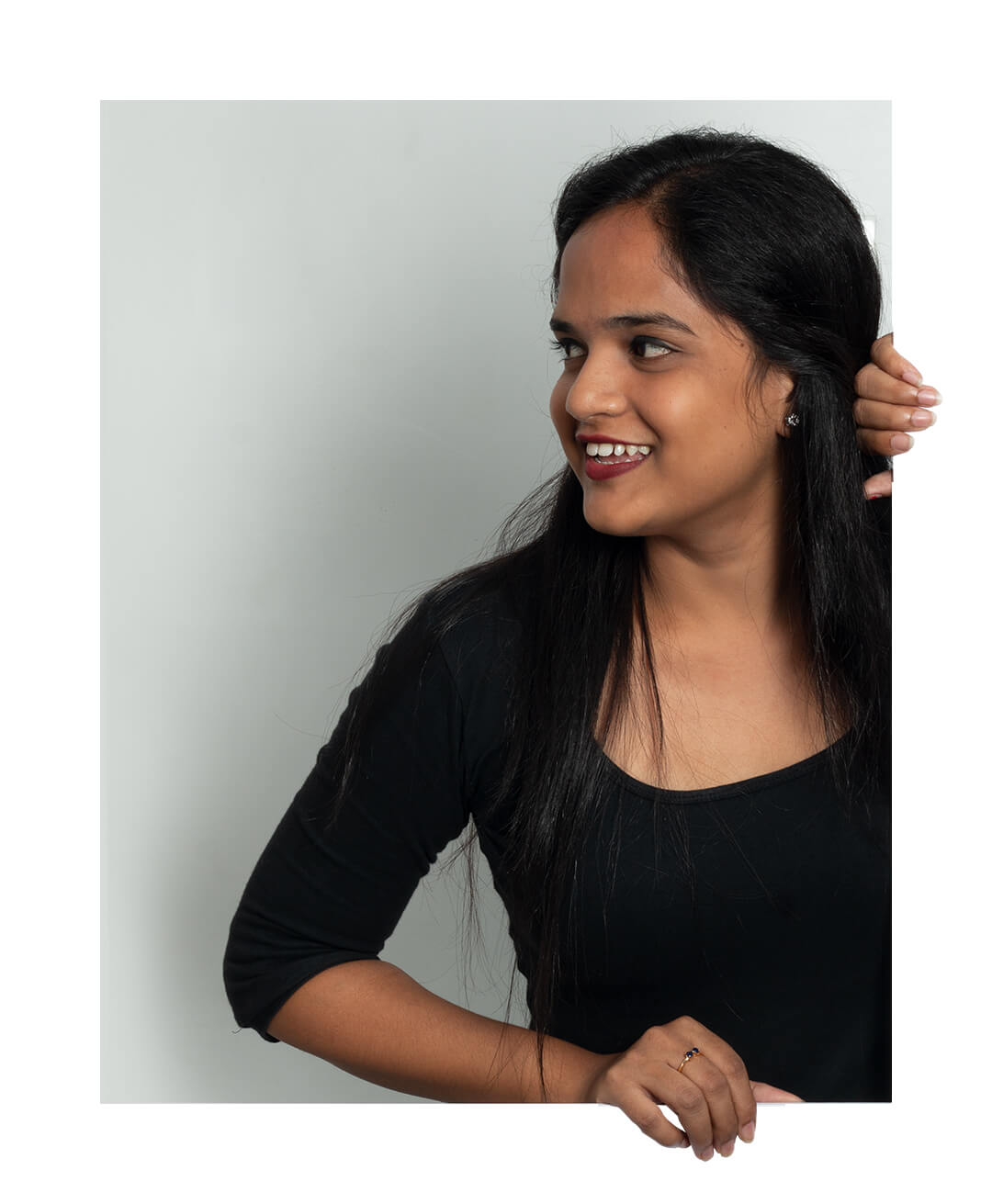 Sanjanaaaaaa, we love youuuuu!
Sanjana Golatkar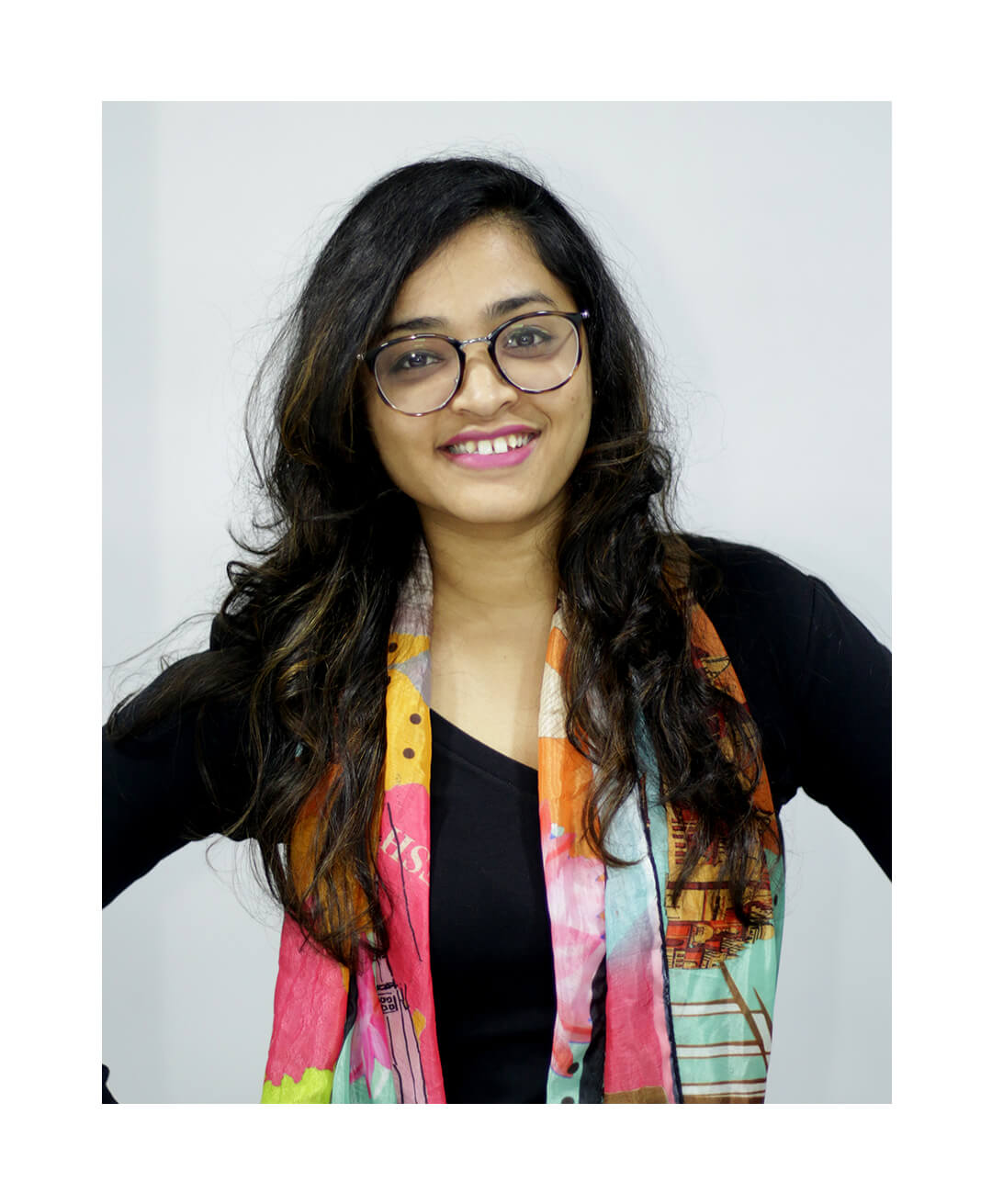 Chai pe charcha
Mayuri Hukeri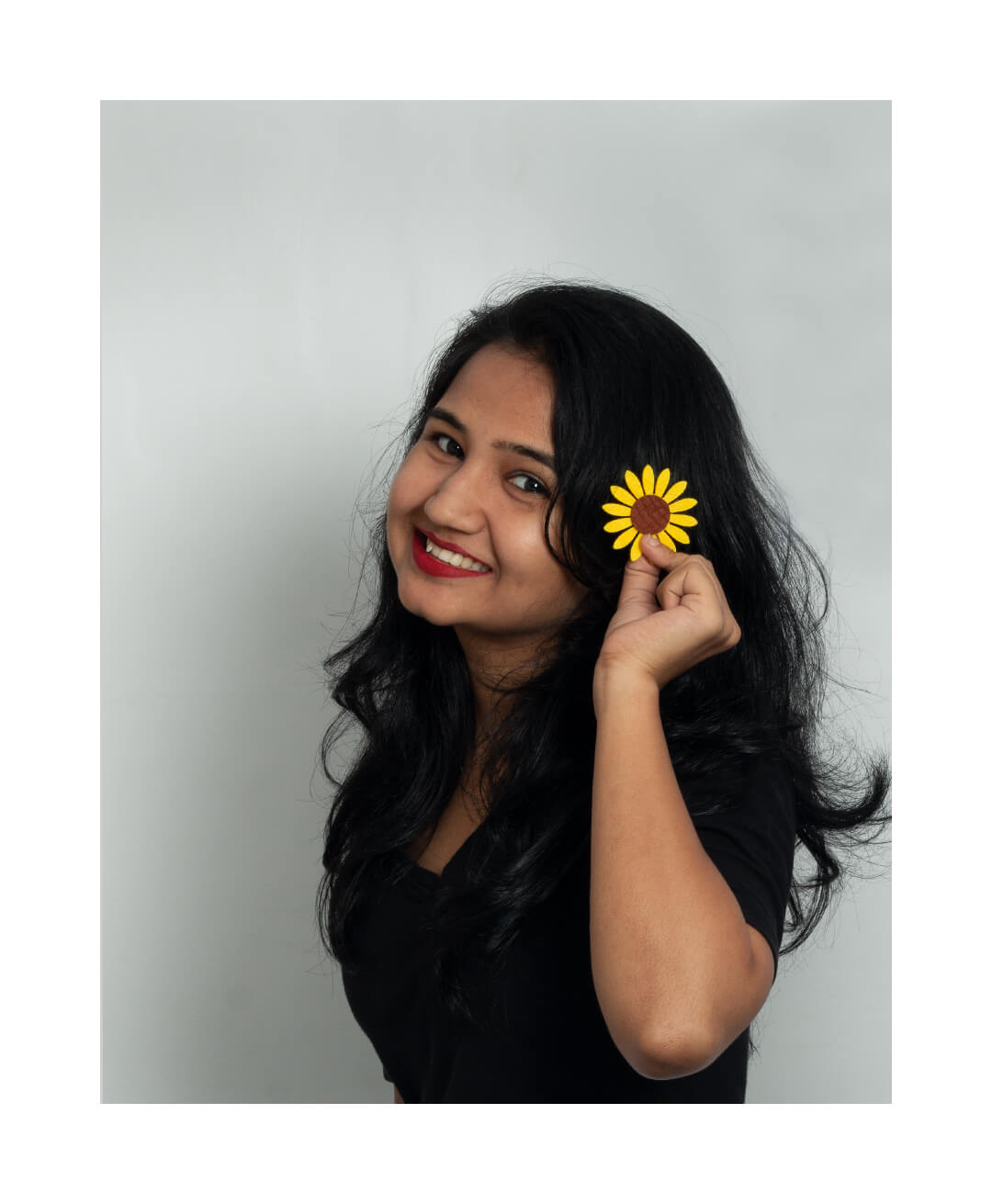 Her answer to every question, 'Yes Boss'!
Dipalee Deudkar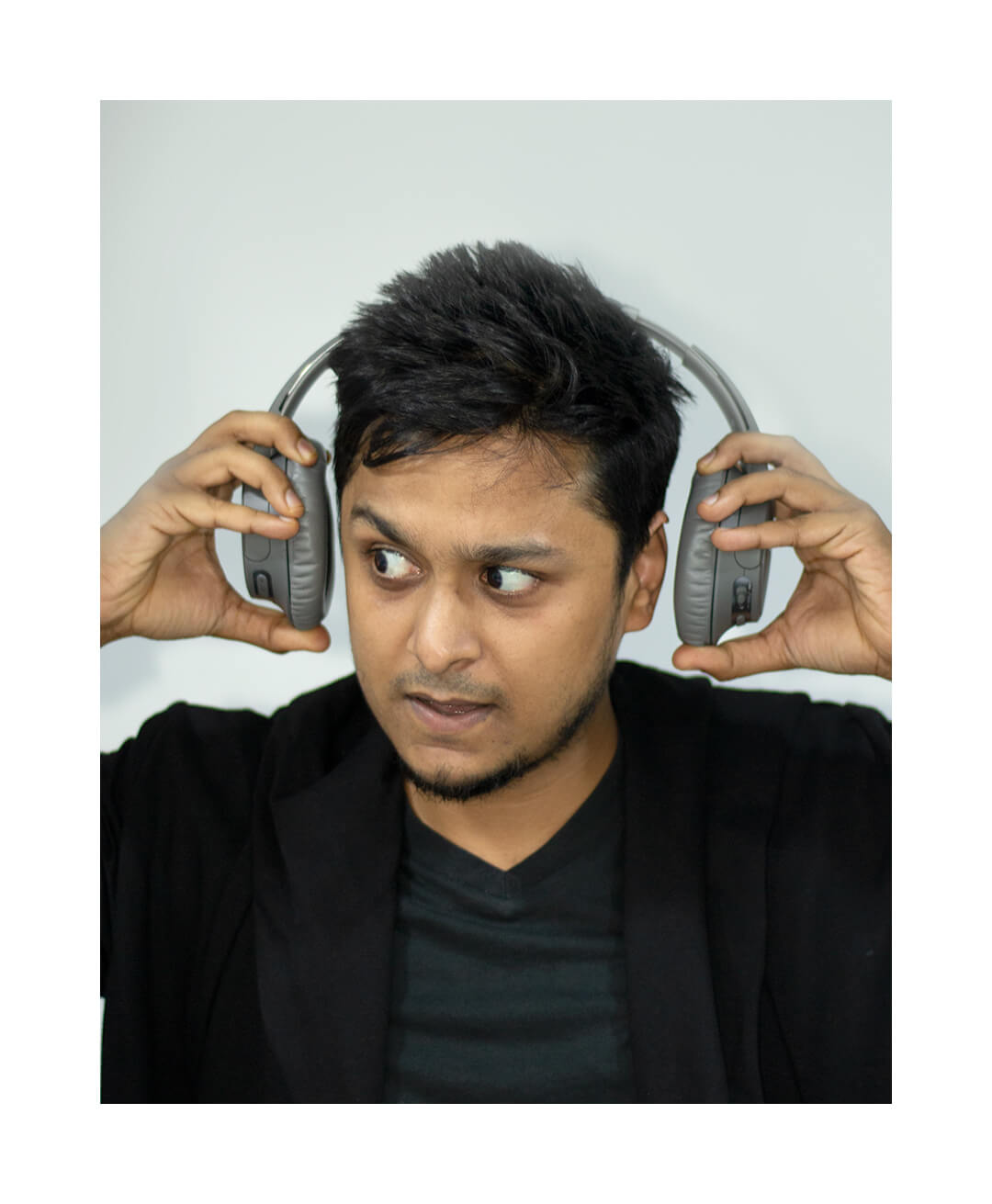 "Mein tees, mera dimaag bees!"
Yash Chudasama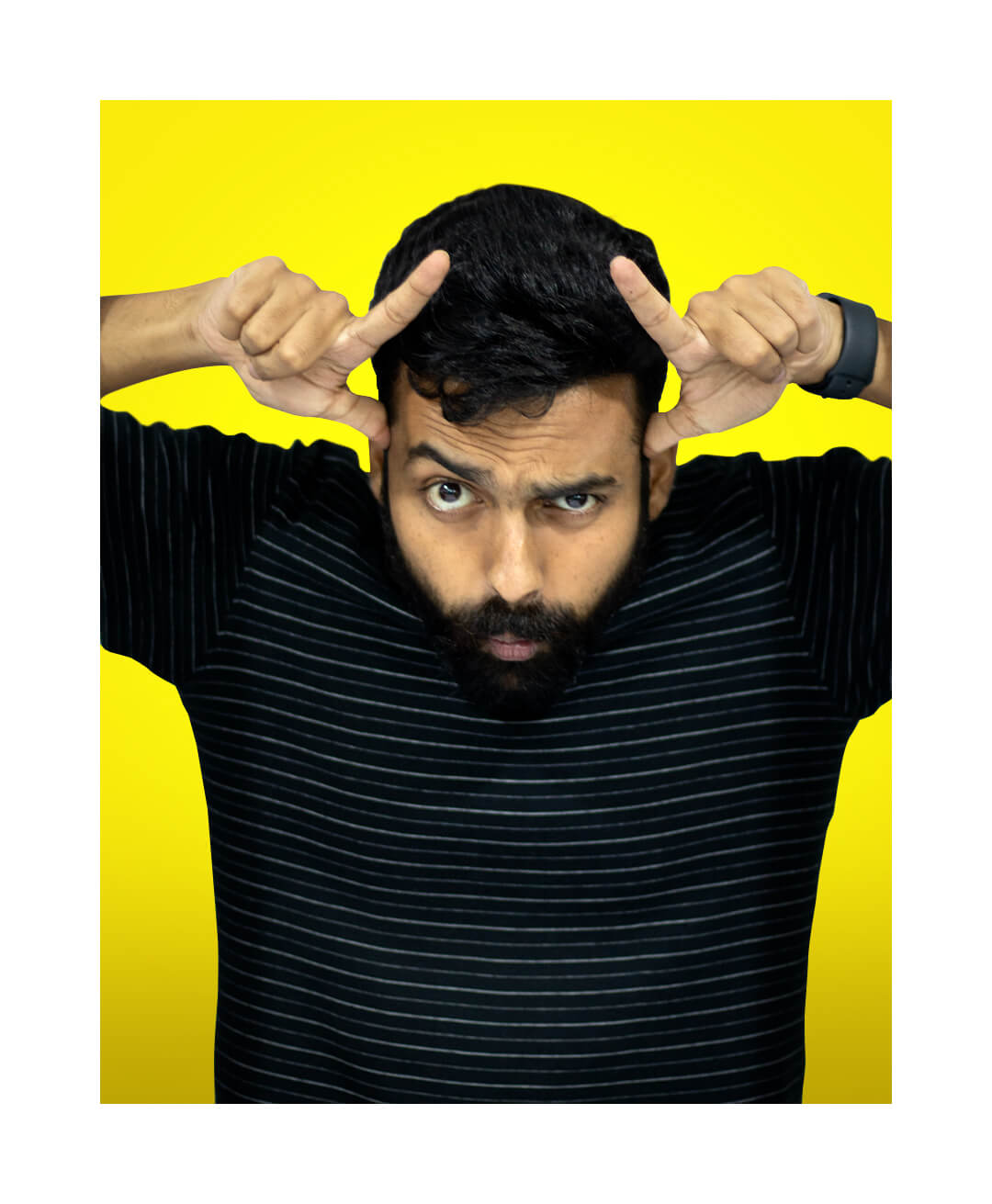 8:48 ki last local.
Sarvesh Bramhe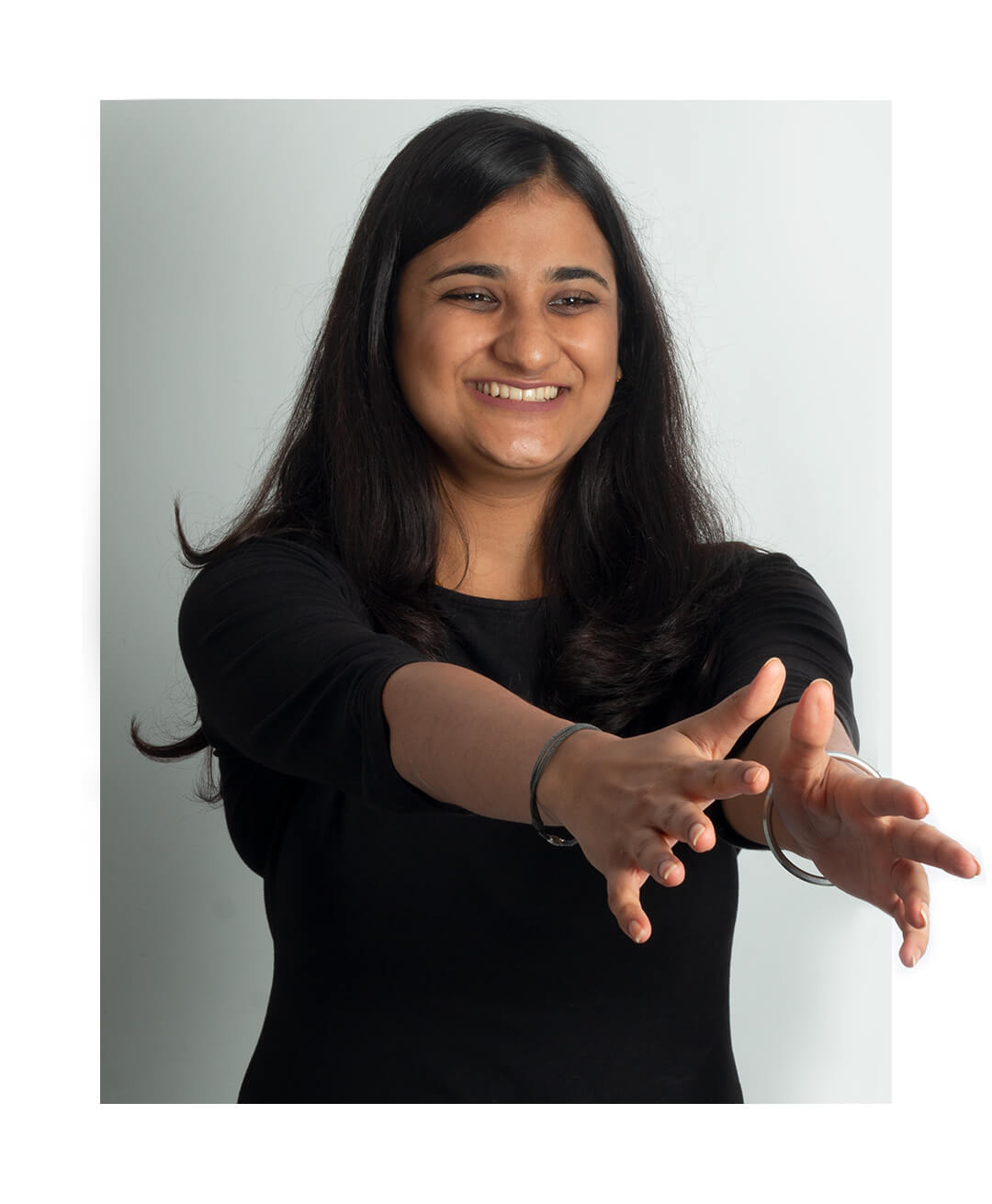 "Sorry..Sorry..
Sorry!!!"
Mriganka Kumbhat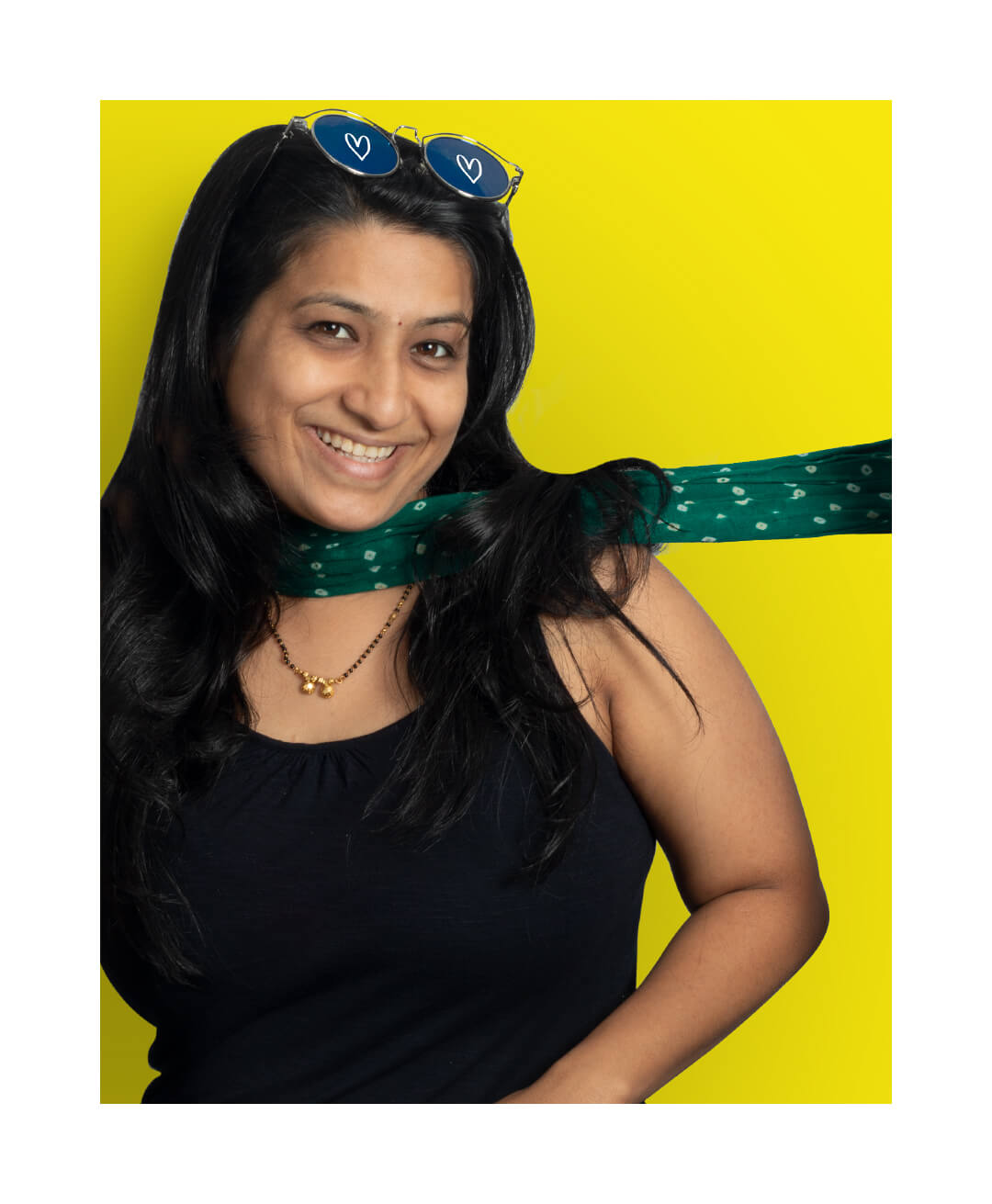 Every sentence starts and ends with "It's like…ahhhhhhhhhh!"
Gayatri Padhye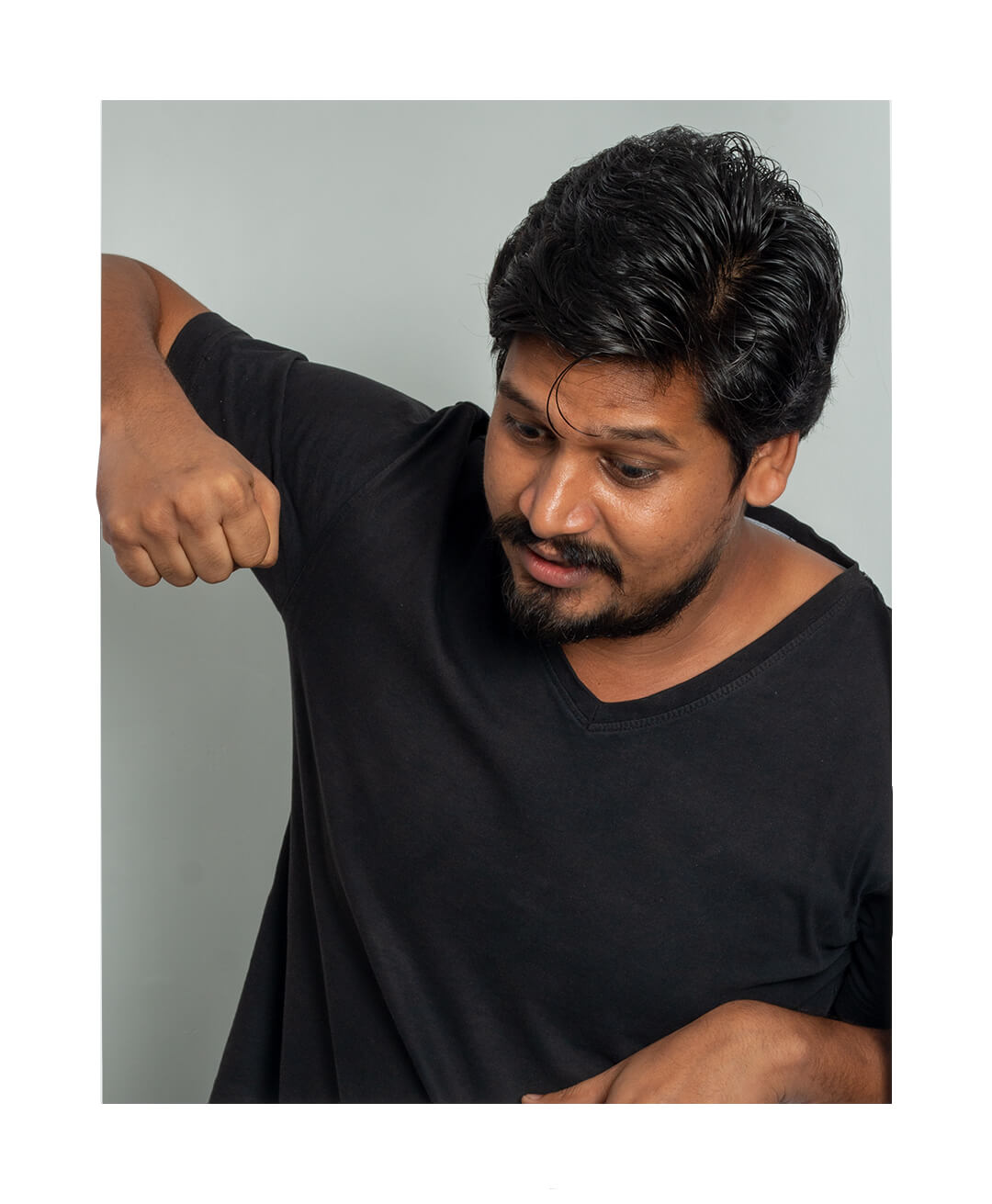 Popularly known as "Schezwan"!
Rizwan Ansari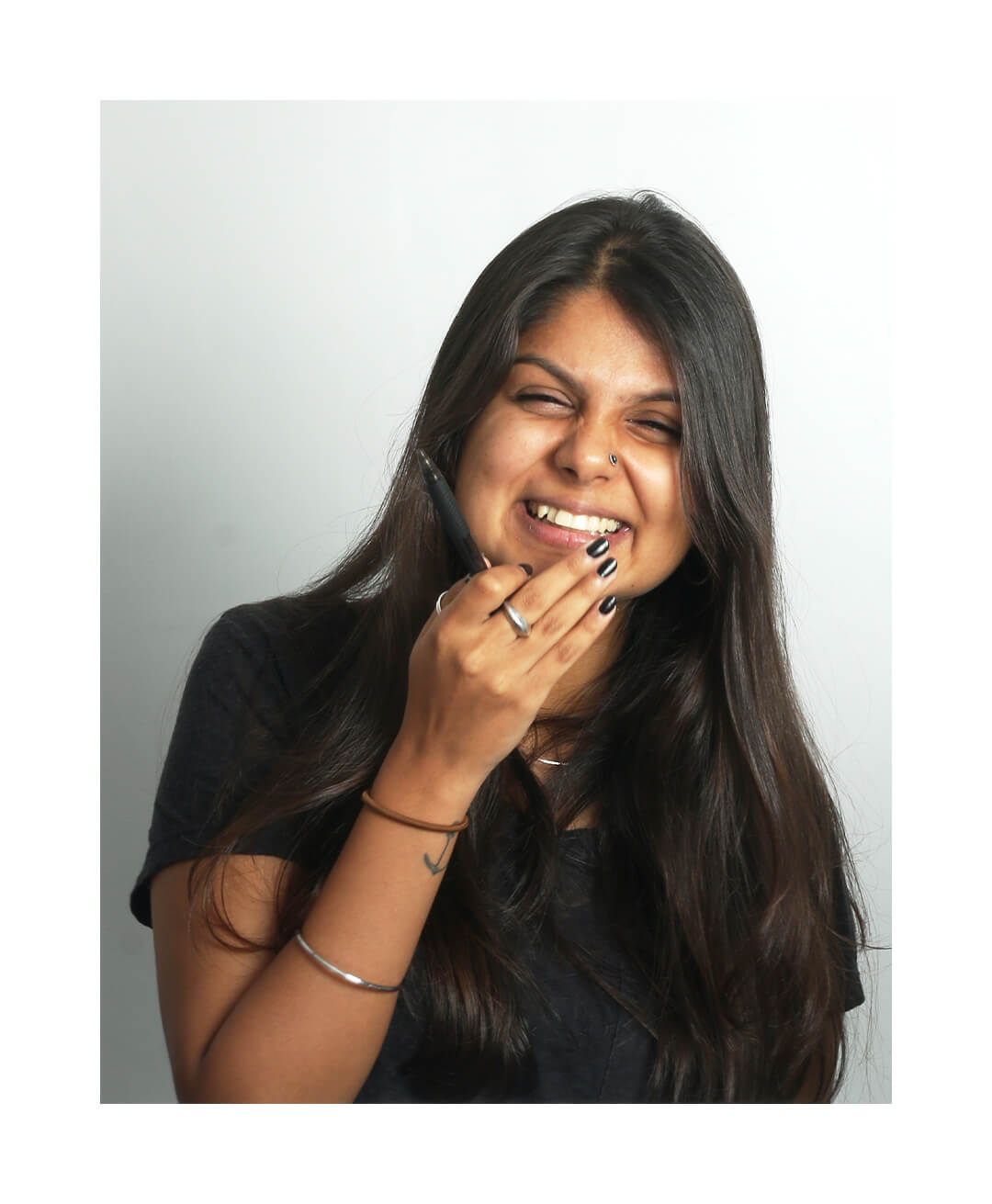 "Haanji, I like big butts & I cannot lie!"
Tanishqa Nagpal
Boss
mast hai.
Deadline
khud hi bhool
jaata hai
Once a
client said,
yeh jpeg
animate
kyun nahi Ho
raha hai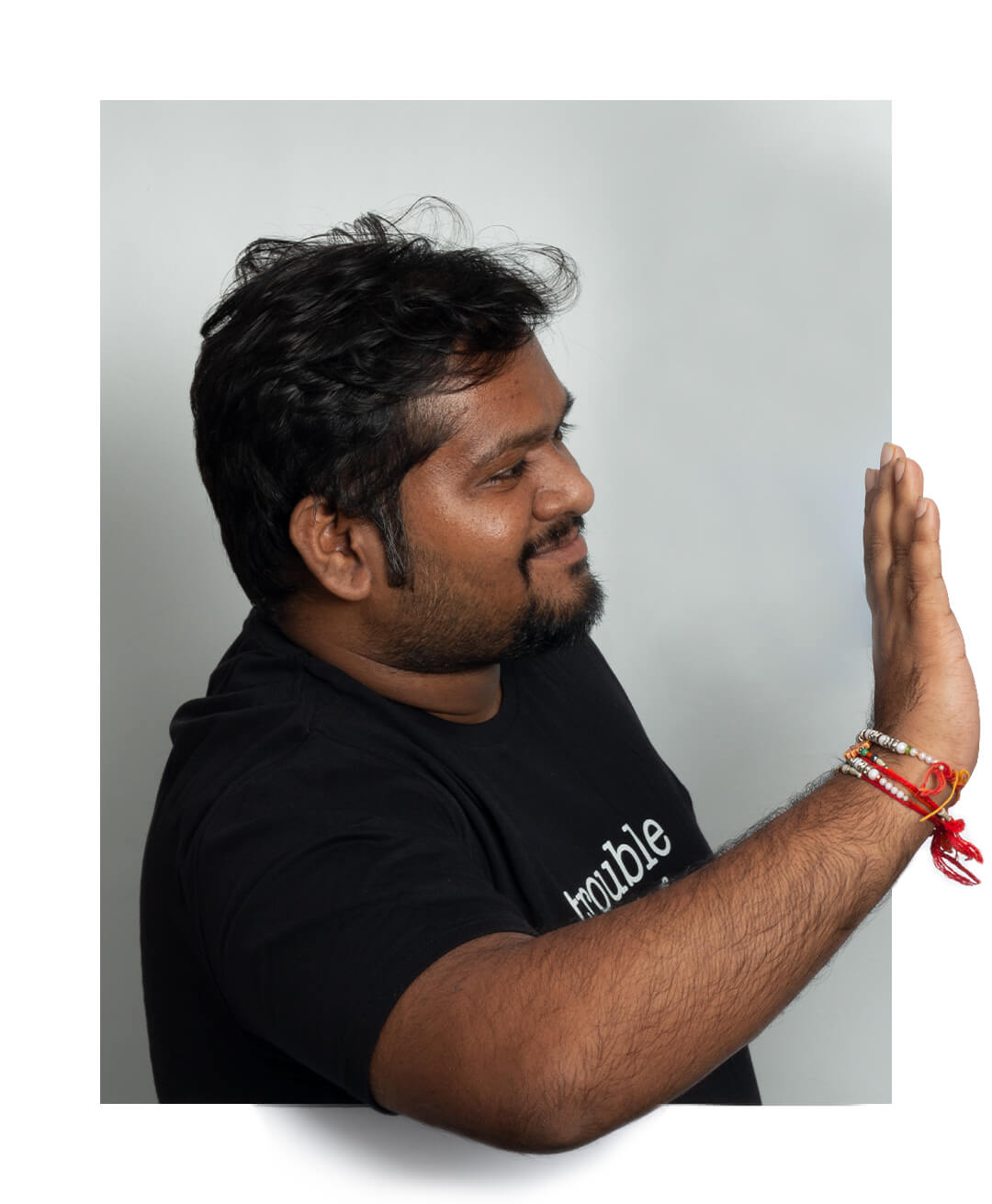 K..K..K..Kreative!
Kiran Gorivale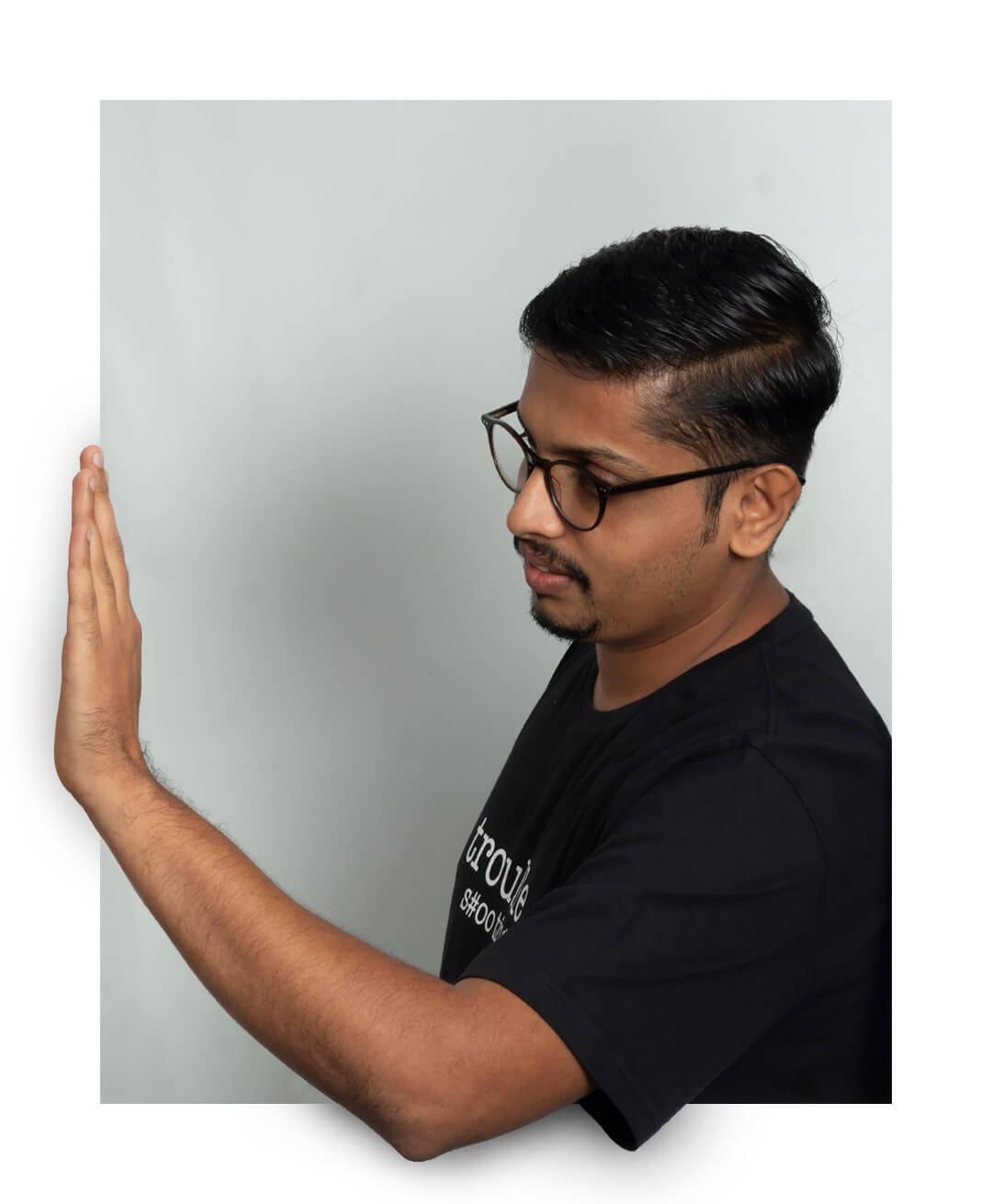 Things are not always #000000 and #FFFFFF
Sagar Aair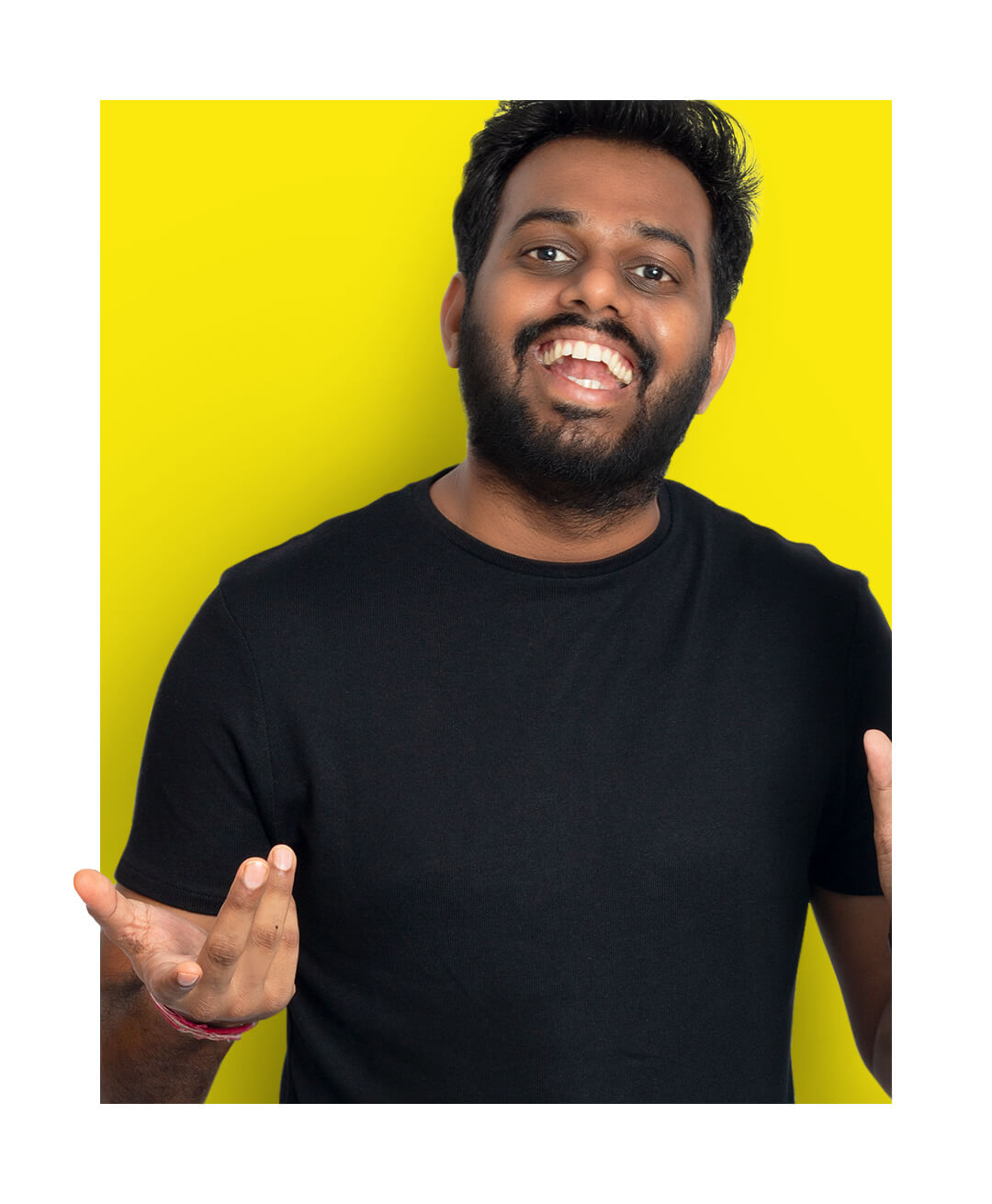 "Mein Saturday kaam nai karega!"
Rakesh Pujari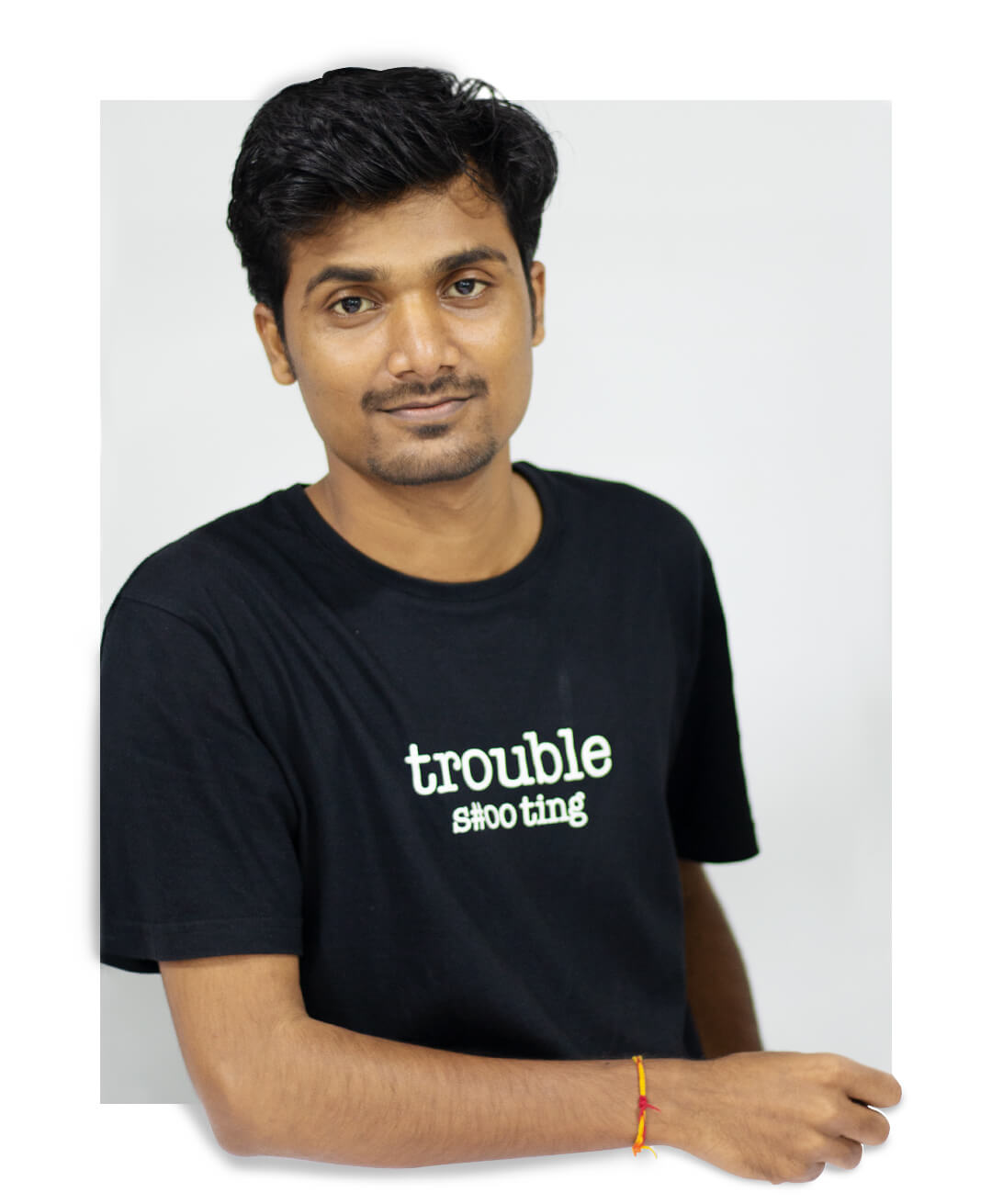 "Tum mujhe comp off do, mein tumhe designs dunga."
Nikhil Wanve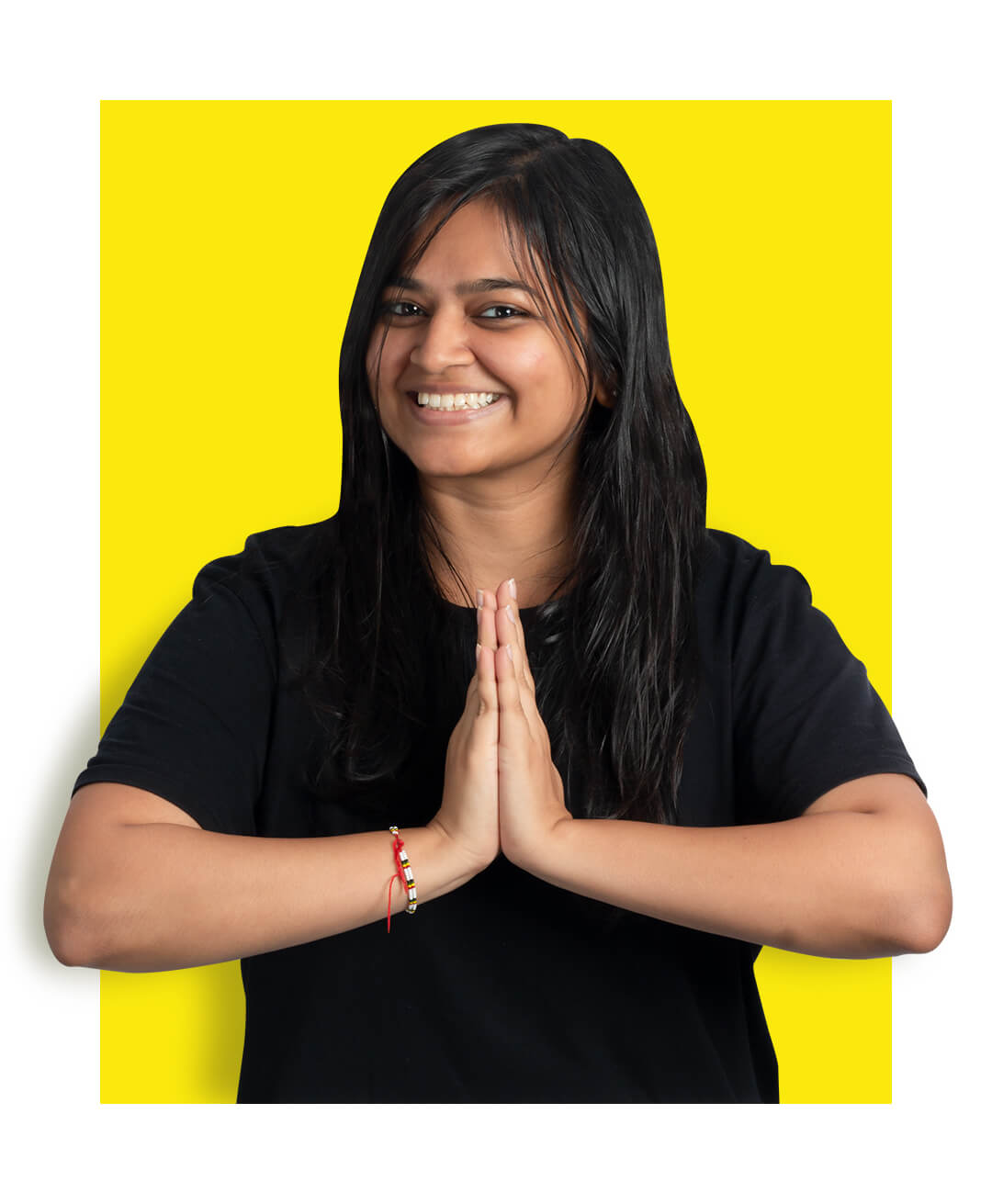 Always fast, sometimes furious!
Nidhi Gala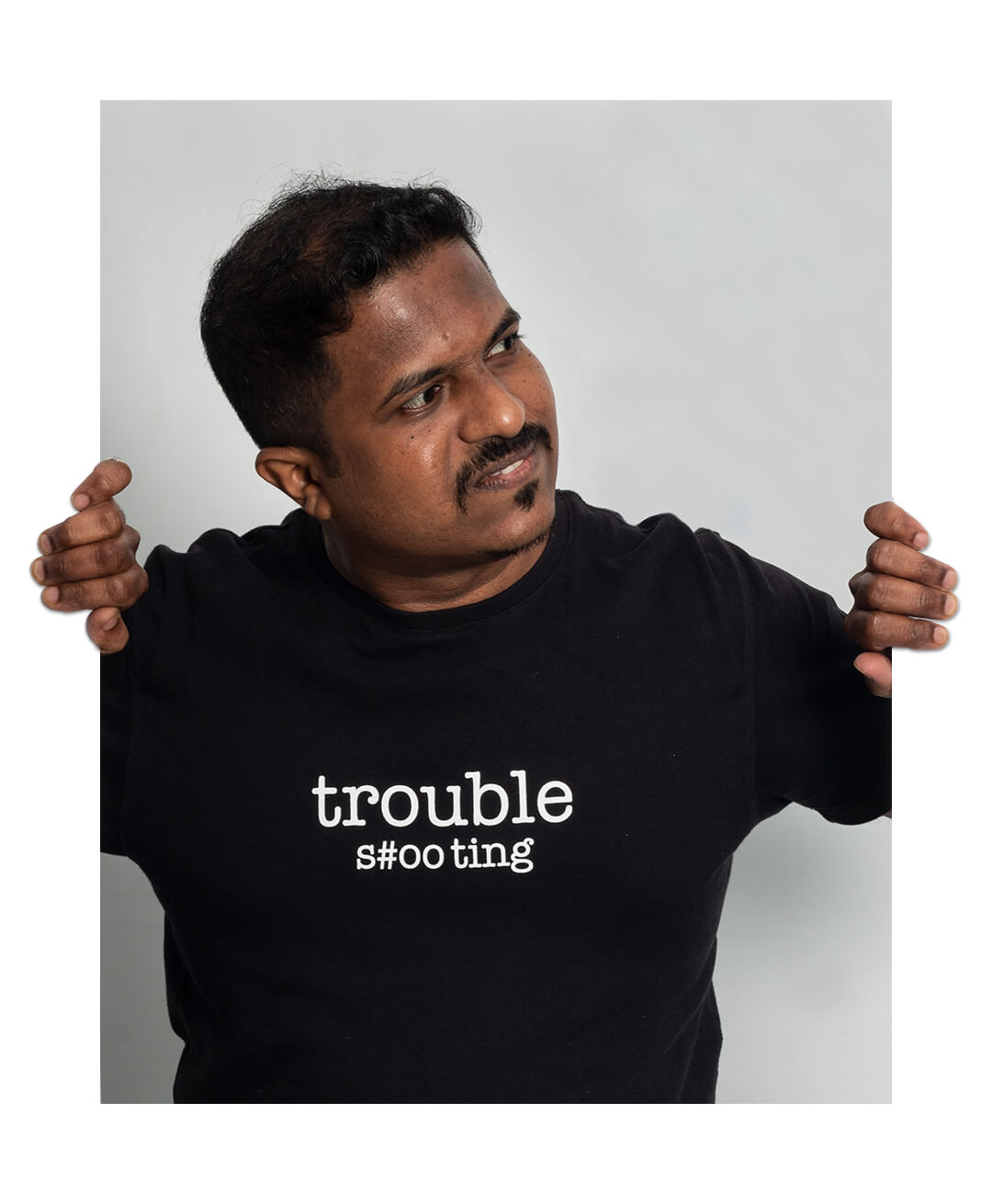 The brand ambassador of Happydent.
Jaydeep Keny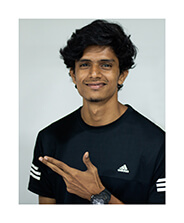 Kanun se bhi lambe haath!!!
Pratik Pujare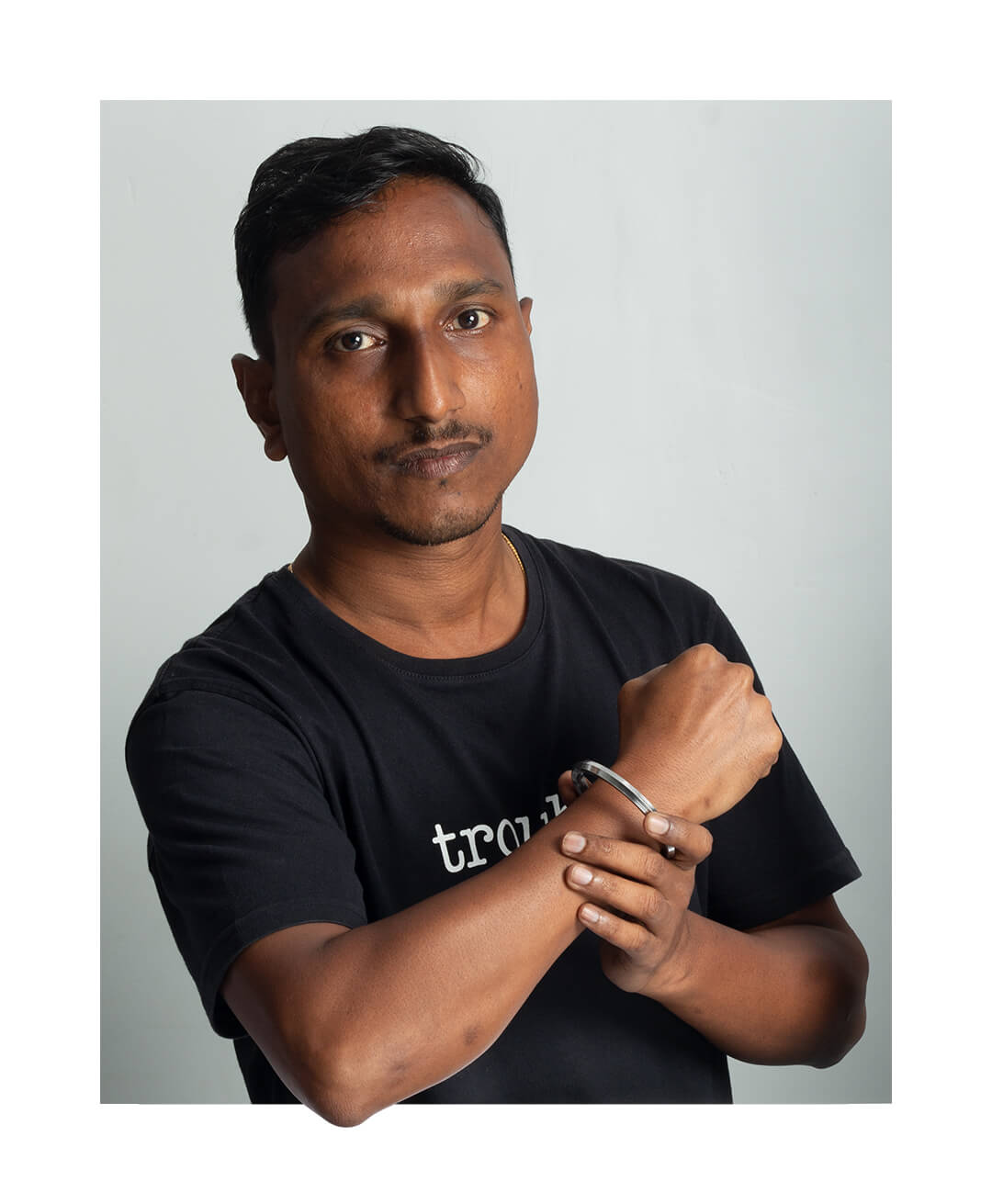 CS always on PS.
Chandrashekhar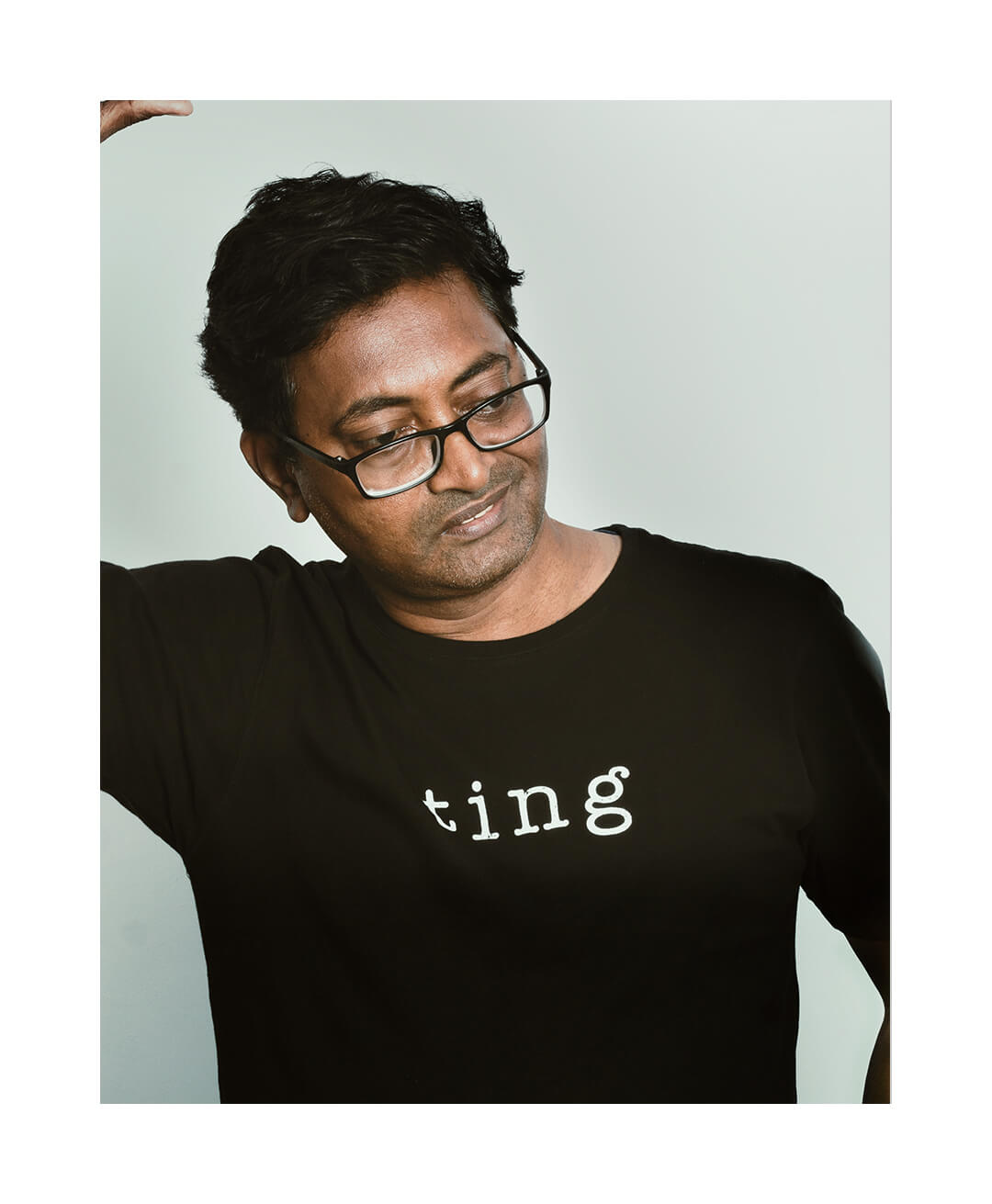 Designer team ka silent assassin!
Dilip Girnekar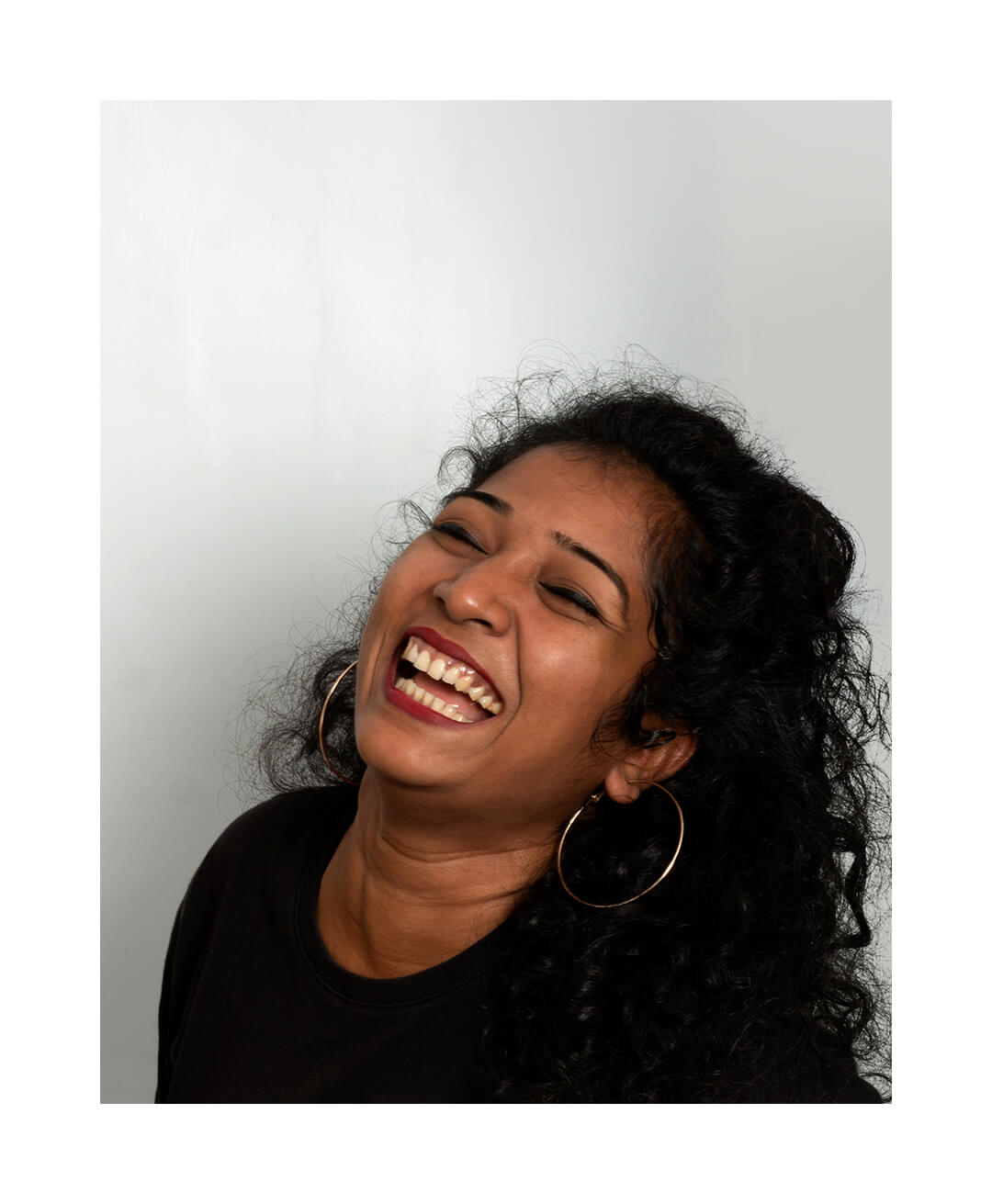 Even giggles at client rejections!
Darshana Mayekar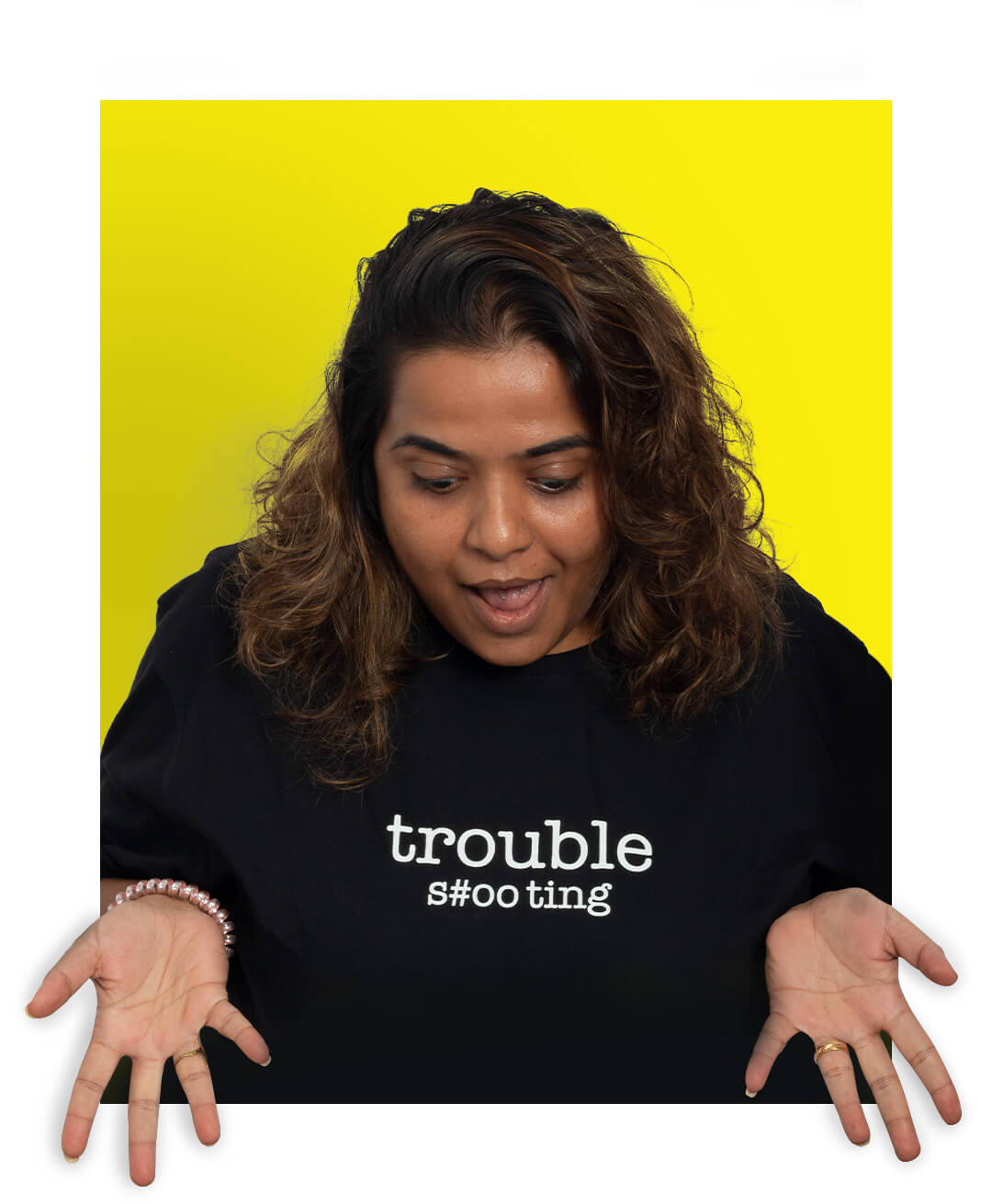 The sass queen.
Riddhi Seta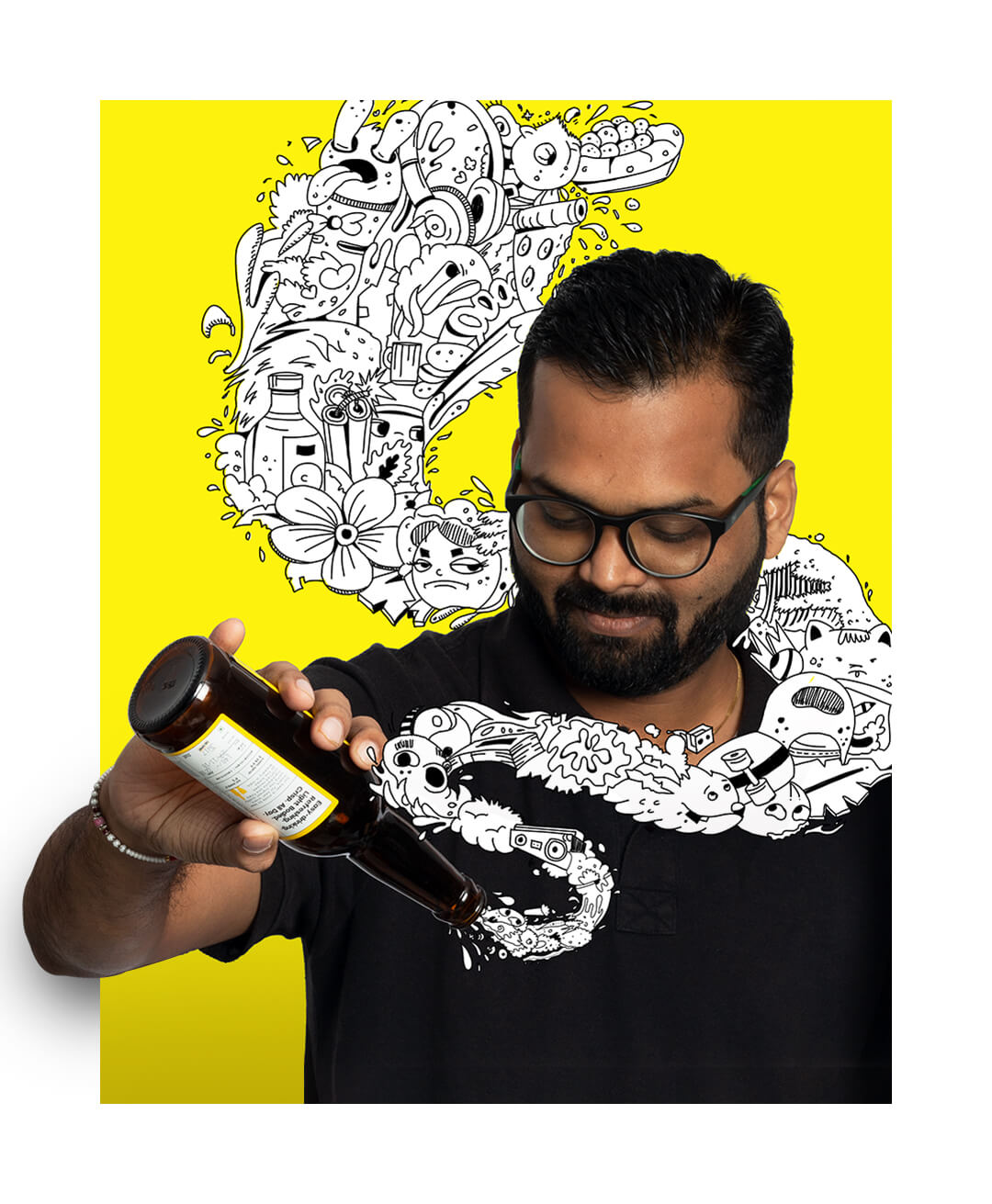 Will doodle his way into your heart.
ninad surve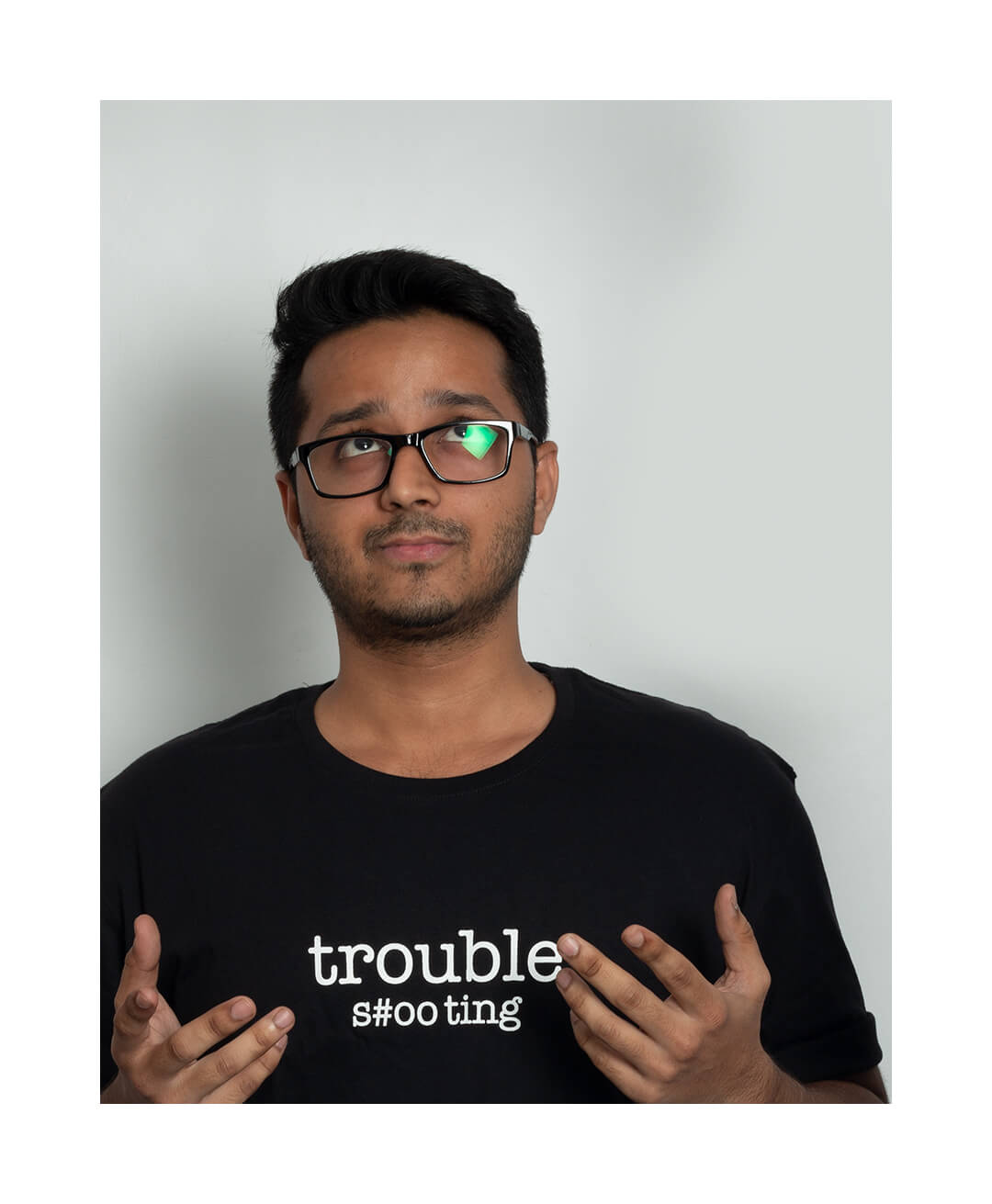 "Kaash iss saal mil jaaye!"
Taher Petiwala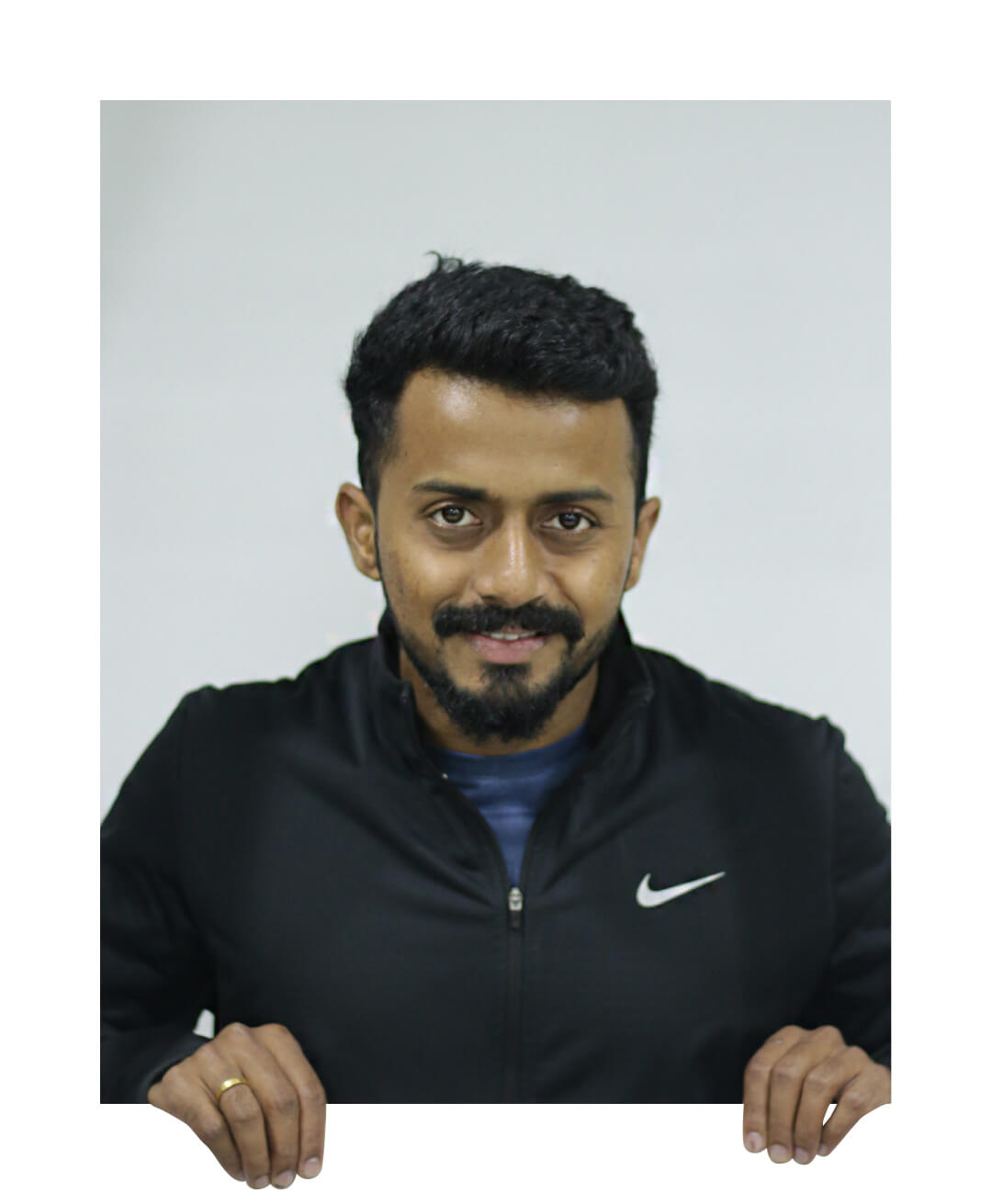 Error 404. Text not found.
Akshay Parab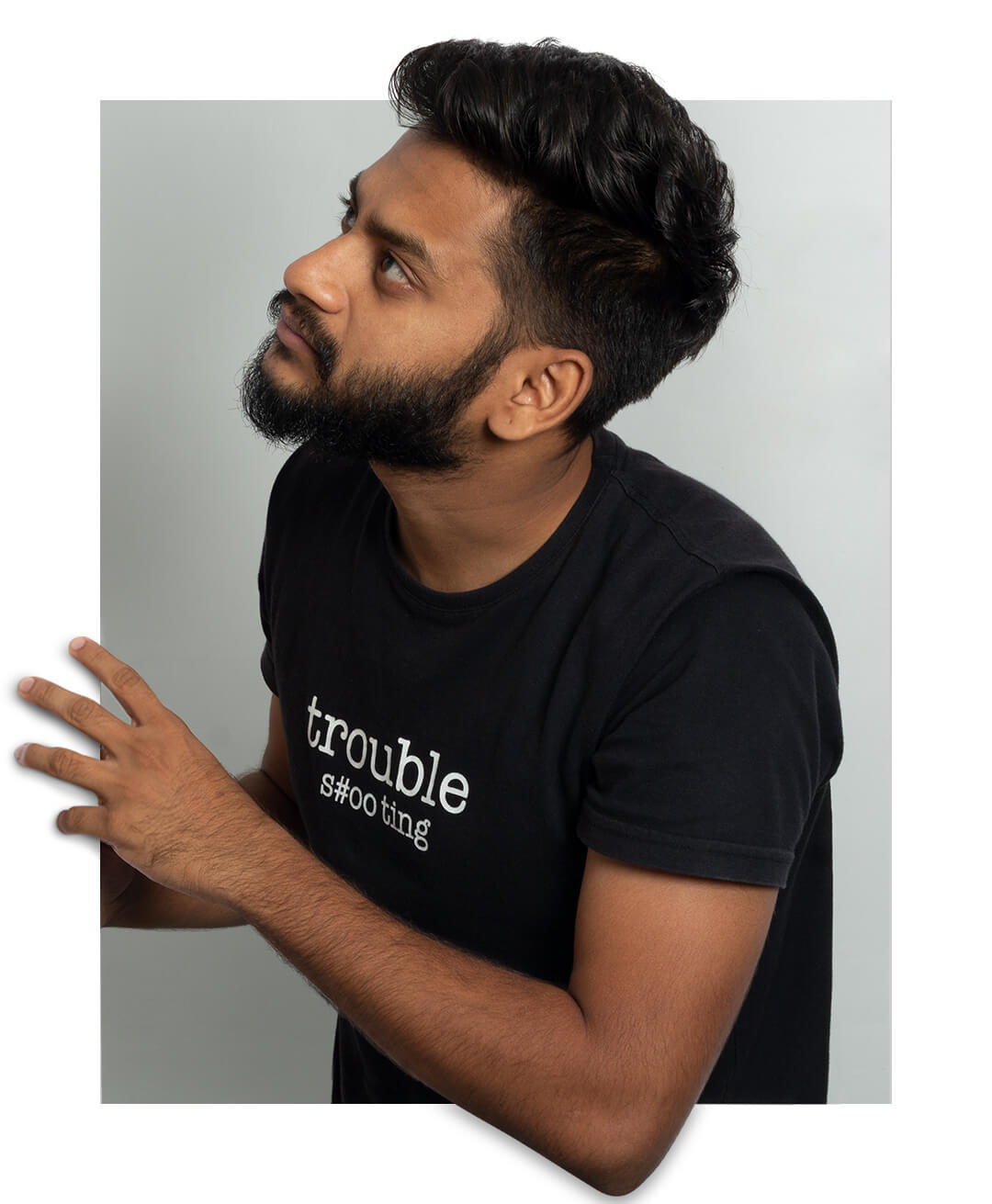 DANG who came back with a BANG!
Pranav Dandge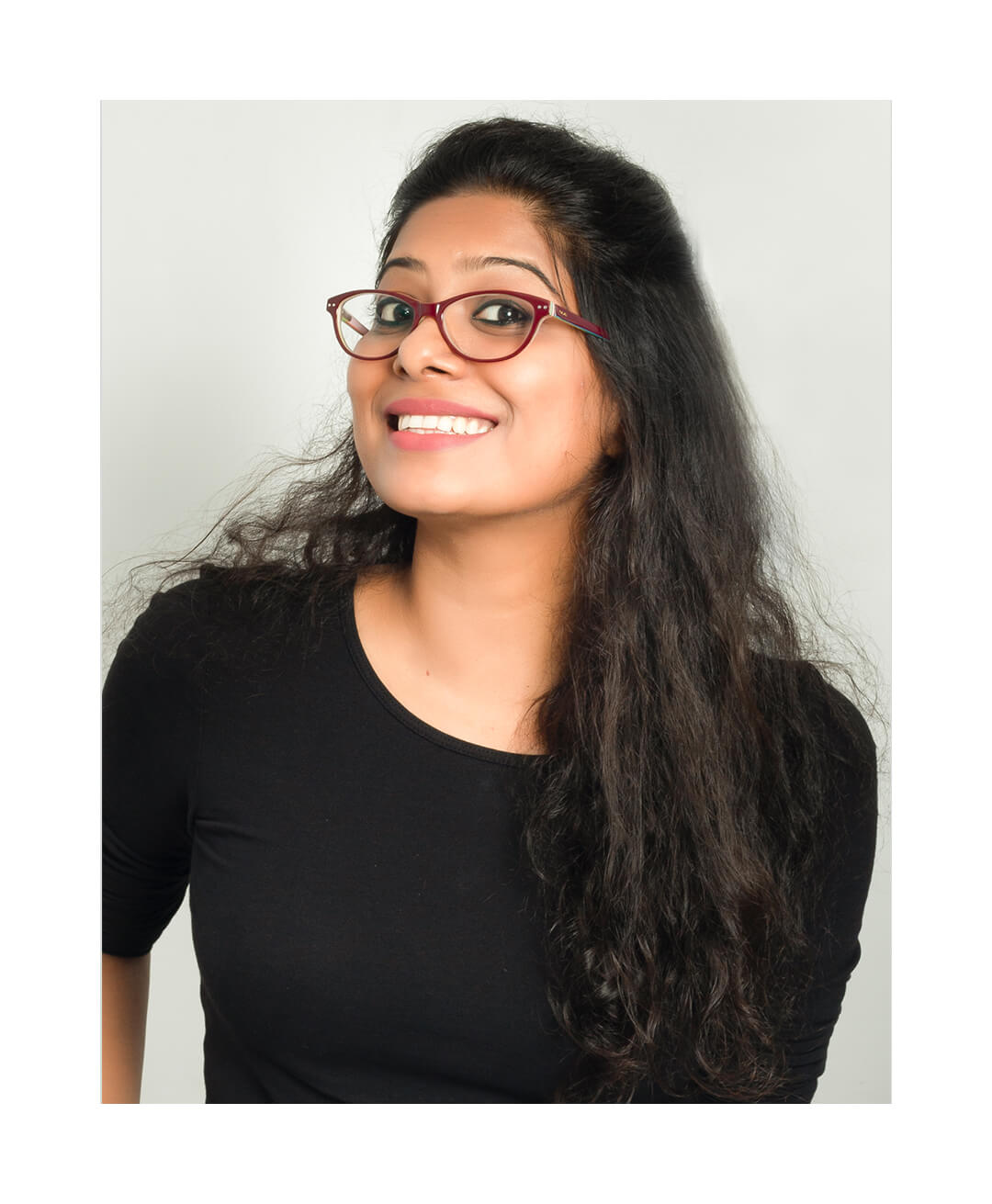 "But first, lemme take a selfie."
Shraddha Ambre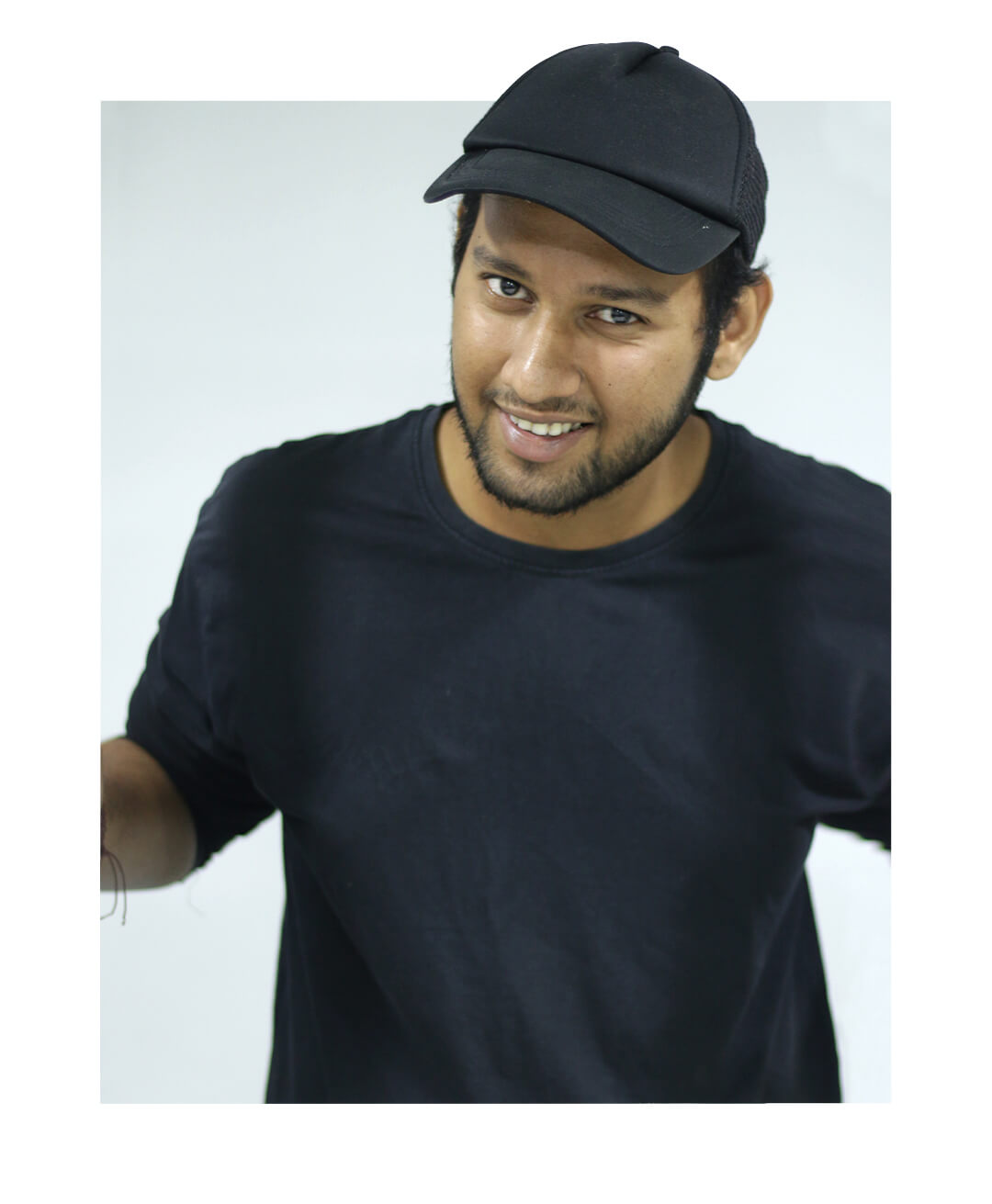 Error 404. Text not found.
Salman Shaikh
Pitch ke liye
5-6 creatives
milega?

Pitch kal hai.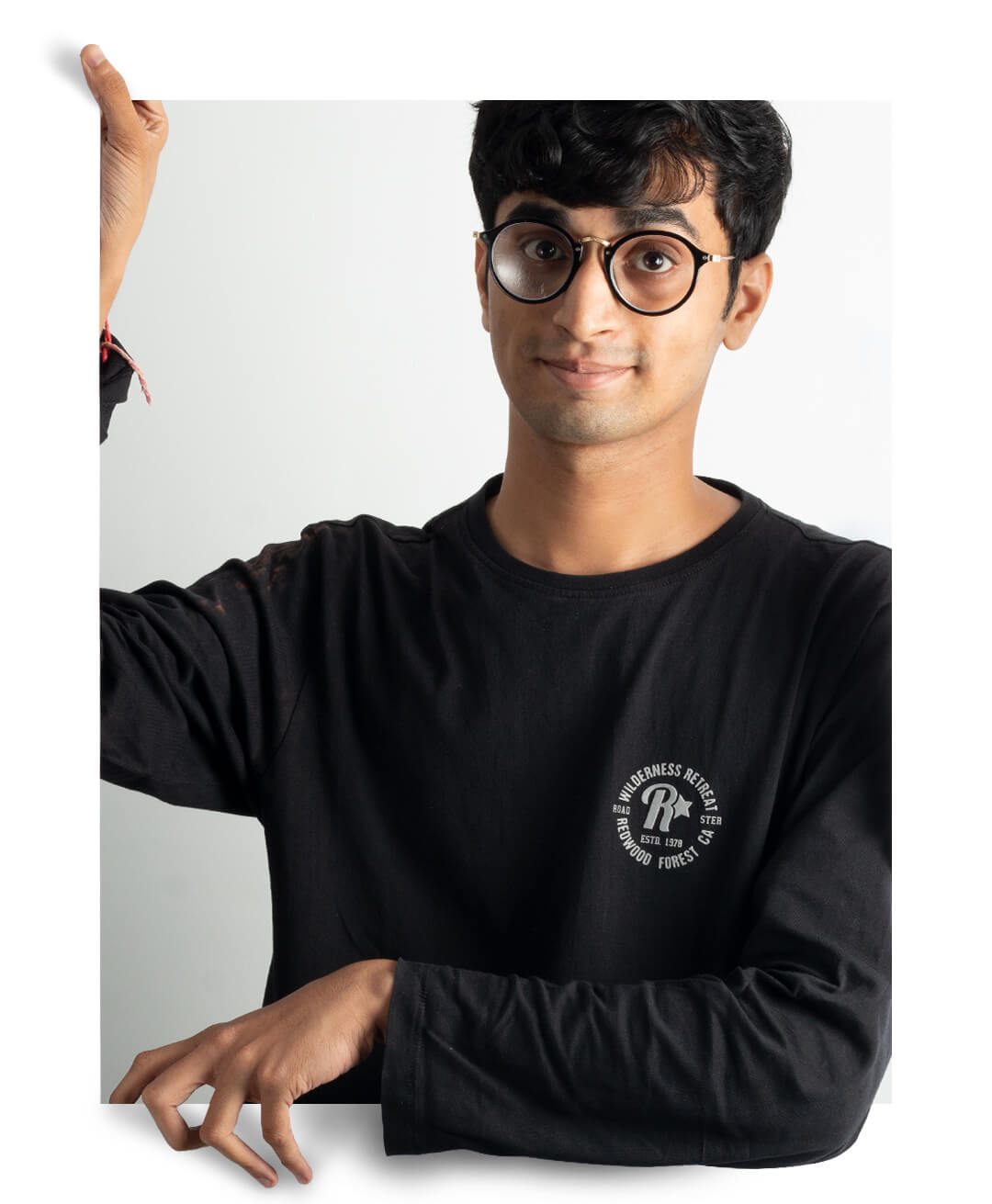 Humare Pandeyji!
Avinash Pandey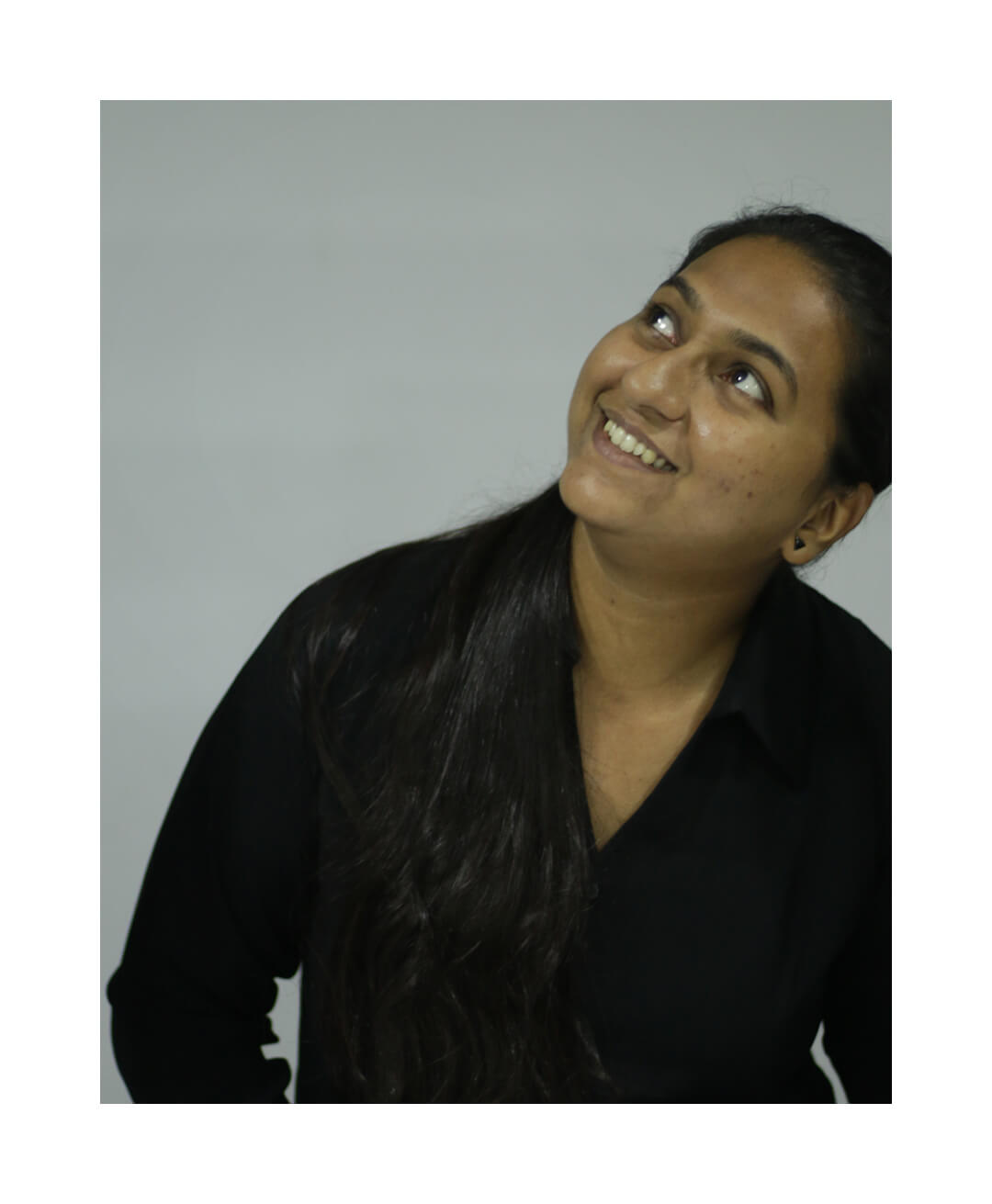 "What should I order for lunch today???"
Prajakta Powale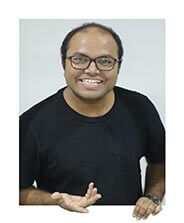 Where are you???
Jay Narvekar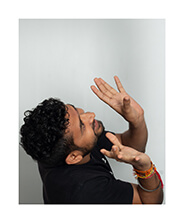 7:30 ke baad, dukaan close.
Manish Tiwari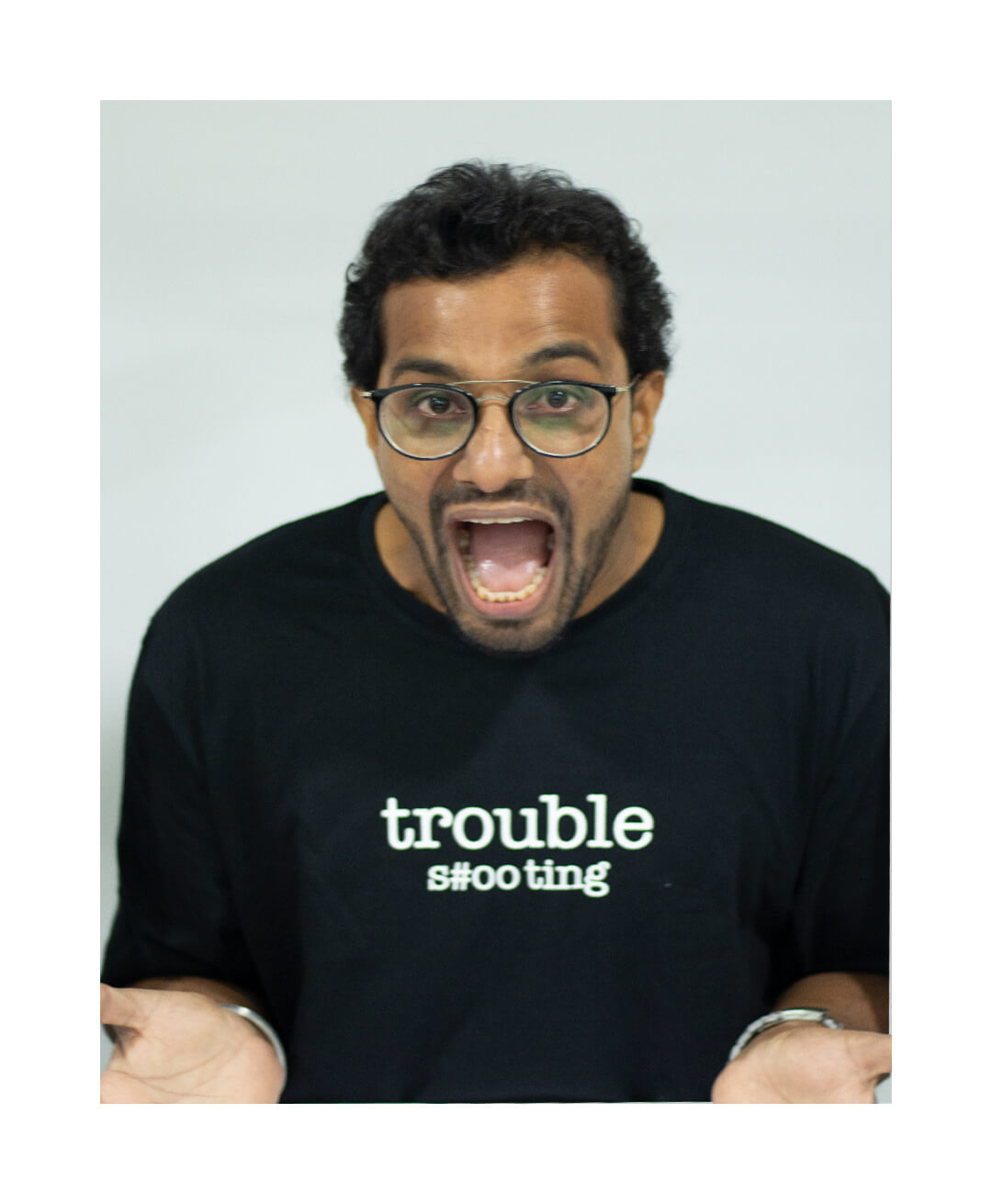 He's always on leave…Leave it!
Gitesh Parab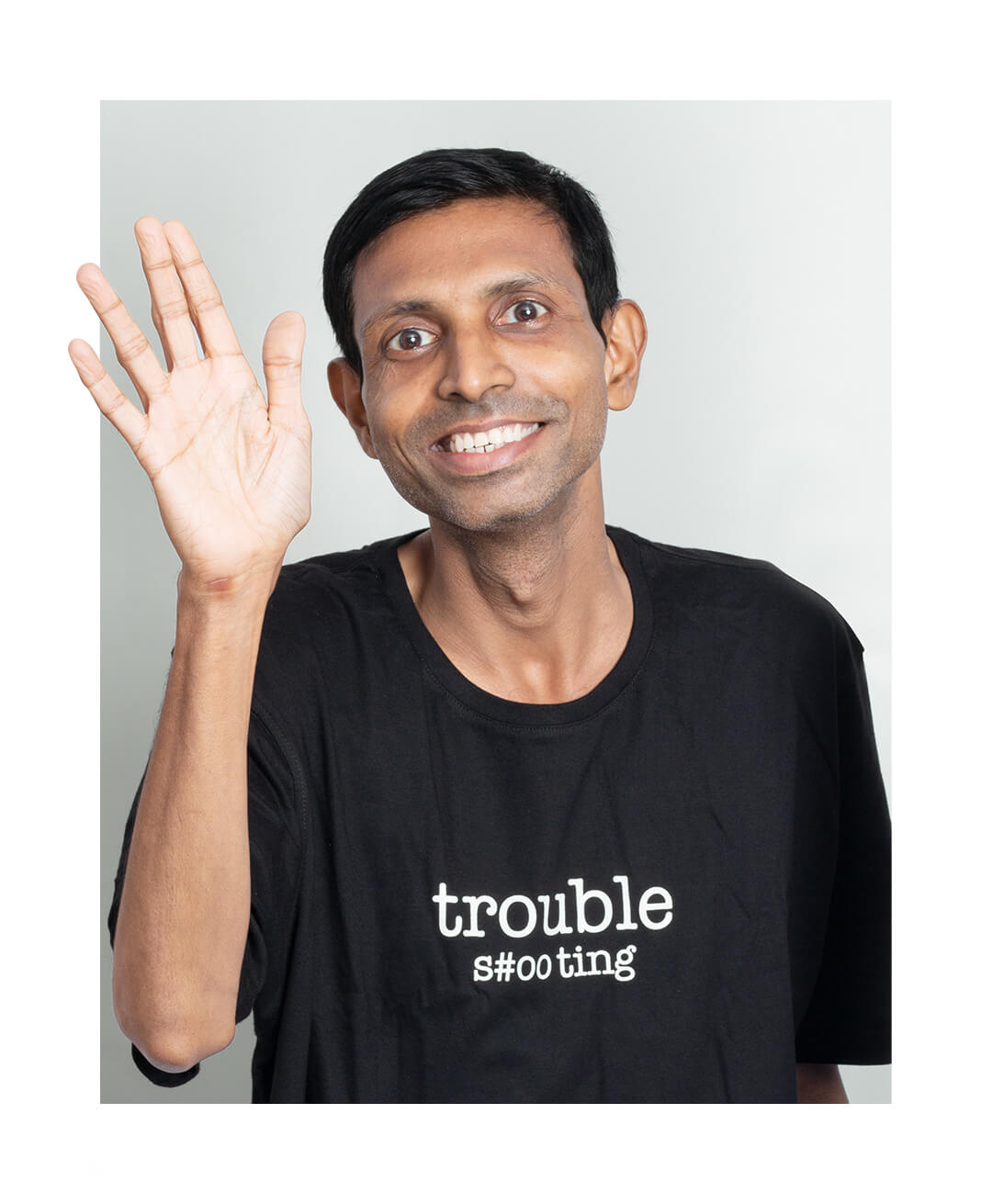 "Aaj mein tumko khush karuga!"
Sandeep Mane
Servicing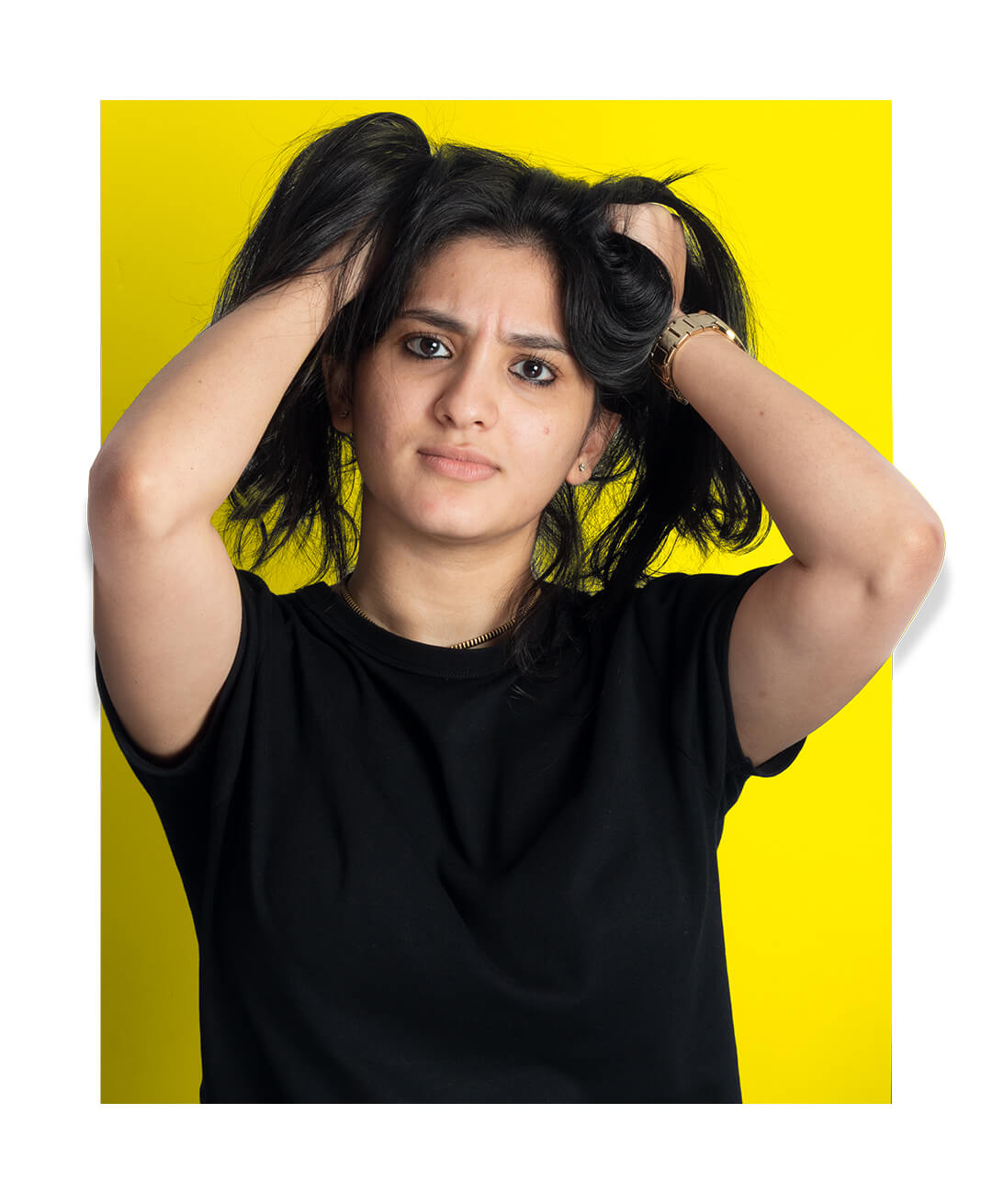 "The clients ask me for approvals."
Amrit Bhamrah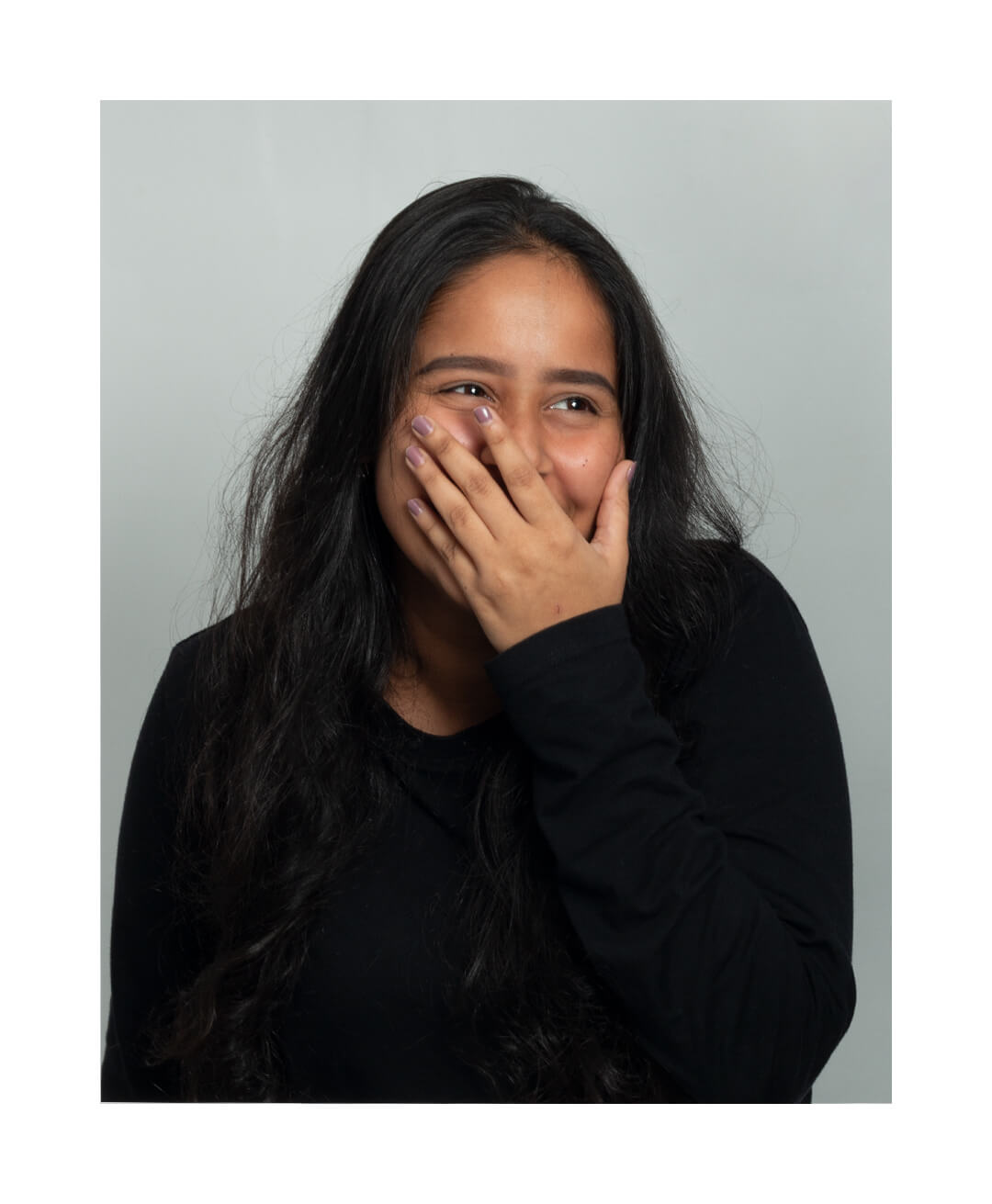 Loves butter chicken.
Muskan Johri.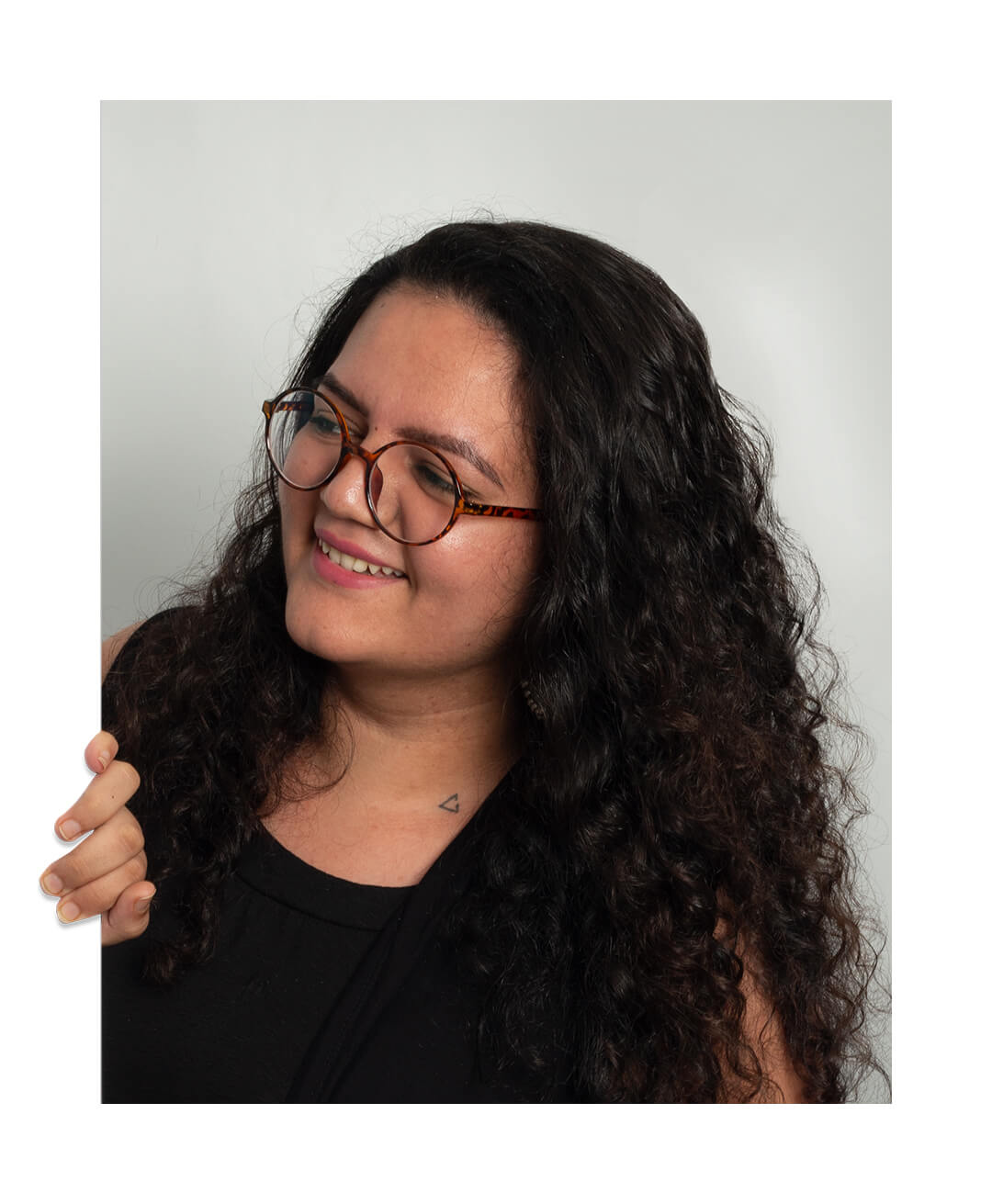 "The Amazon's on fire. I'm putting it out."
Nidhi Lalla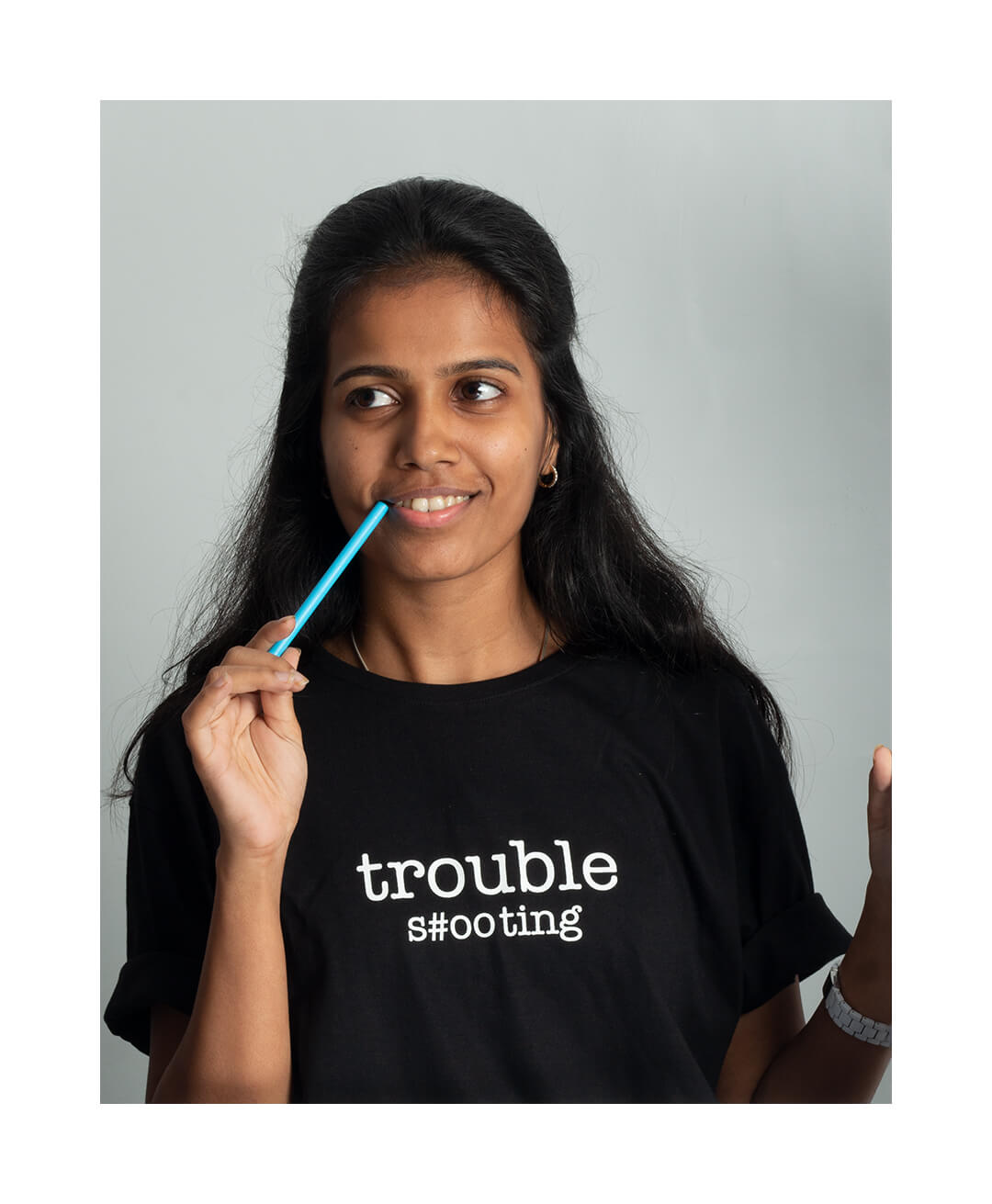 "Is this jain?"
Prachi Sanghavi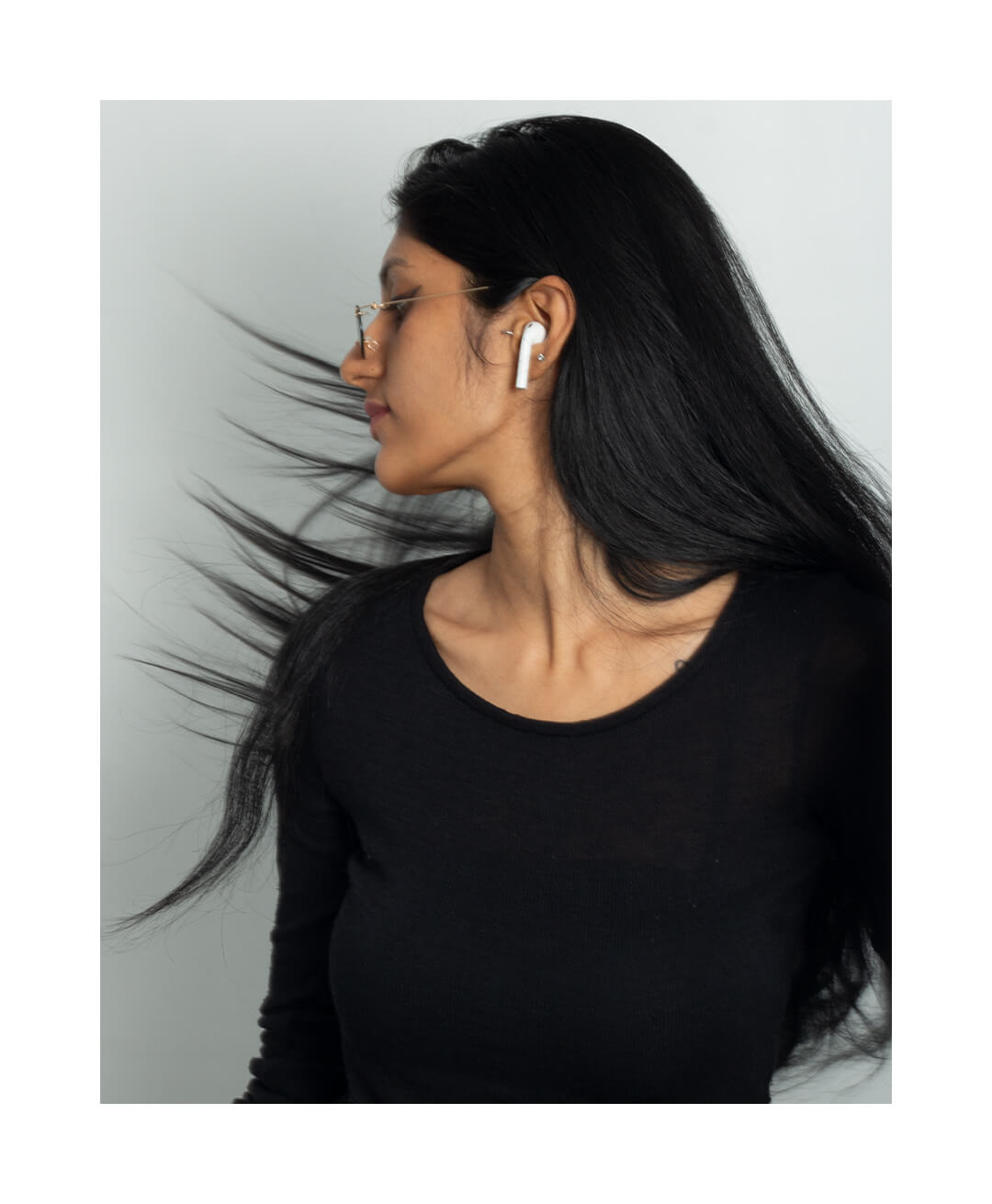 More issues than Vogue.
Rhea Sanil
Once Upon
a time,
we had
employee
of the
month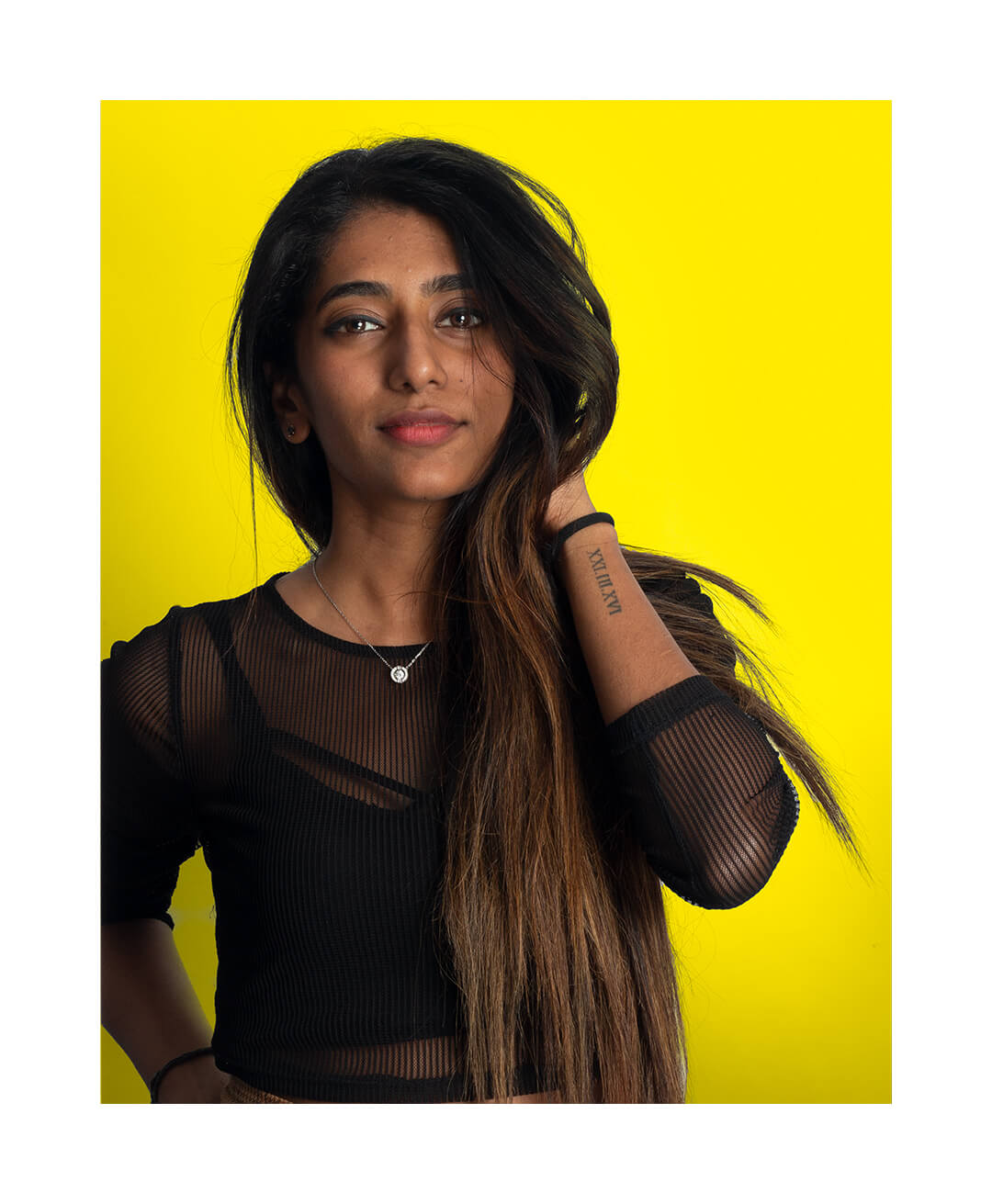 "Ewww, so cute!"
Akita Sanil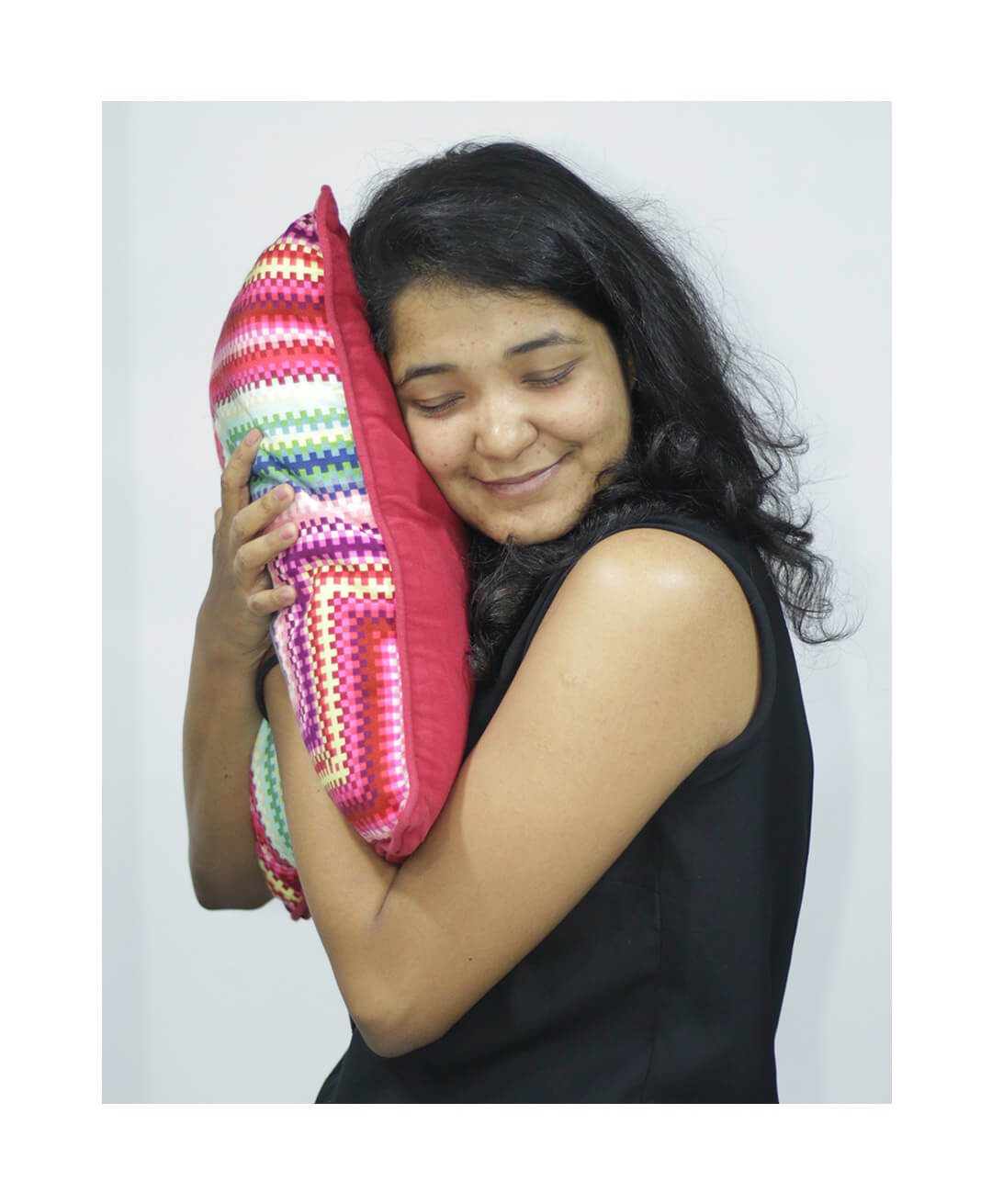 Too busy writing emails.
Nidhi Joshi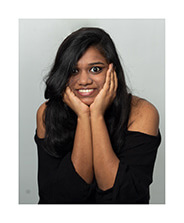 Aayi re aayi reh _____!
Khushi Goyal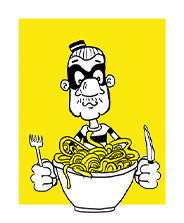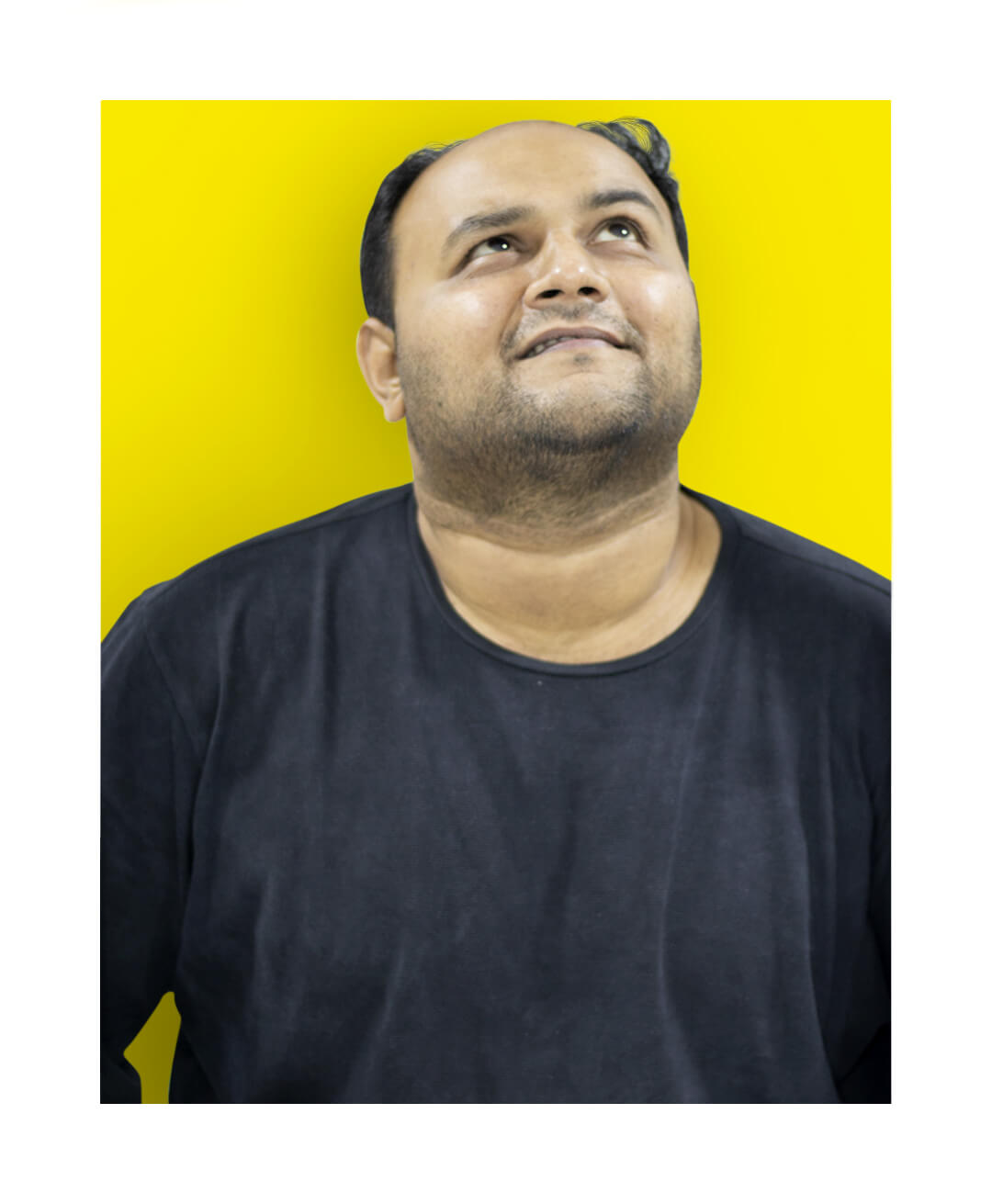 Too busy writing emails.
Dhawal Shah
Copy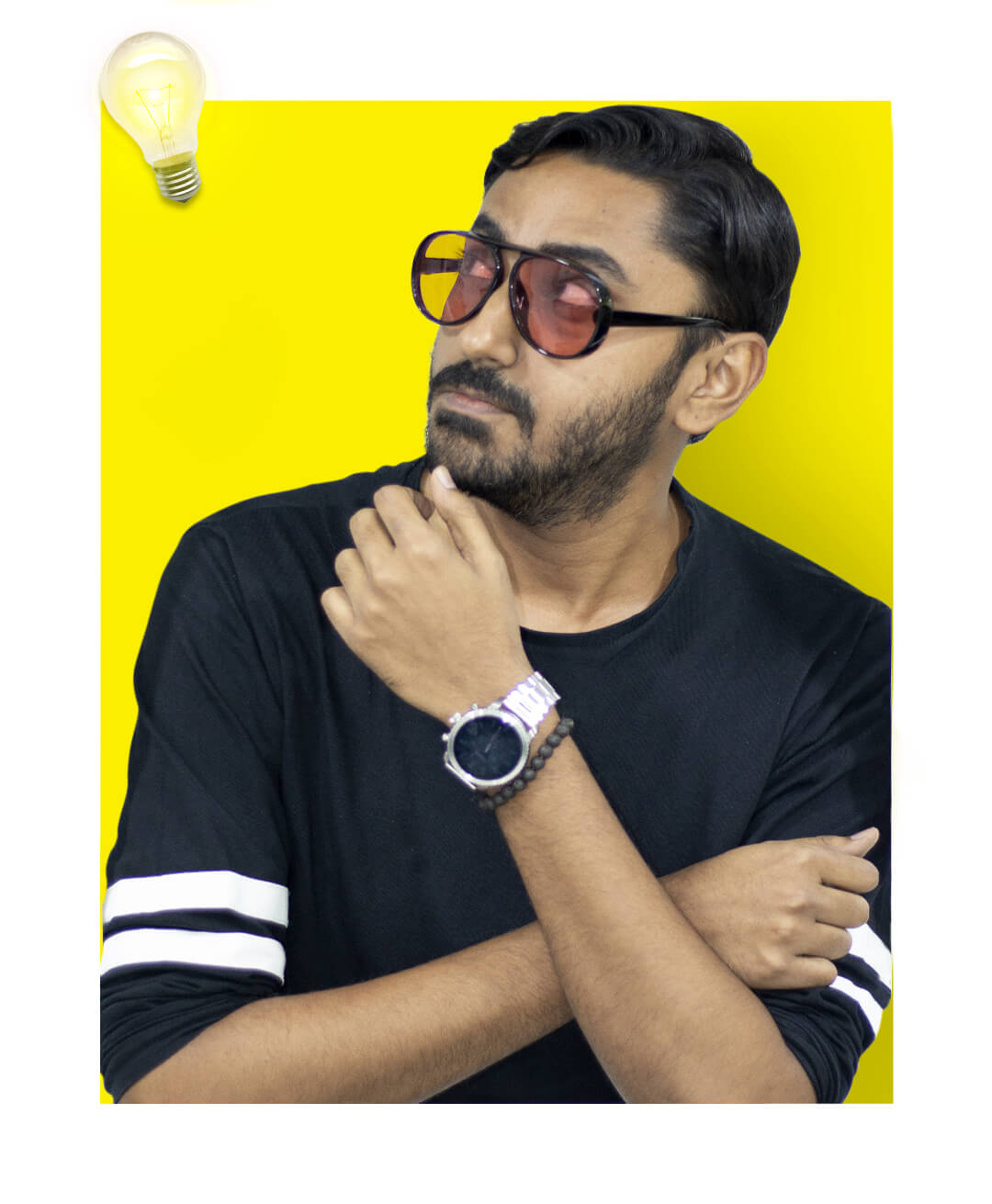 That meeting could have been an email.
Sahil Joshi
365-day Santa!
Drishti Desai
10% painkillers, 90% butter chicken.
Vipul Vij
Simon
sinek ney
Tabahi
macha di
hai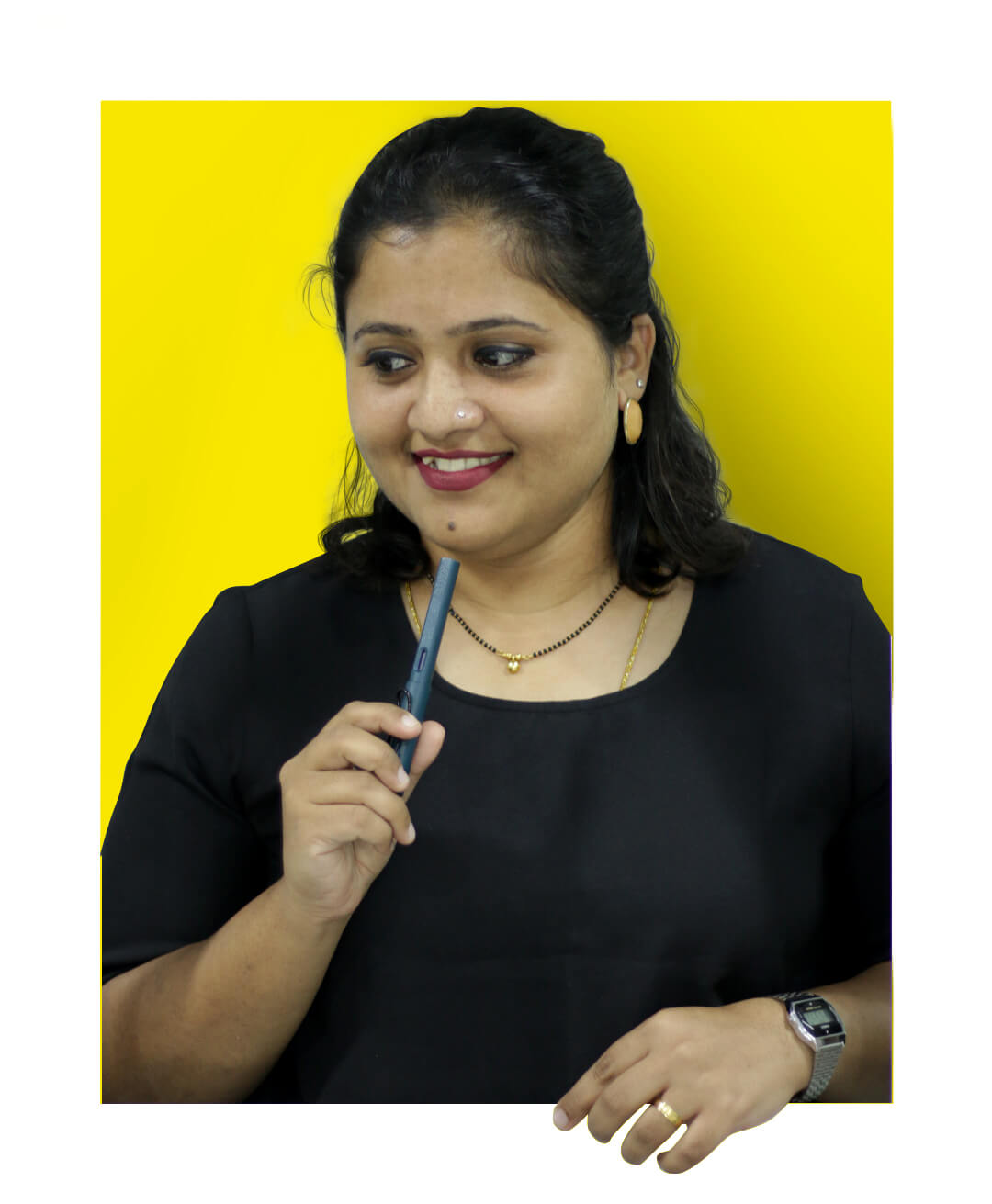 Can go 16 hours without eating. Intentionally.
Neelam Bangar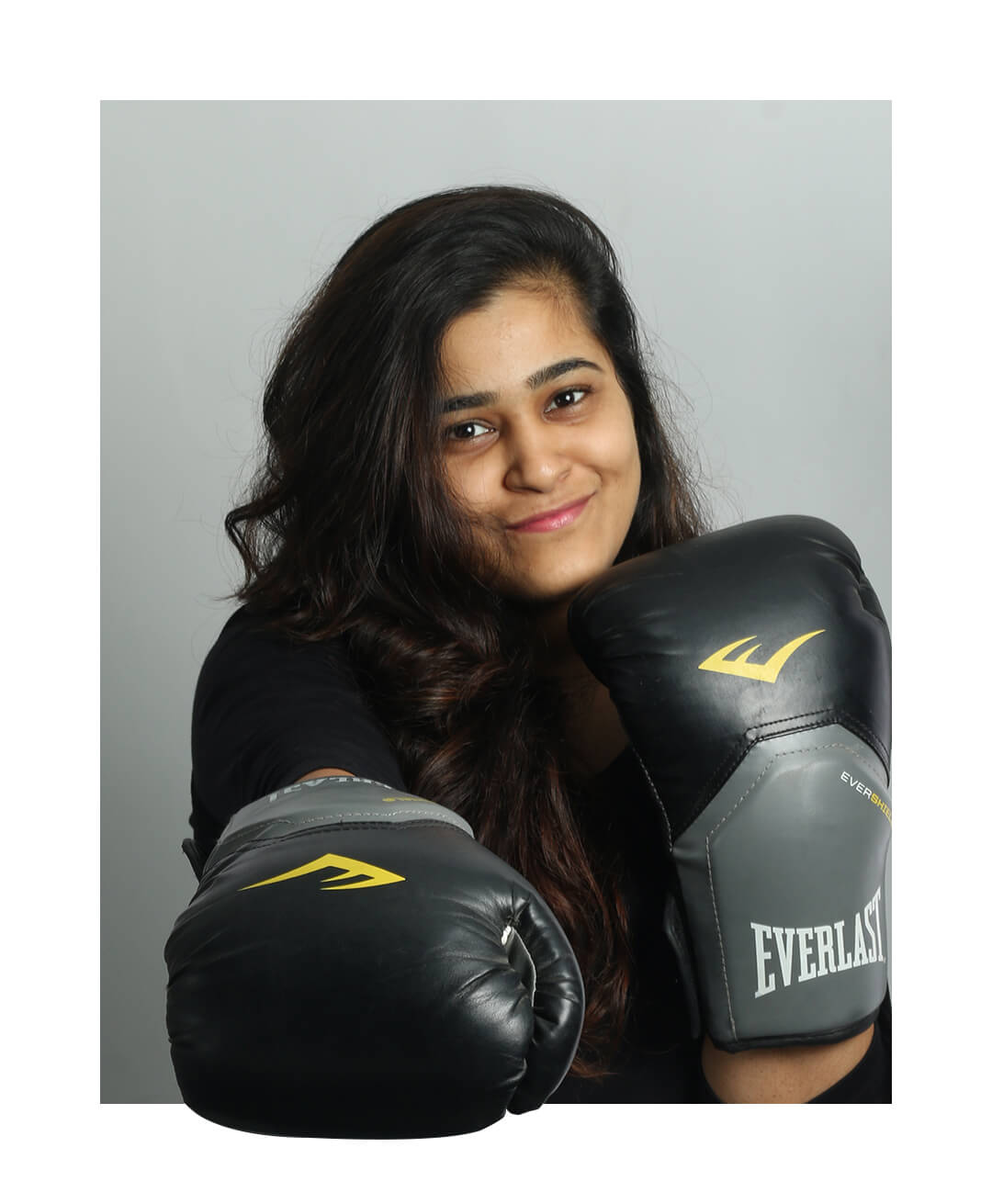 Punny? Yes. Funny? Nope.
Mubaraka Kachwala
Tu design
chalu kar

I am
sharing
the copy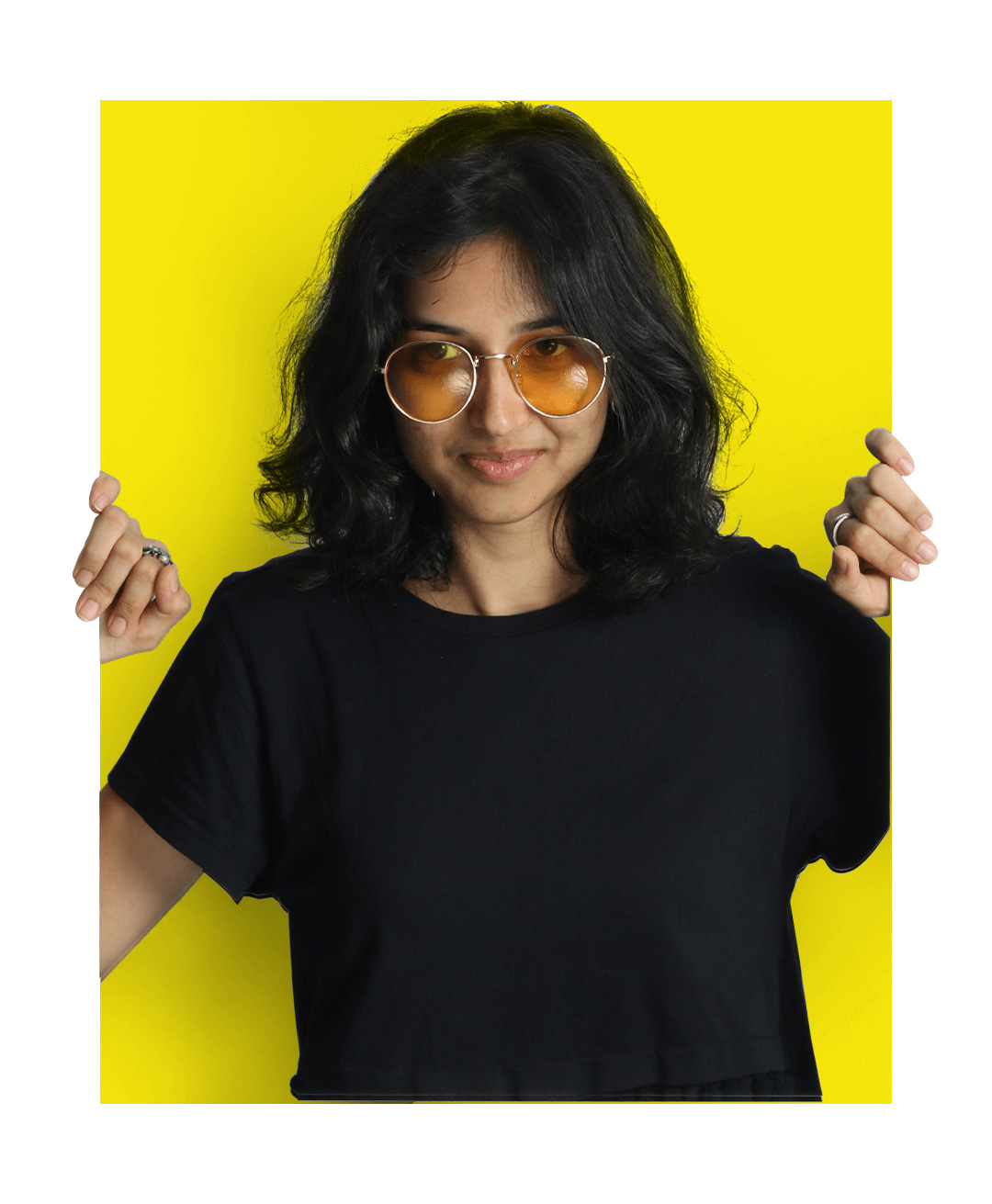 "How about no?"
Shreni Sanghvi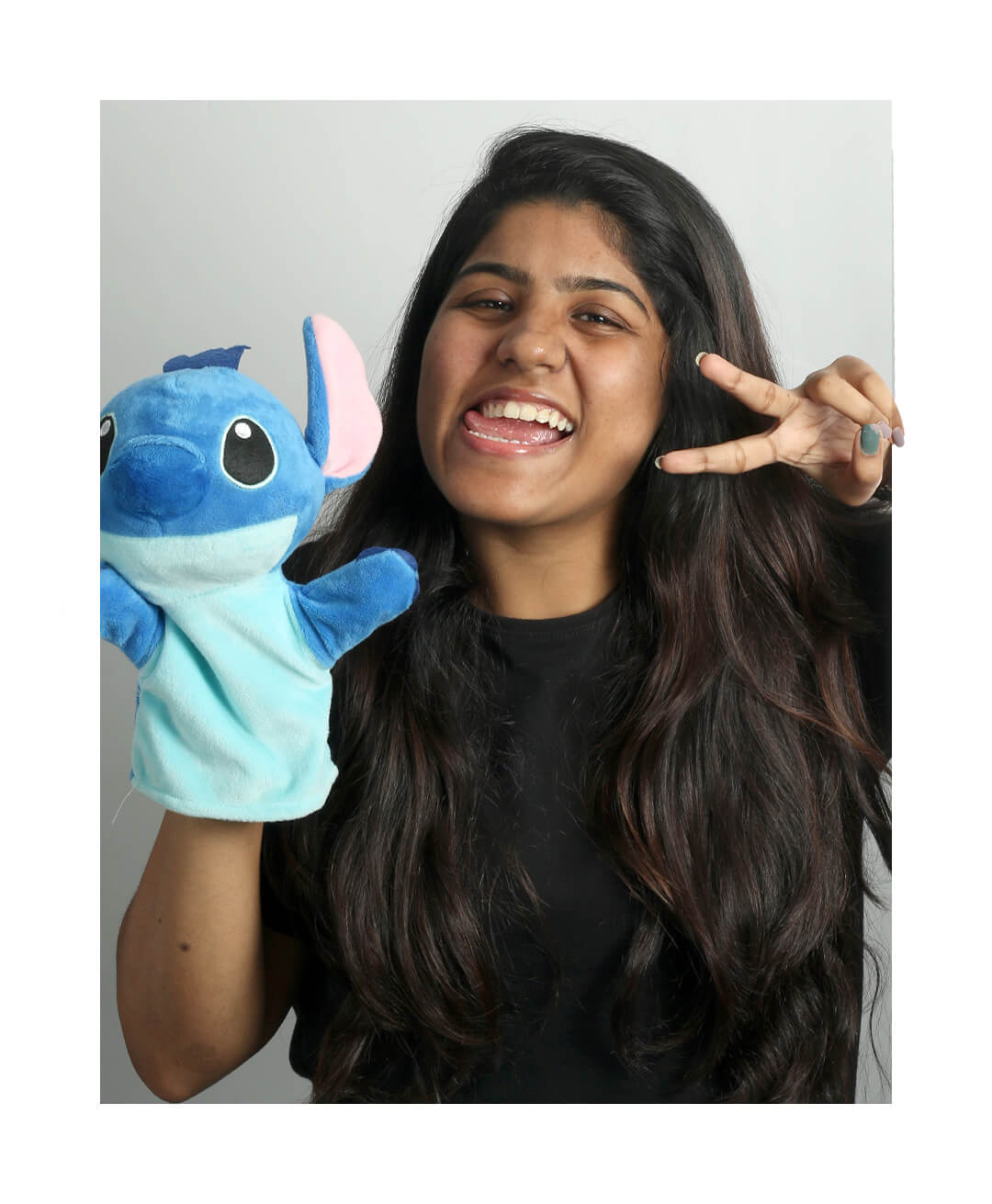 Full-time memer. Part-time outrager.
Riya Fulwani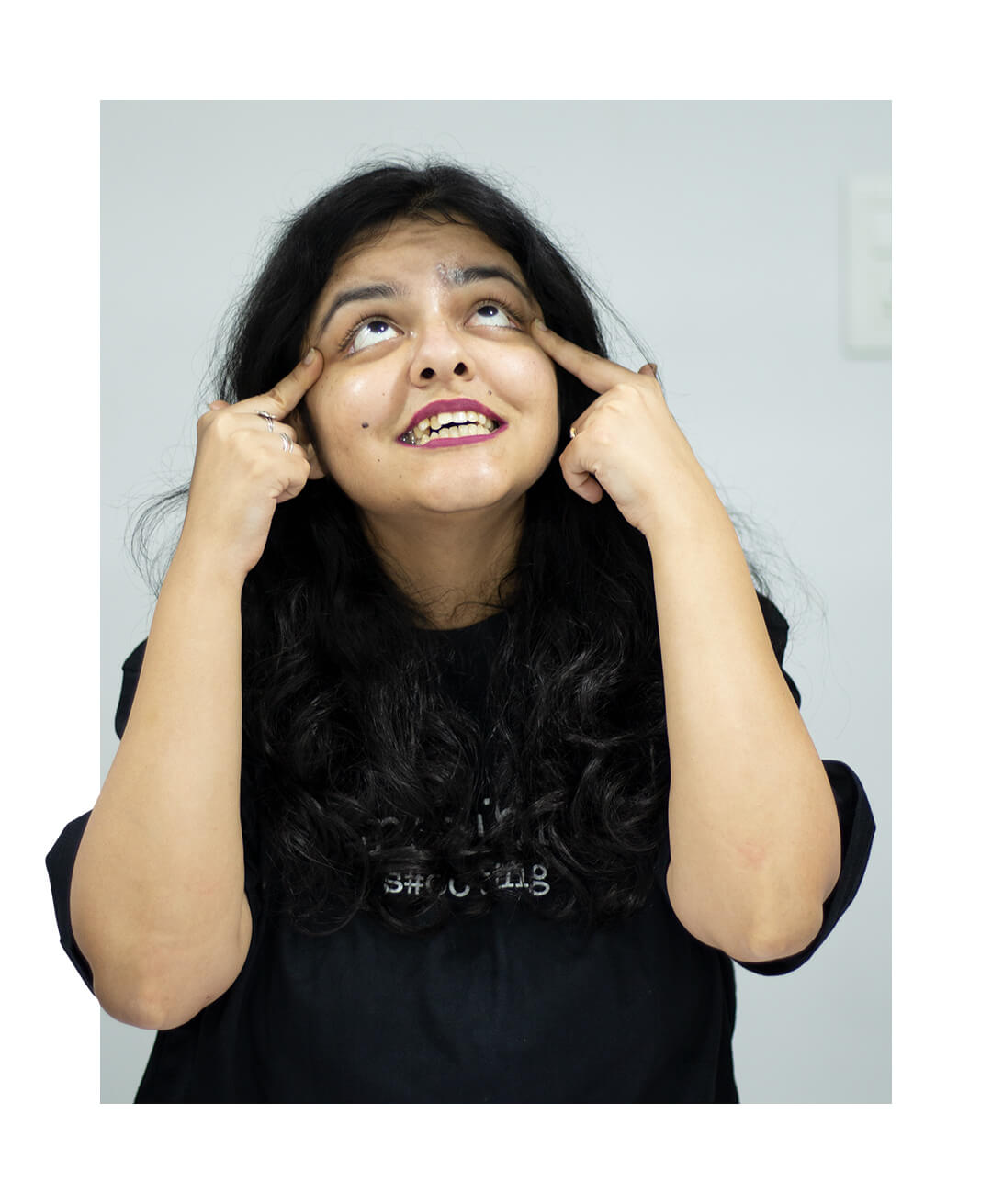 Currently shouting THAT'S WHAT SHE SAID somewhere inappropriate.
Heer Shingala
Social Media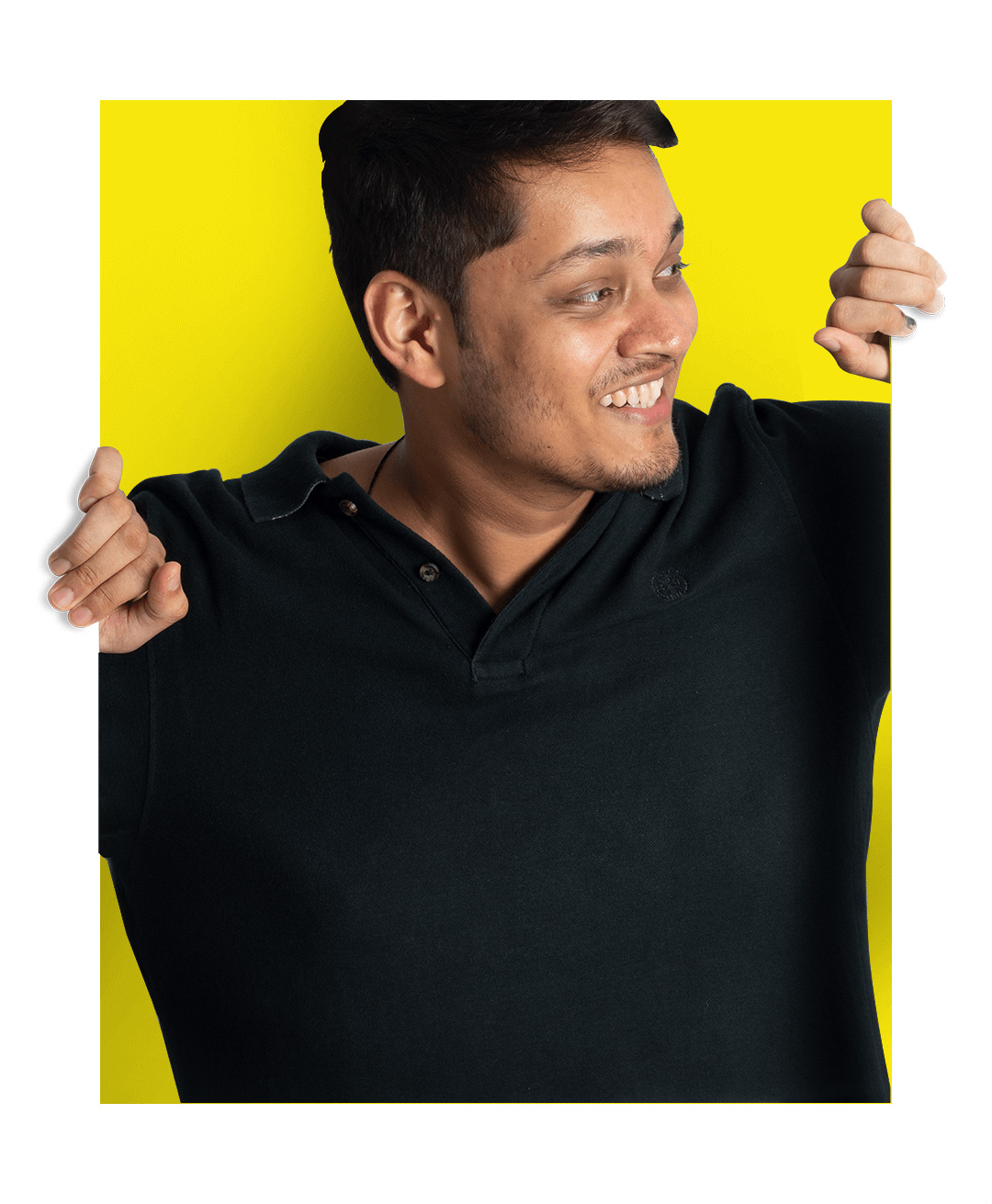 Naam toh suna hoga!
Varun Kothari
Part time footballer, full time injured.
Rosario Dias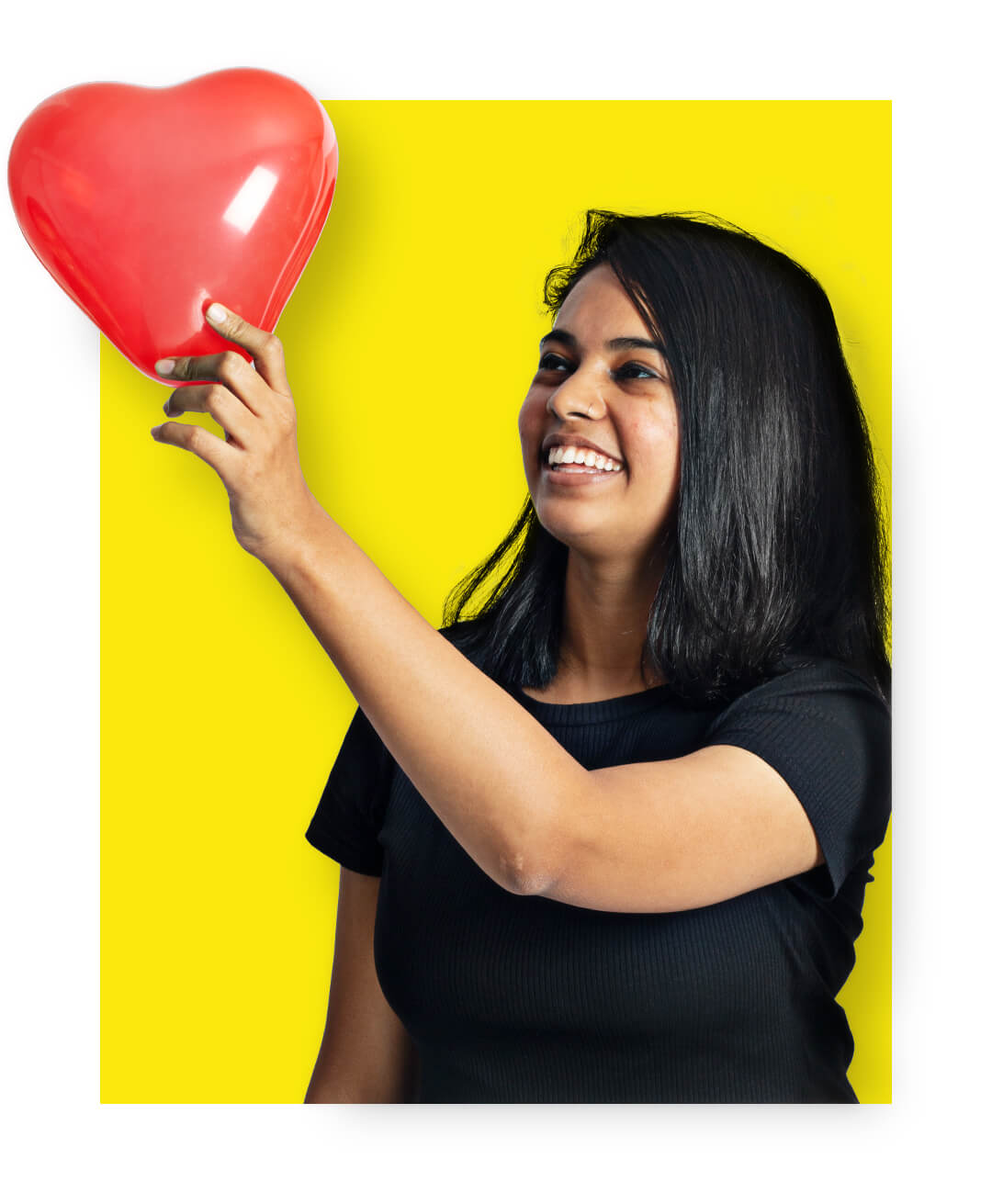 If she would reach any earlier, she would be filling the water tank.
Aliba Mirza
Content
Plan

hai!!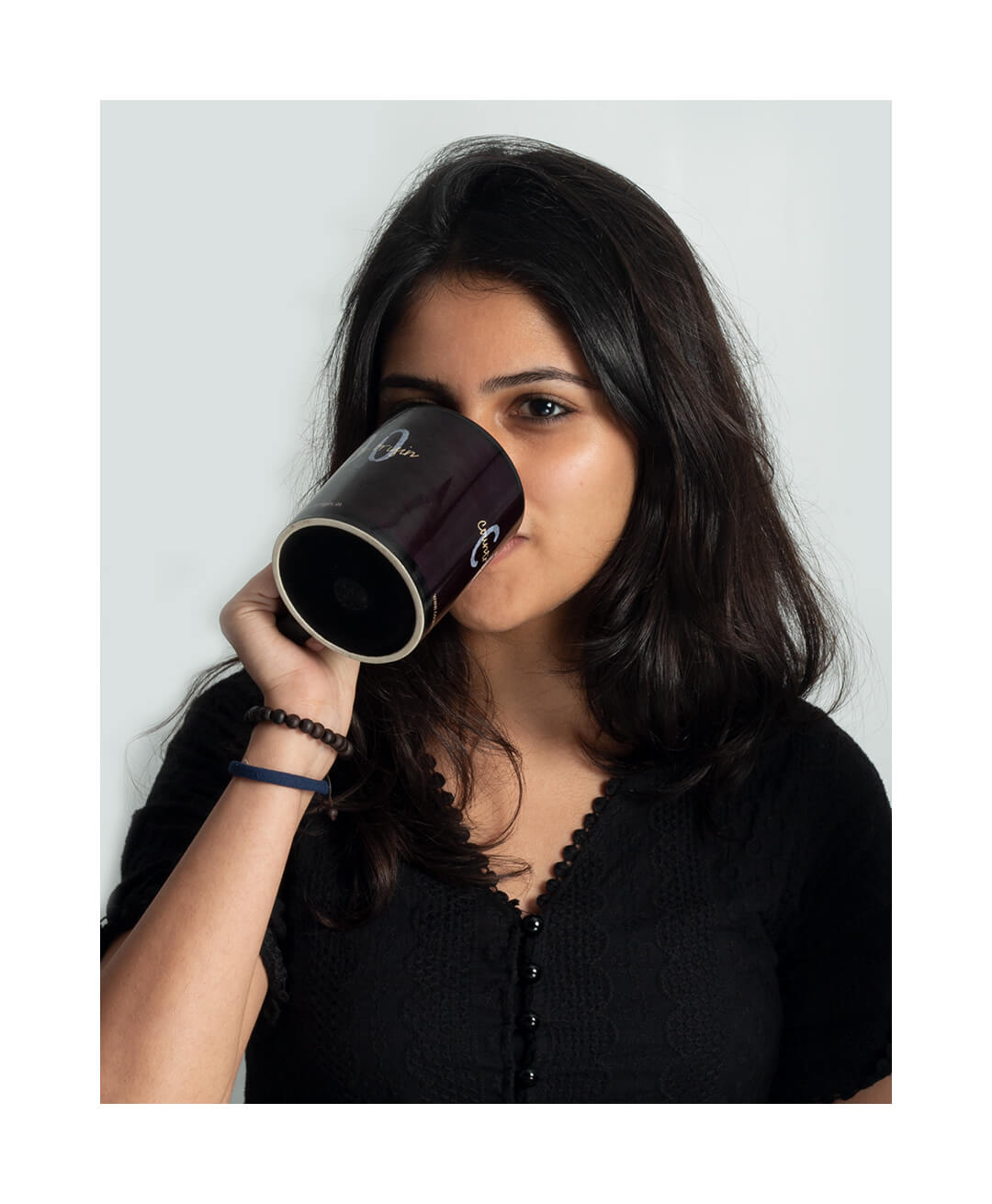 Also known as Smile. OK. Please.
Anaanya Wadhwa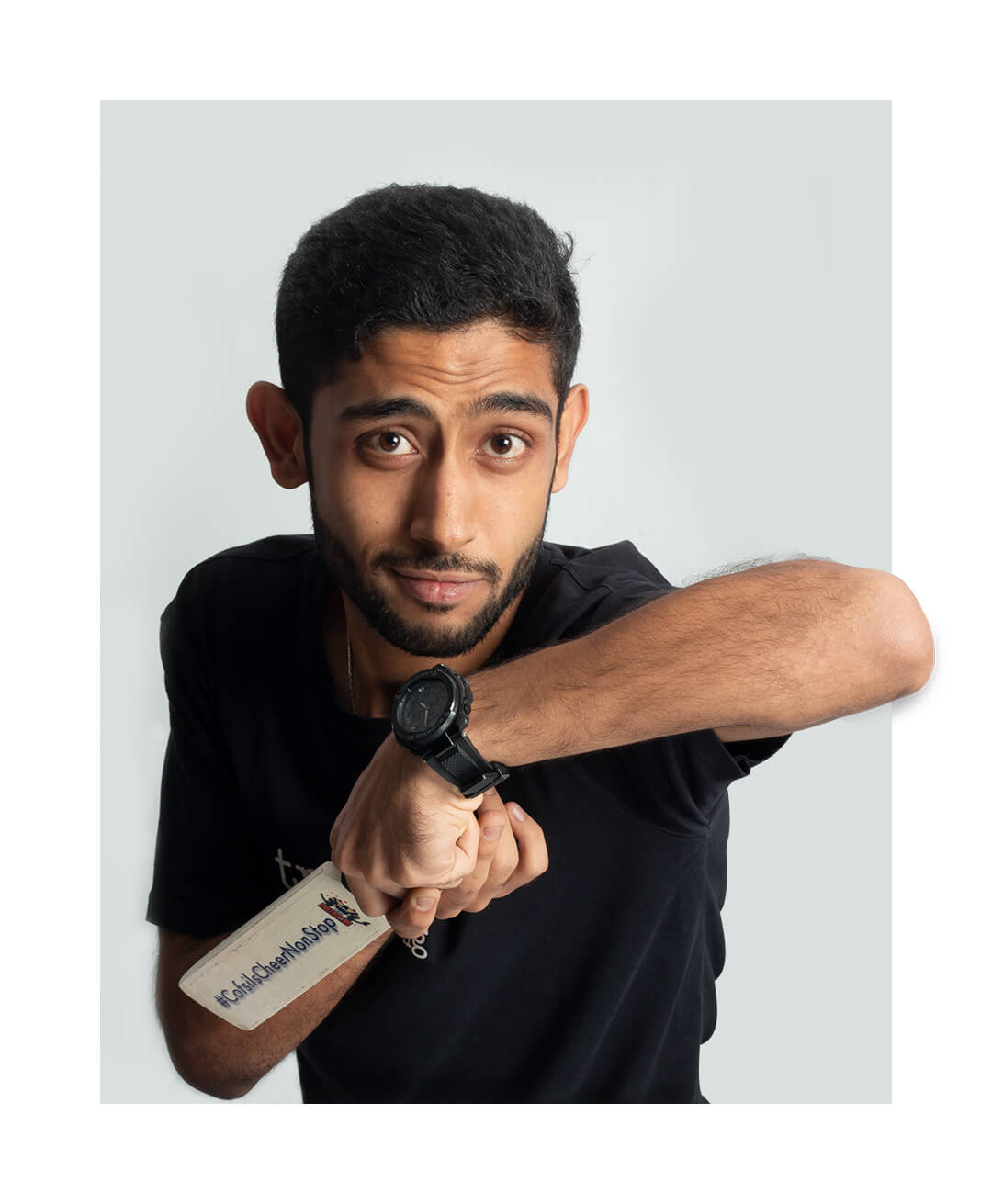 Always looking for a Marathi copywriter.
तुम्हाला मराठी येते का?
Tej Kansara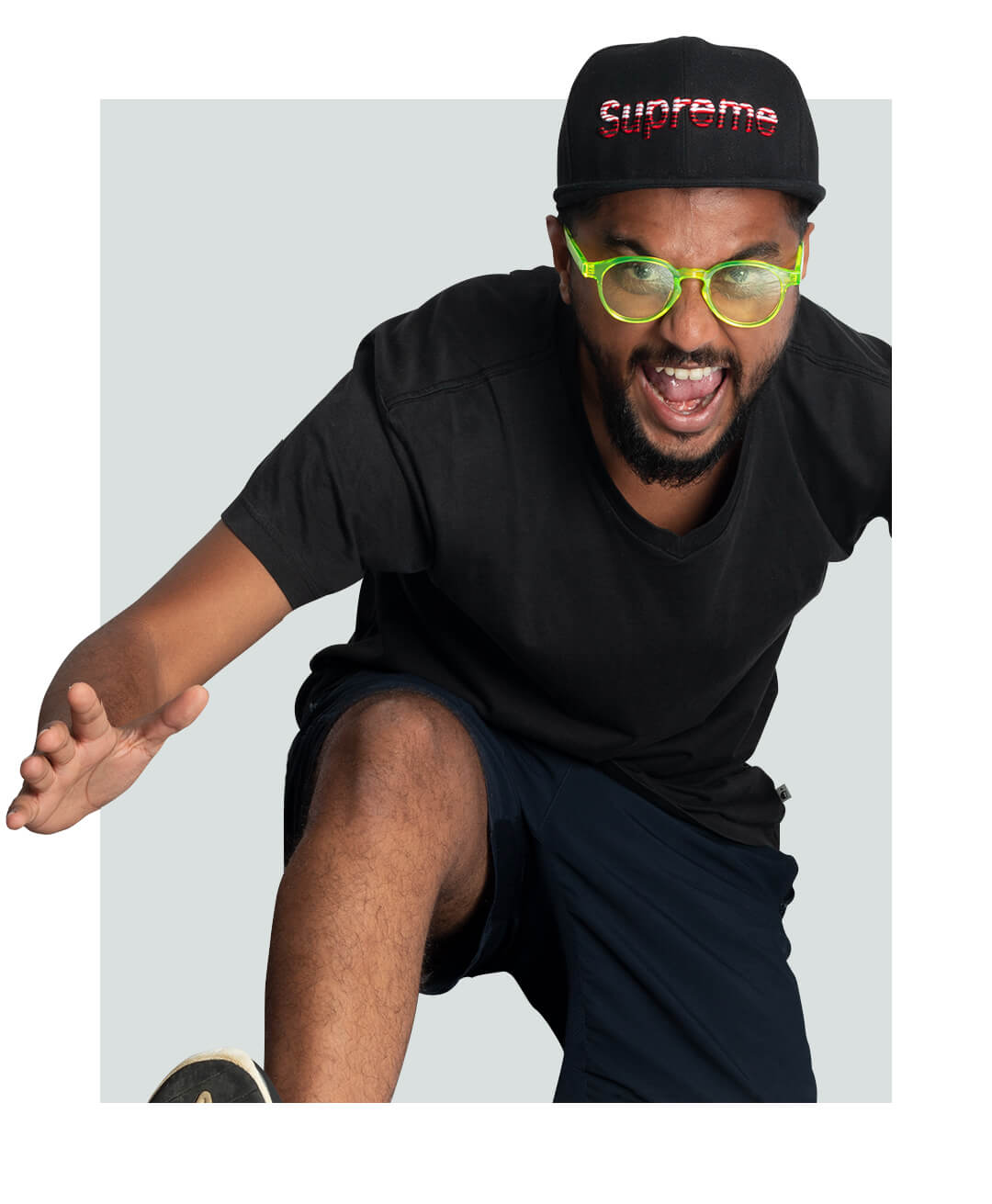 Not in office right now, check back later.
Patrick Britto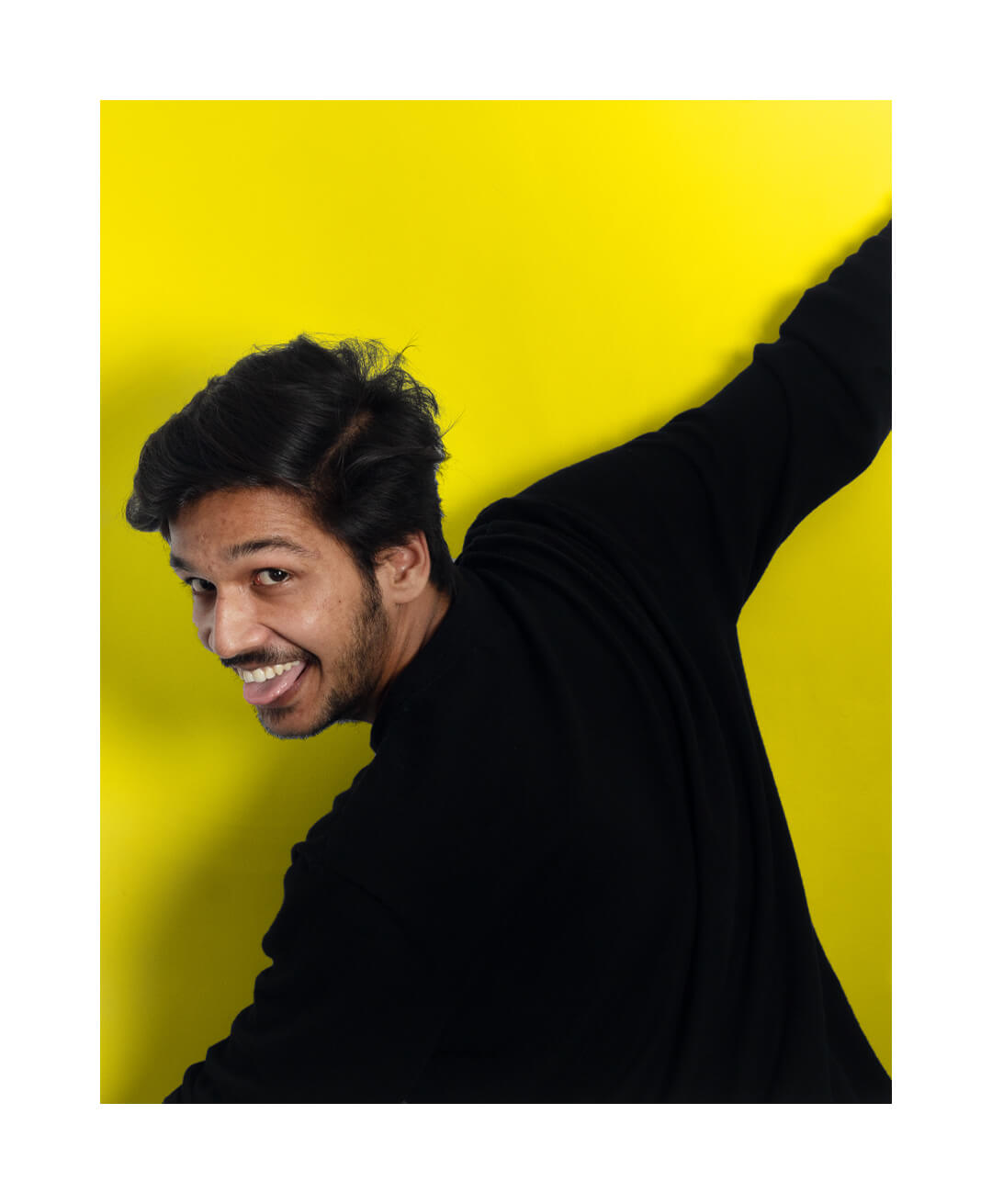 Can reach Ting Chennai faster than Ting Mumbai.
Gaurav Sharma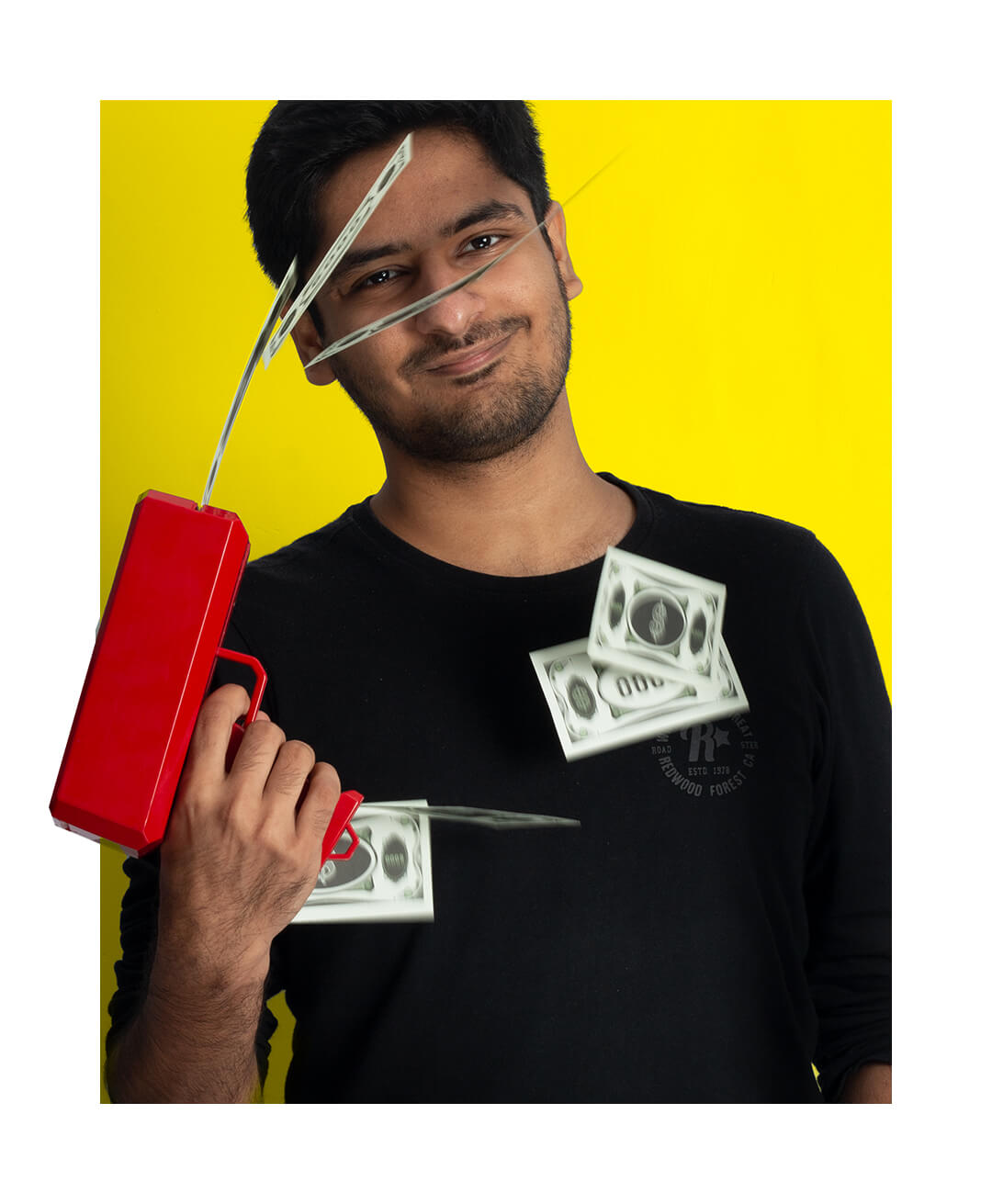 Spending money and spreading goss.
Bhargav Pandya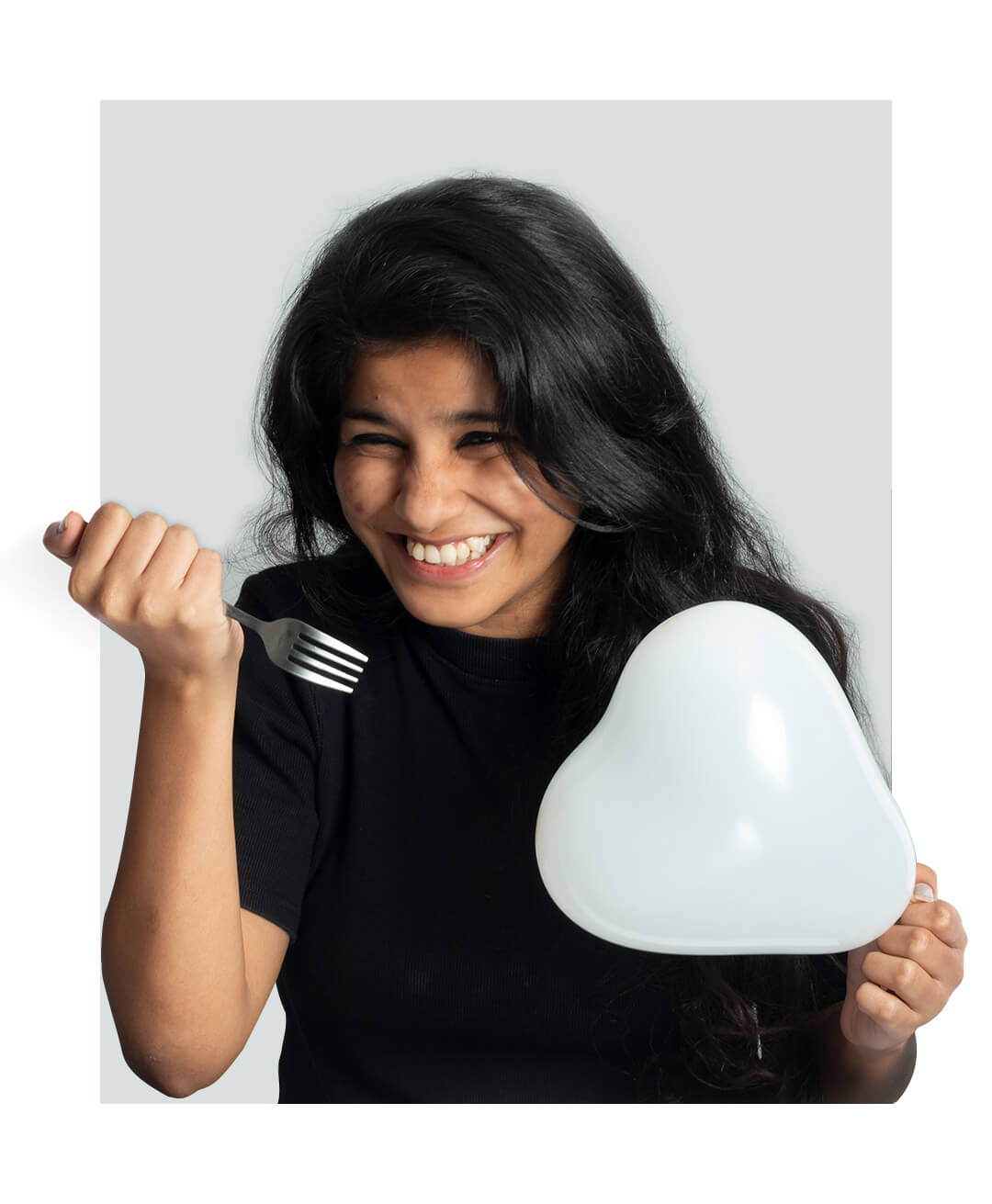 Got designers on her speed dial!
Vaibhavi Khaire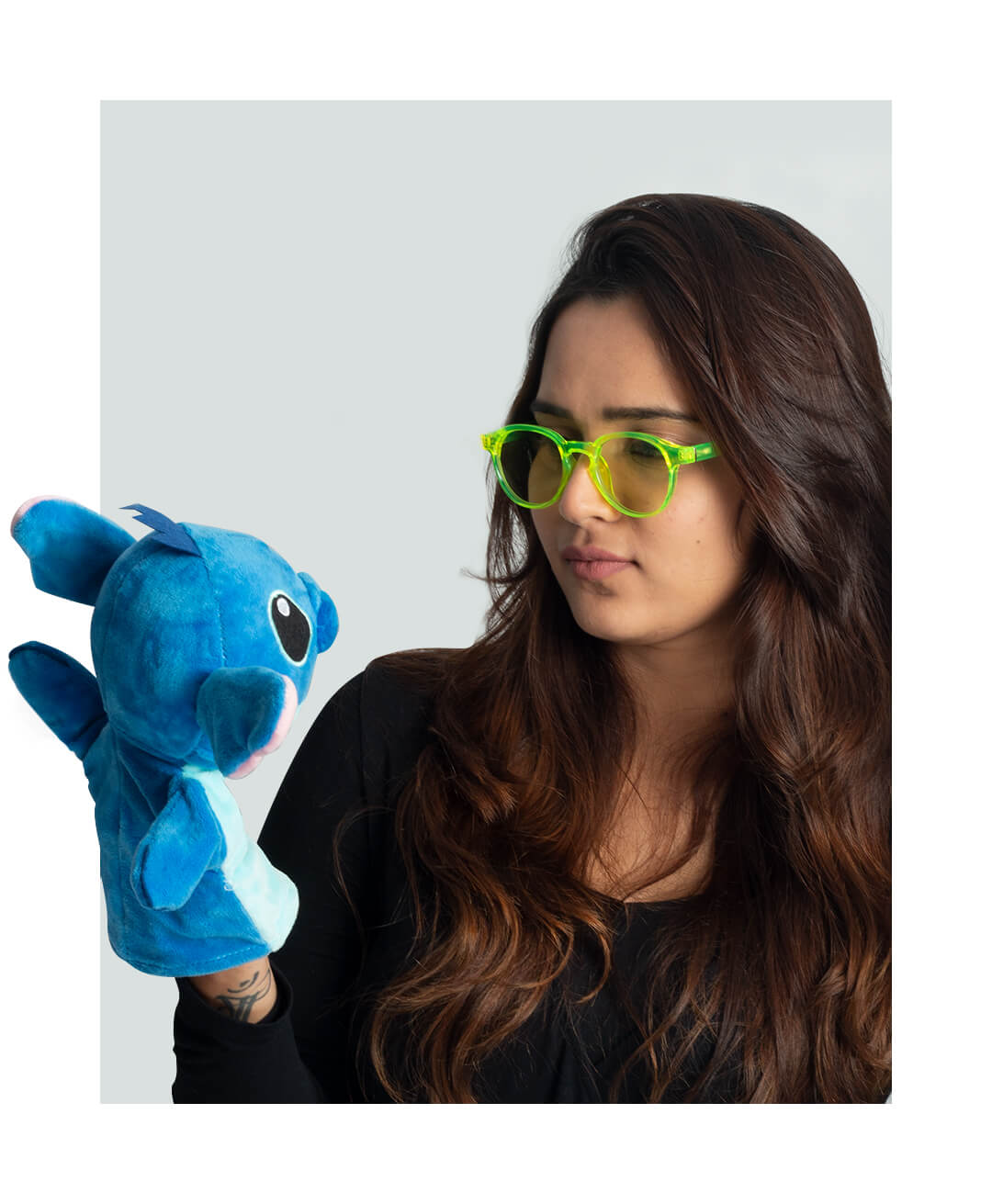 "(Content) Pari hu main."
Paridhi Jain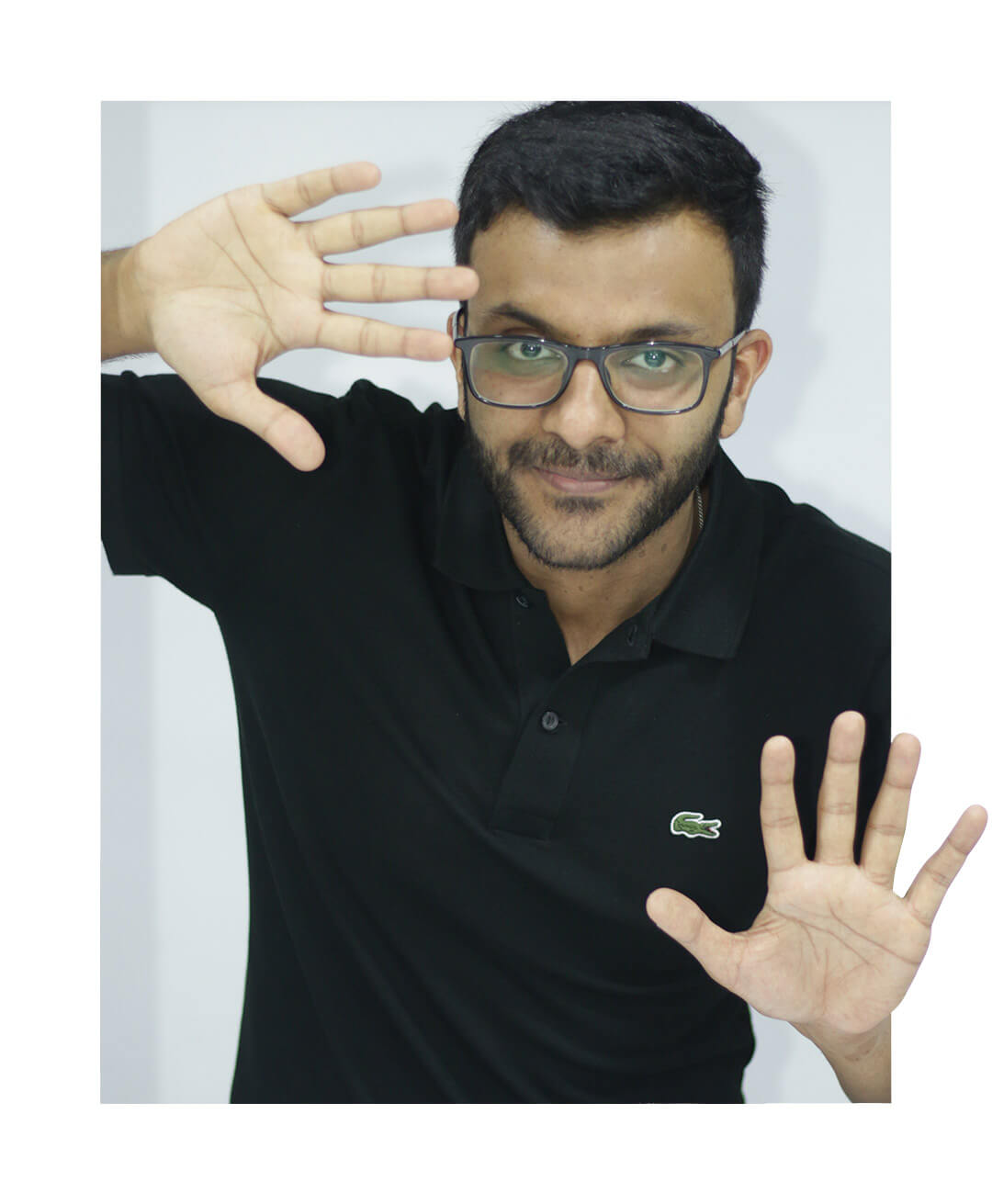 A burger away from getting McDonalds' yearly subscription.
Krishi Jhaveri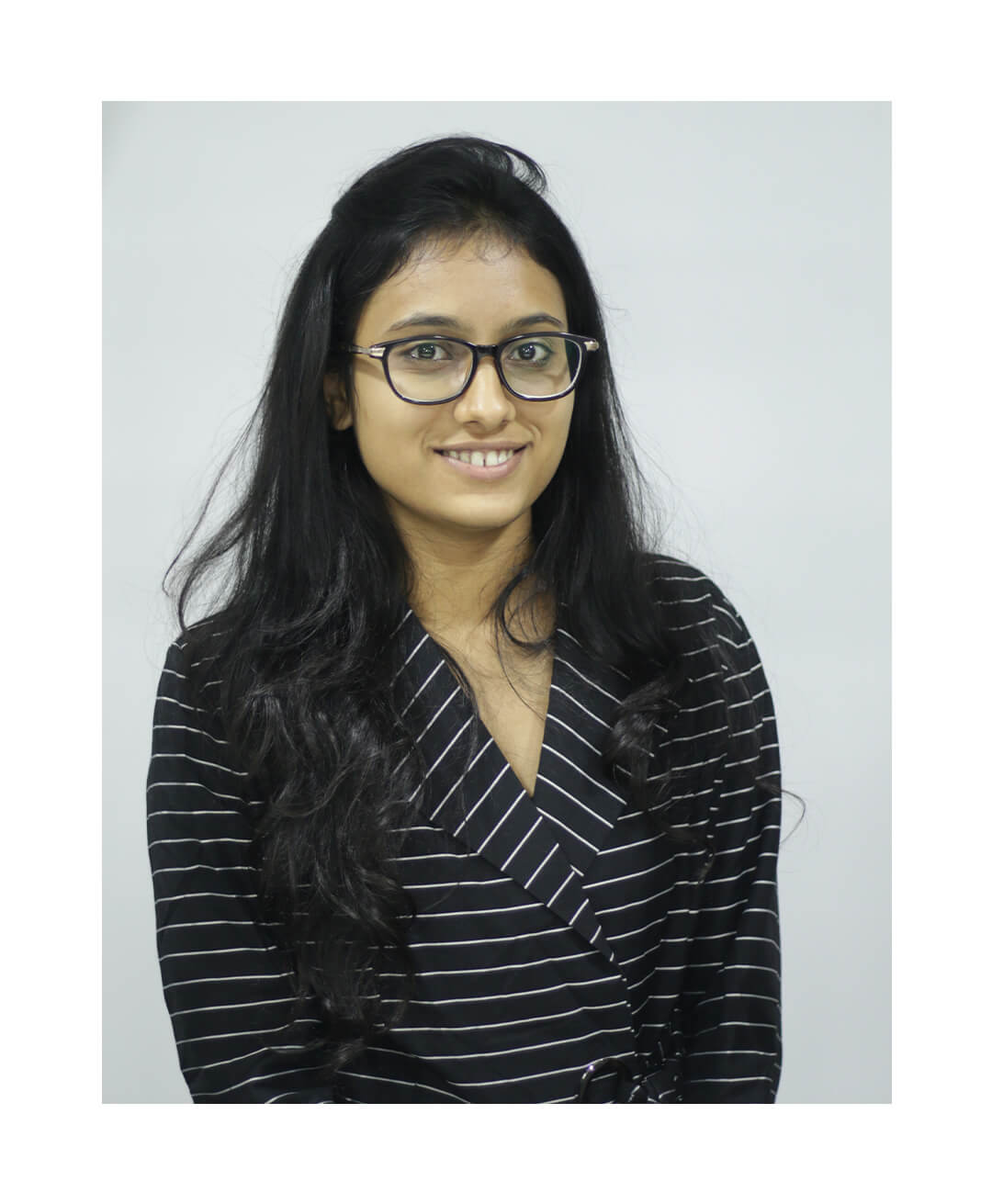 If you receive a message from her asking for an OTP, DON'T!
Ruchi Jain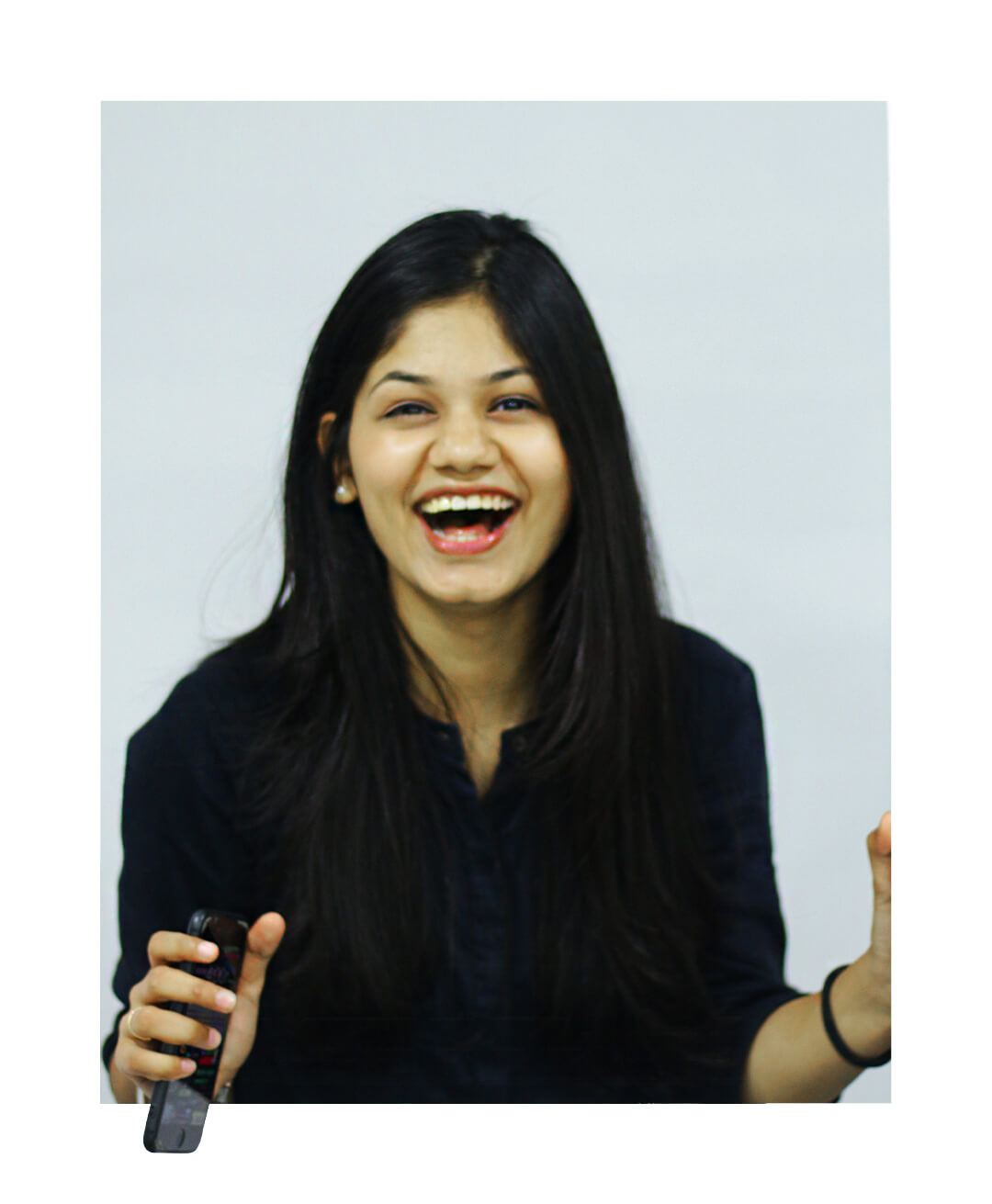 Probably catchin you if you an INFLUENZA.
Mahima Jain
Web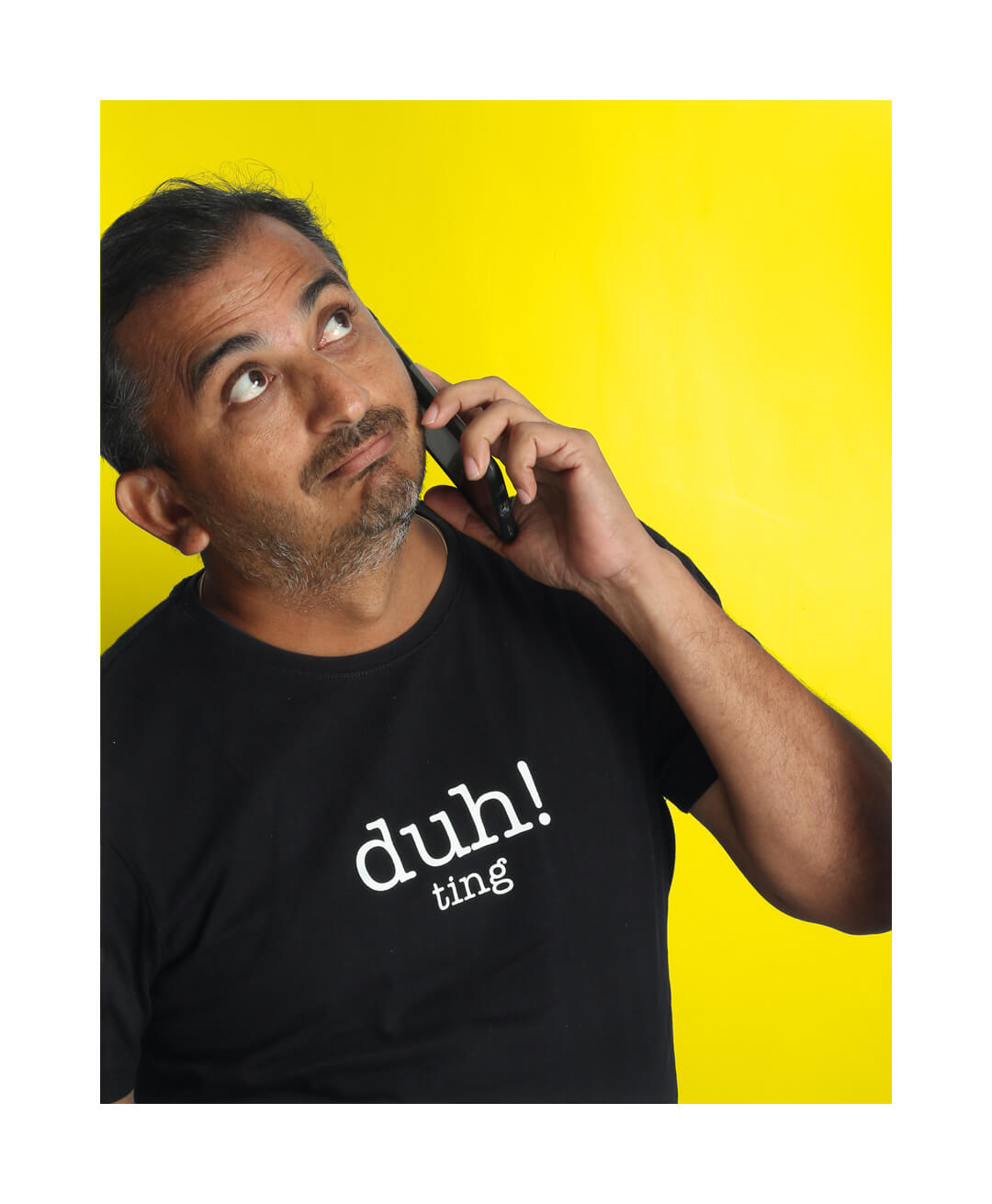 Code of Duty.
Vipin Patil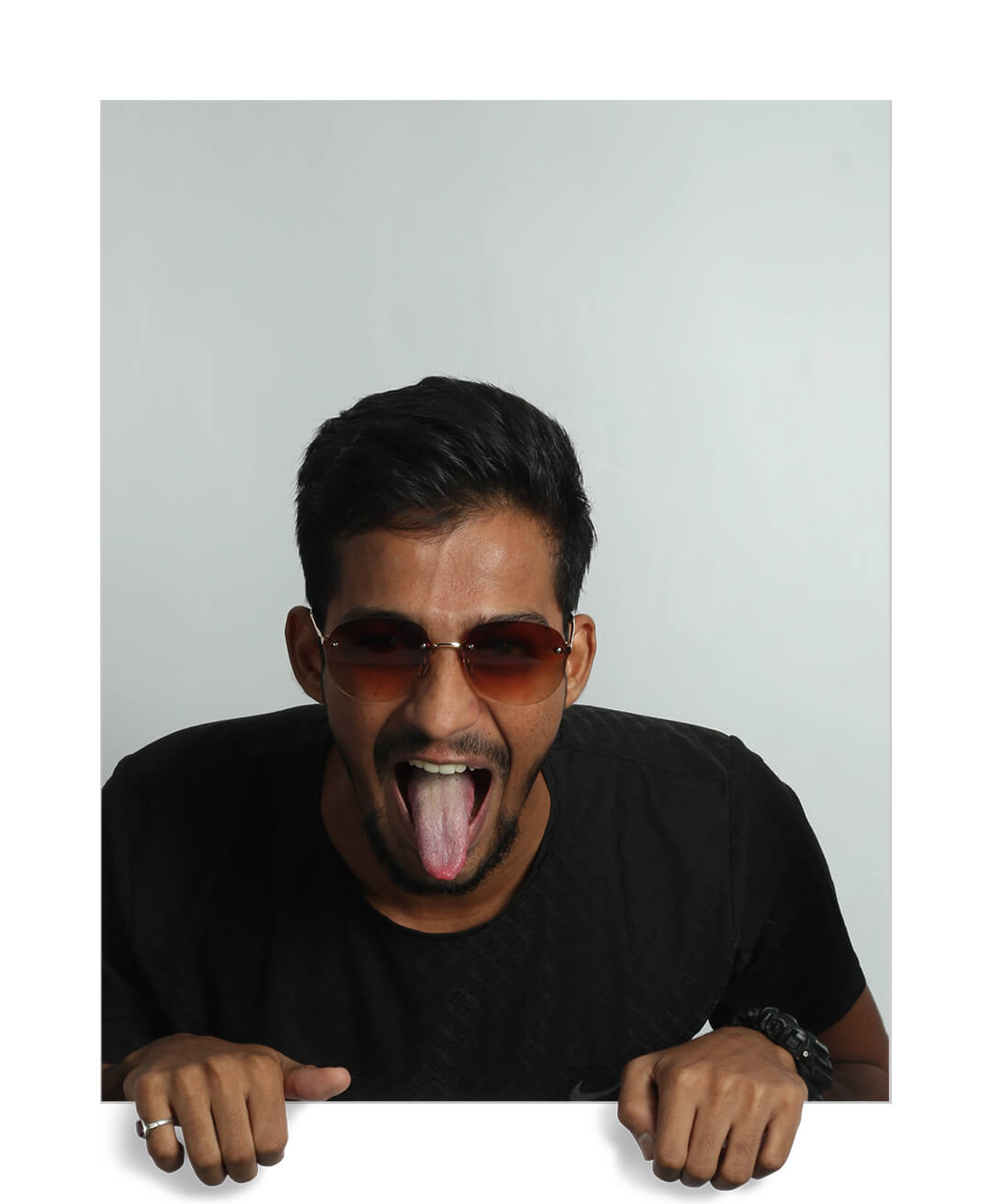 "When in doubt, leave it out!"
Mustafa Patrawala
mera 2985
comp off
baki hai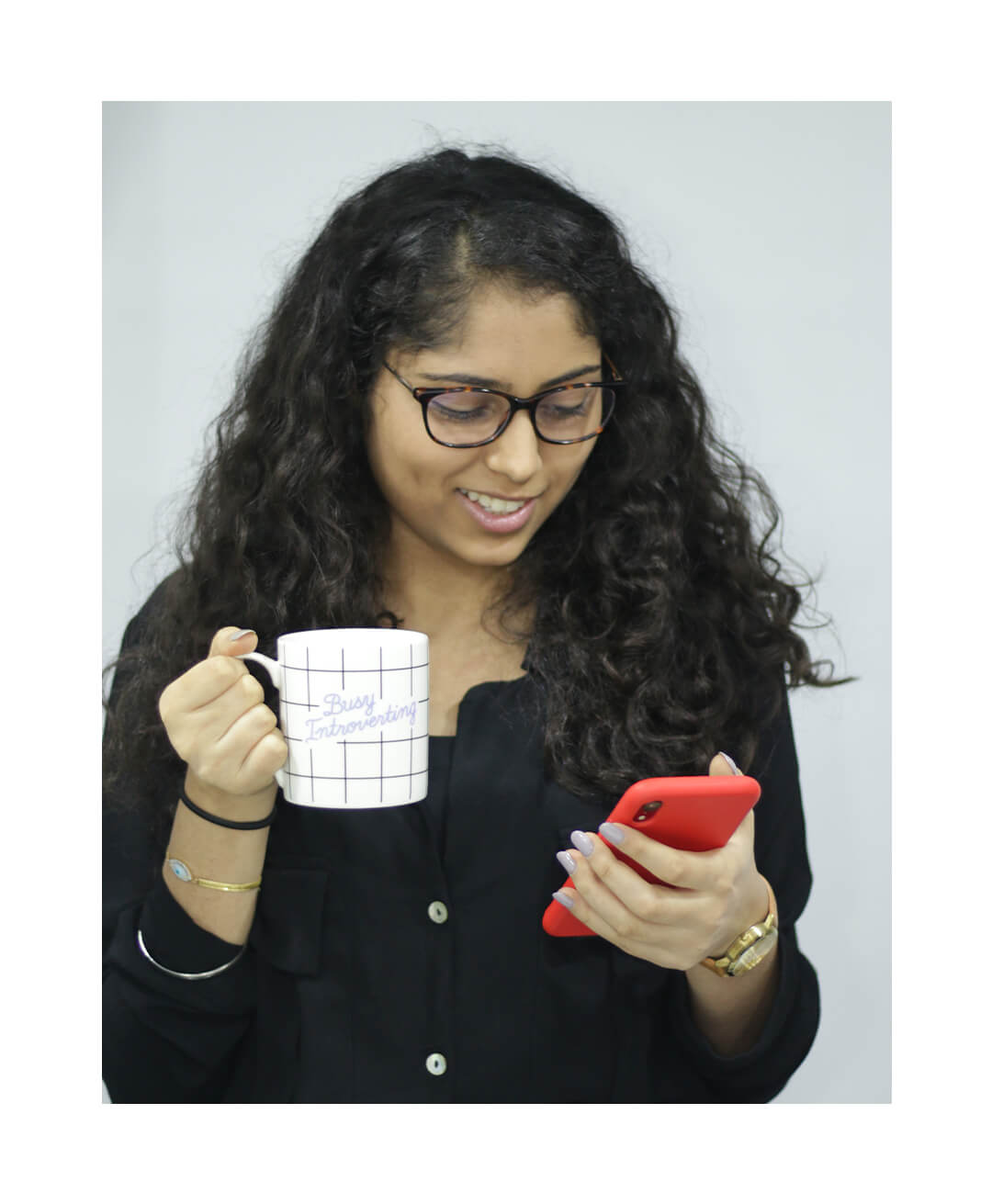 Dimples as deep as her life's philosophies.
Priyanka Gokal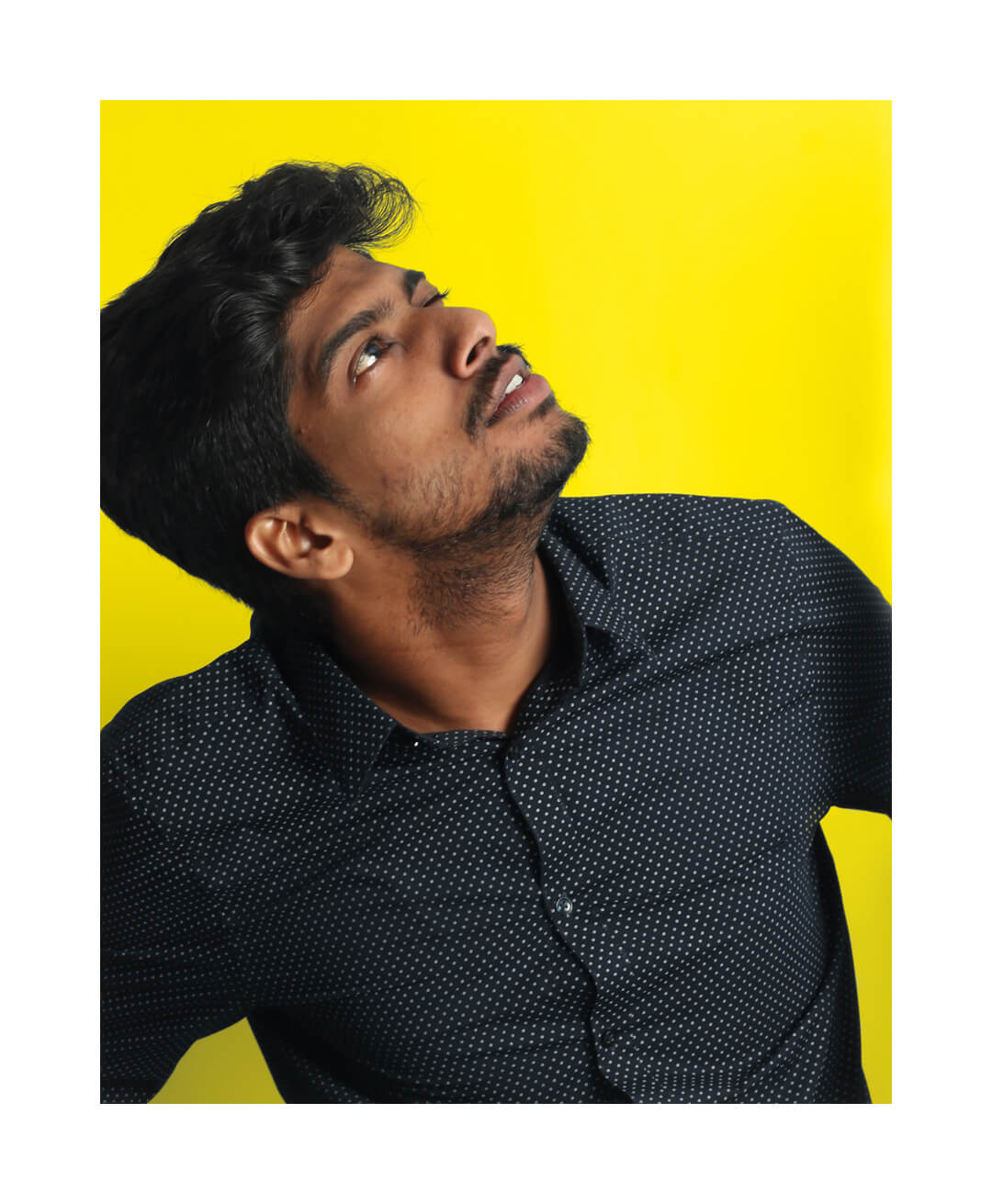 Busy singing the wrong lyrics loudly!
Adarsh Anchan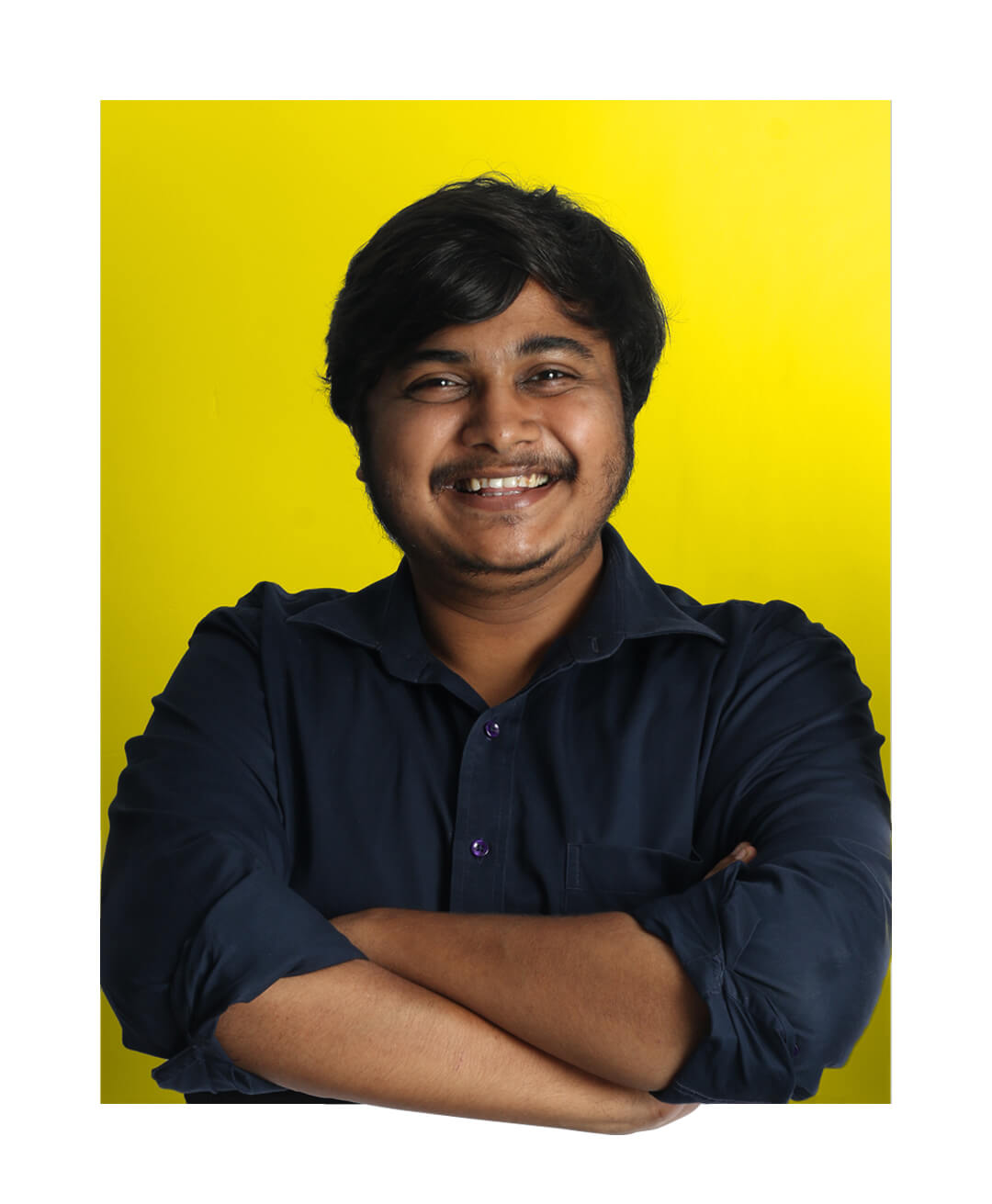 Always threatens to resign but is still here.
Vinit Faria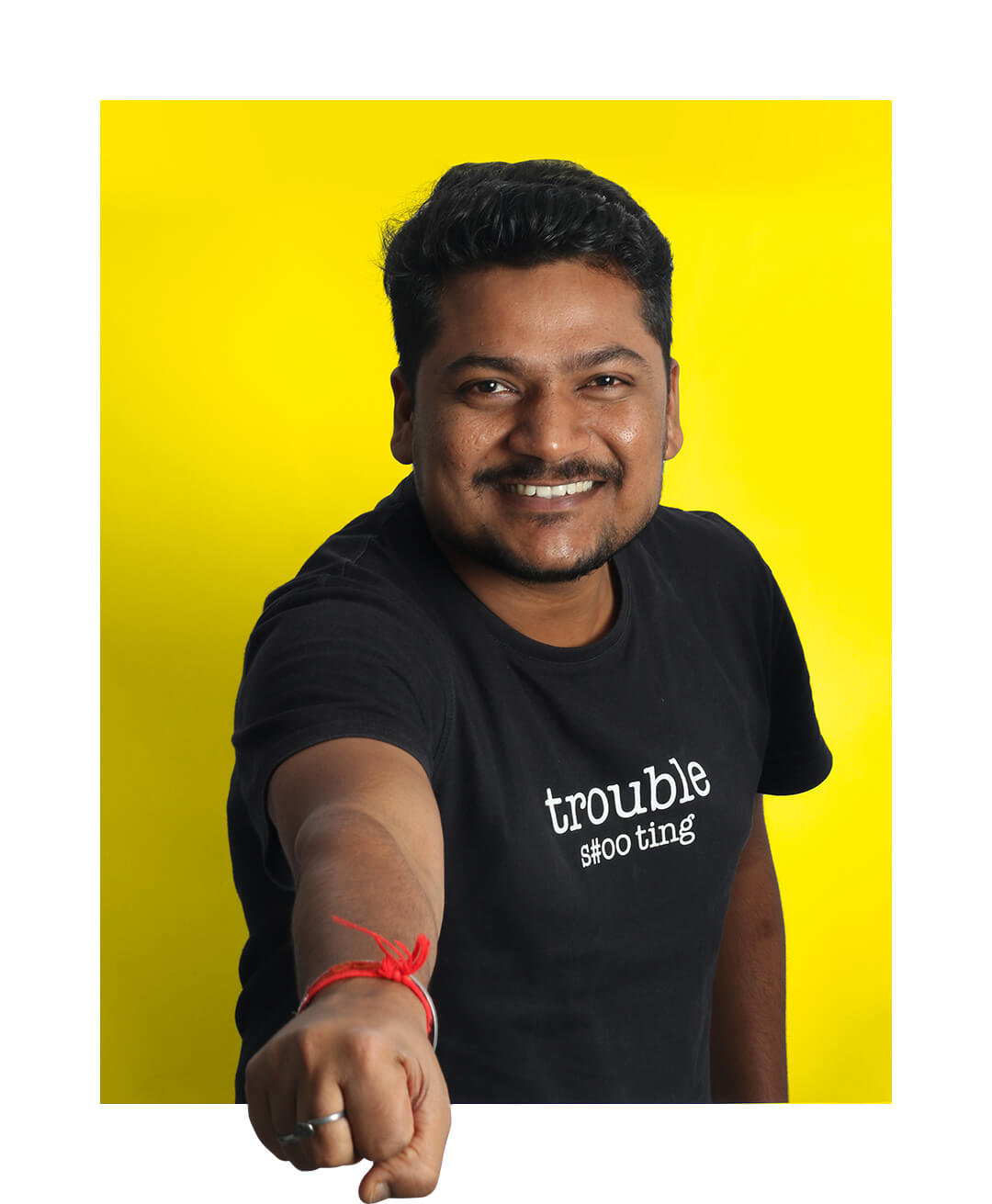 10% coding, 90% cricket.
Pawan Kumar Singh
Trains late
hai, Uber
Rs.1700
dikha
raha hai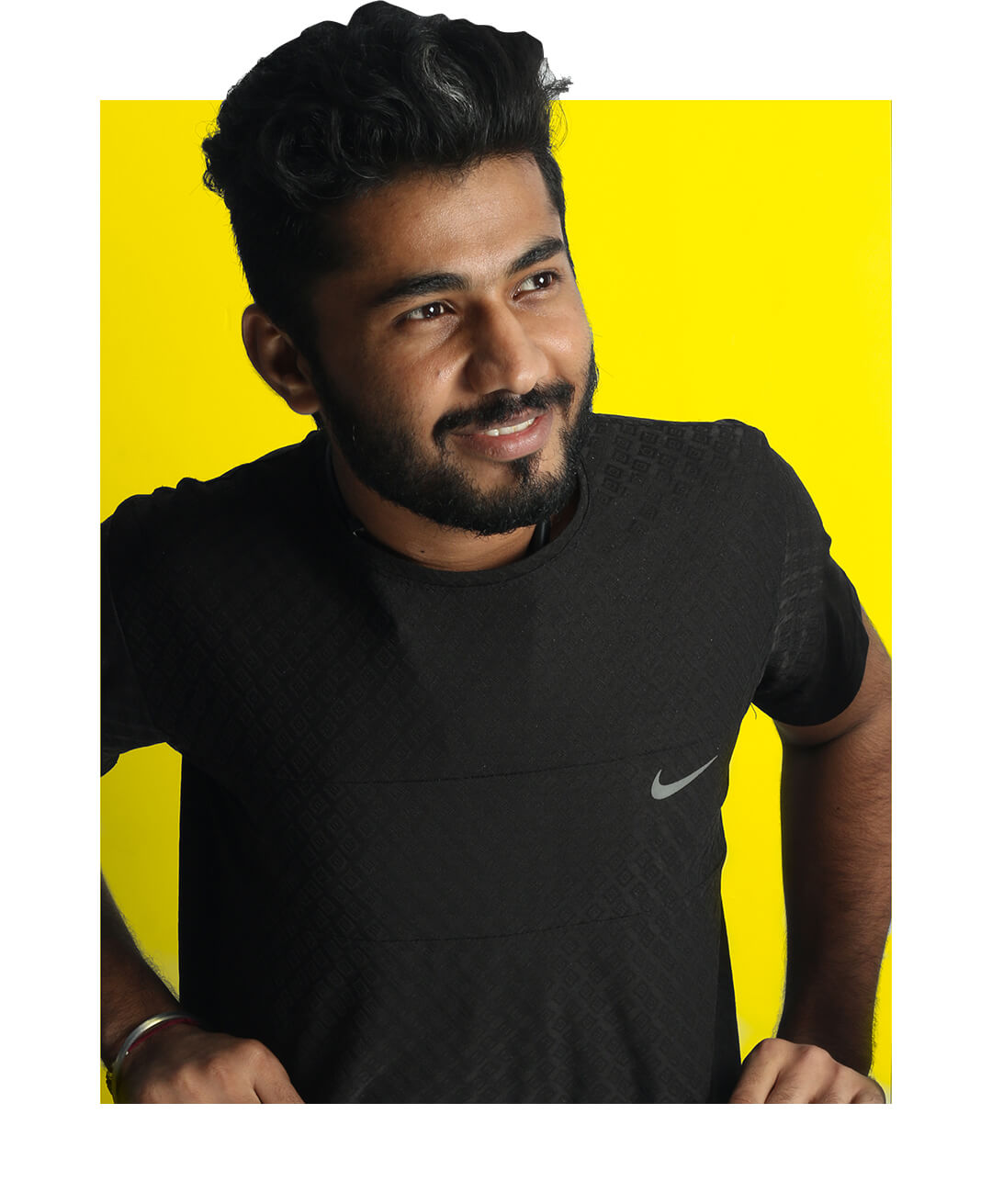 It's not a bug – it's an undocumented feature.
Vishal Shukla
mystery to
be cracked
who gets a
Mac and
who gets
a HP?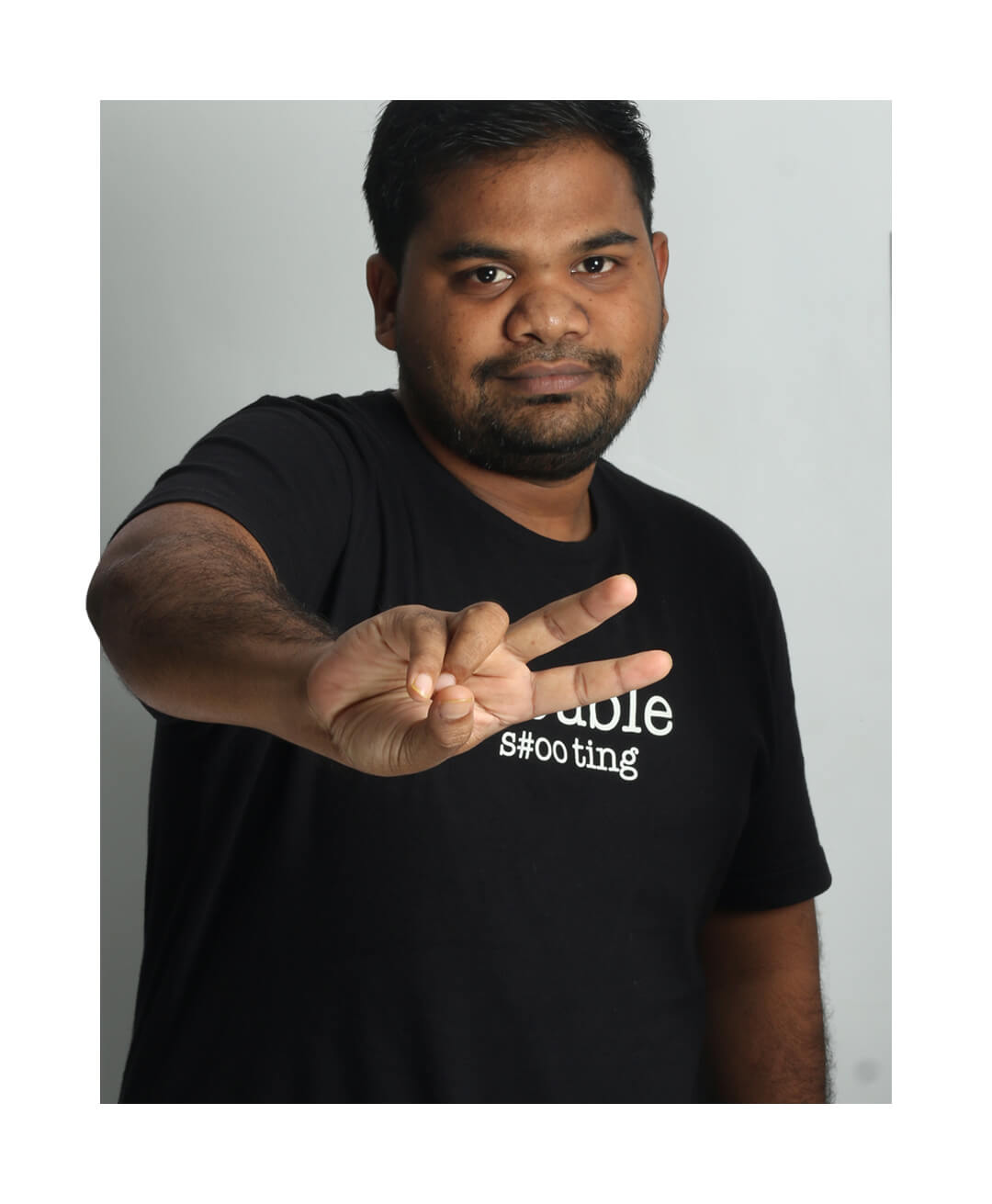 His funda: Team work makes dream work!
Rupesh Rajbhar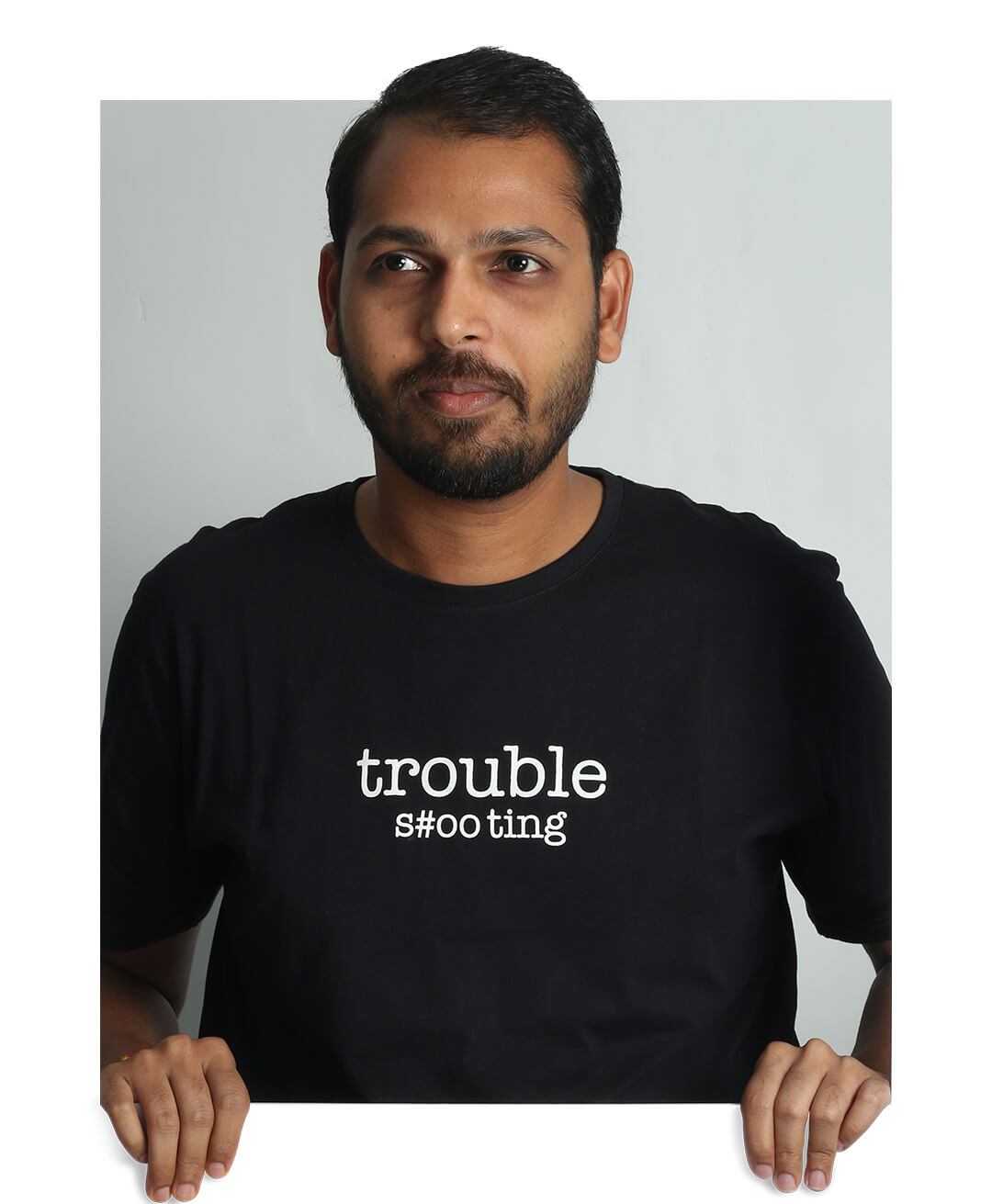 Speaks less, works more.
Siddhesh Inarkar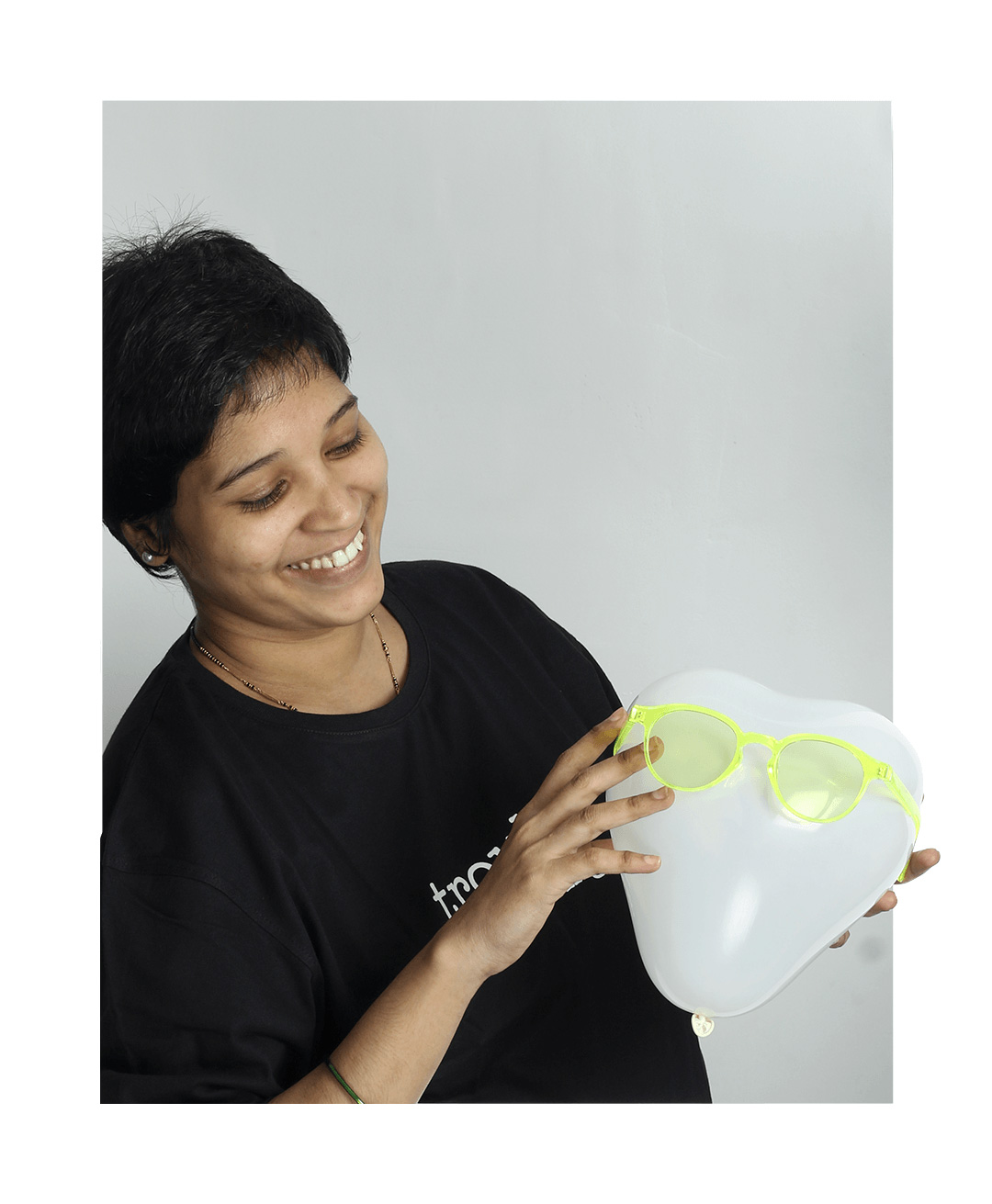 Short & sassy, cute & classy.
Srujana Vemula
Video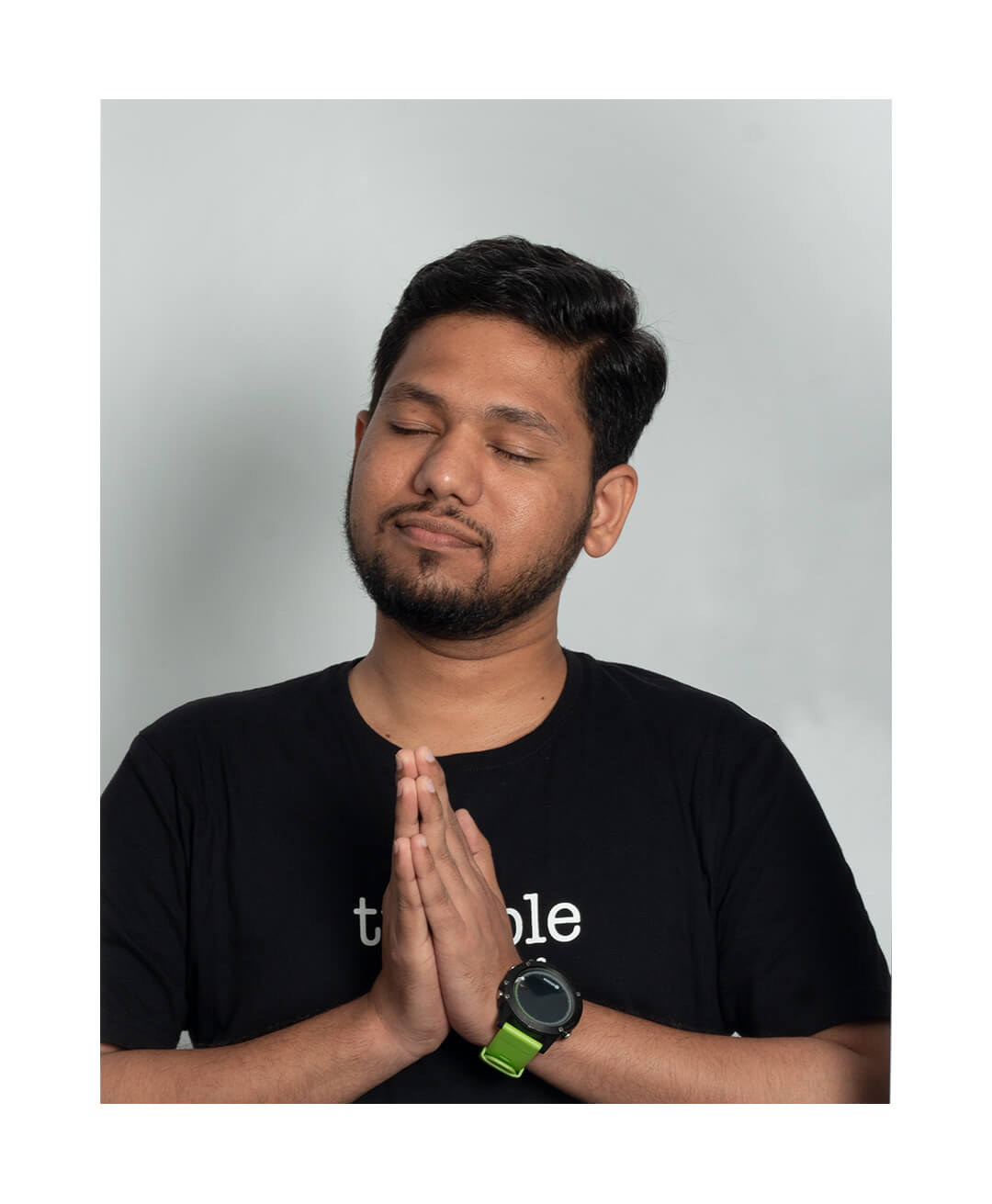 Sande se aate hai (from Badlapur)!
Sandesh V.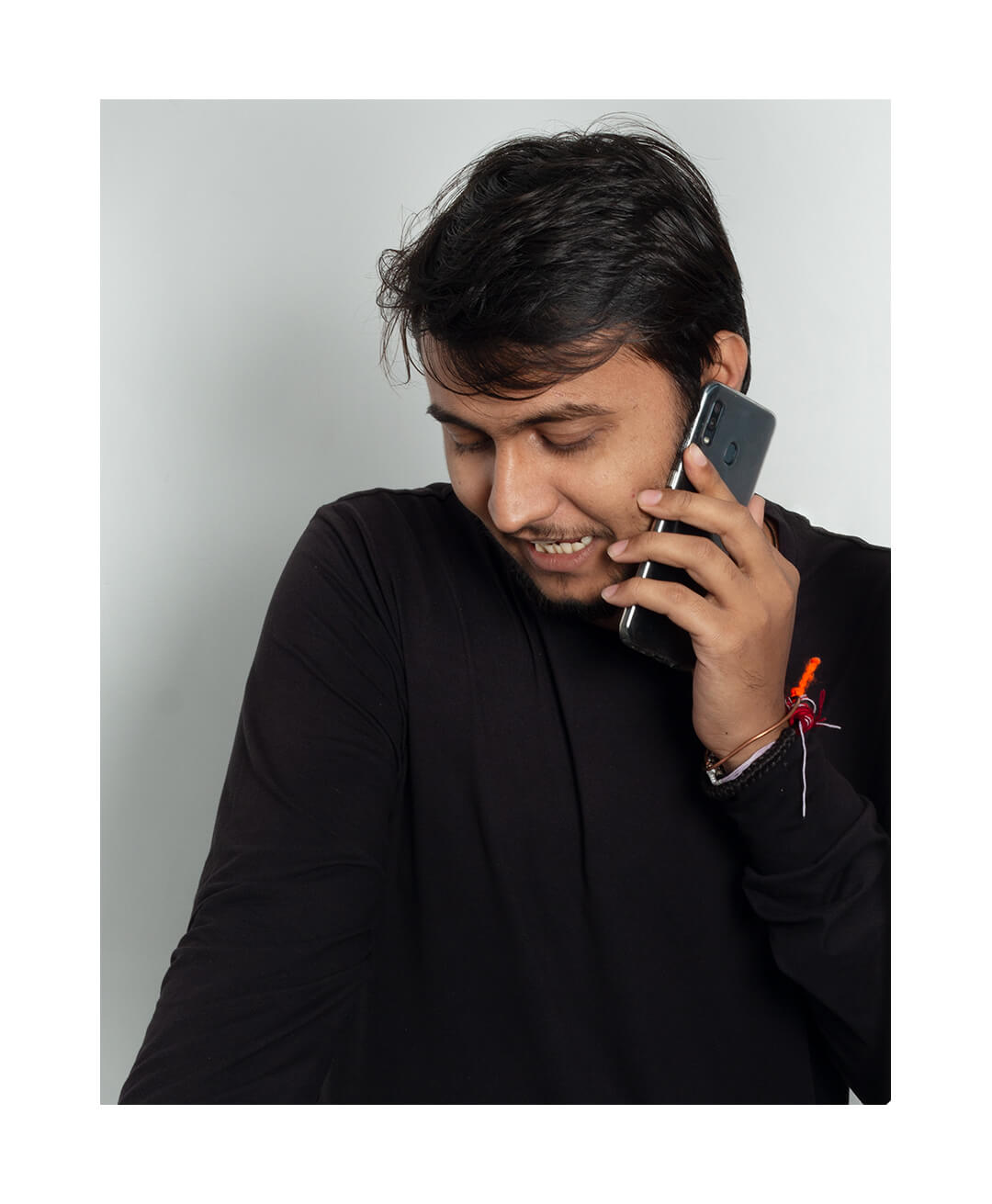 Jio aur jeene do!
Niraj Thakur
do minute
mey video
banana

Please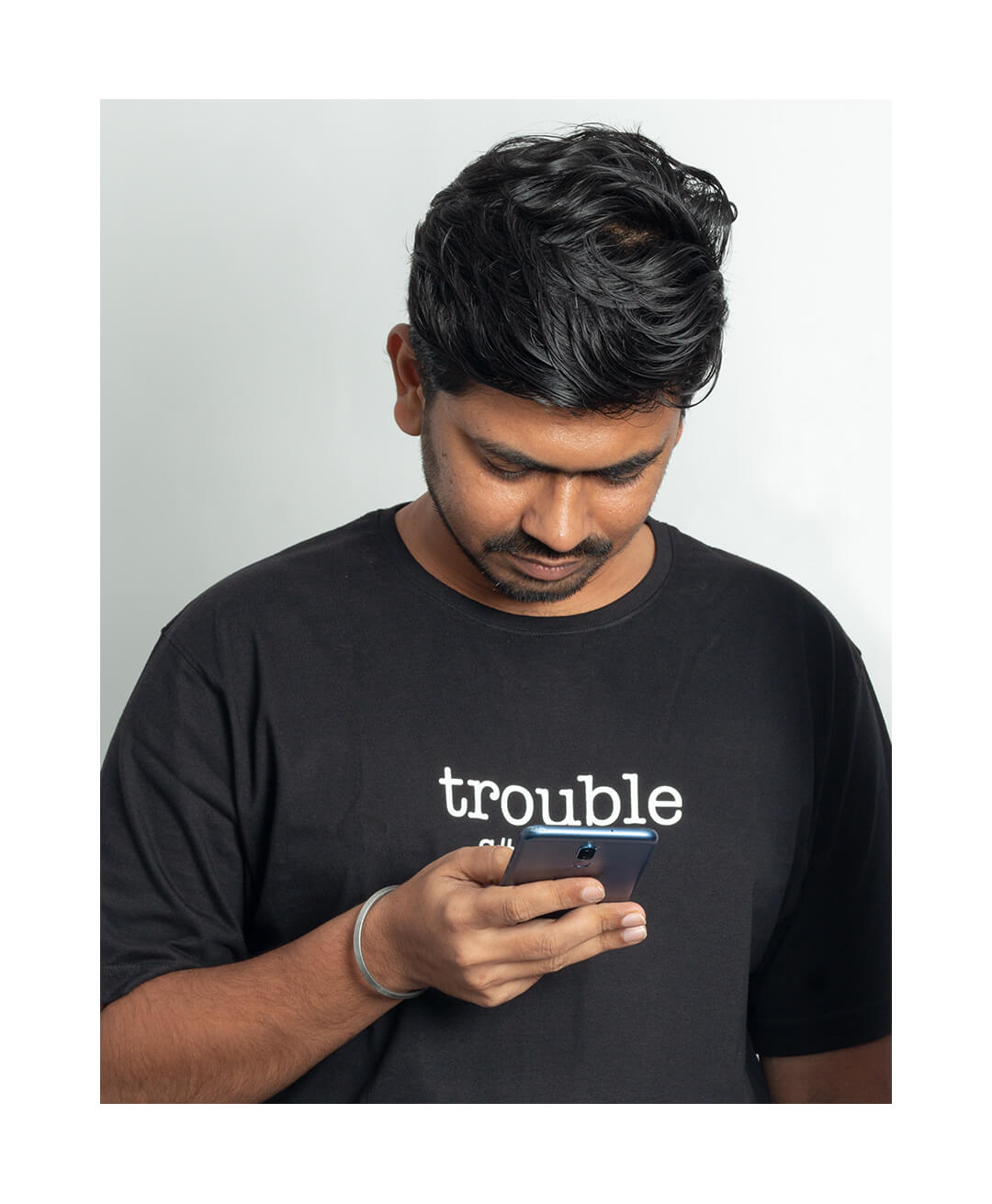 Our blast from the past!
Yogesh Dighe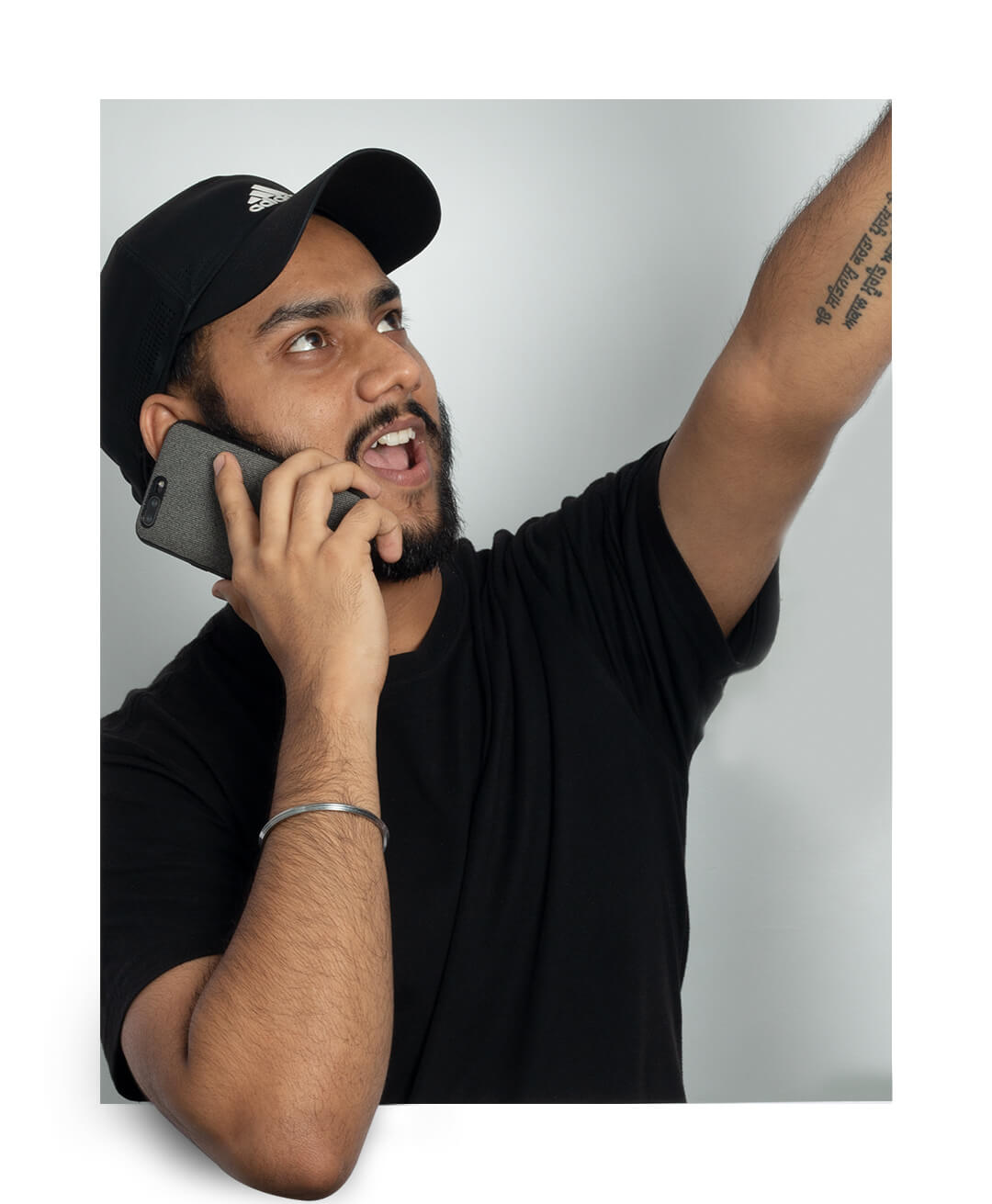 Always a render in progress.
Arshdeep Shergill
Saturday
working
hai ya
nahi?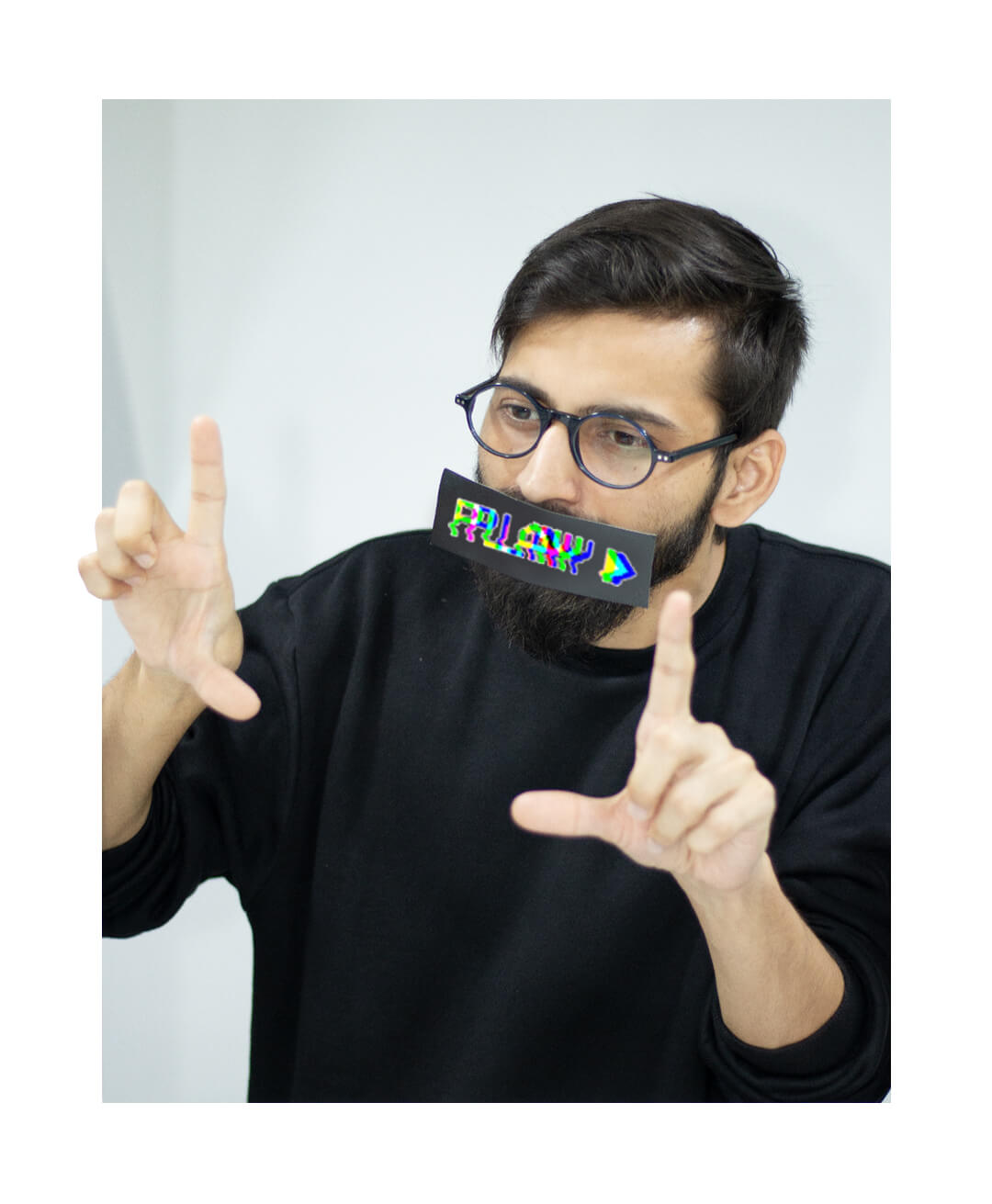 Error 404. Text not found.
Anurag Tiwari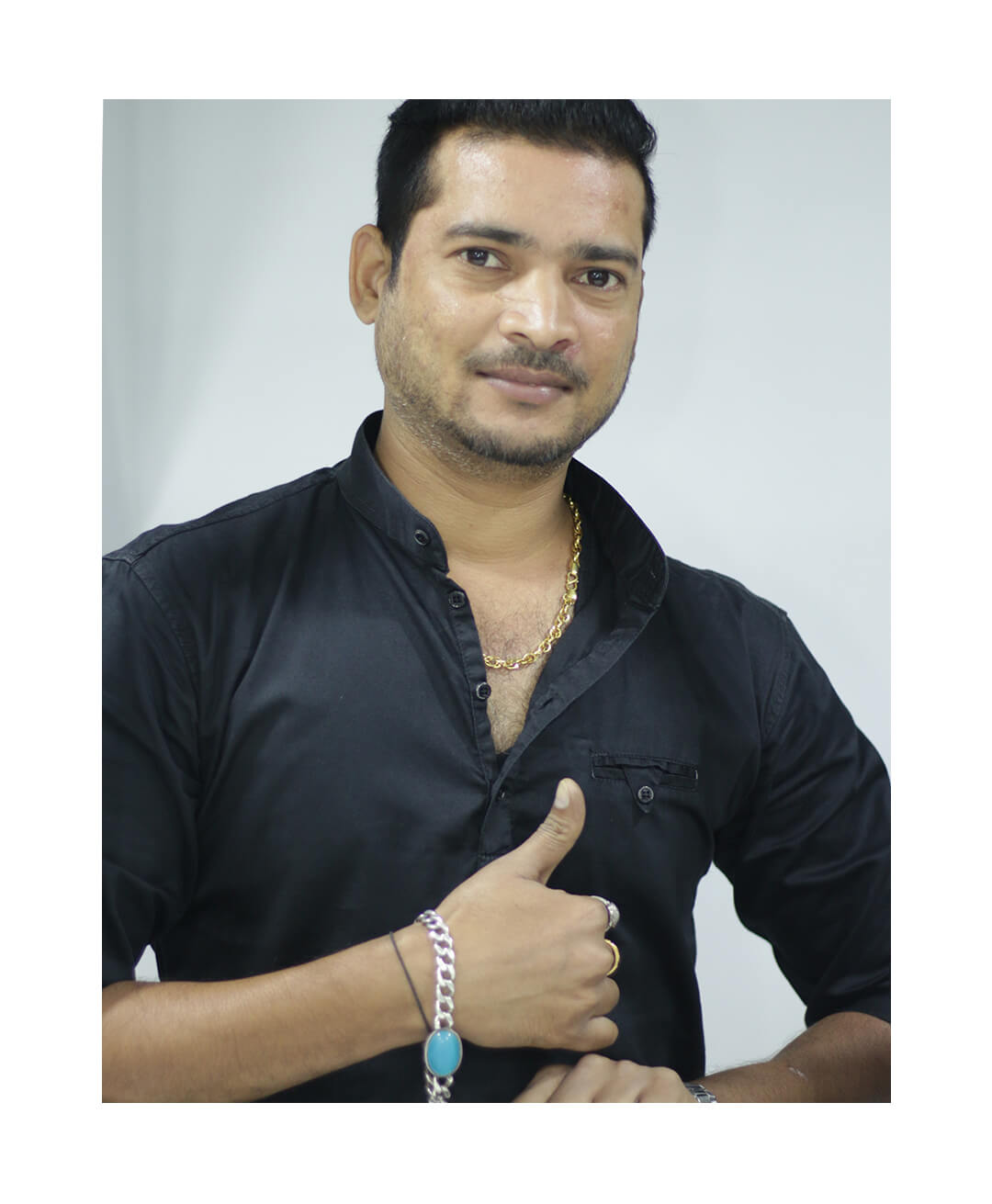 Error 404. Text not found.
Nitin Sawarkar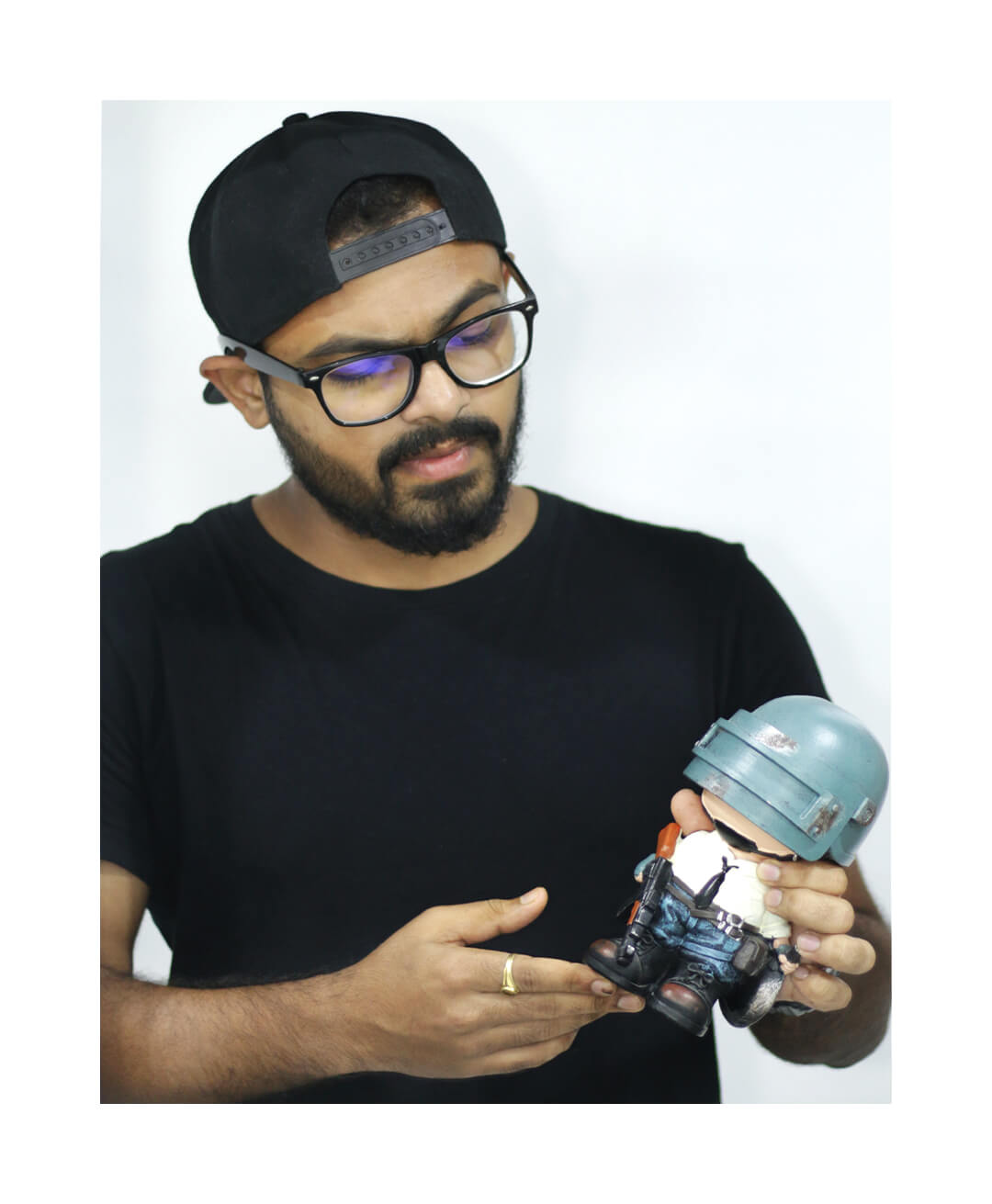 Error 404. Text not found.
Sumit Chavan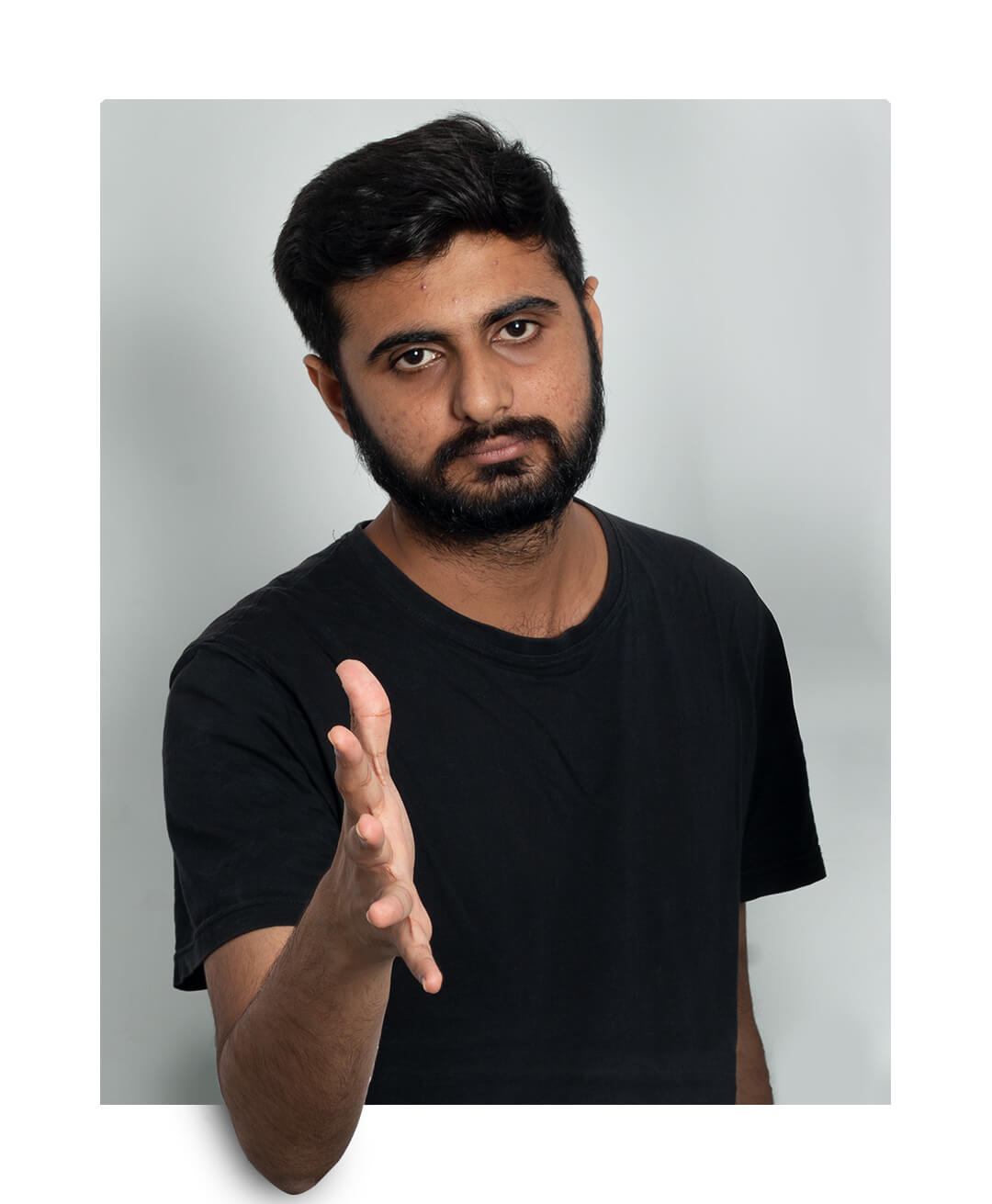 Digital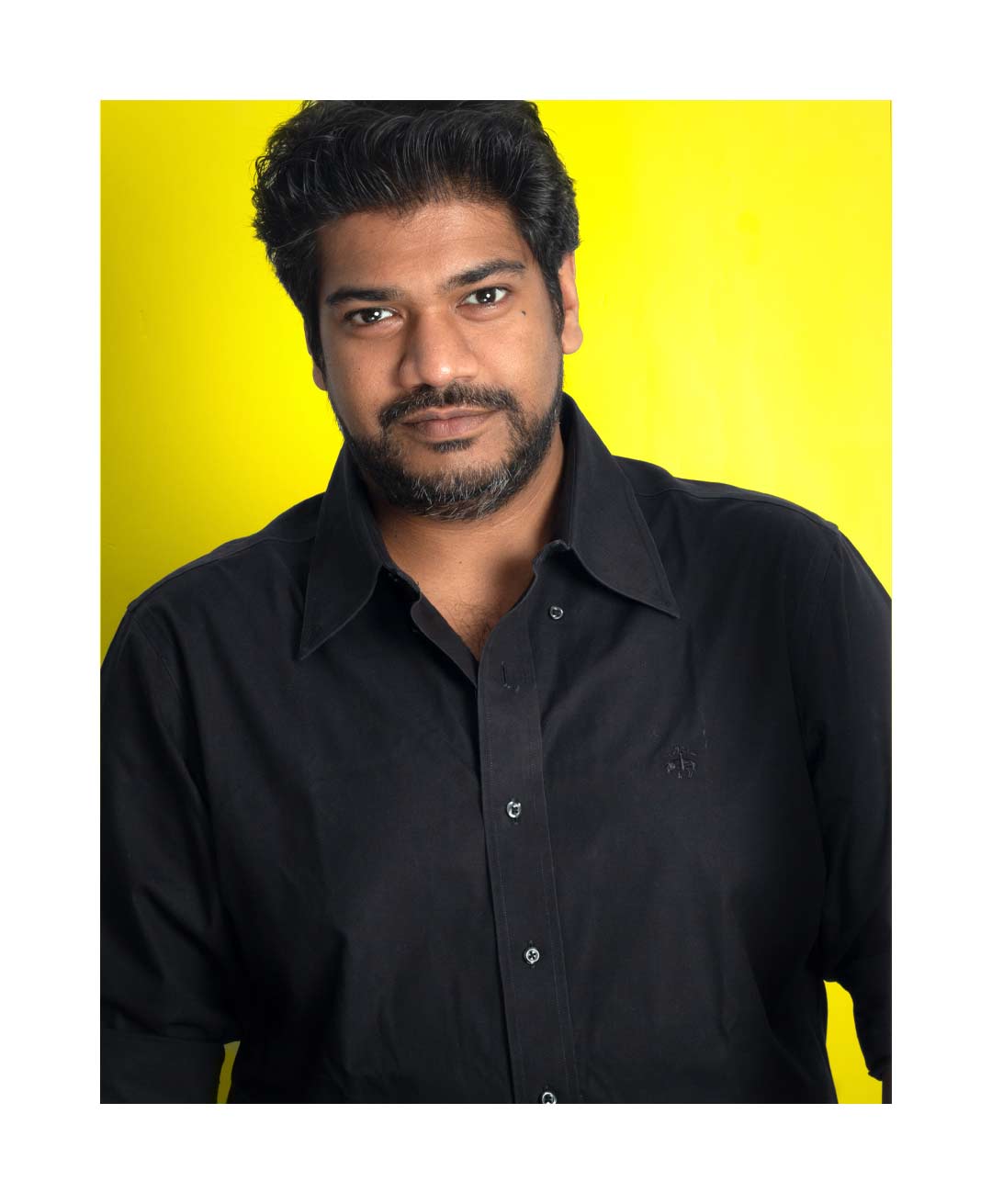 The digital nightmare!
Rajiv Sathe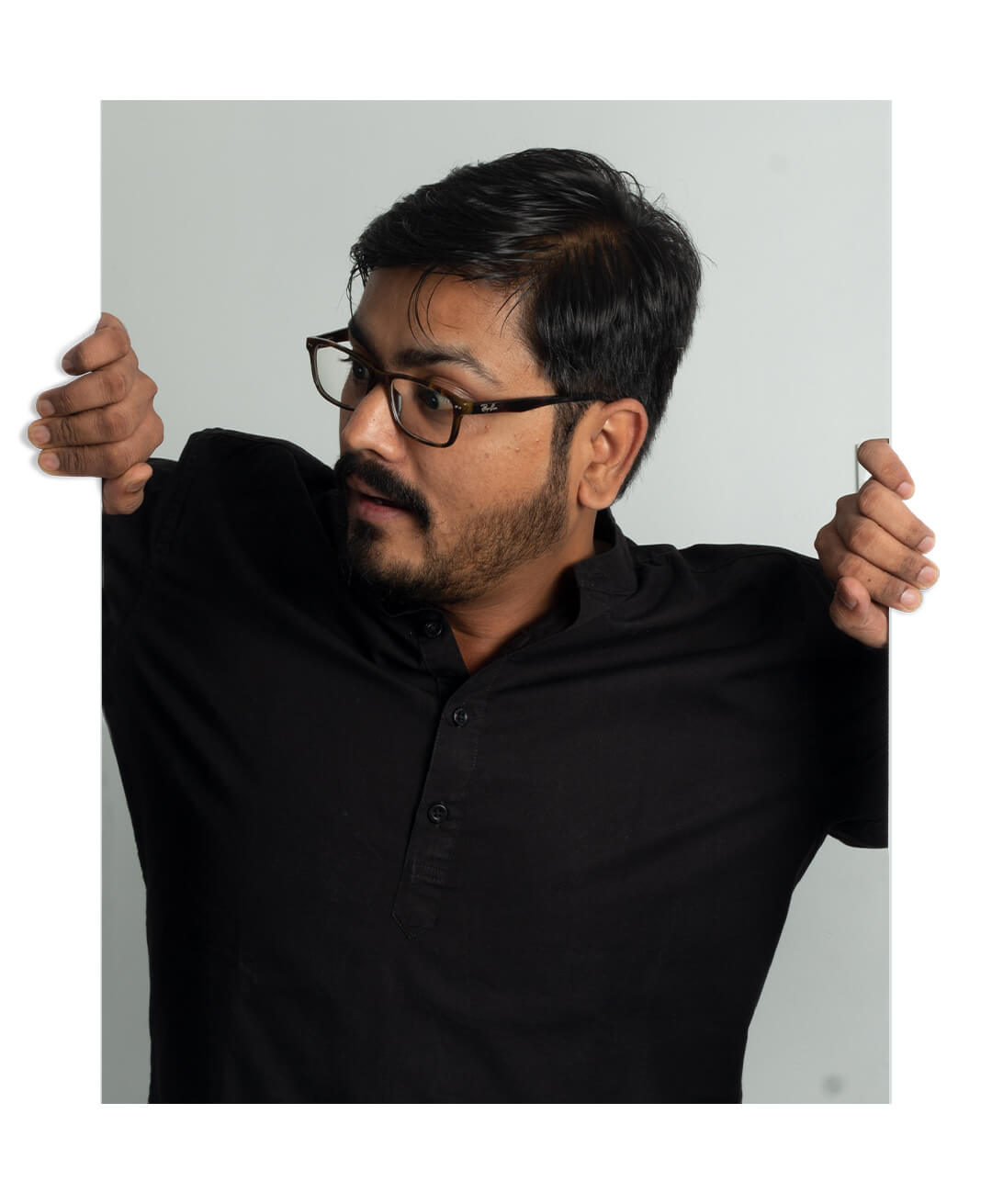 "The universe.....is a waste of time!
Saket Tambe
non
working
saturday ka
comp off
milega?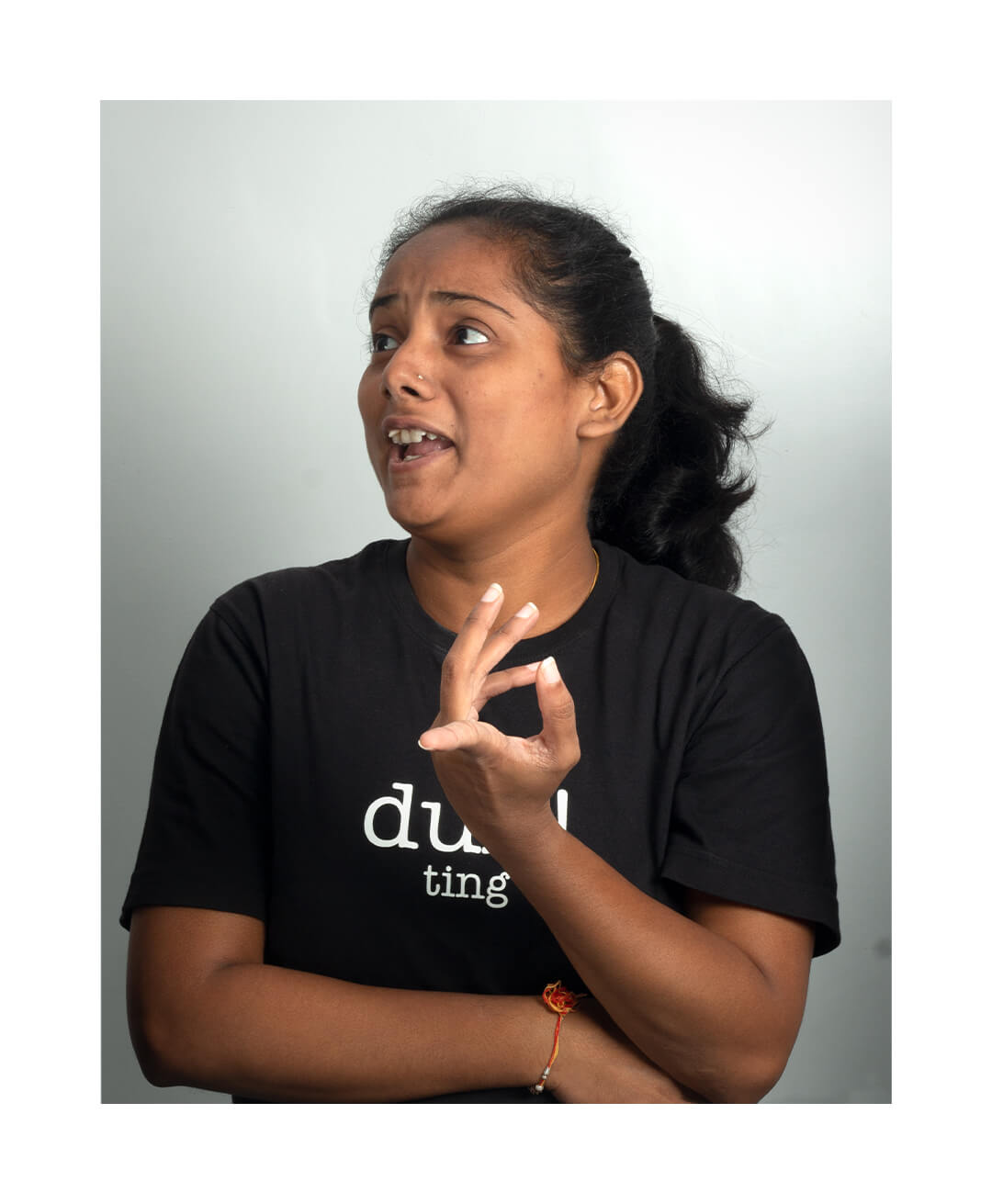 The Duracell of talking.
Renuka Parpalli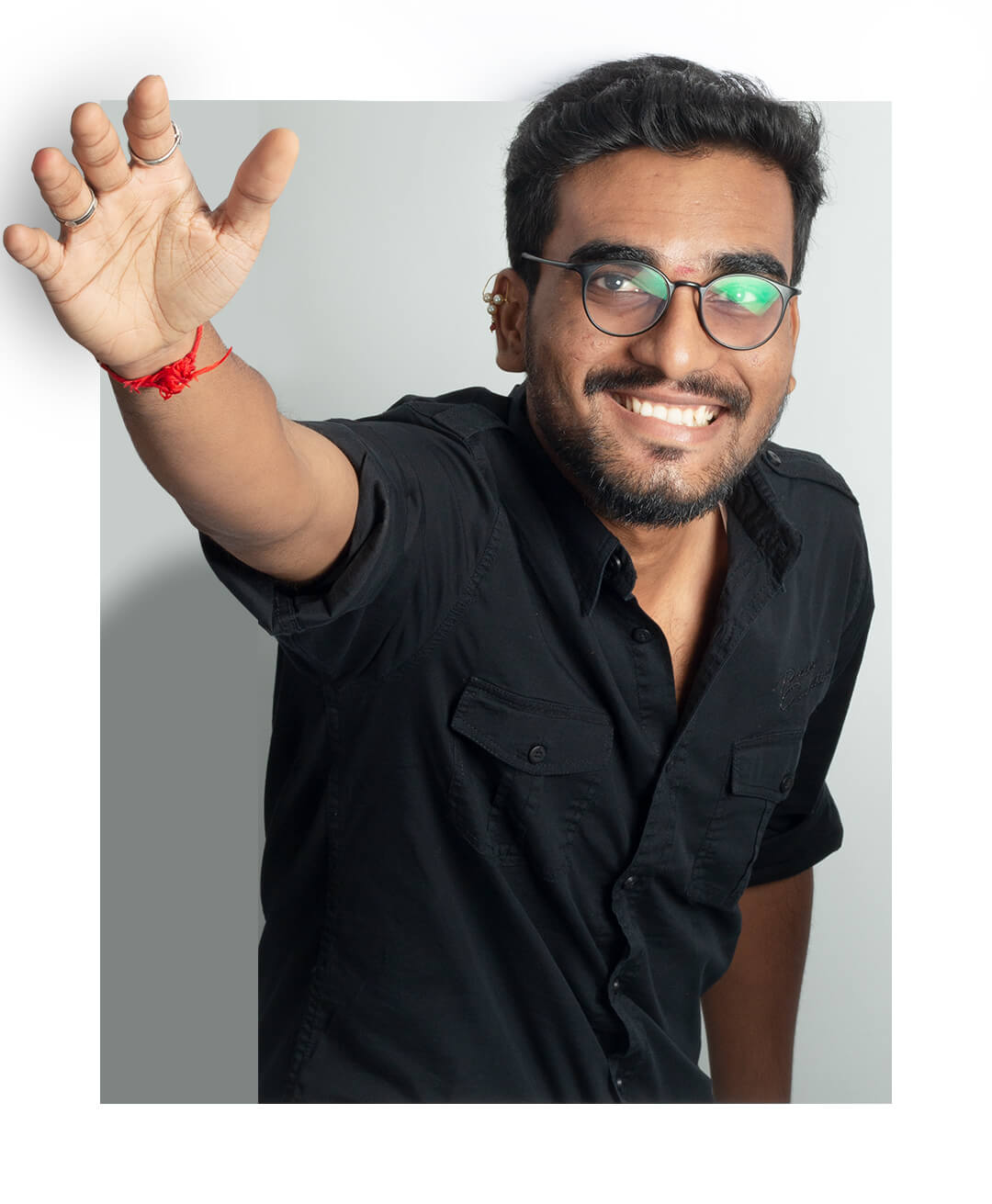 Even beats Siri in calculations.
Rohan Bavkar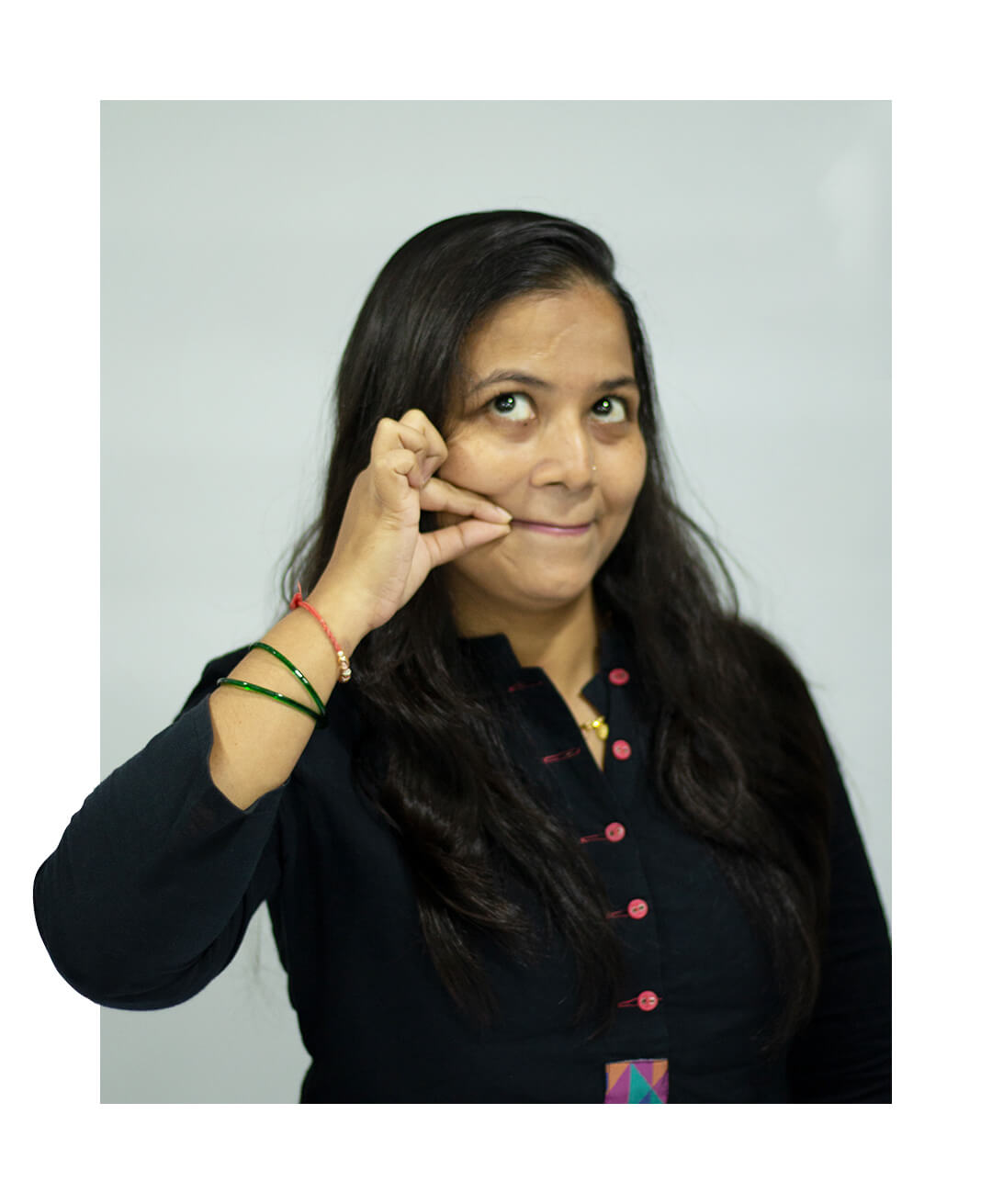 Also known as CSO - chief silent officer.
Snehal Birwadkar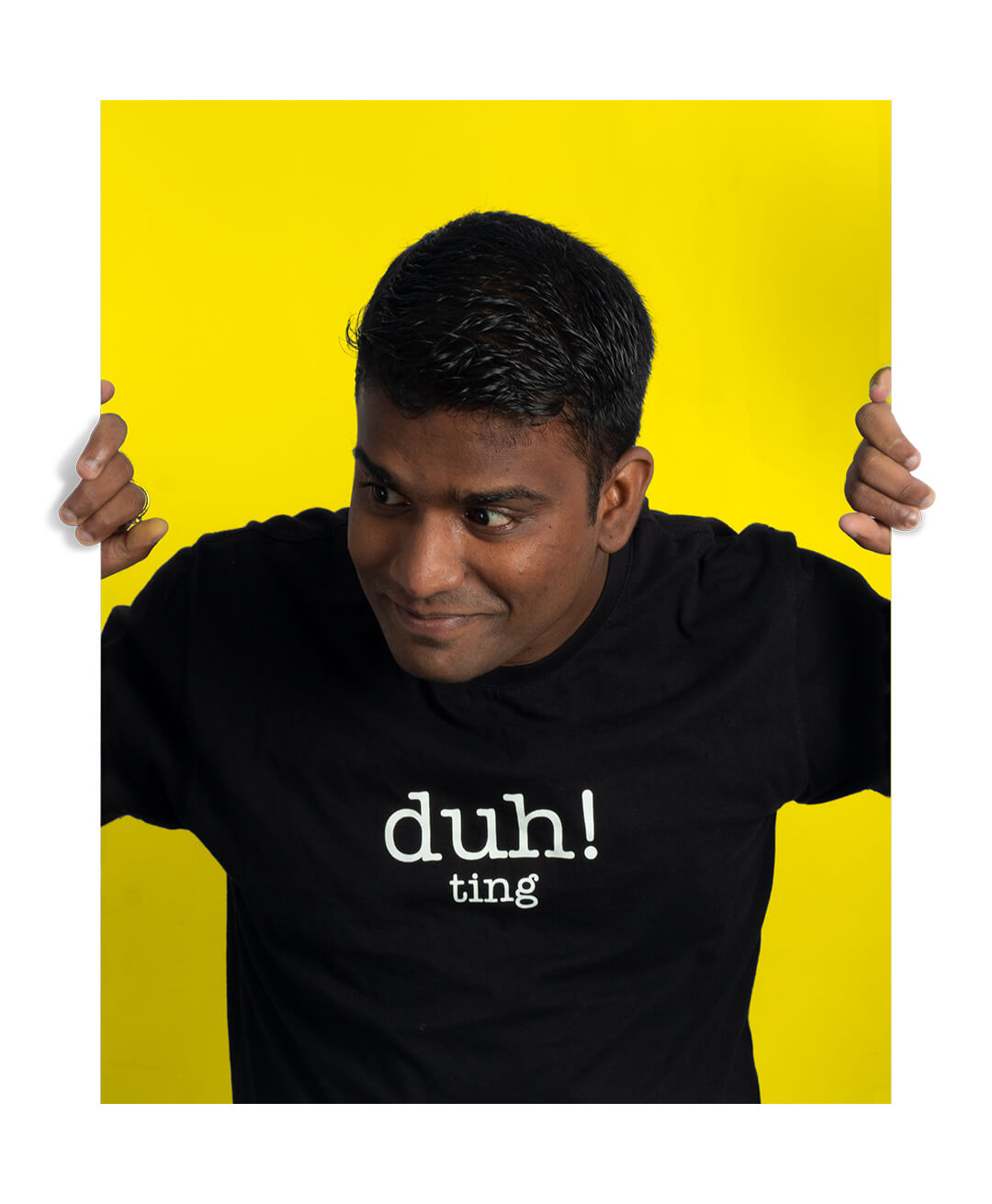 Father of follow-ups.
Harshad Patil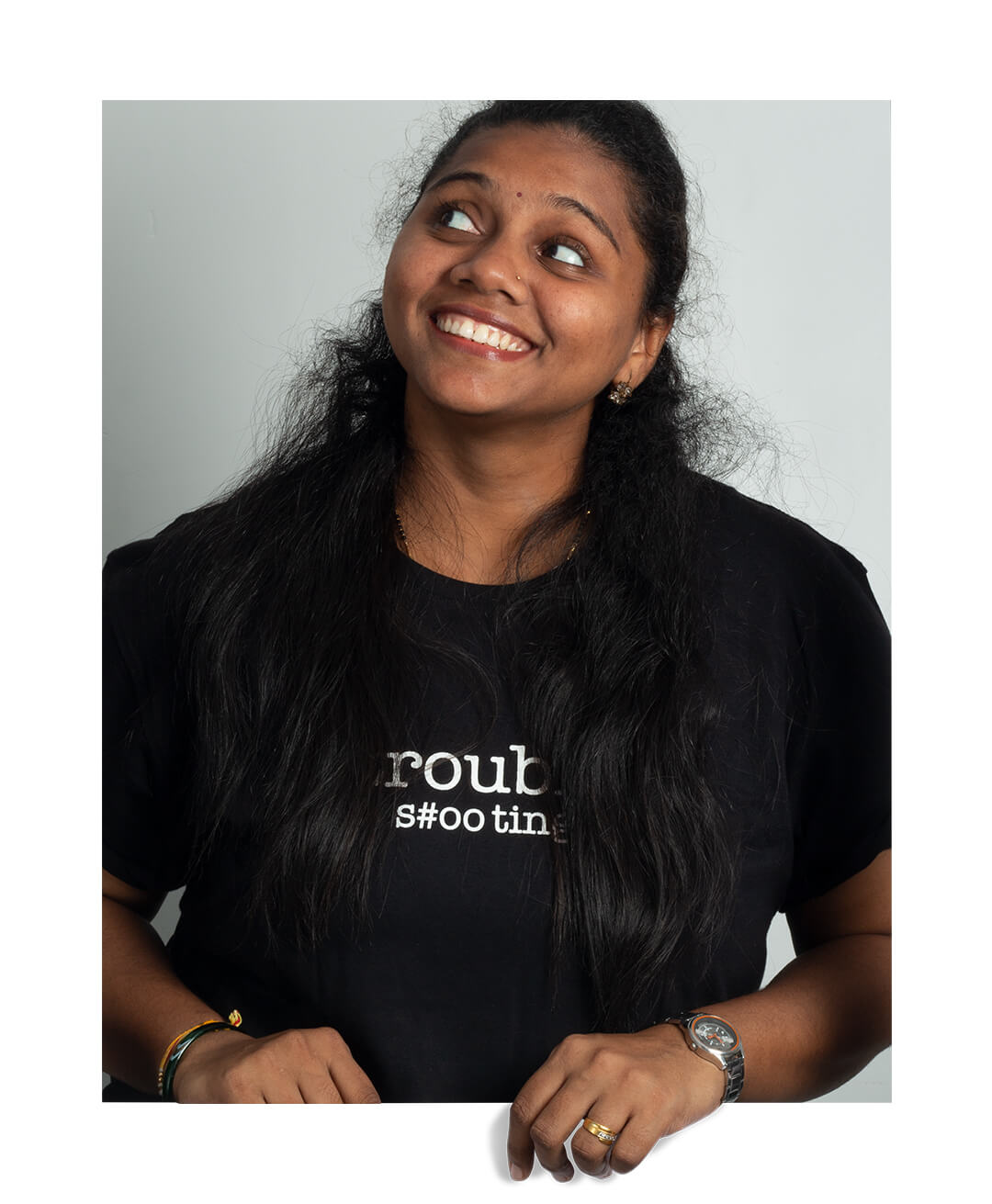 Gets up no matter how many times she falls.
Namrata Bagwe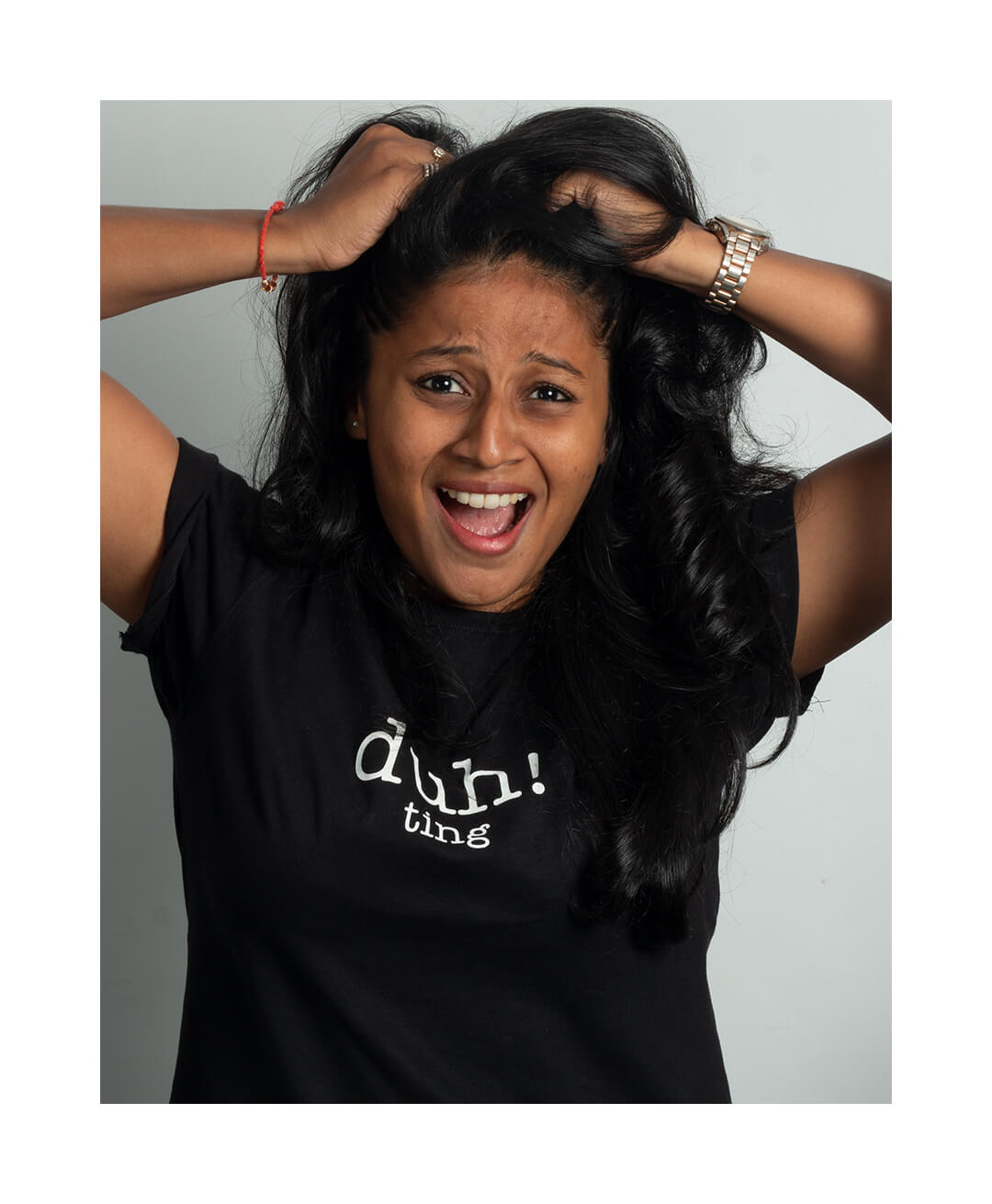 Appears first on search results.
Dipika Kore
A.K.A. Babupro Amazon specialist.
Chaitan Shah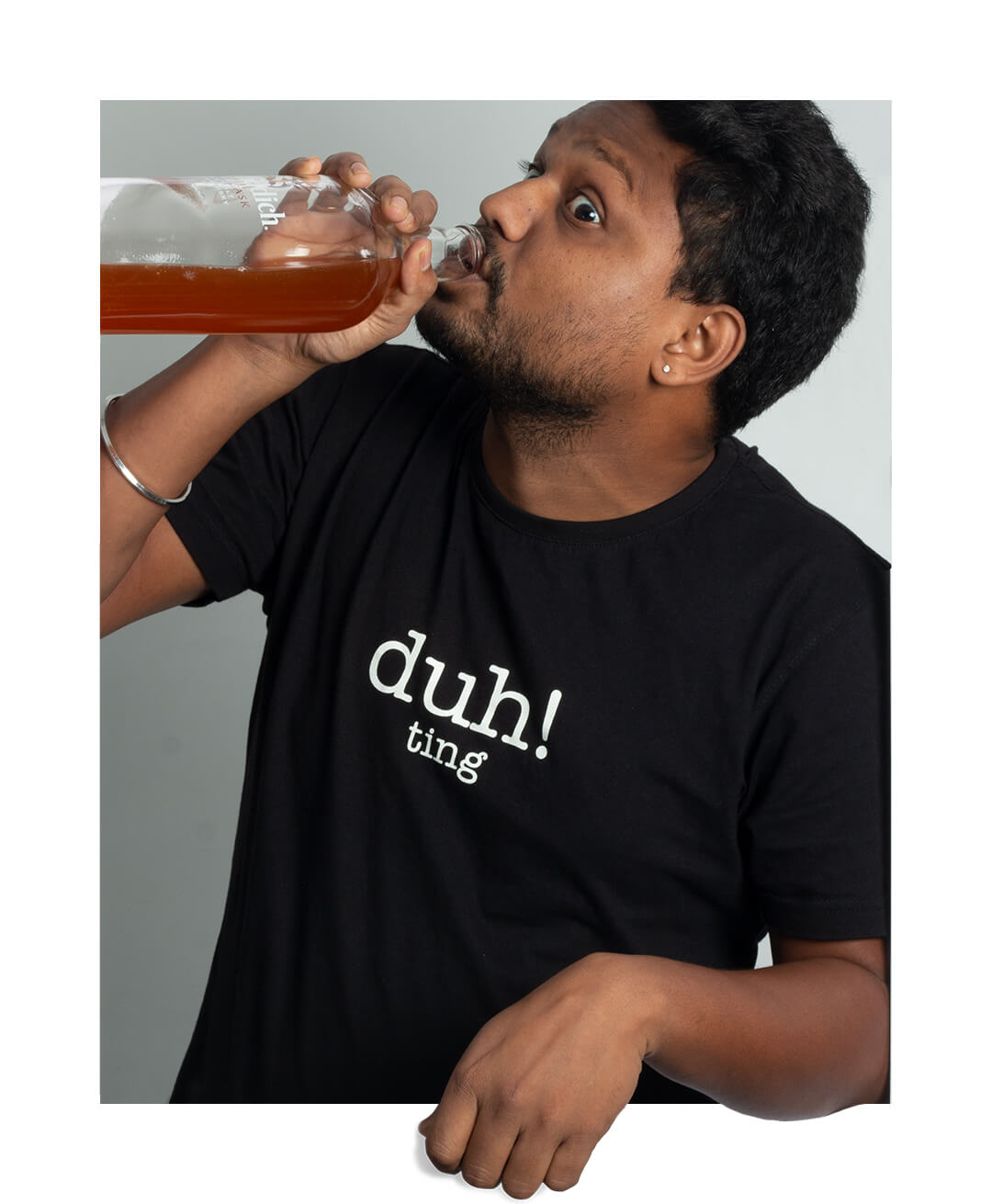 Too cool for Google!
Vamsi Donthu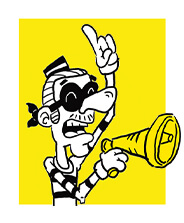 IT & HR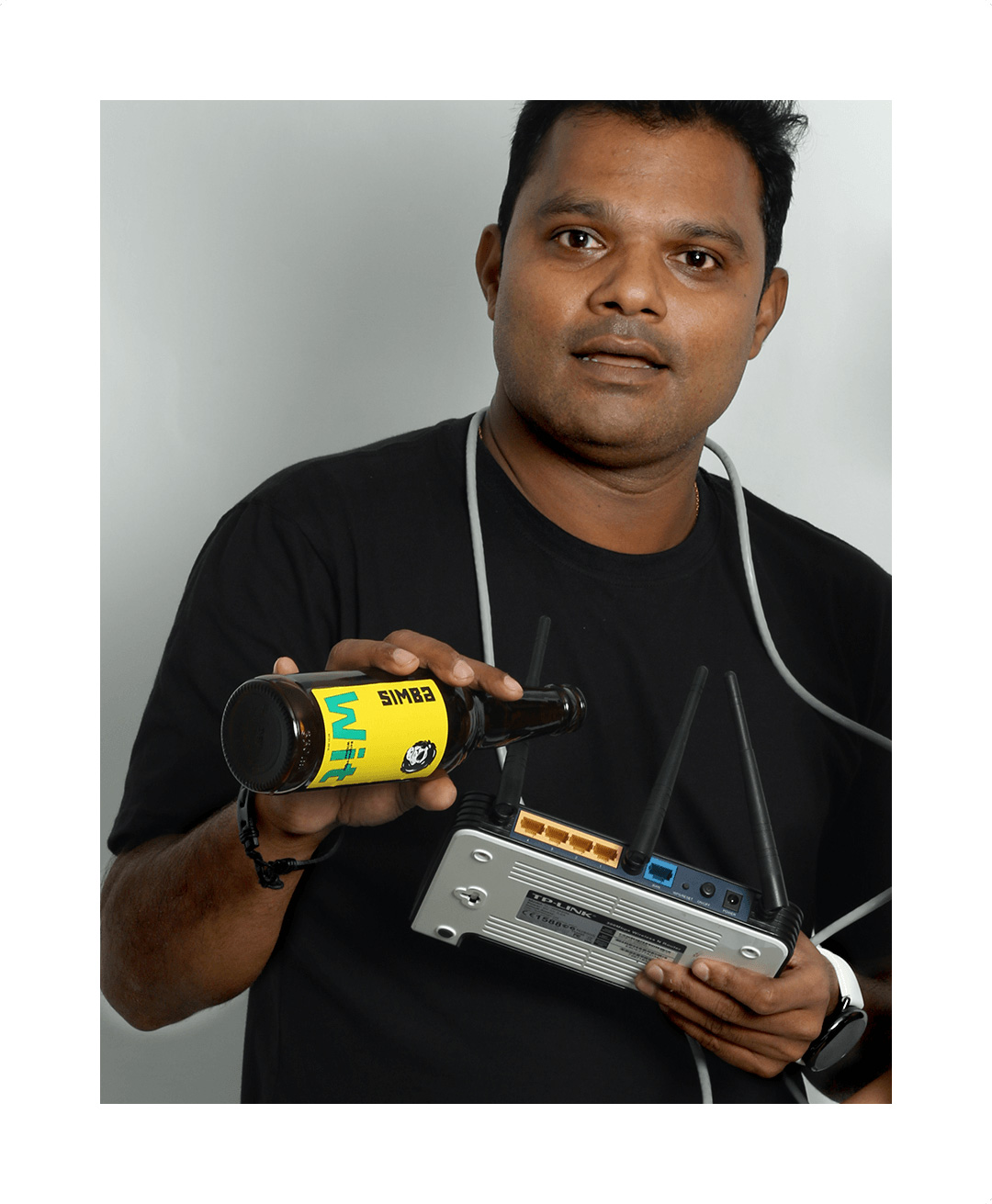 Busy LOLing over CCTV Footage!
Mandar Kalzunkar
11:00 am
full day


11:01am
half day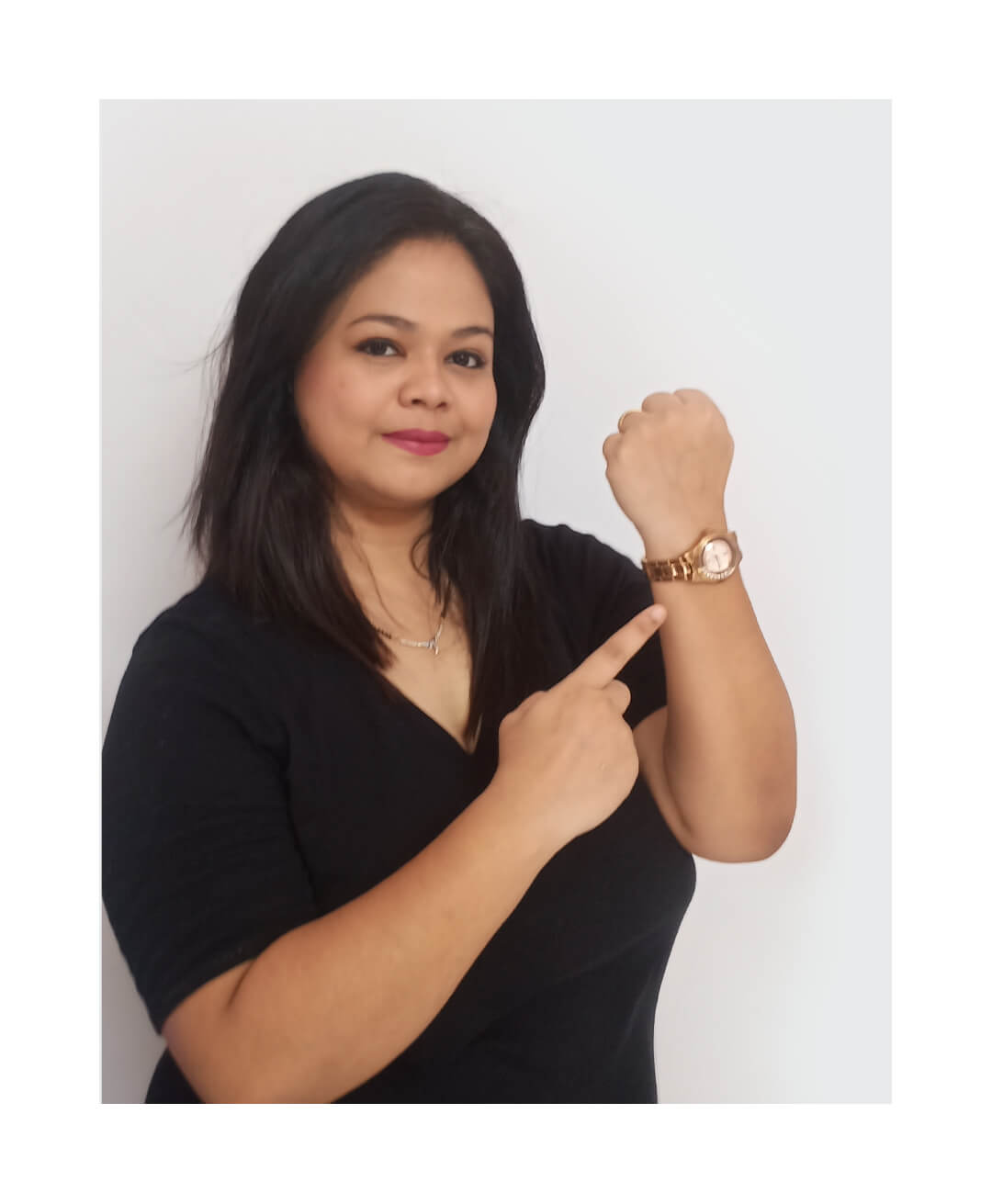 If your salary is cut, you know who to blame.
Sneha Hulawale
Accounts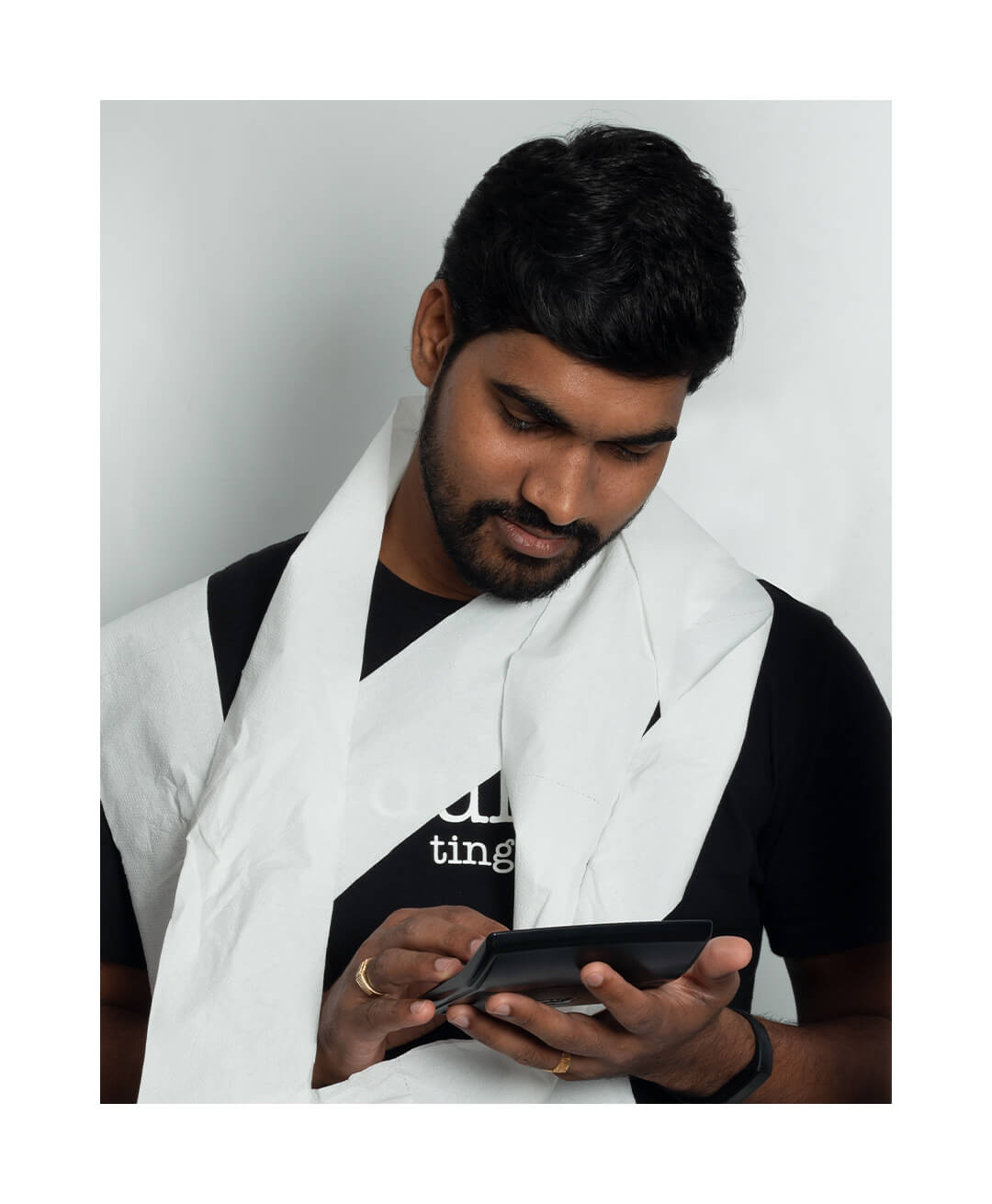 Works on Tally, Excel, & Manan's mood swings.
Dinesh Kandar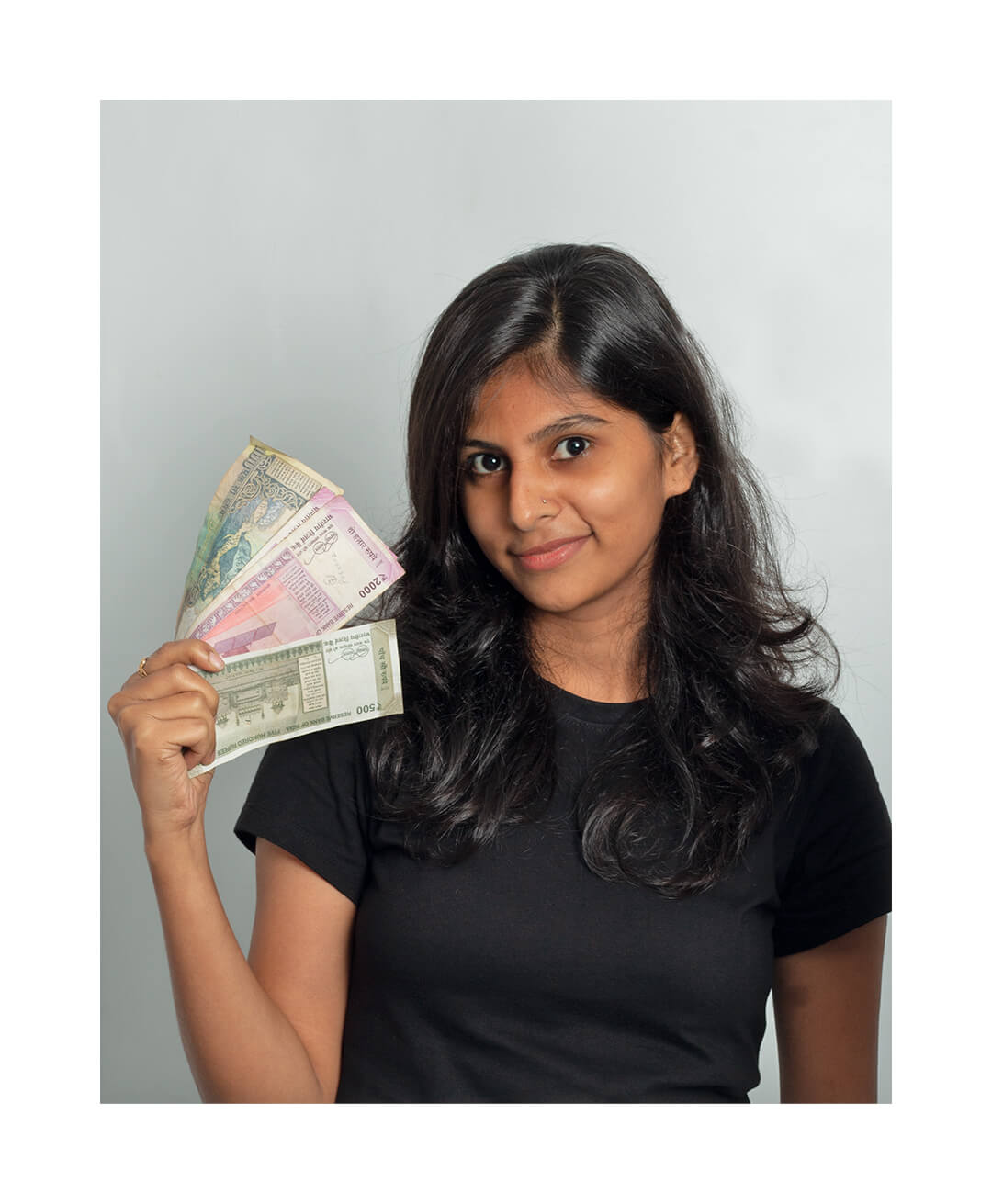 Good luck with getting your reimbursements on time.
Prajakta Kumkar
LLL
aaj koi
kaam
nahi hoga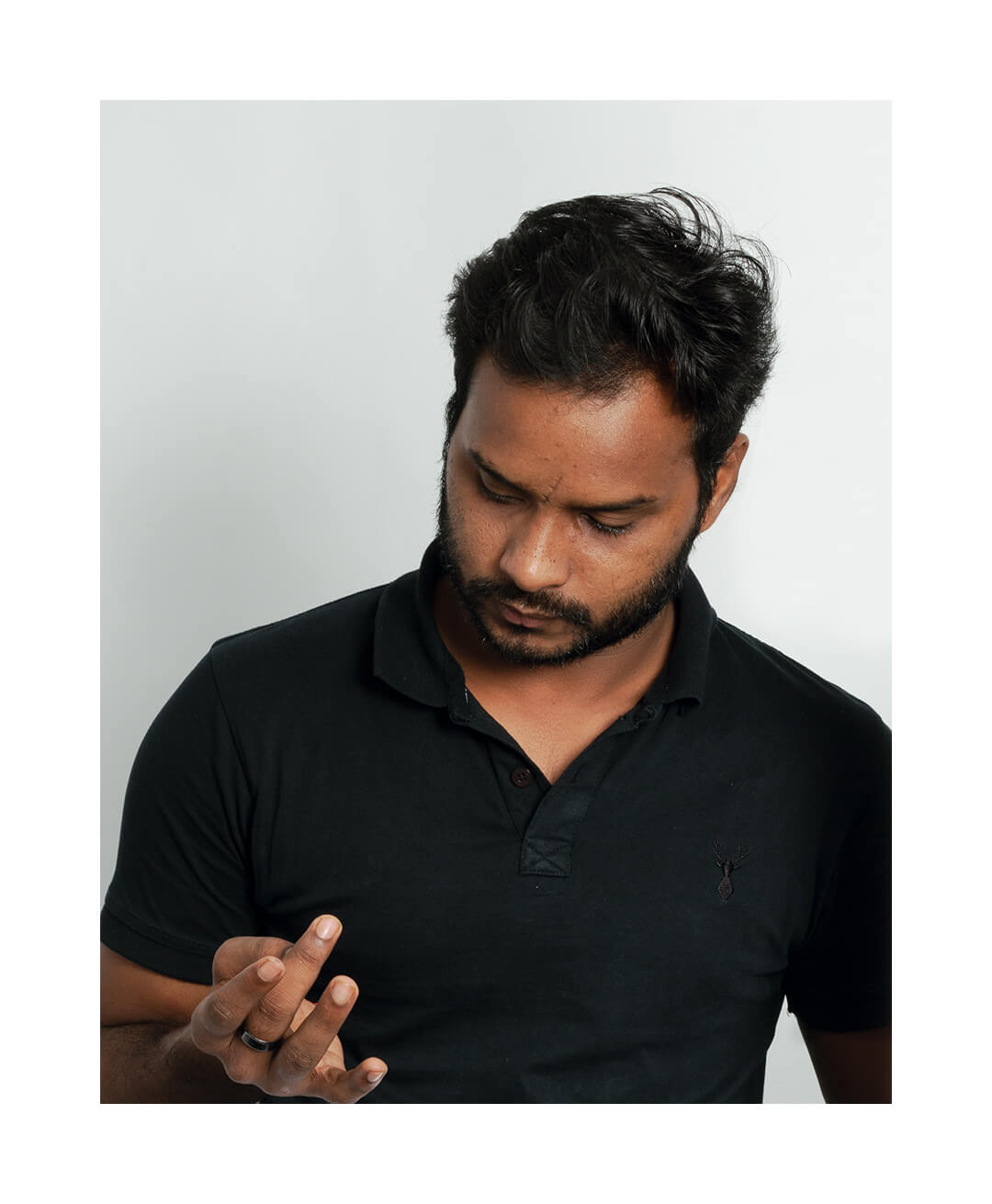 Ae payments hai mushkil…
Pritam Ram
Admin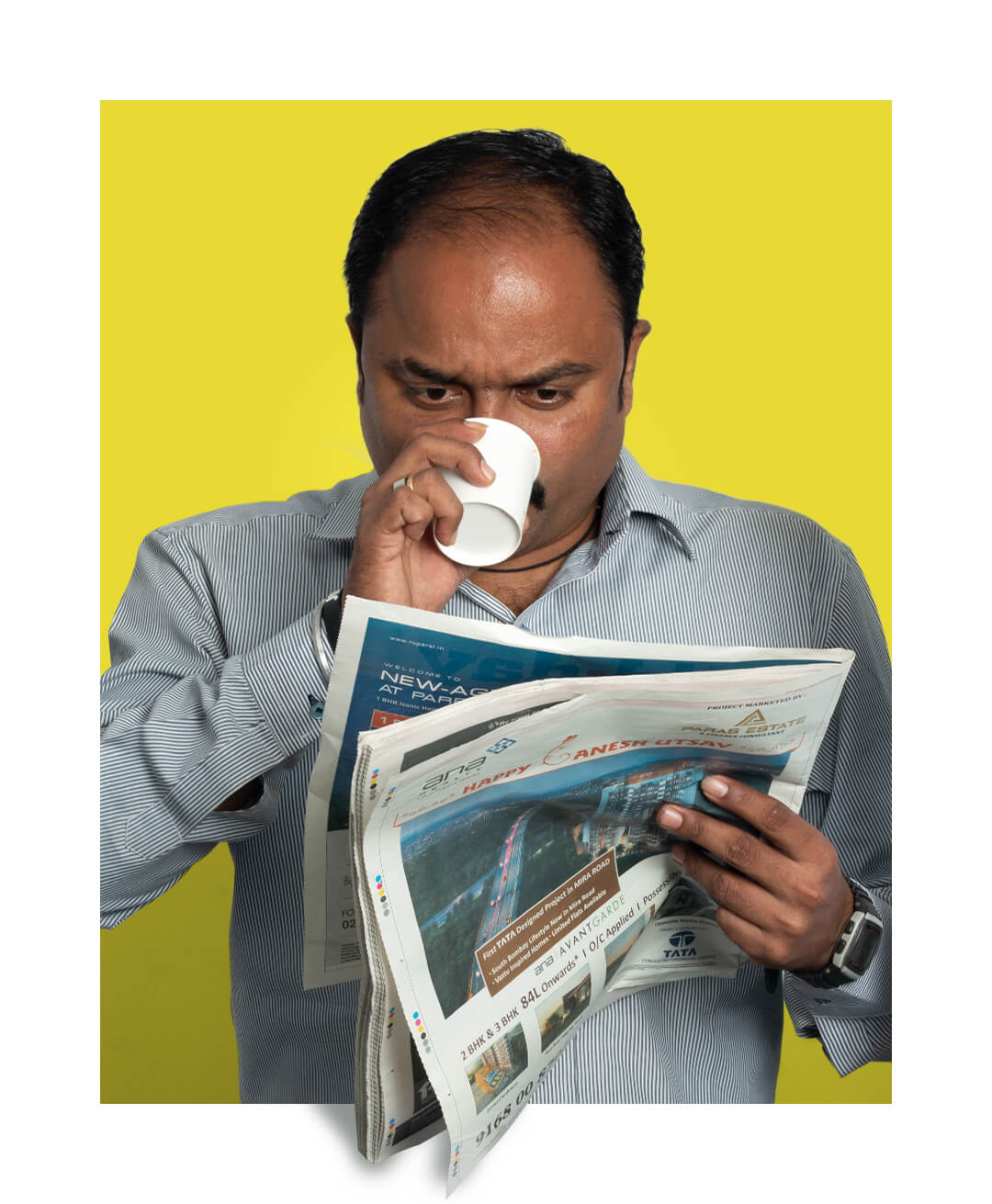 "Main weekend pe bhi kaam kiya."
Sachin Sonawane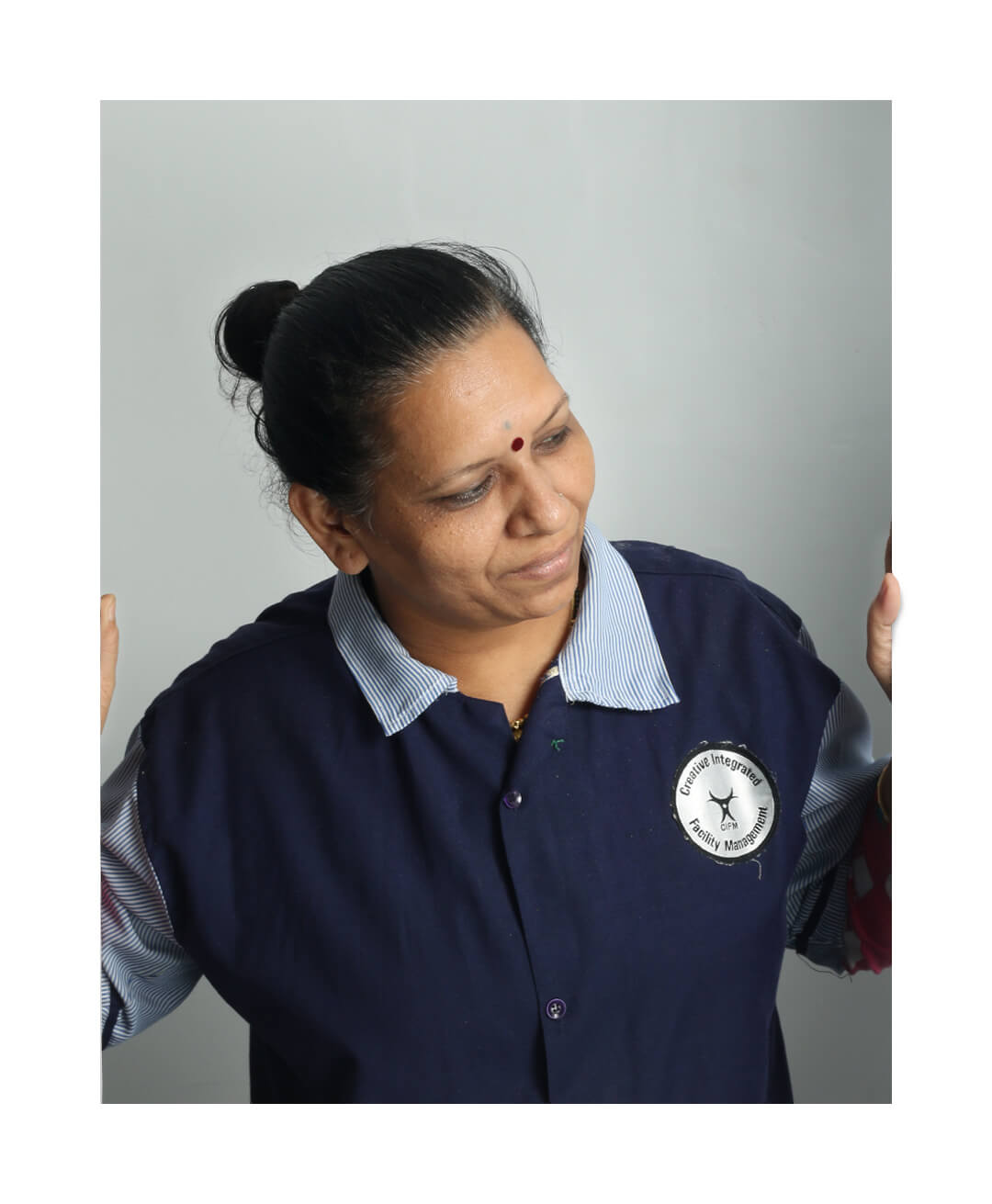 Coffee khatam ho gaya hai
CIFM Kaki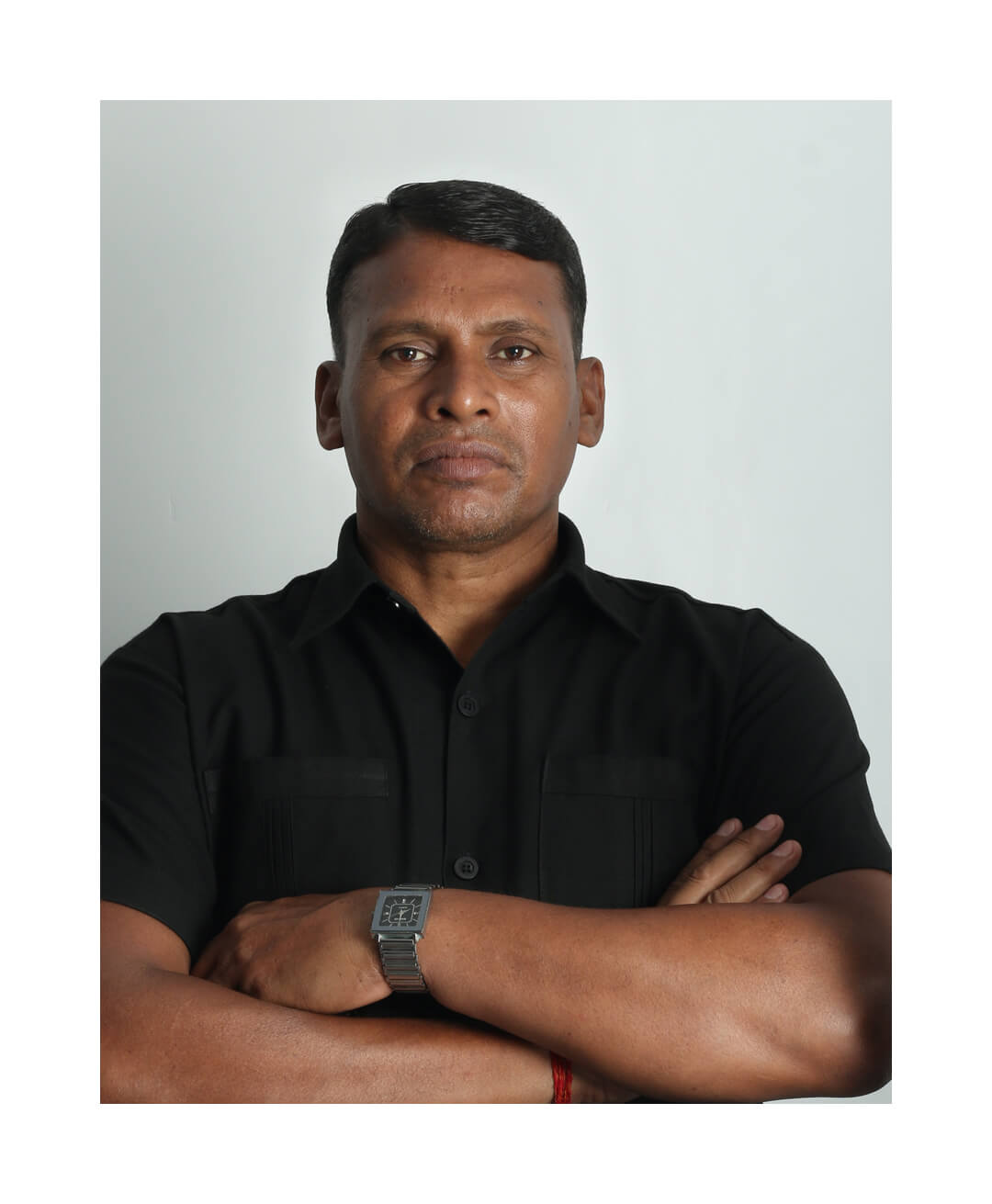 Our 3 AM friend.
security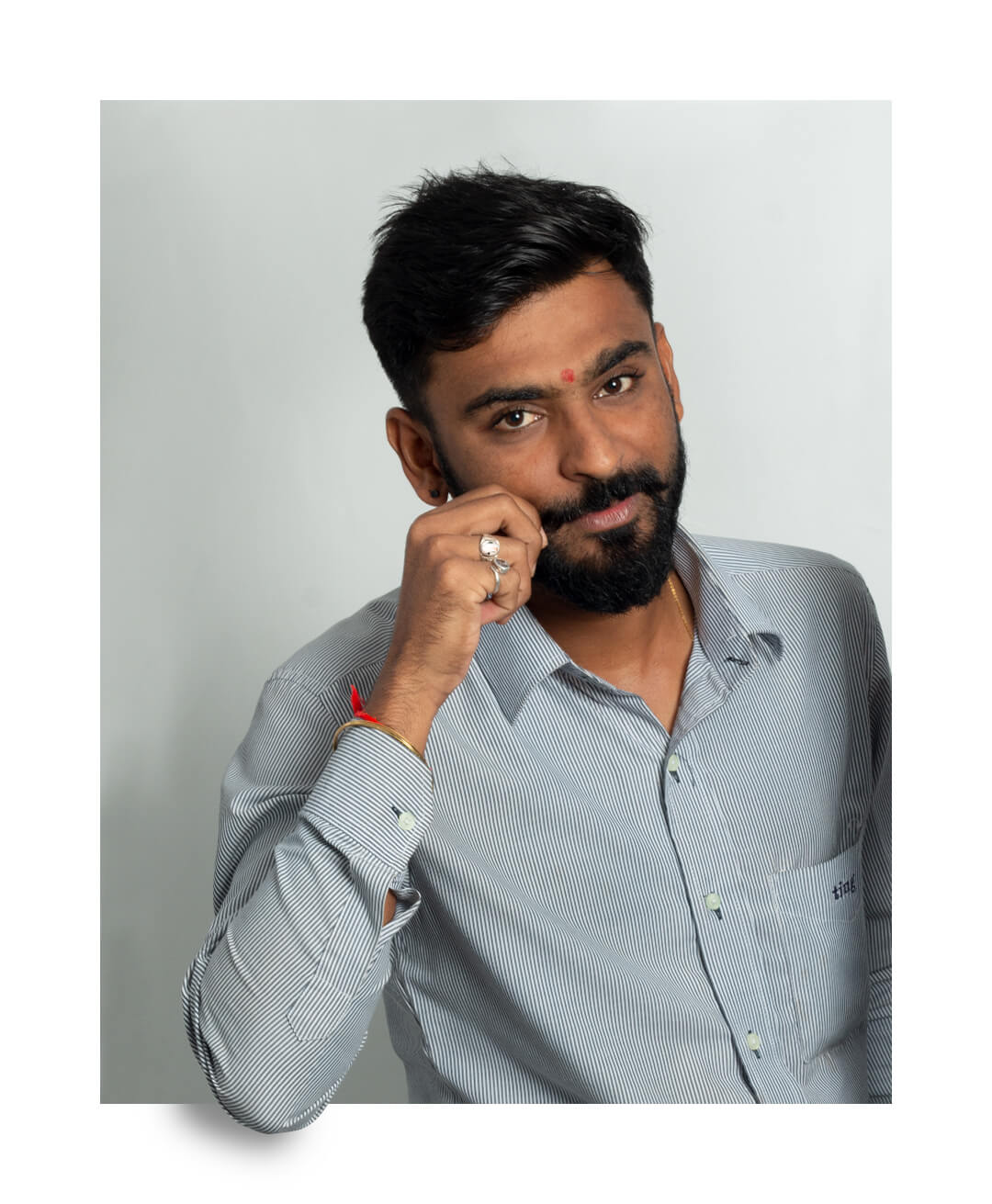 Busy being bullied by Sachin.
Akshay Sangale
Sir bahut
shareef
lagta hai,
call me DON.
Probably the nicest in Ting!
Vinod Gaikwad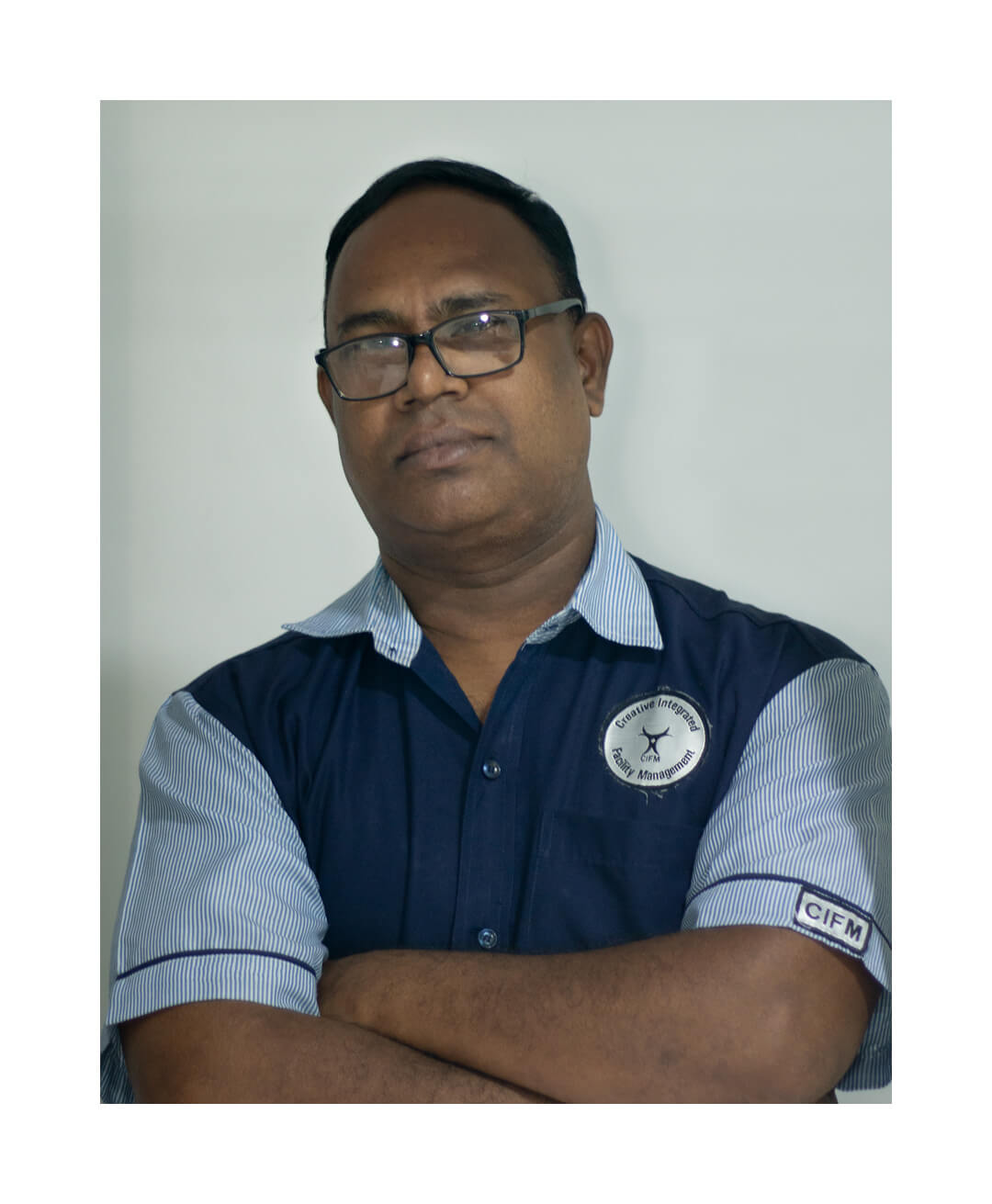 Busy pulling pranks on Santosh
Umesh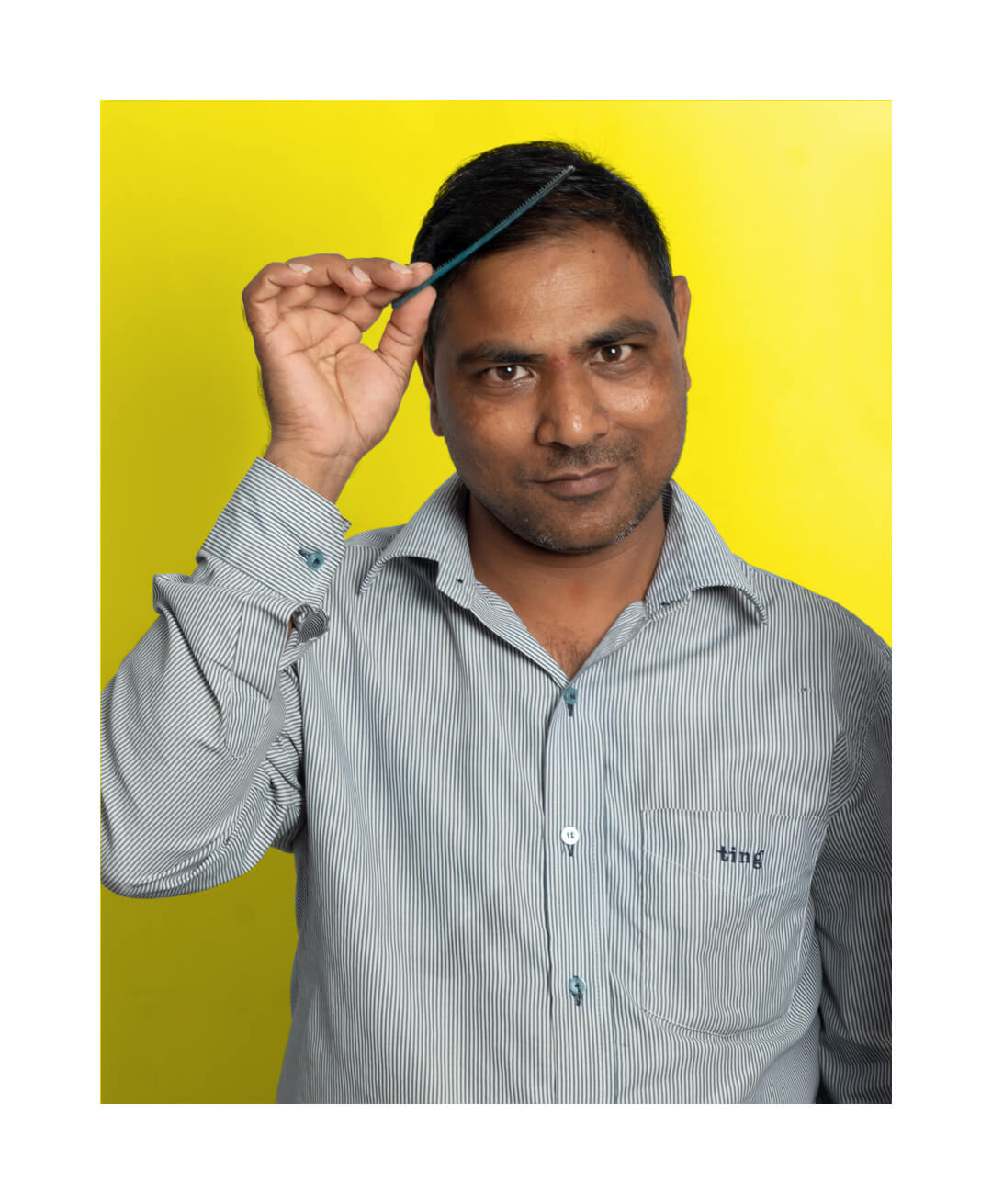 Savage Santosh!
Santosh Trimbake
design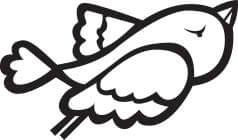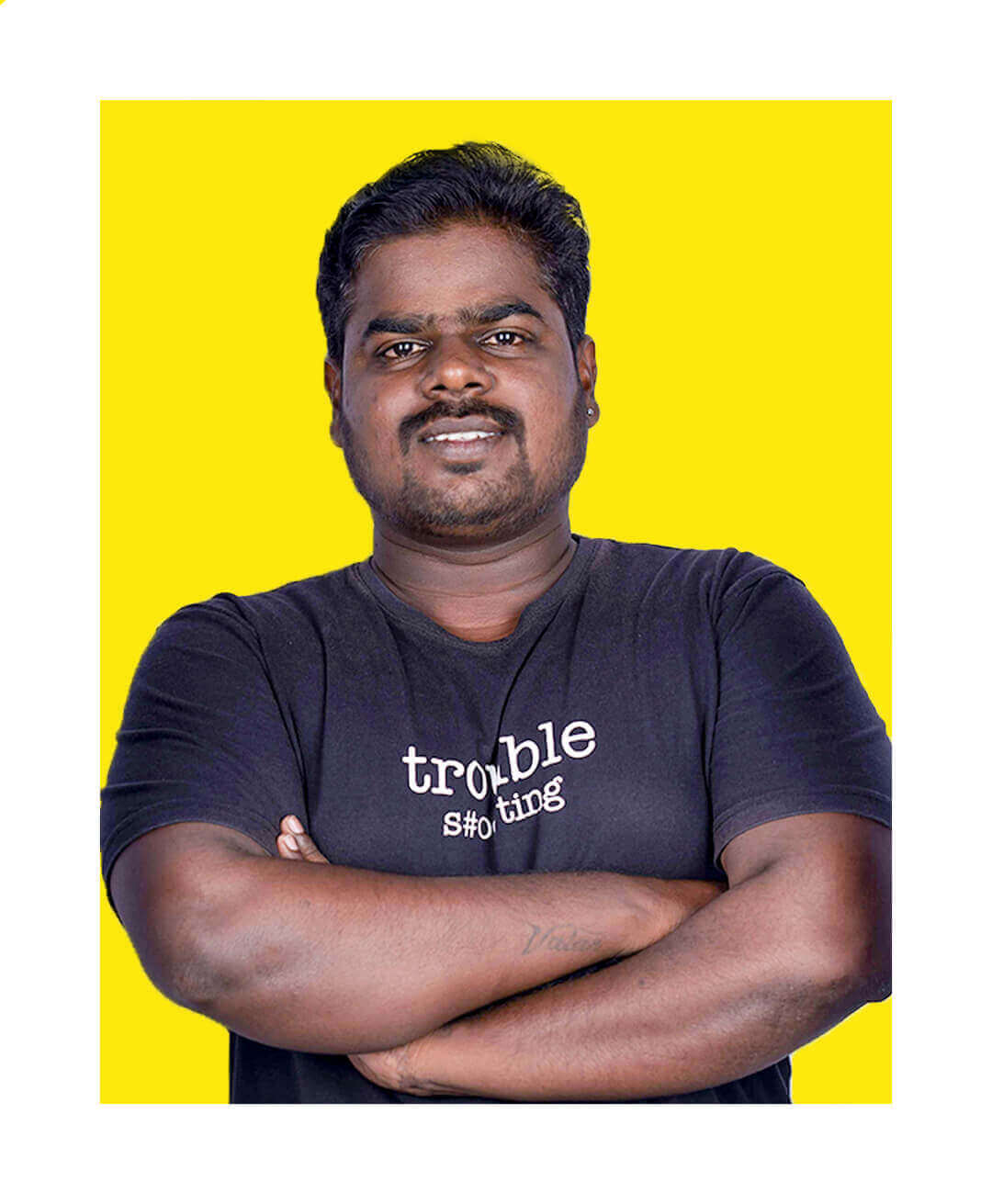 Vaa Asura Vaa
Periyasamy Natarajan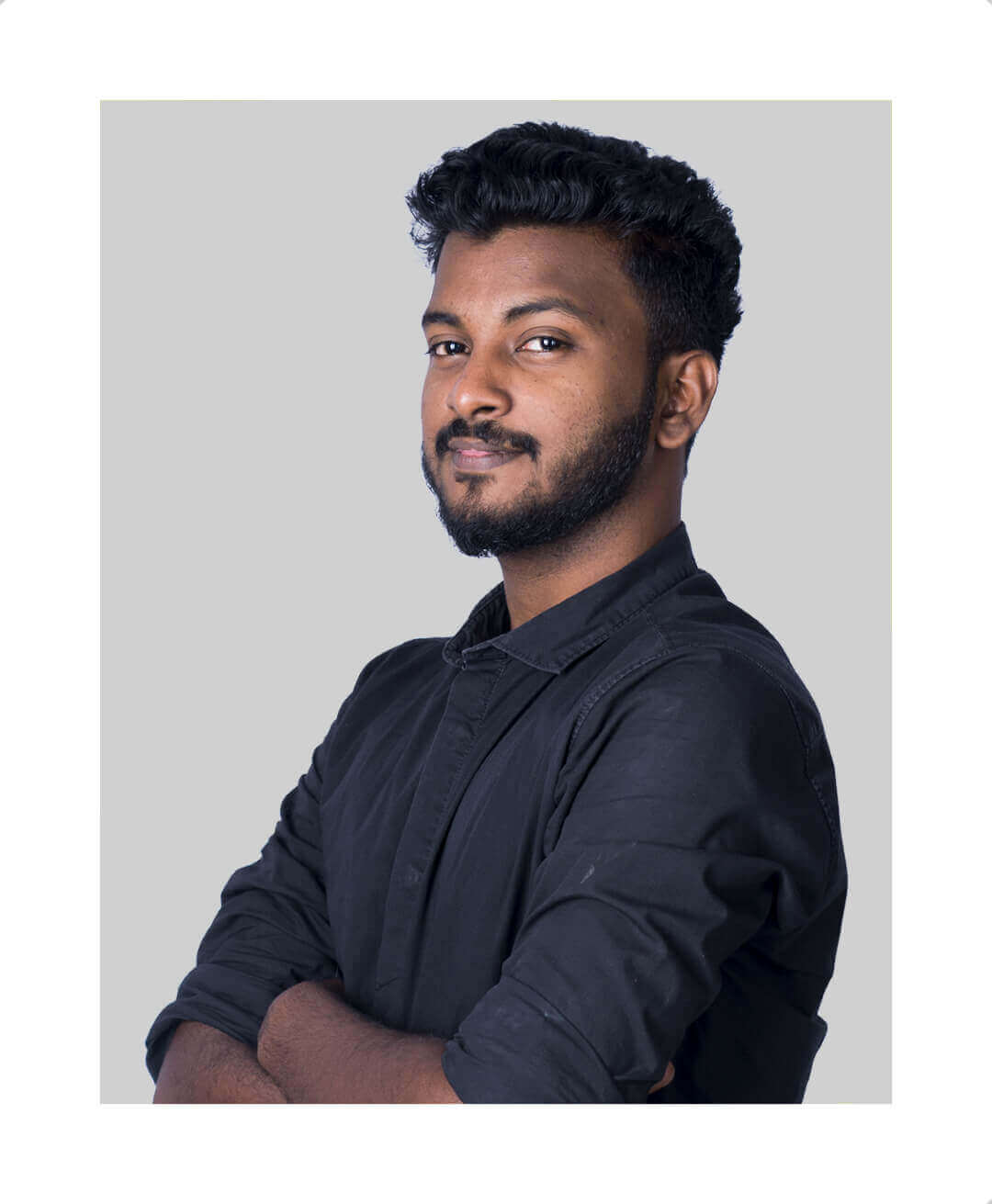 Designs so well, even Basha would want one!
Joseph Antony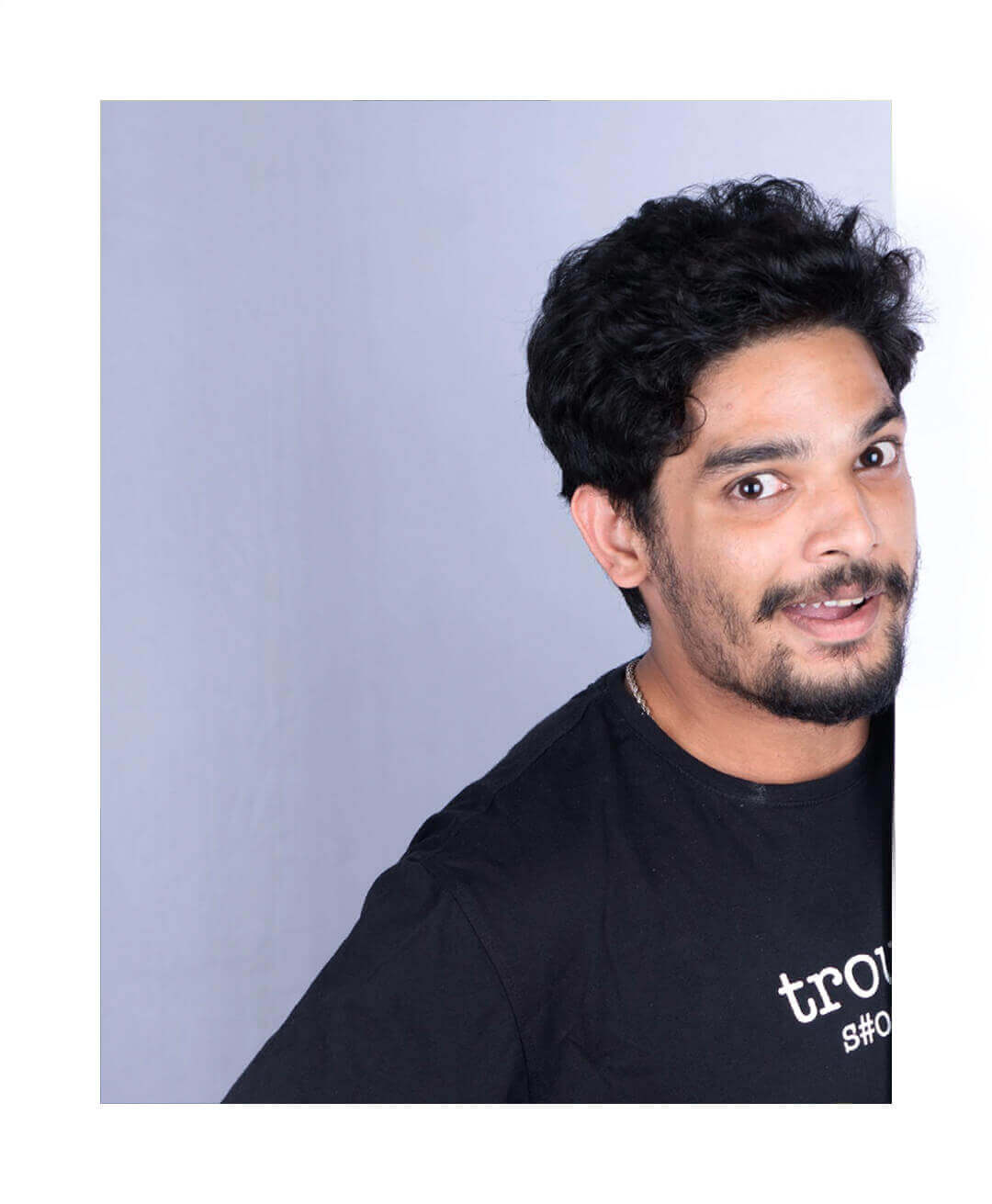 Hums to 'O Butterfly..' while working!
Rakesh G
You are looking at childhood photo of Mr. Vasudevan
Sasikumar A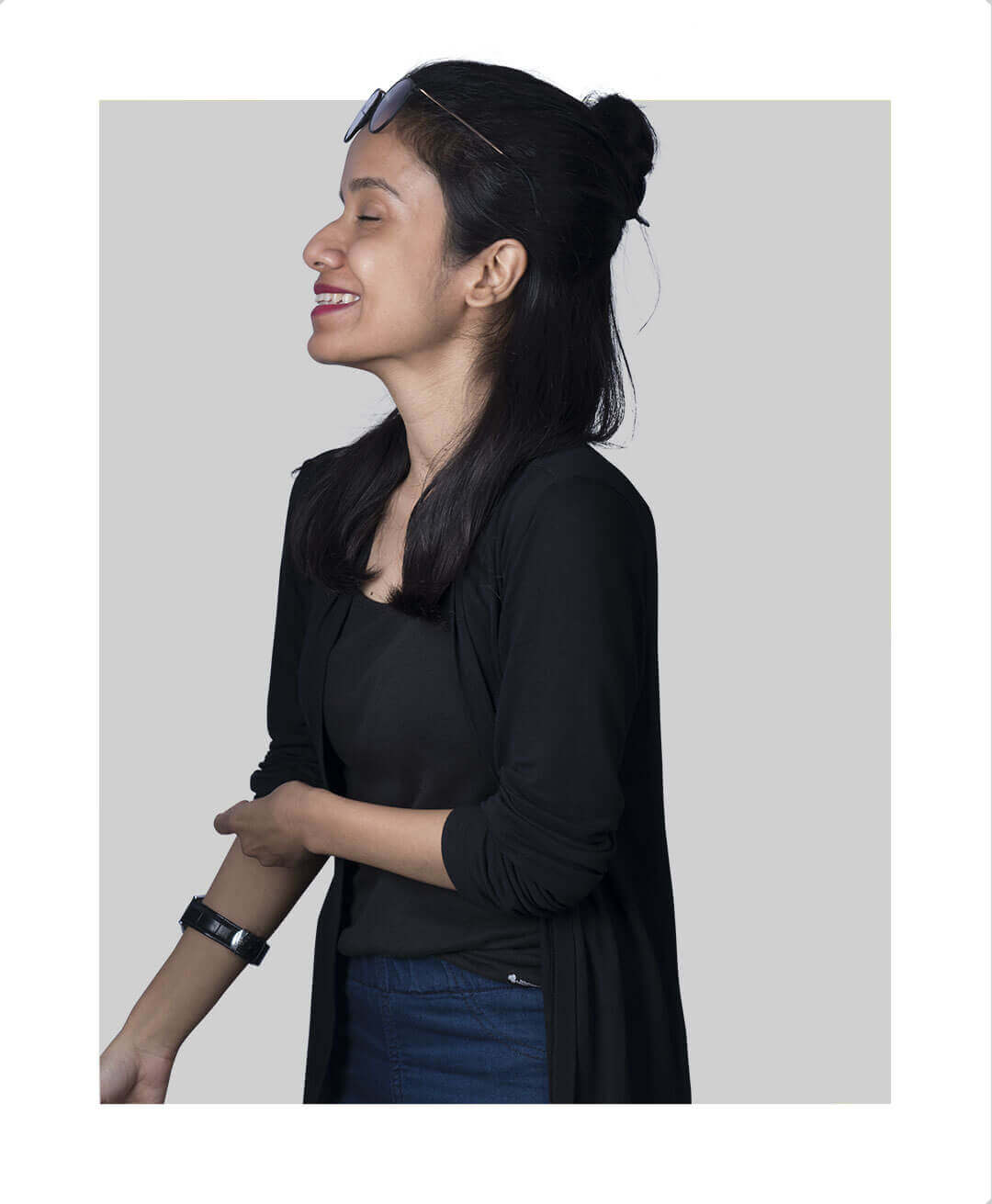 The voice of an Air Hostess trapped in the mind of a creative person
Devlina Banerji
Formula for success = Vasu Sir x No. of. creatives done in a day = ∞
Vasudevan L
Style style
dhaan,
super style
dhaan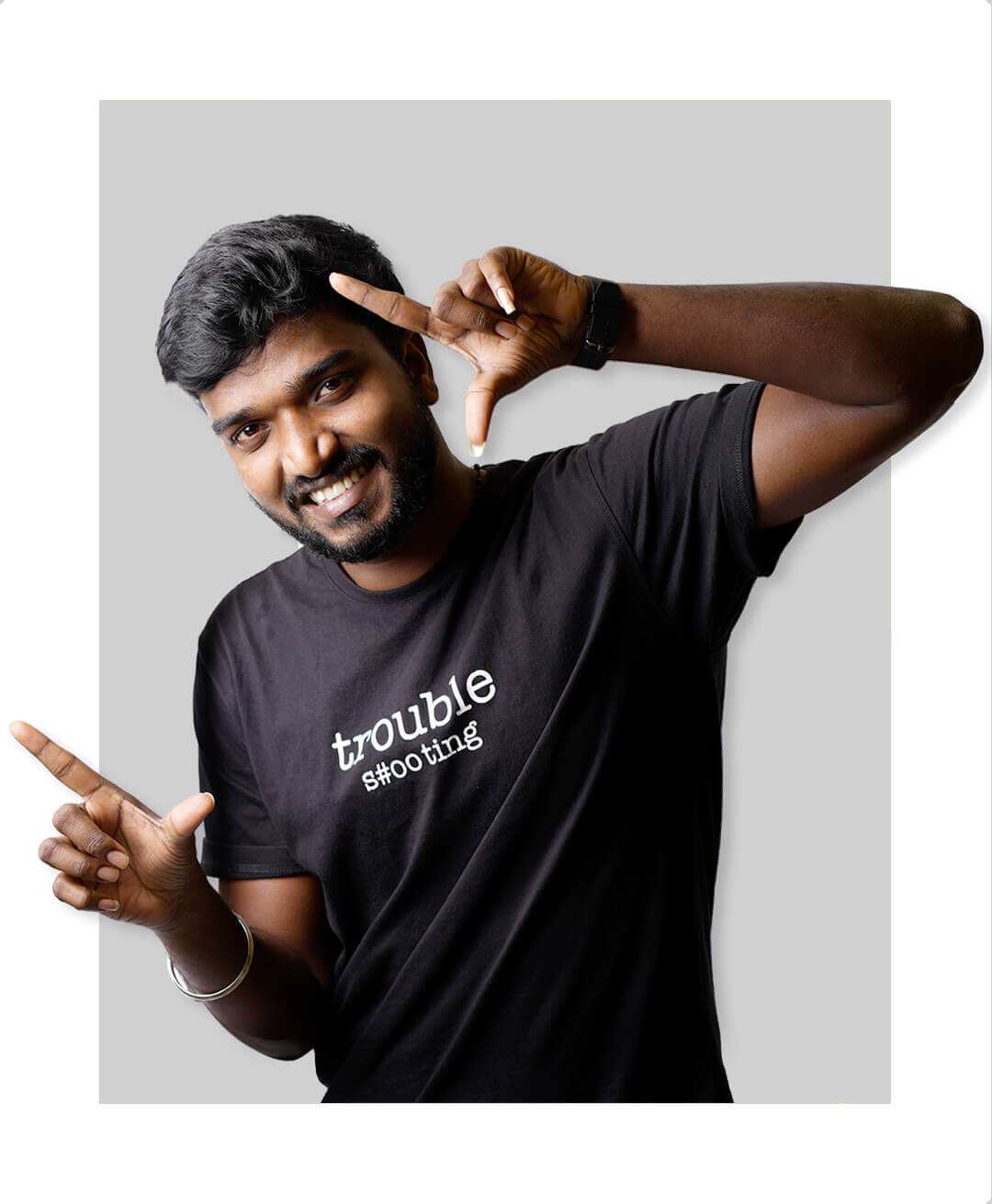 Resident voiceover expert // He's got the voiceover our life needs
Hendry Joseph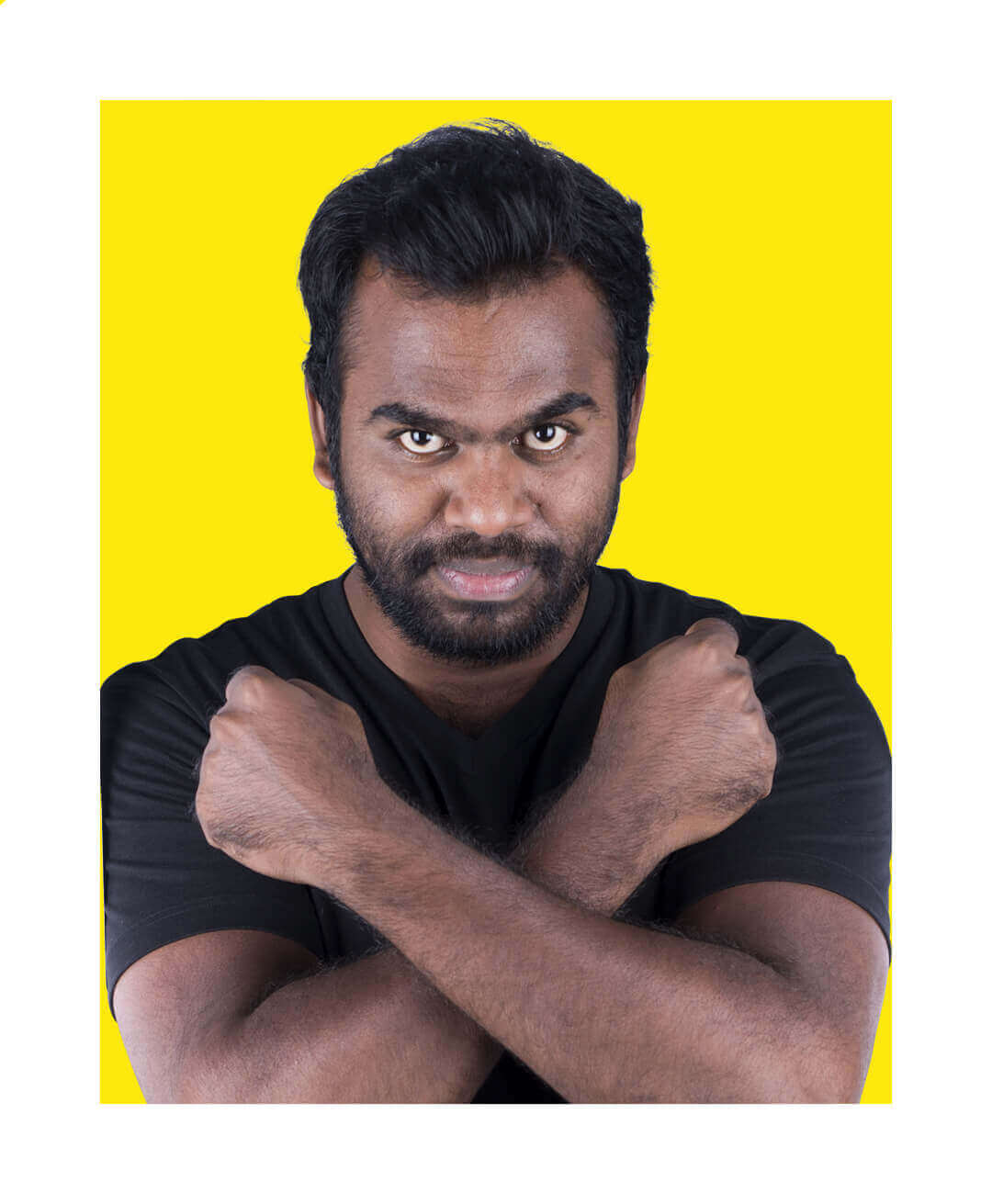 Wakeup. PubG. Design. Sleep. Repeat.
Saravanan Thangaraj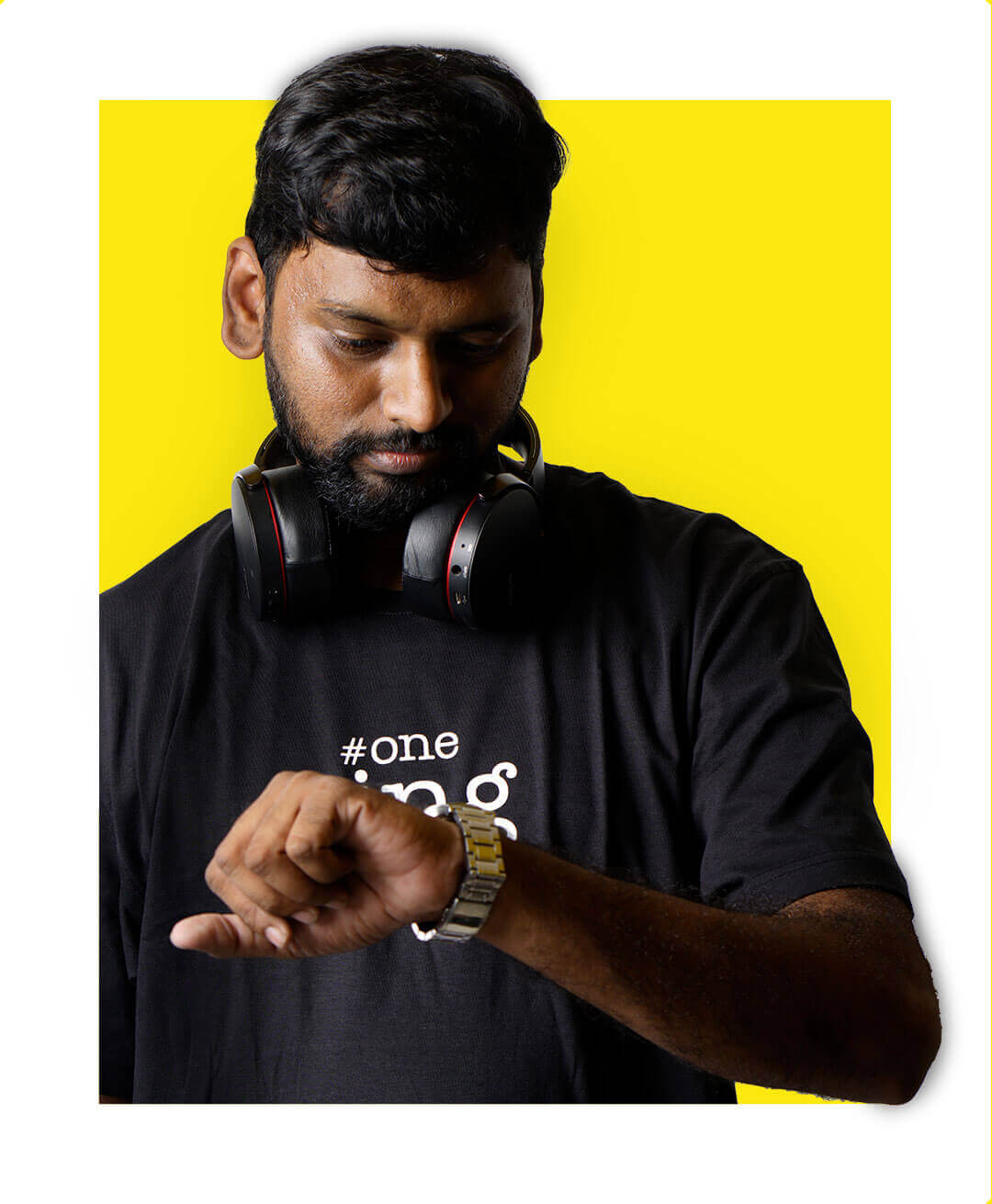 Heart full of arts
Thiyagarajan
Puttu
kuthunna
pole athra
eluppam allatta.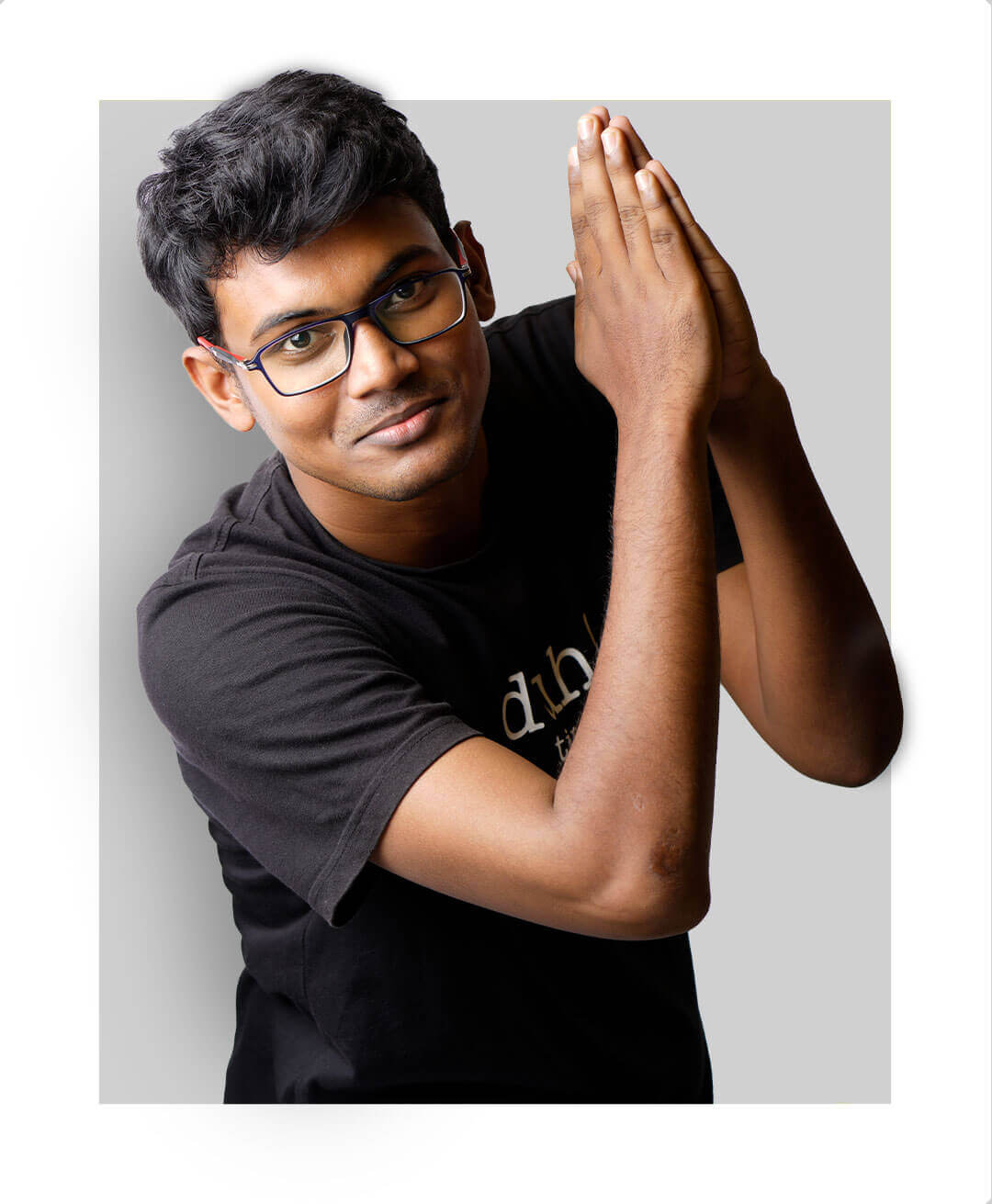 Peter Parker on the outside, Loki on the inside
Vimal Raj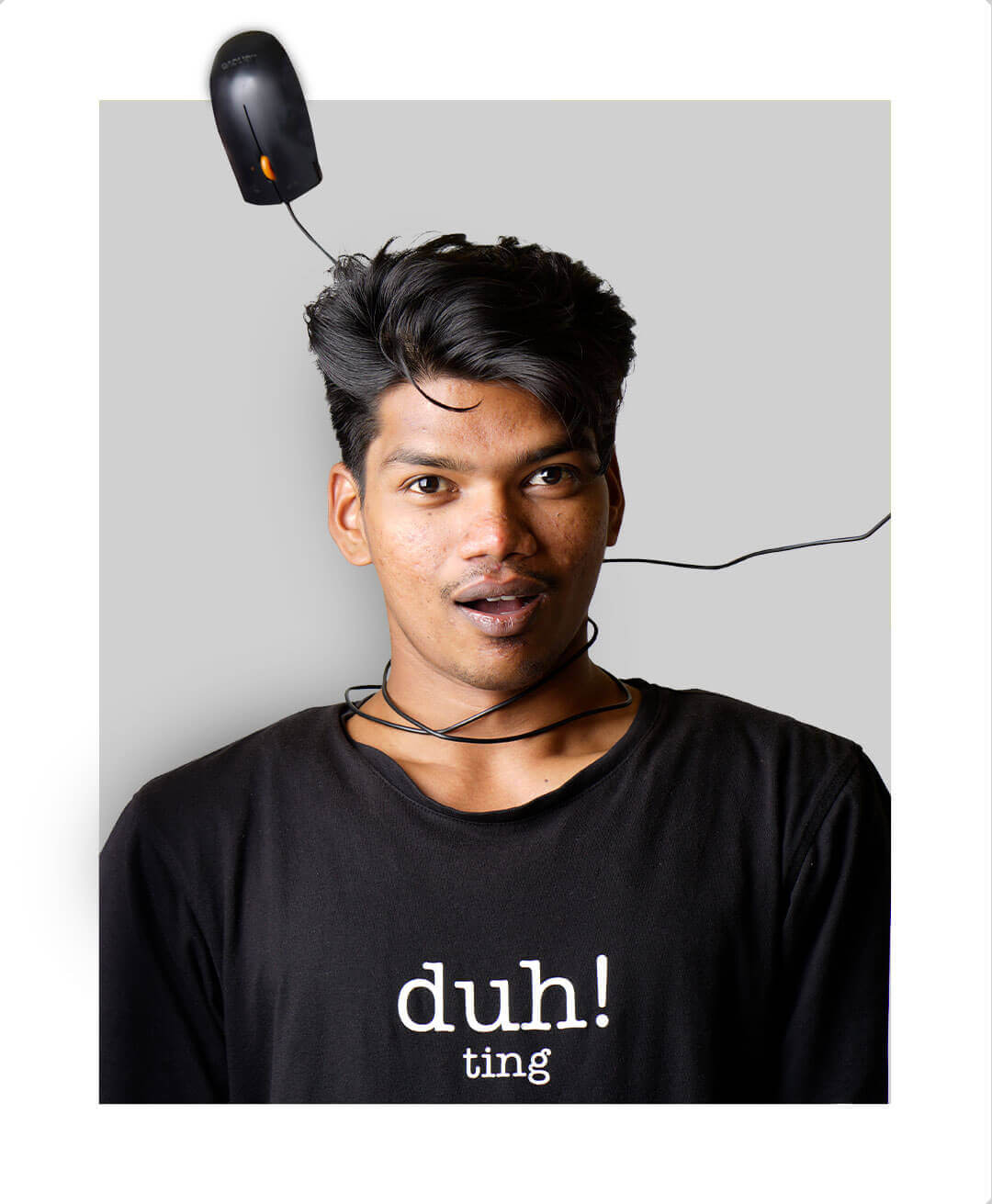 Kadaichutti Singam!
S.Sujaisundharaj
Capsule chusina
caption ane
anipistundi
-reading the
word capsule
as caption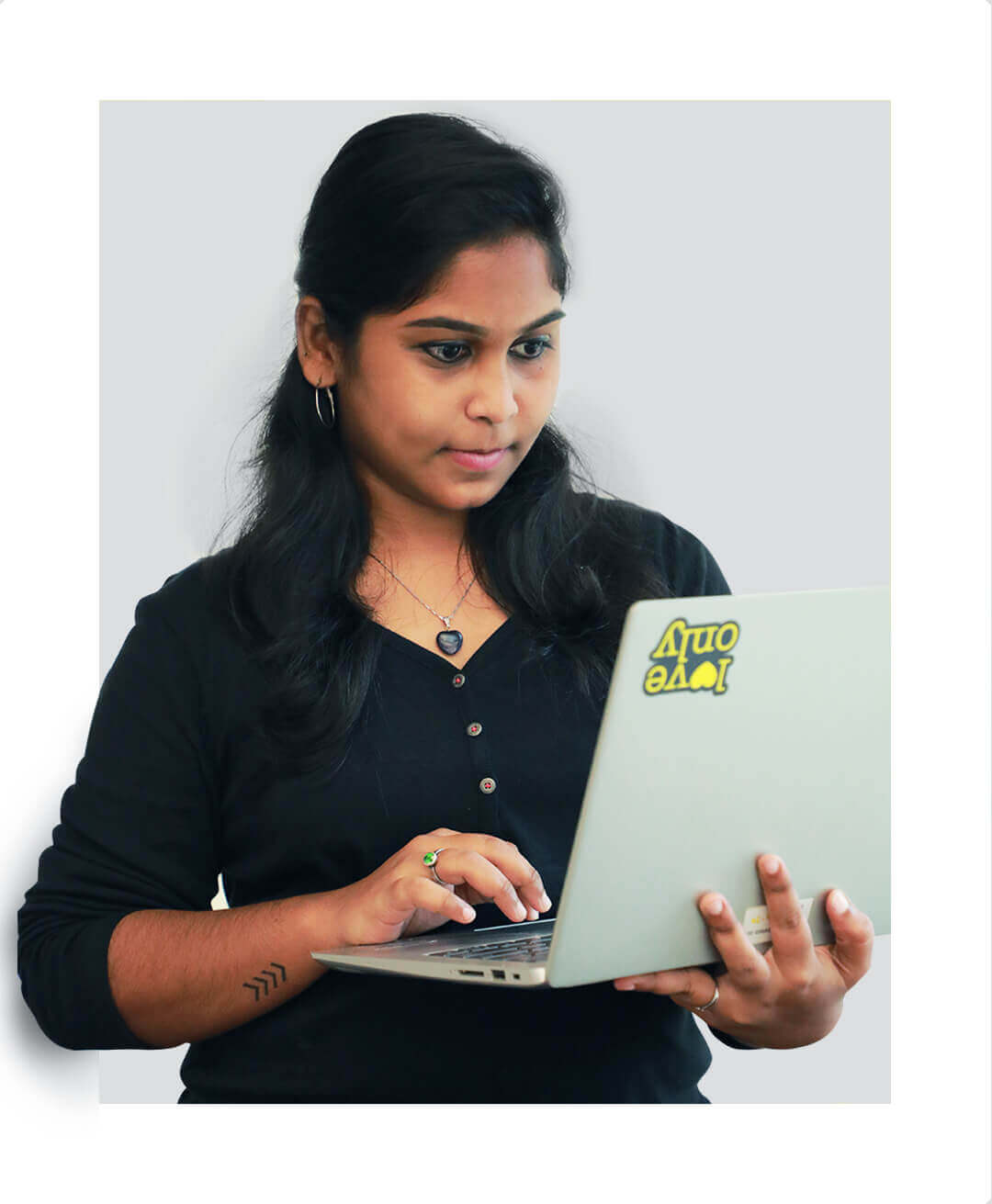 No copy is interesting enough for her
Mahalakshmi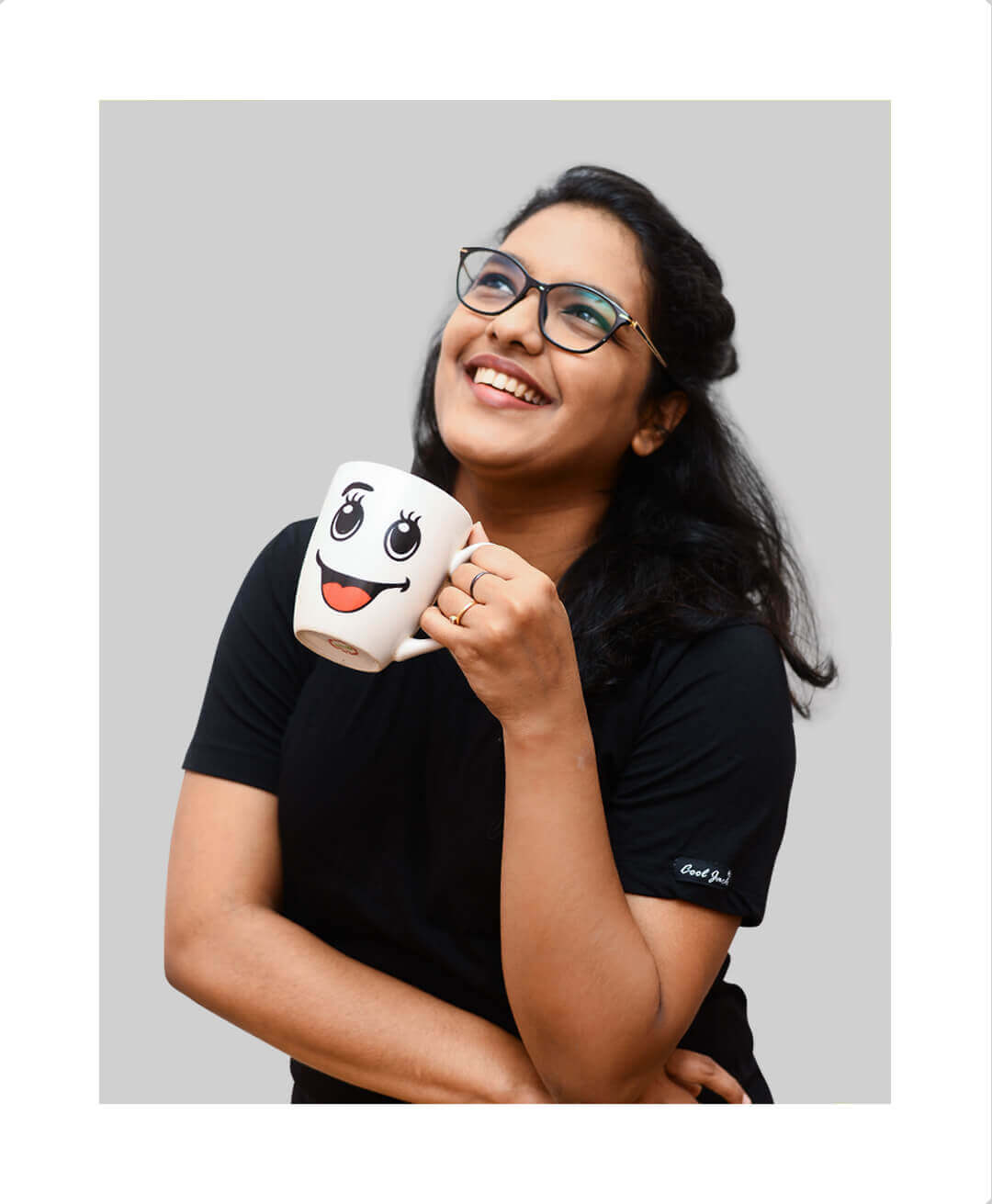 Pretends to love design but in real loves dancing.
Saradha Priya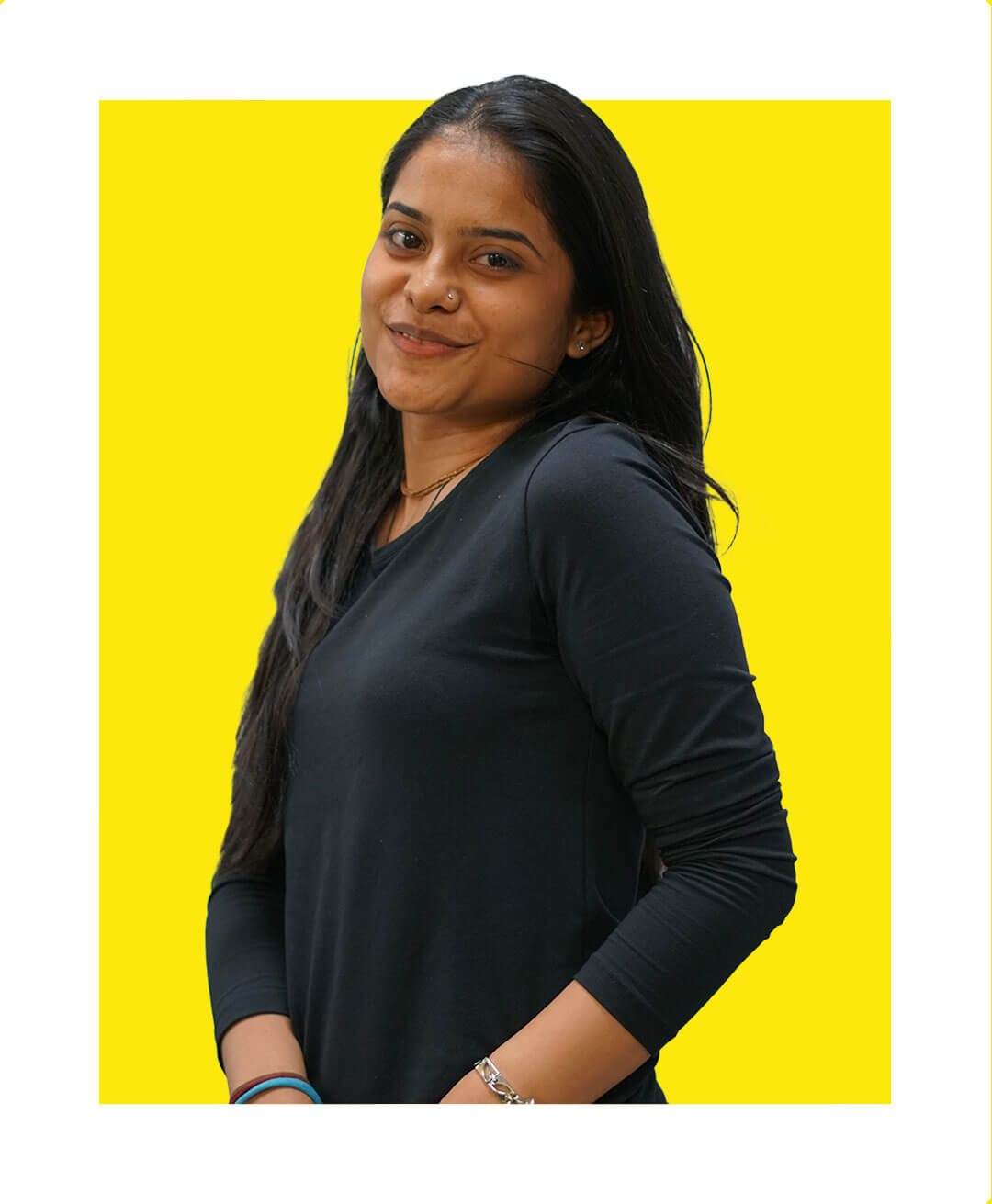 Simplicity from the Pink City
Navneet Pareek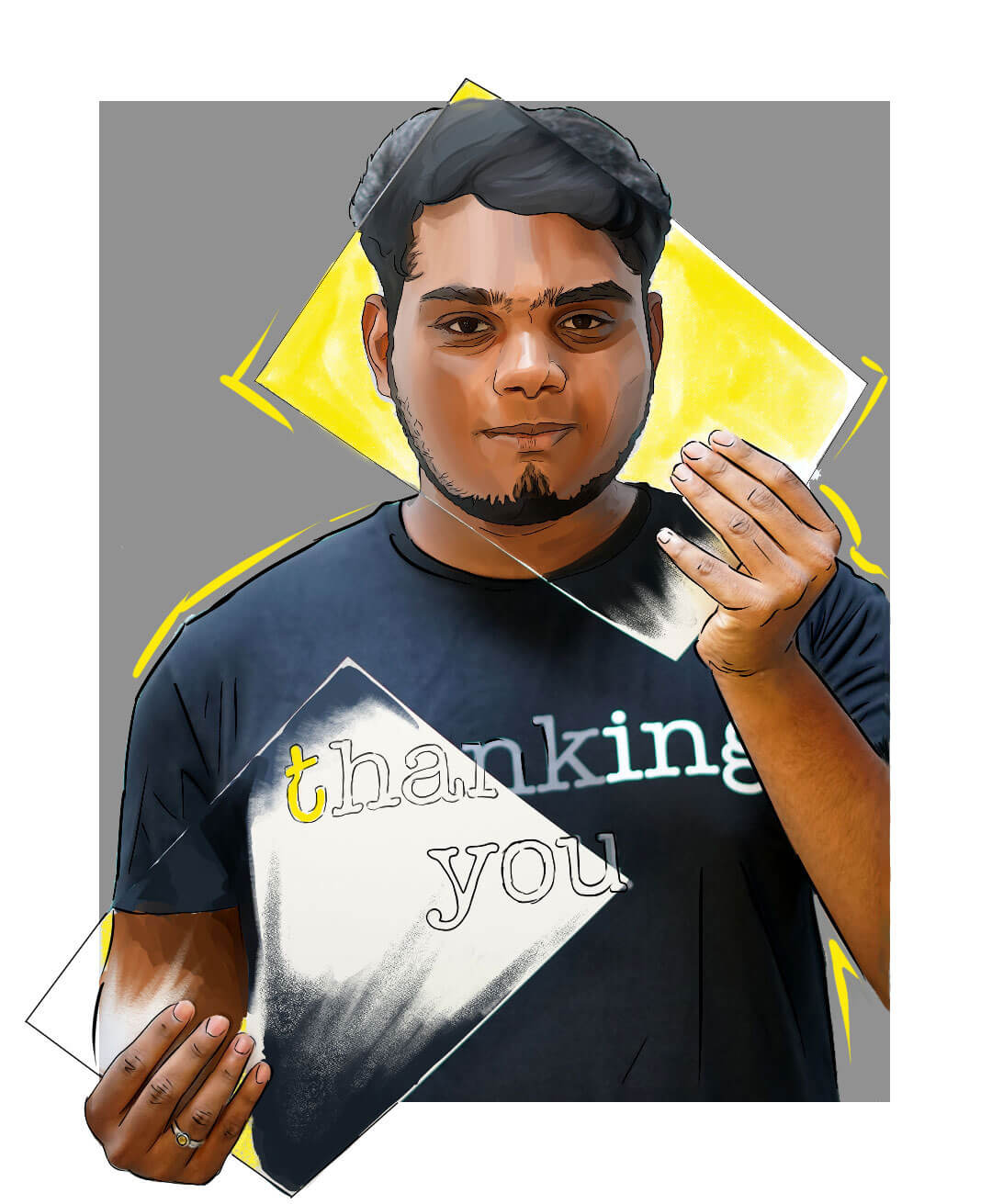 An illustrator by day and DJ throughout
Dhakshin Chandrasekar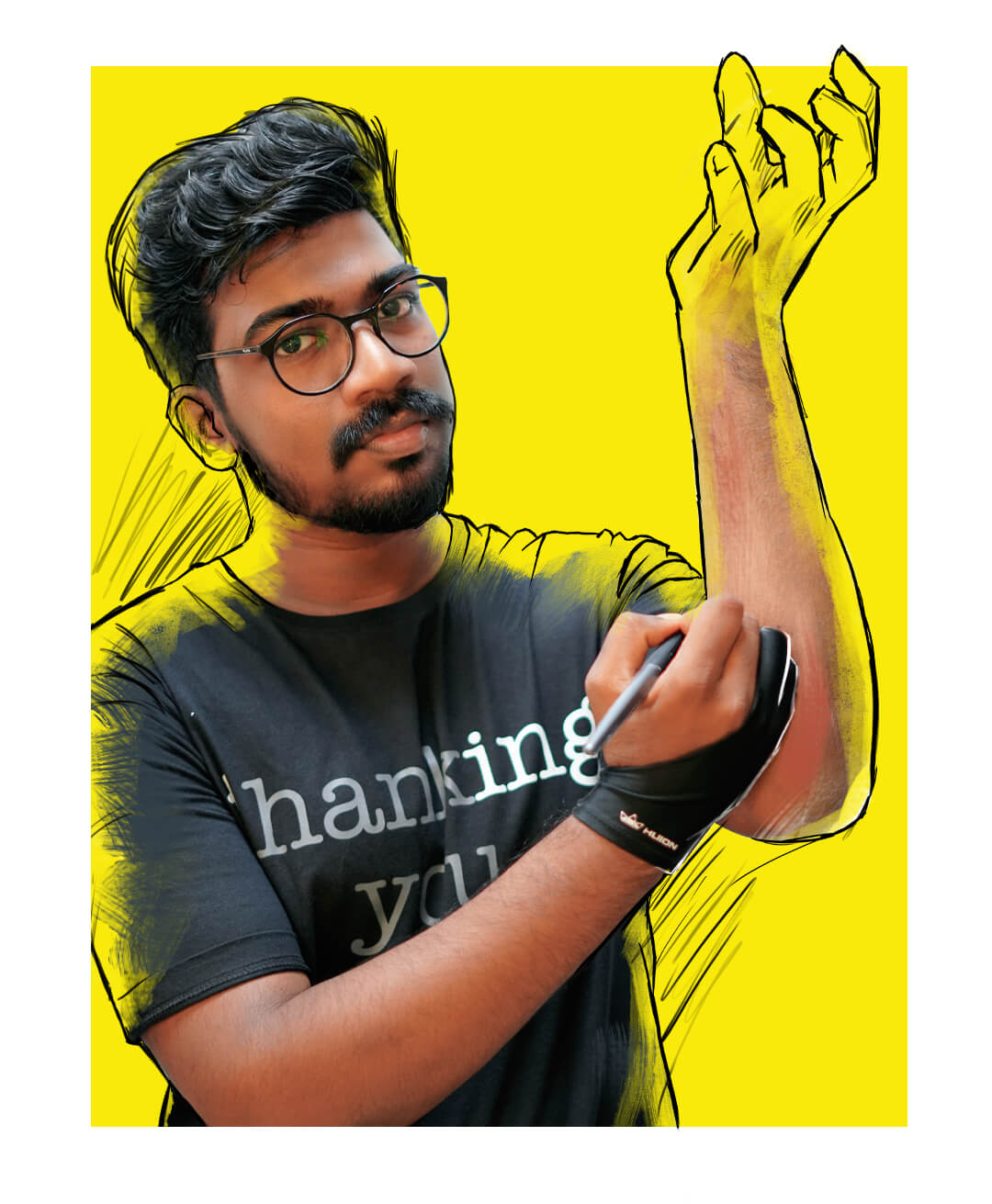 Why us, when his illustrations speak for him
Dharani
Servicing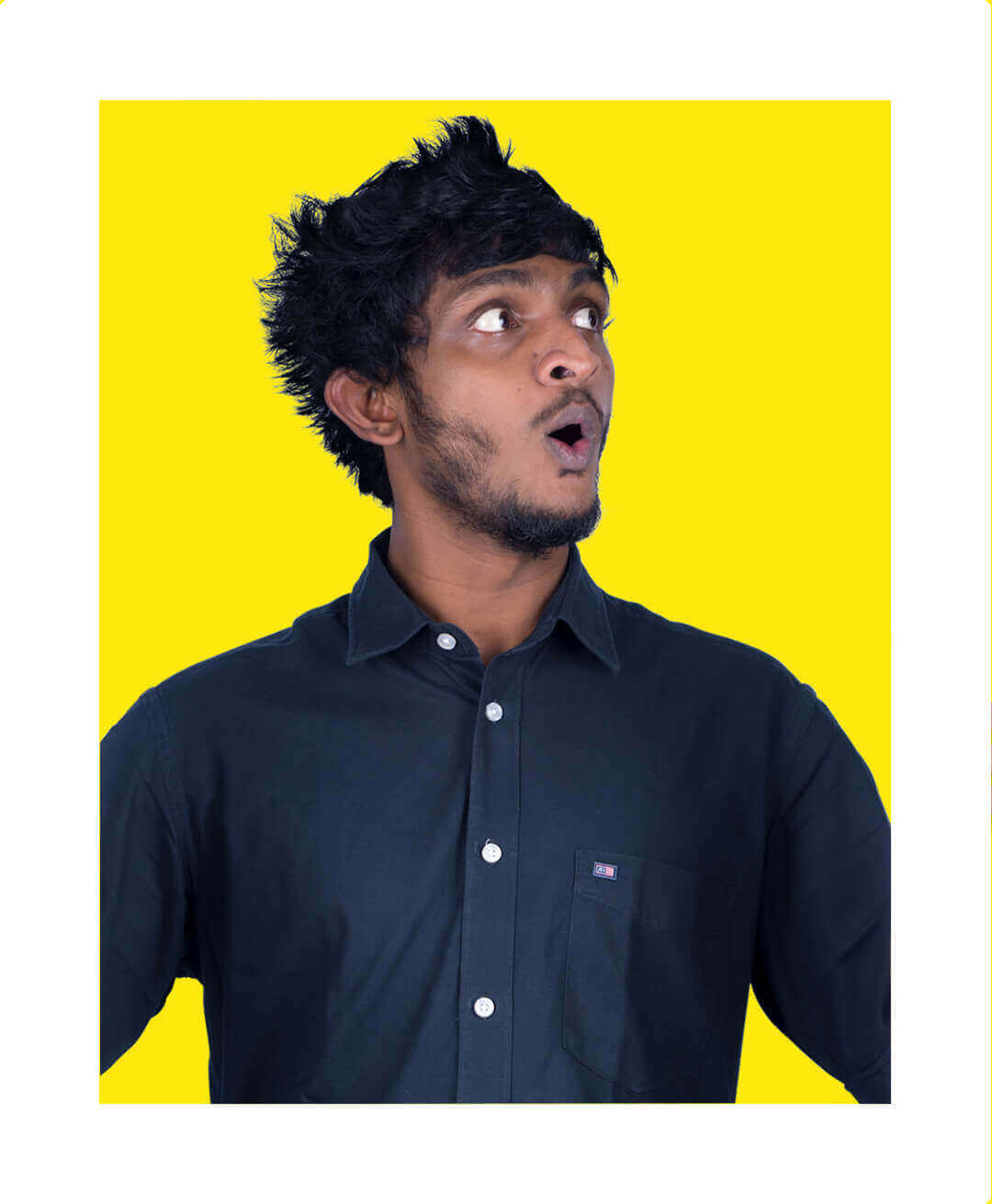 PraWIN sounds more appropriate!
Praveen krishnamurthi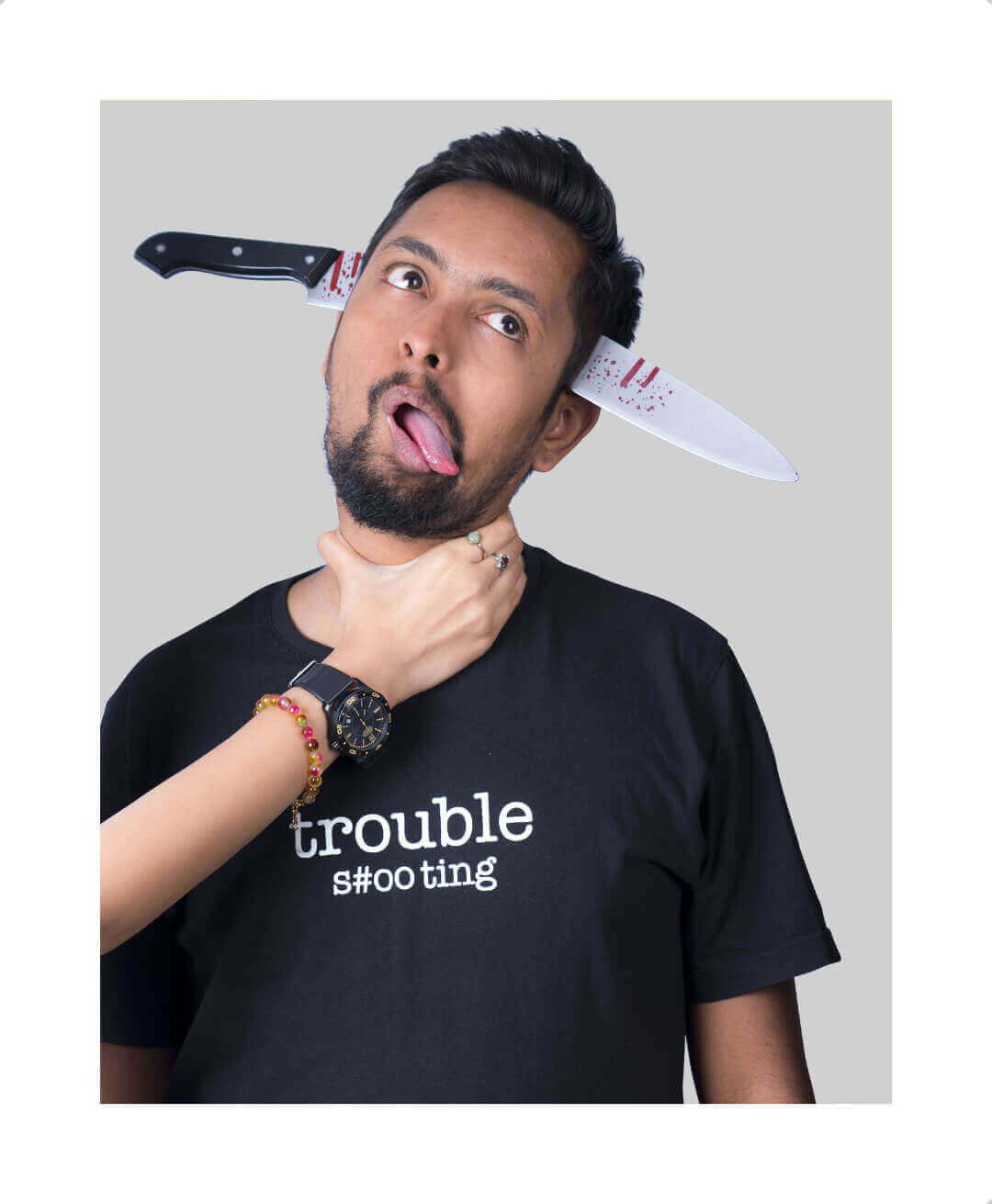 Should have been named Sabarushh.
Sabarish Pavithramohan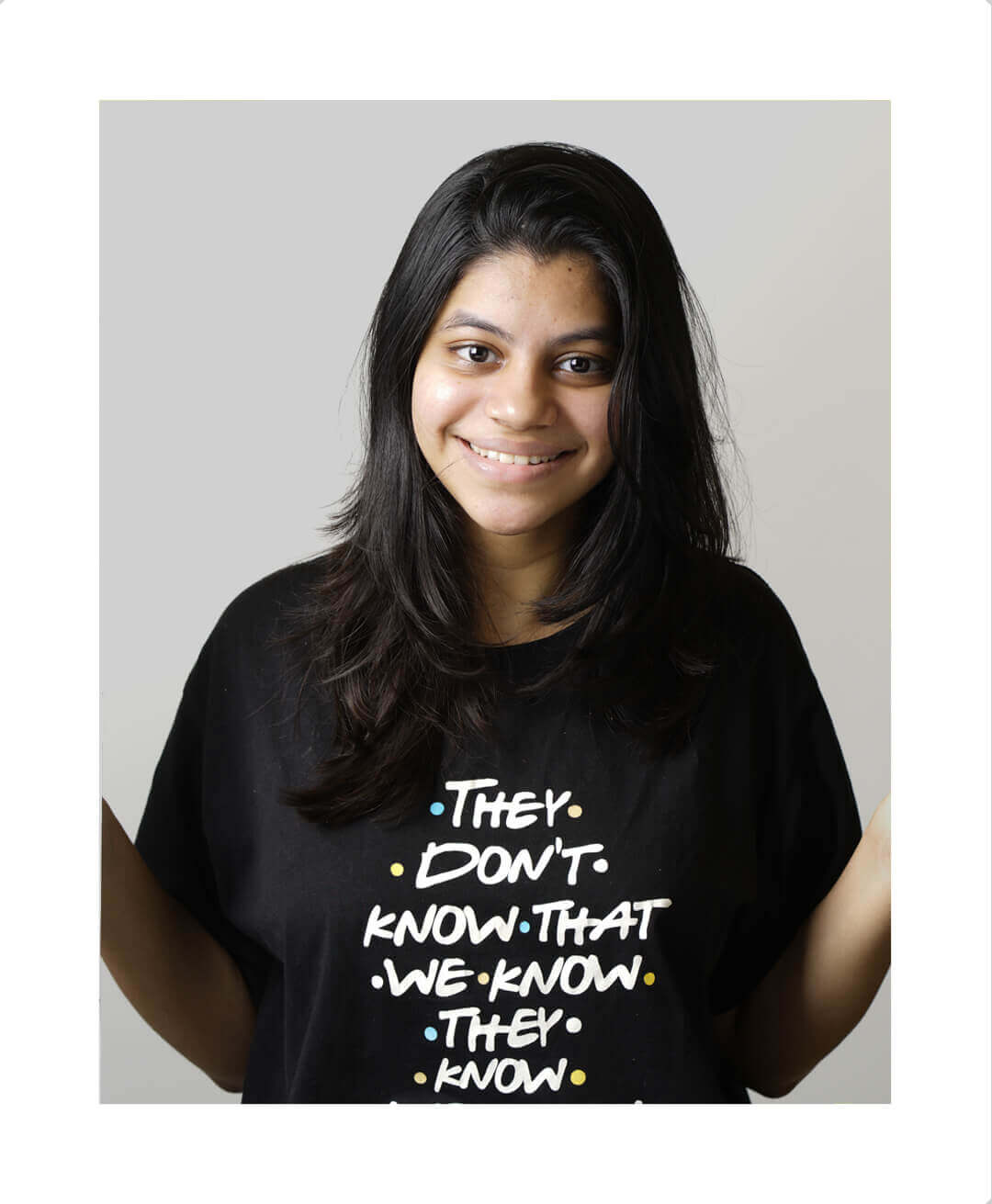 I'm too Hoi for you!
Nivetha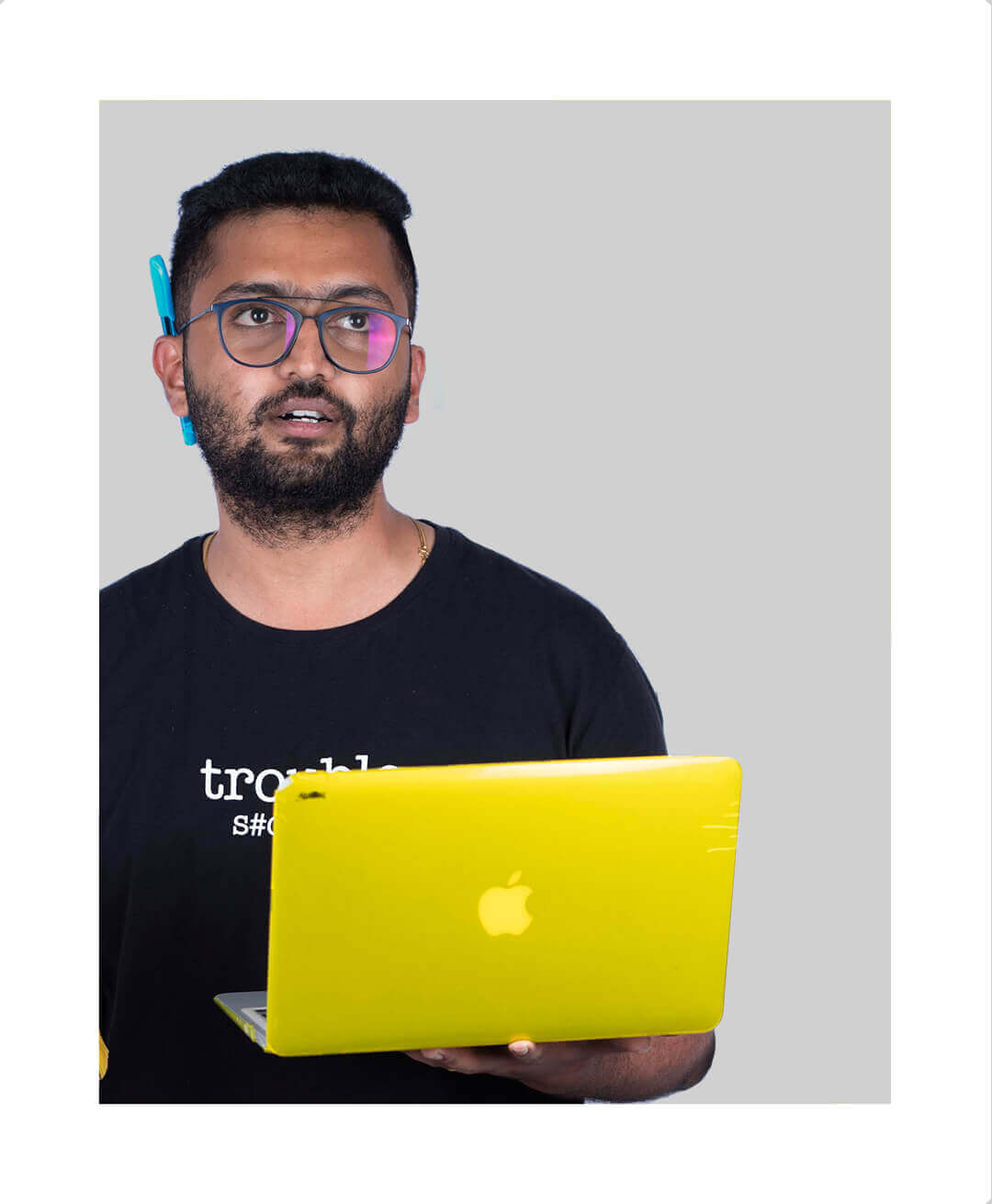 #LoveOnly, from Lulu Mall.
Rahul Nair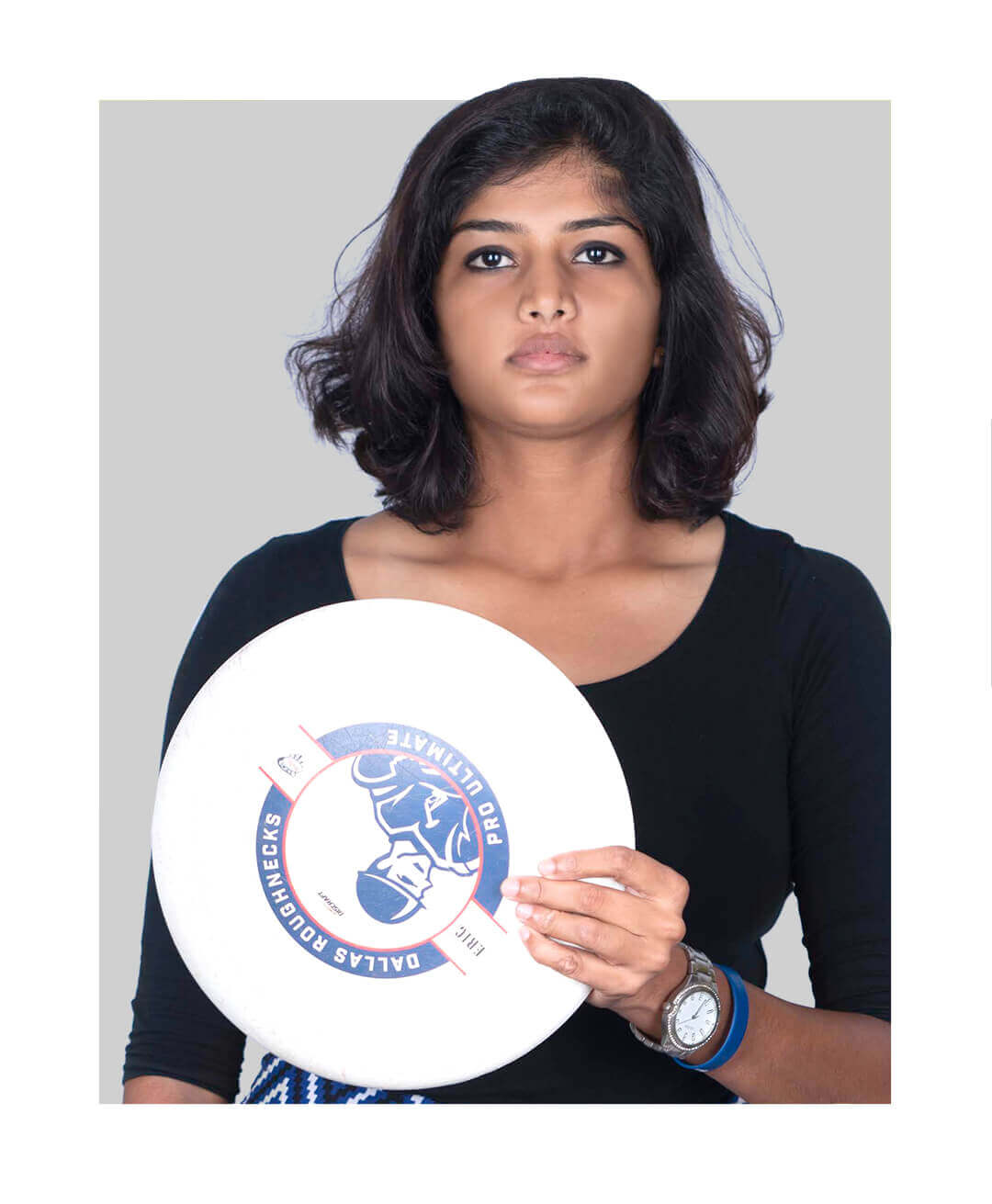 Mother. Trainer. Teacher....oh and an Account Manager
Shruthi Nathella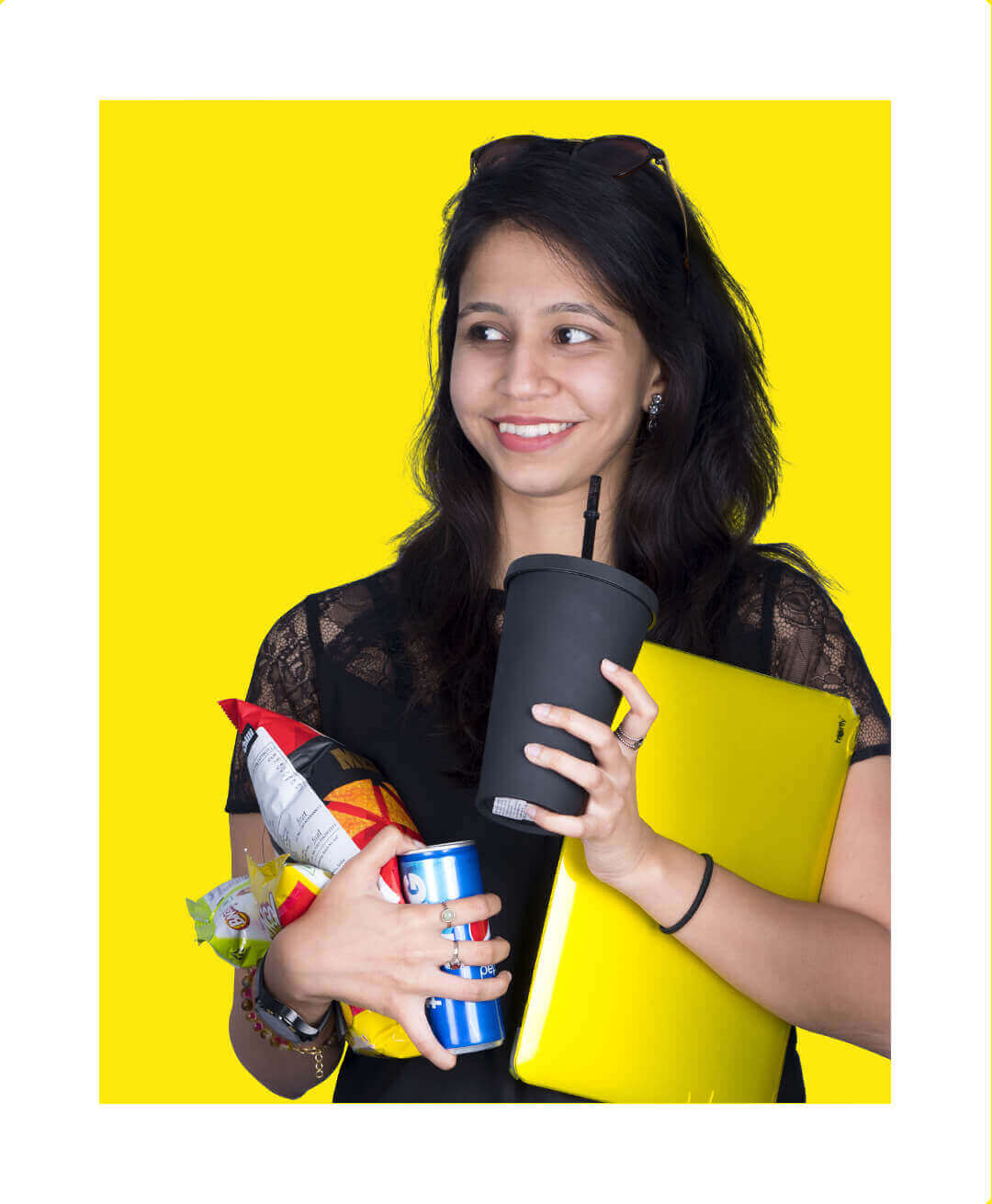 Did someone say food?
Fatema Zulfikar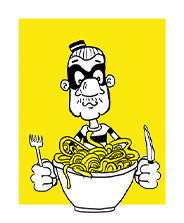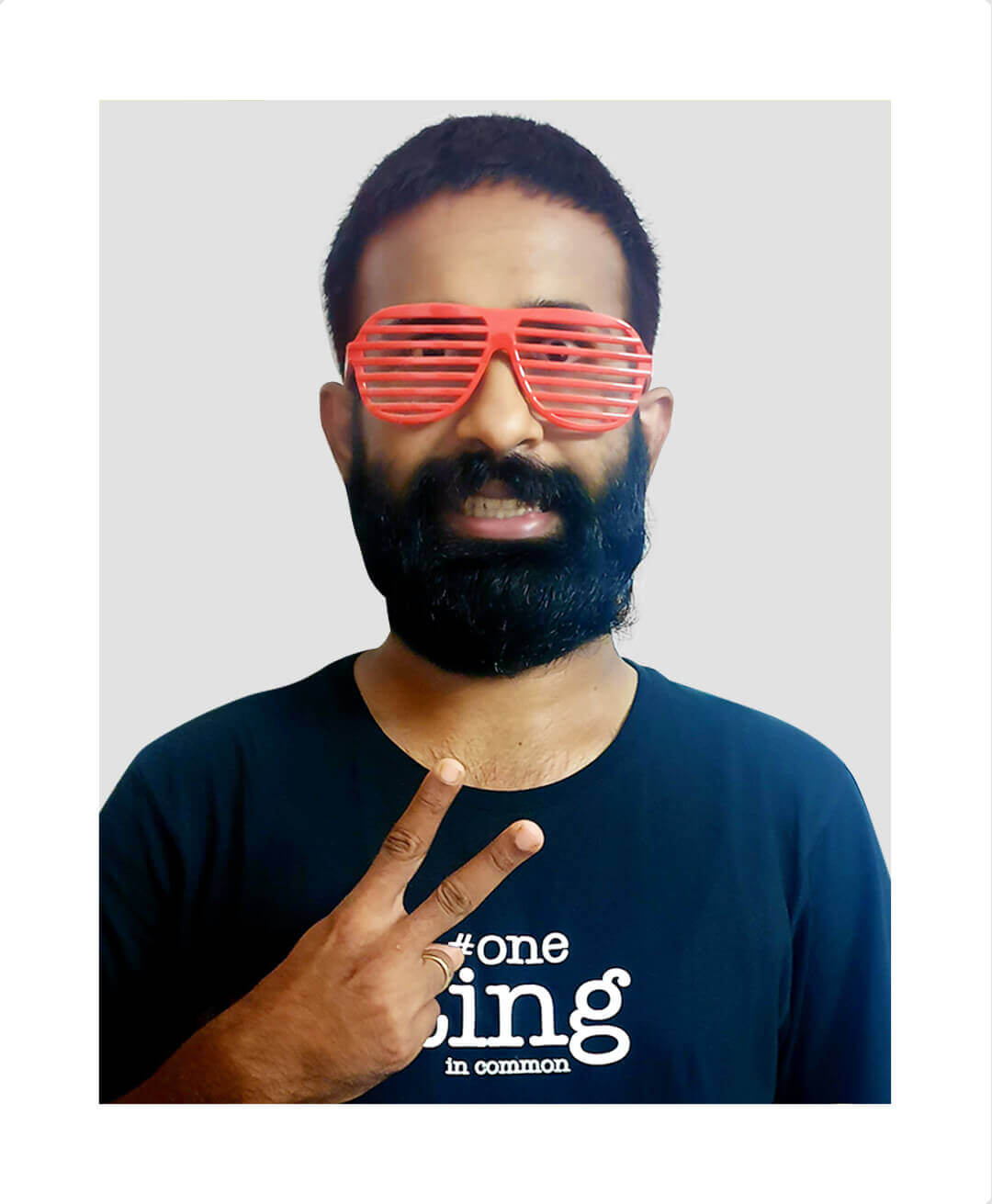 The man who fell for Ting, quite literally!
Akhil Ramanath
Nee chinthich
theerunidath
njan chinthich
thudangum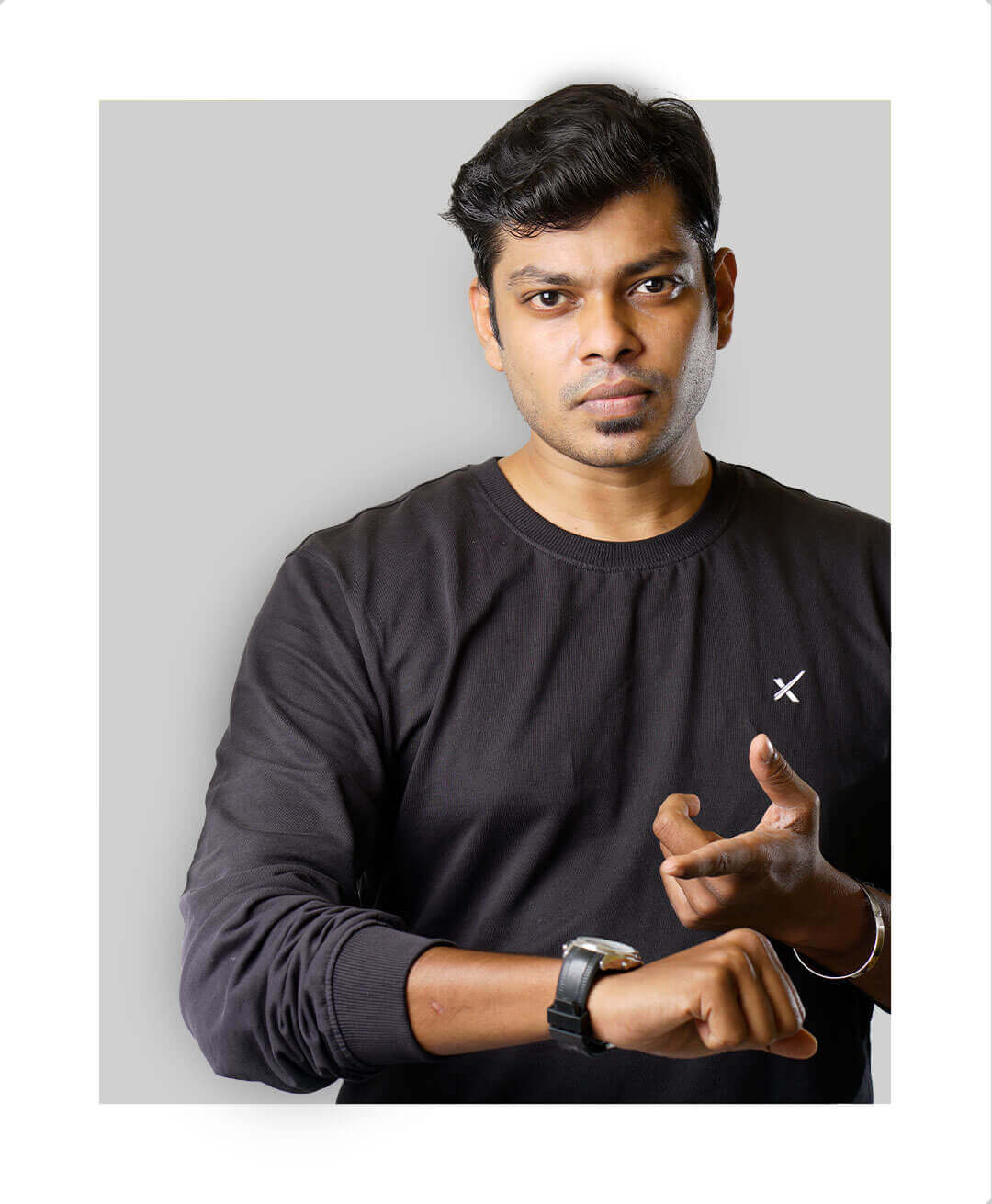 Loves jamming, cringing and binging! Goes by the nickname 'Enna SV?'
Sundar venkat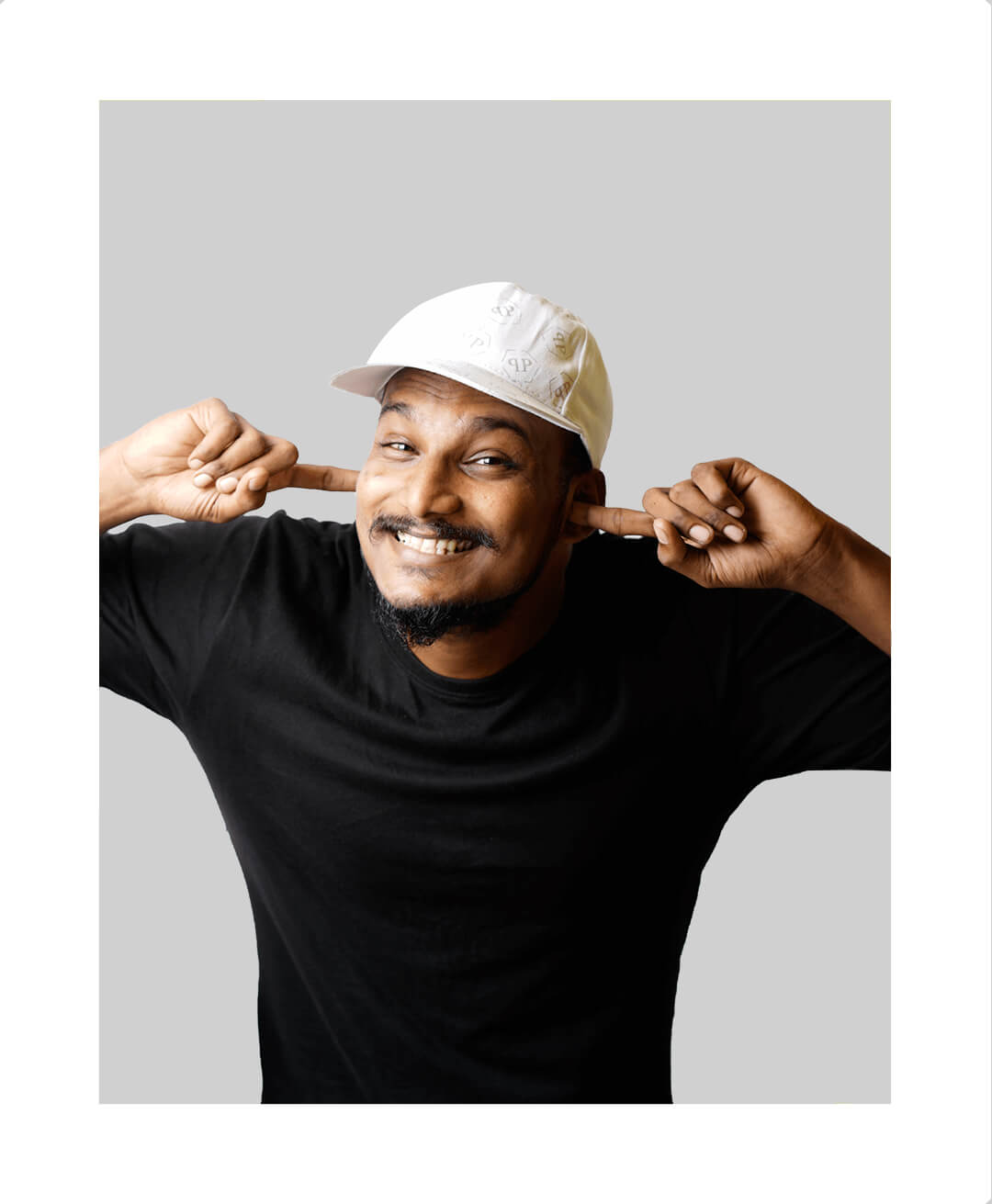 In office : #WhosDoingQC Outside office : #ChennaiVaasi
Mohan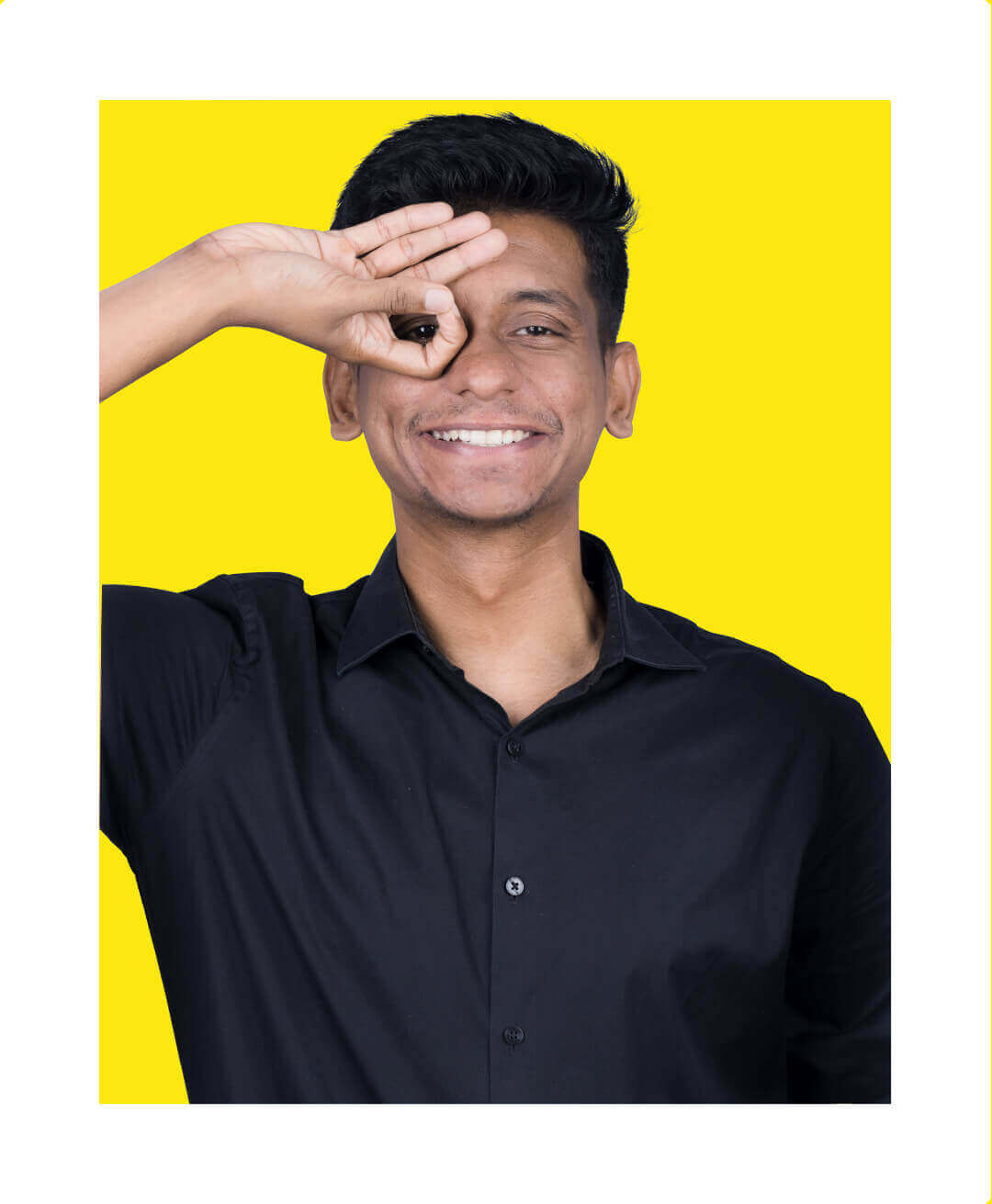 The walking man.
Anirudh Ramanathan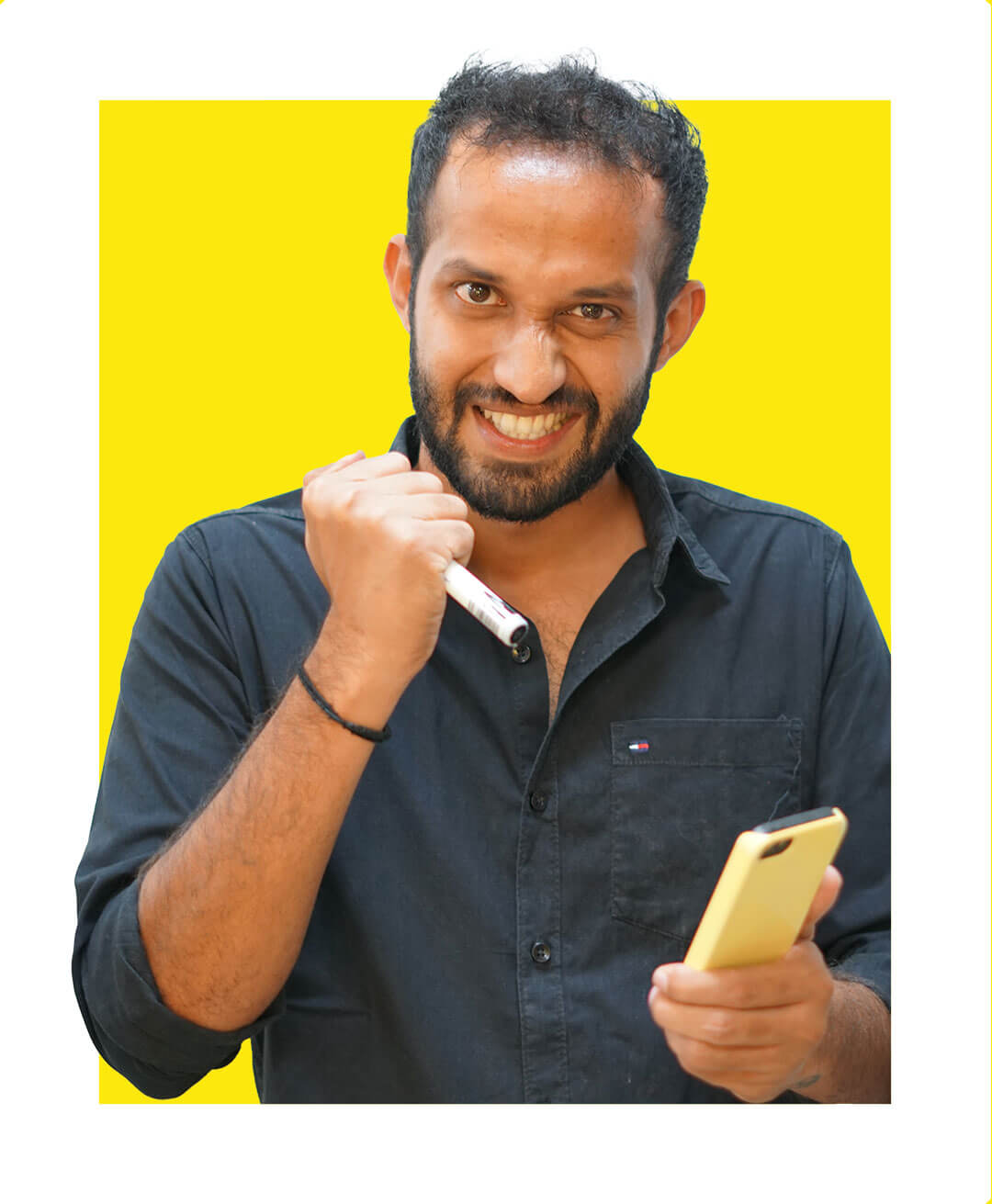 He's on Santa's nice list
Achaiah KP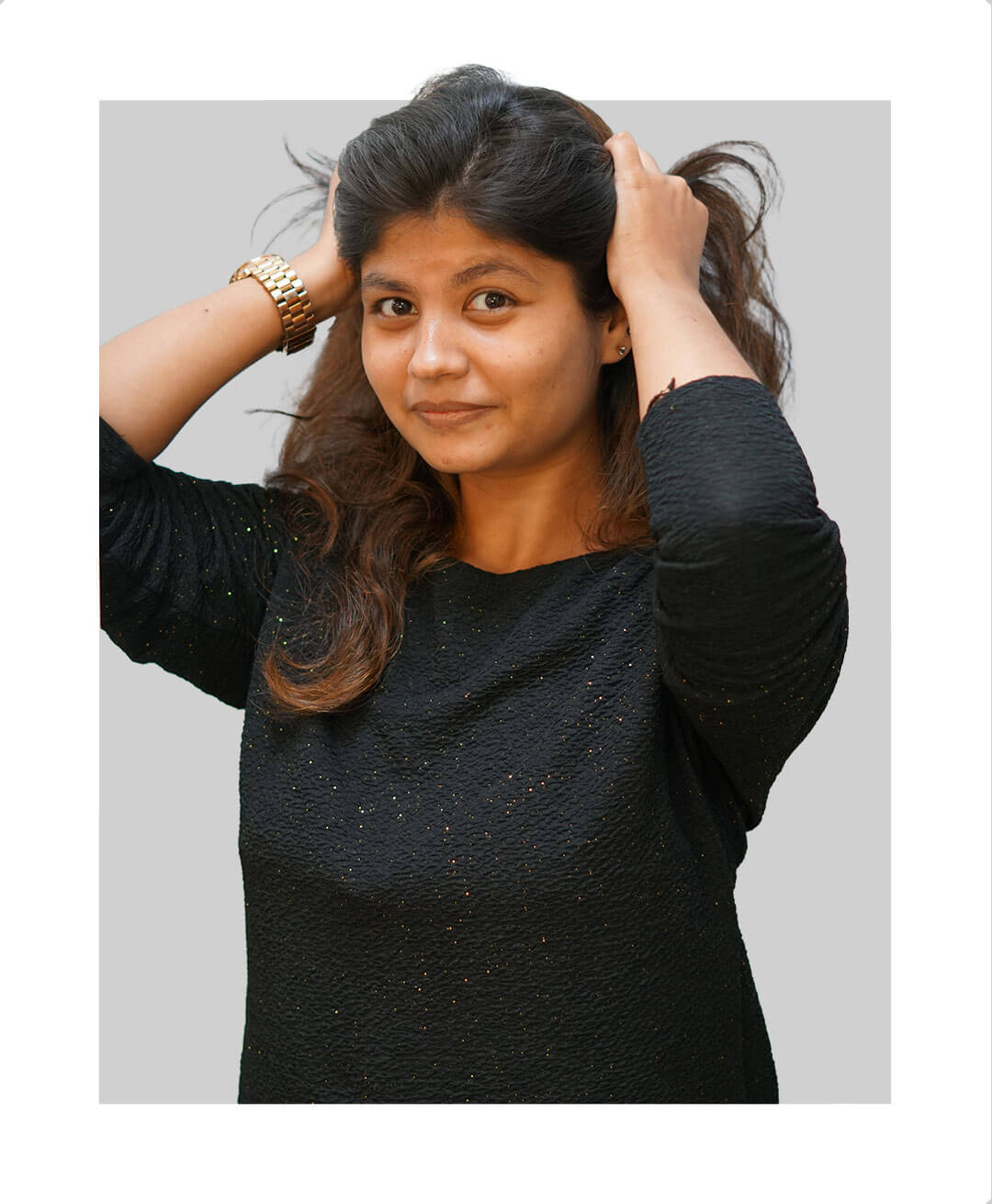 Ting's very own Shein!
Priyanka B Katkoria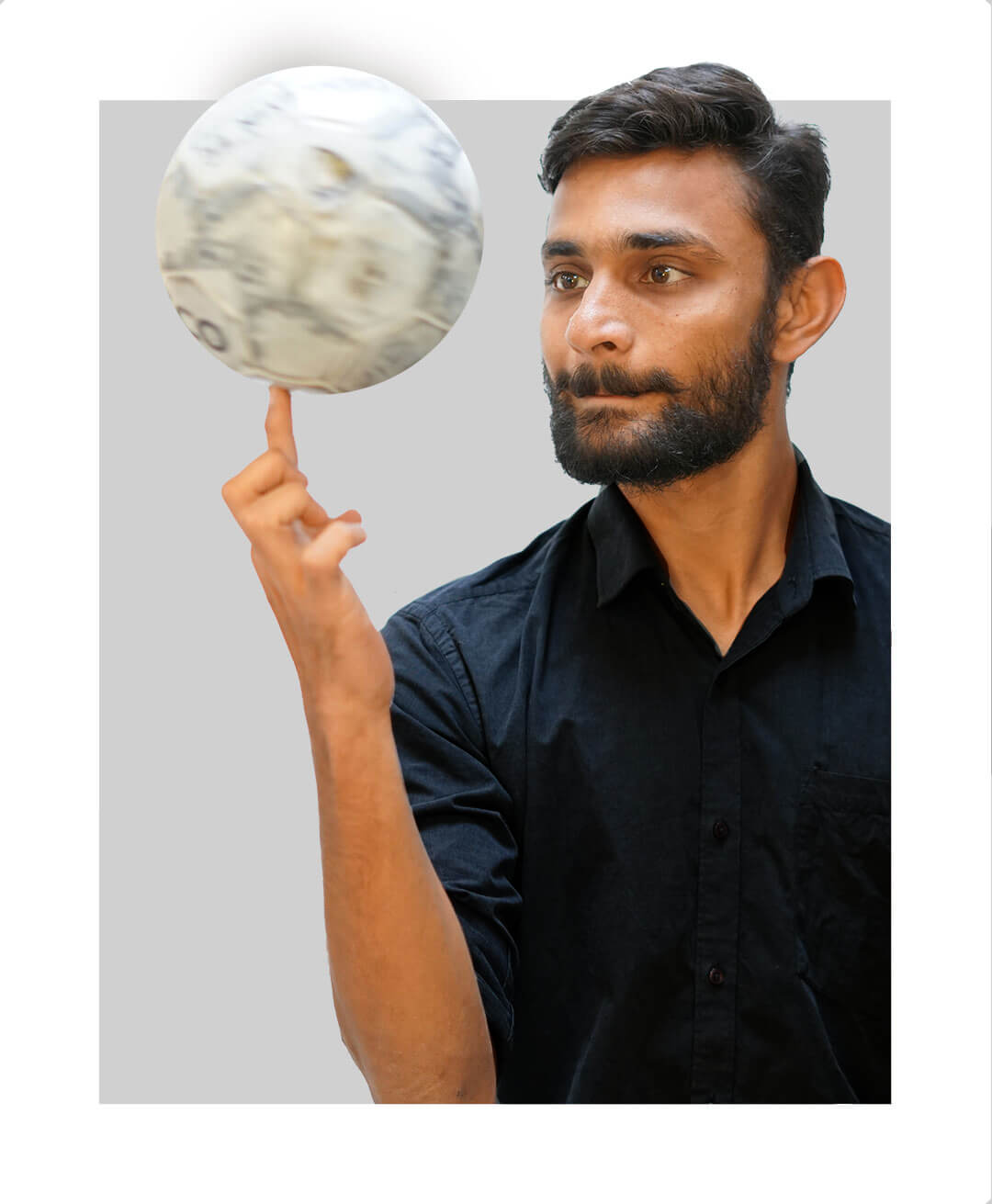 He is the calm before the storm // The Coach we all need
Nandan Ravi Latha
Copy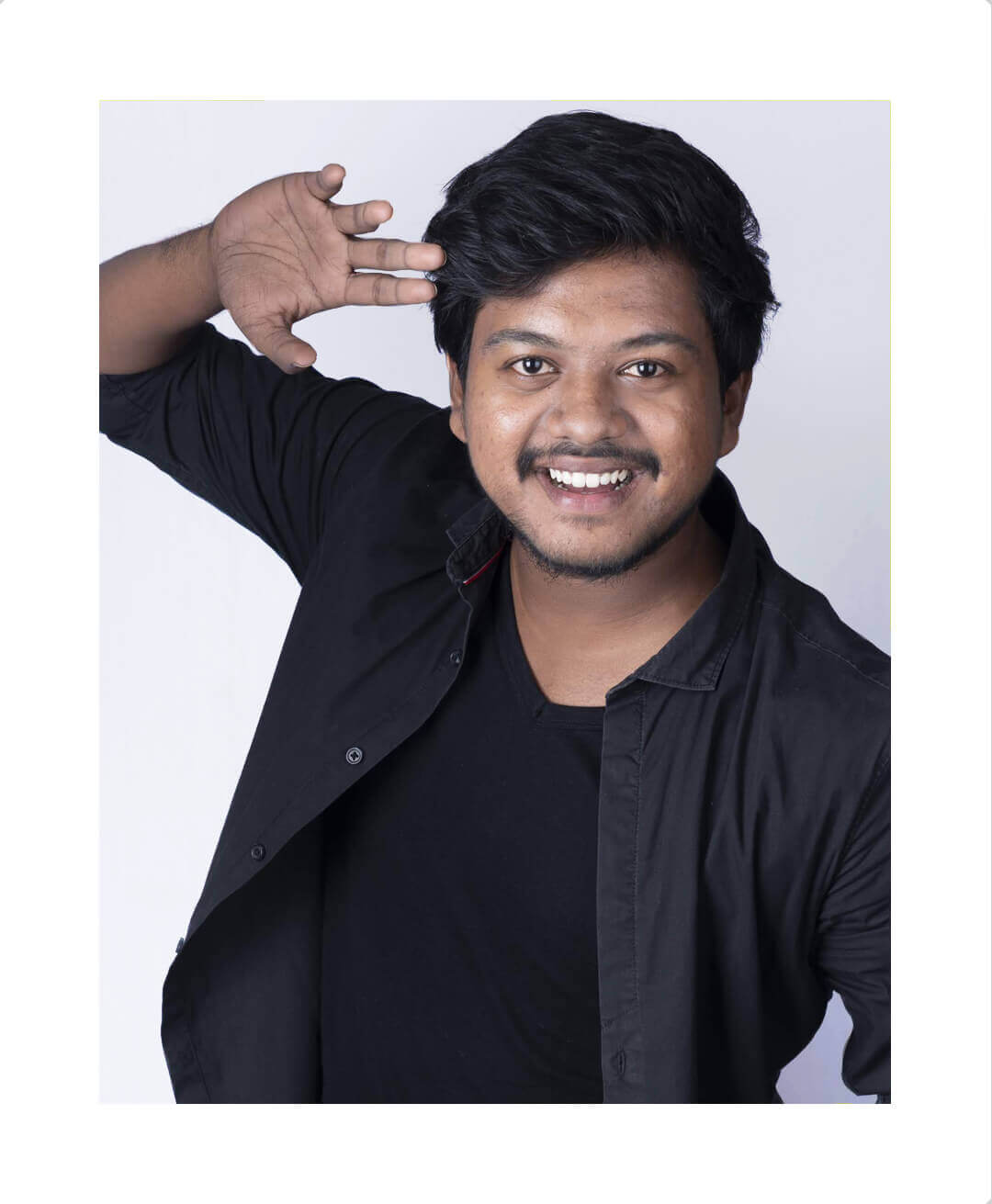 The clone who acts better
Ashoka Mithiran G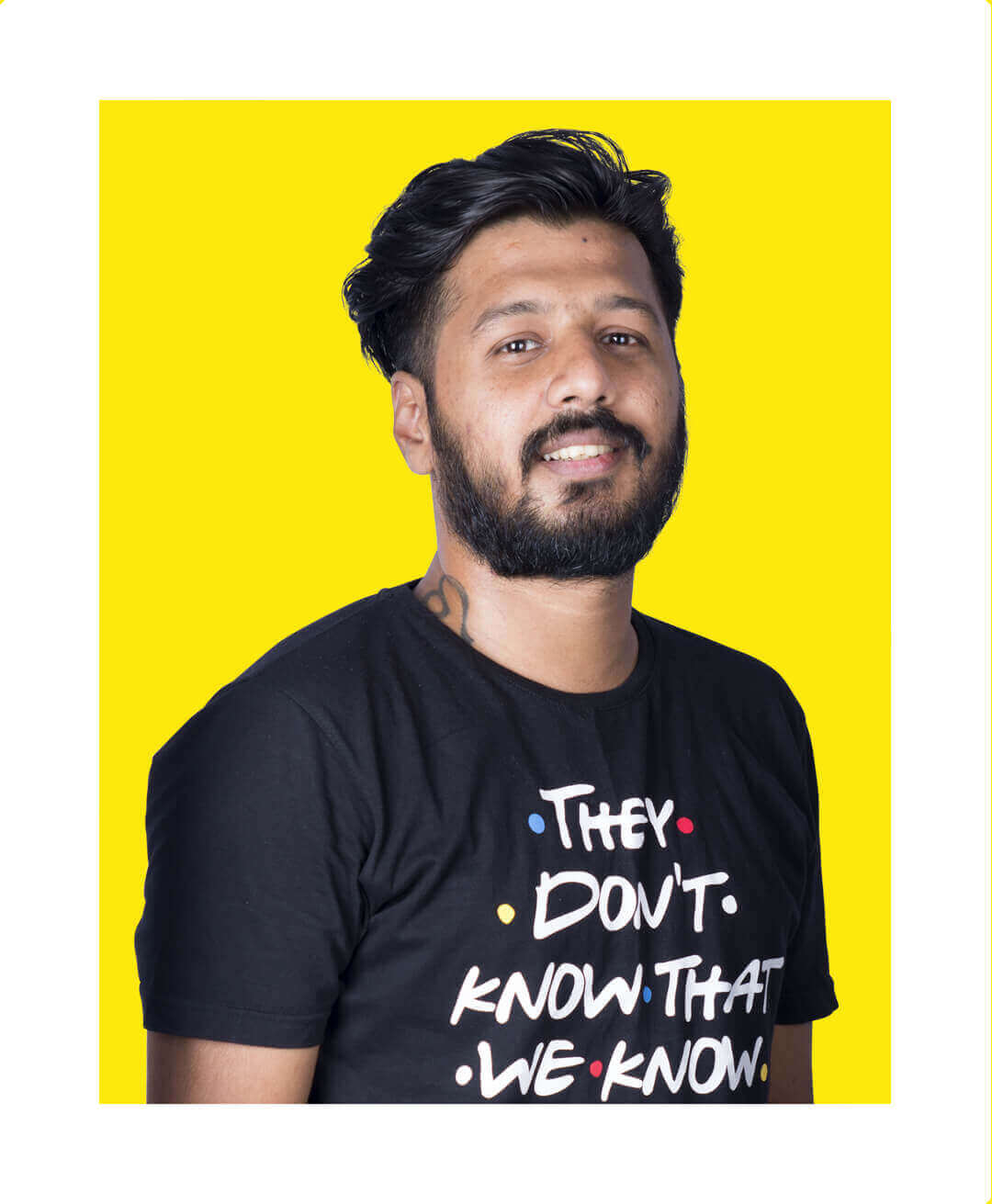 Tsunami approaches.
Pawan - Where's my beanbag?
Mridupawan Podder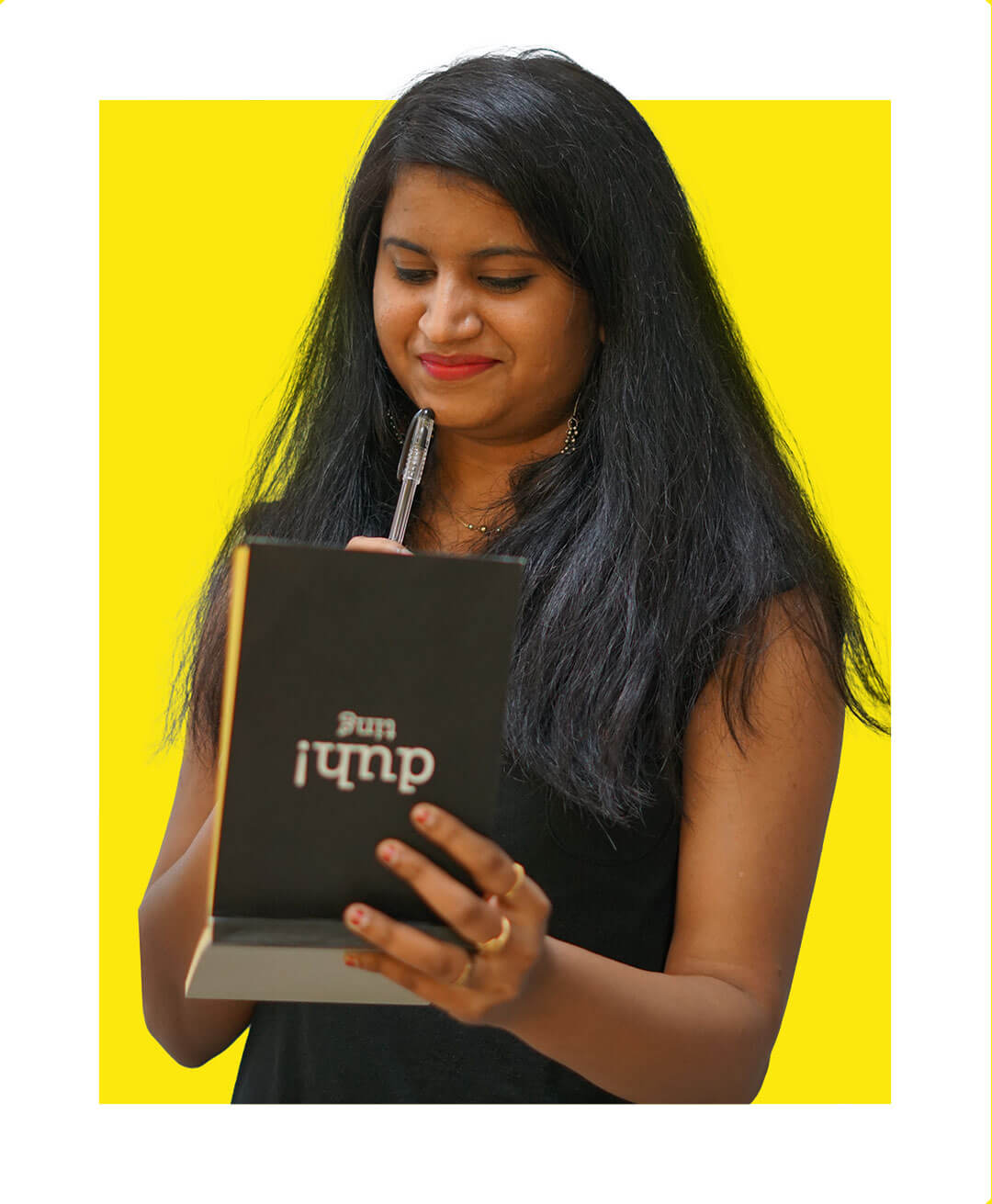 Our resident news reader
Shanmugha Priya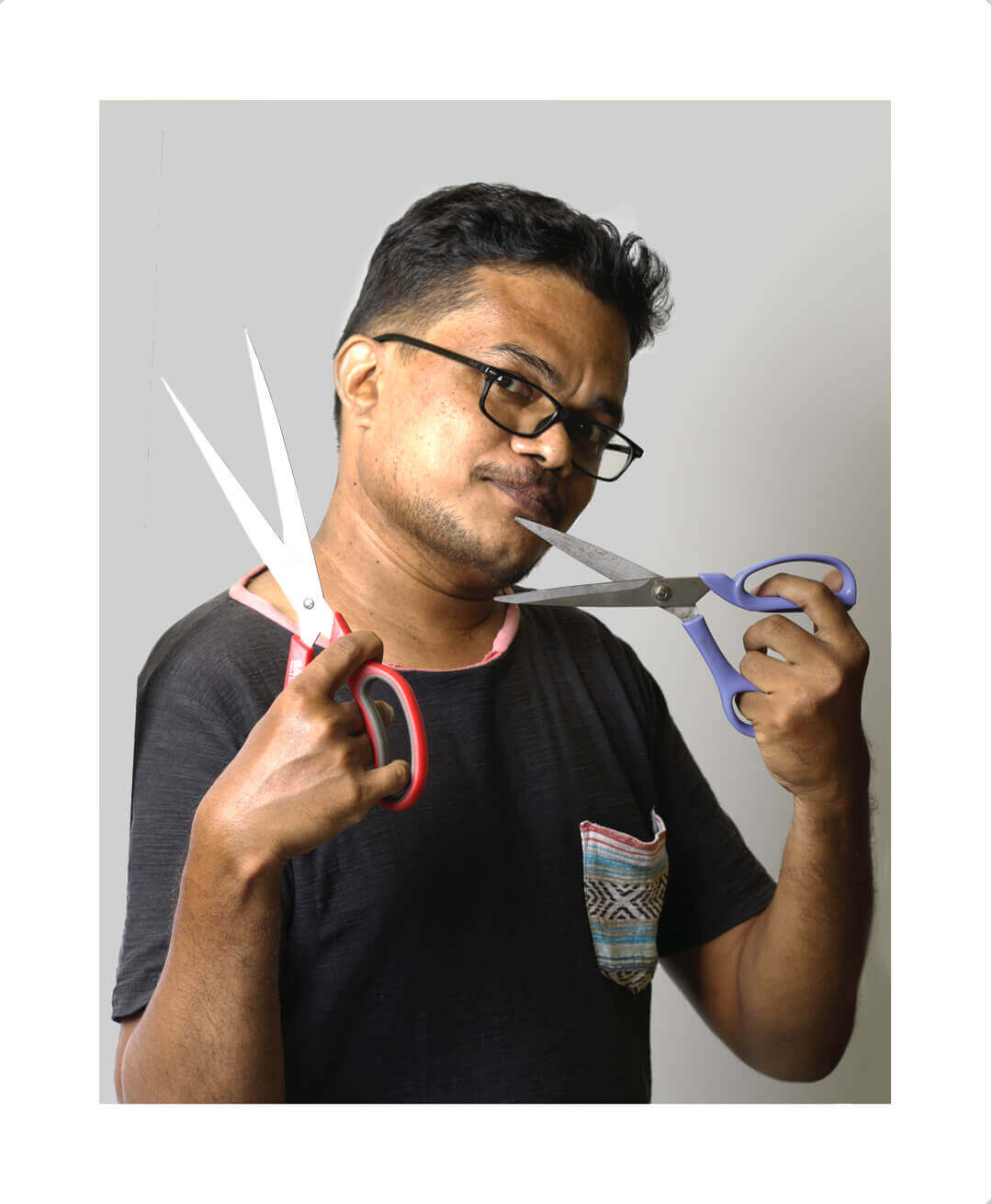 Sunday shift superstar!
Manikandan M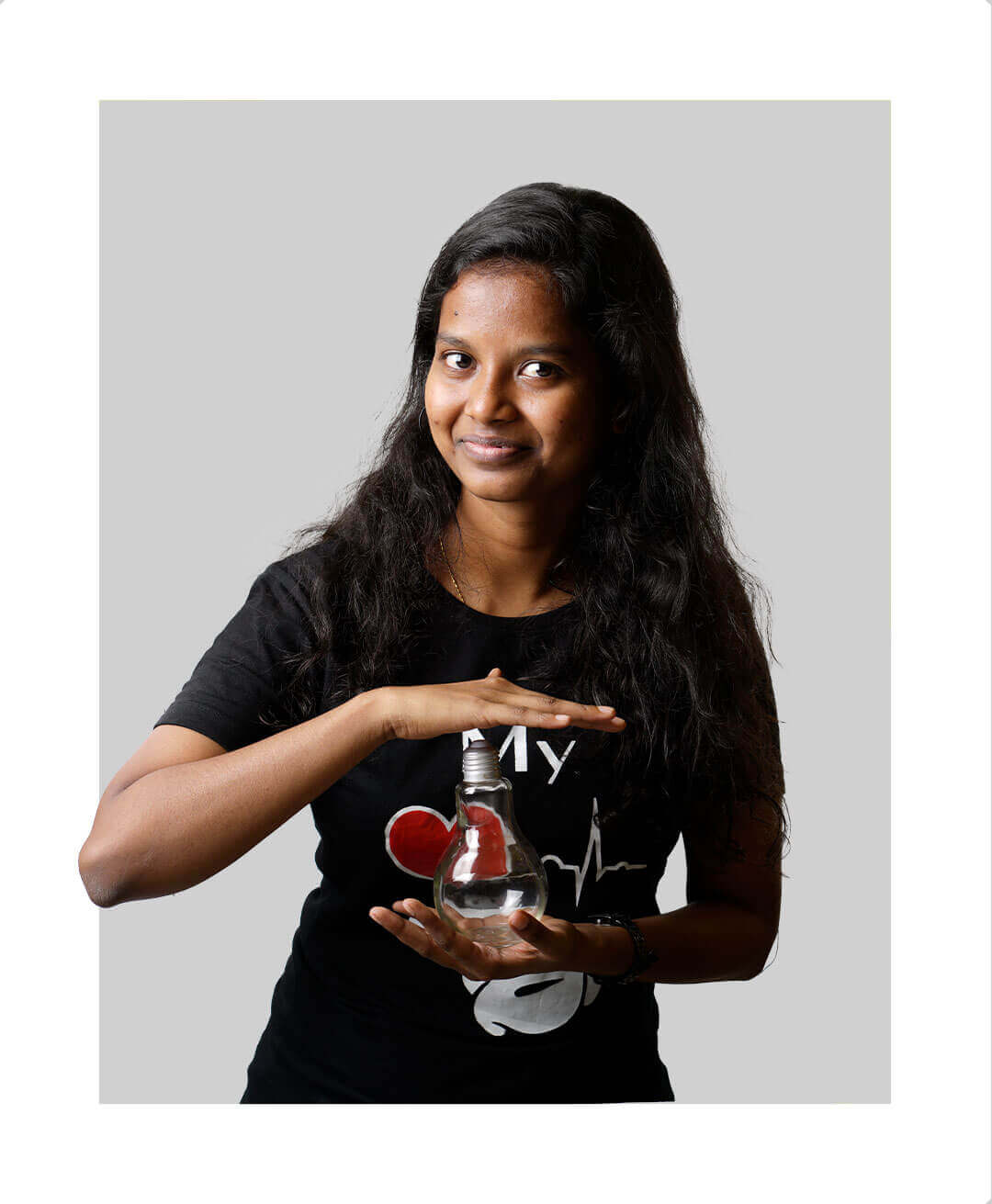 Works like a sparkle. Talks like a
Suguna Ravi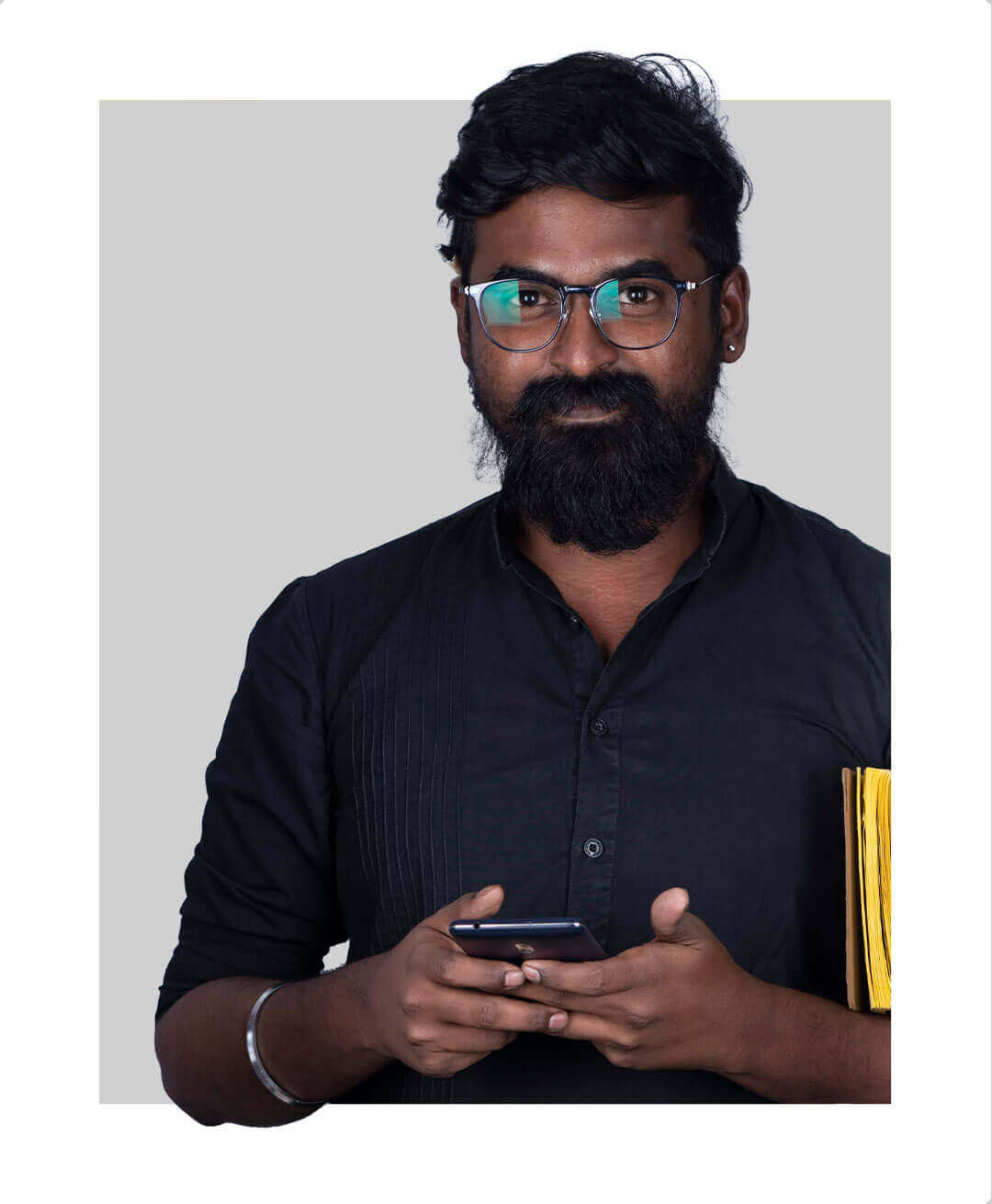 The OG of 15 second videomaker
Surendar Senthil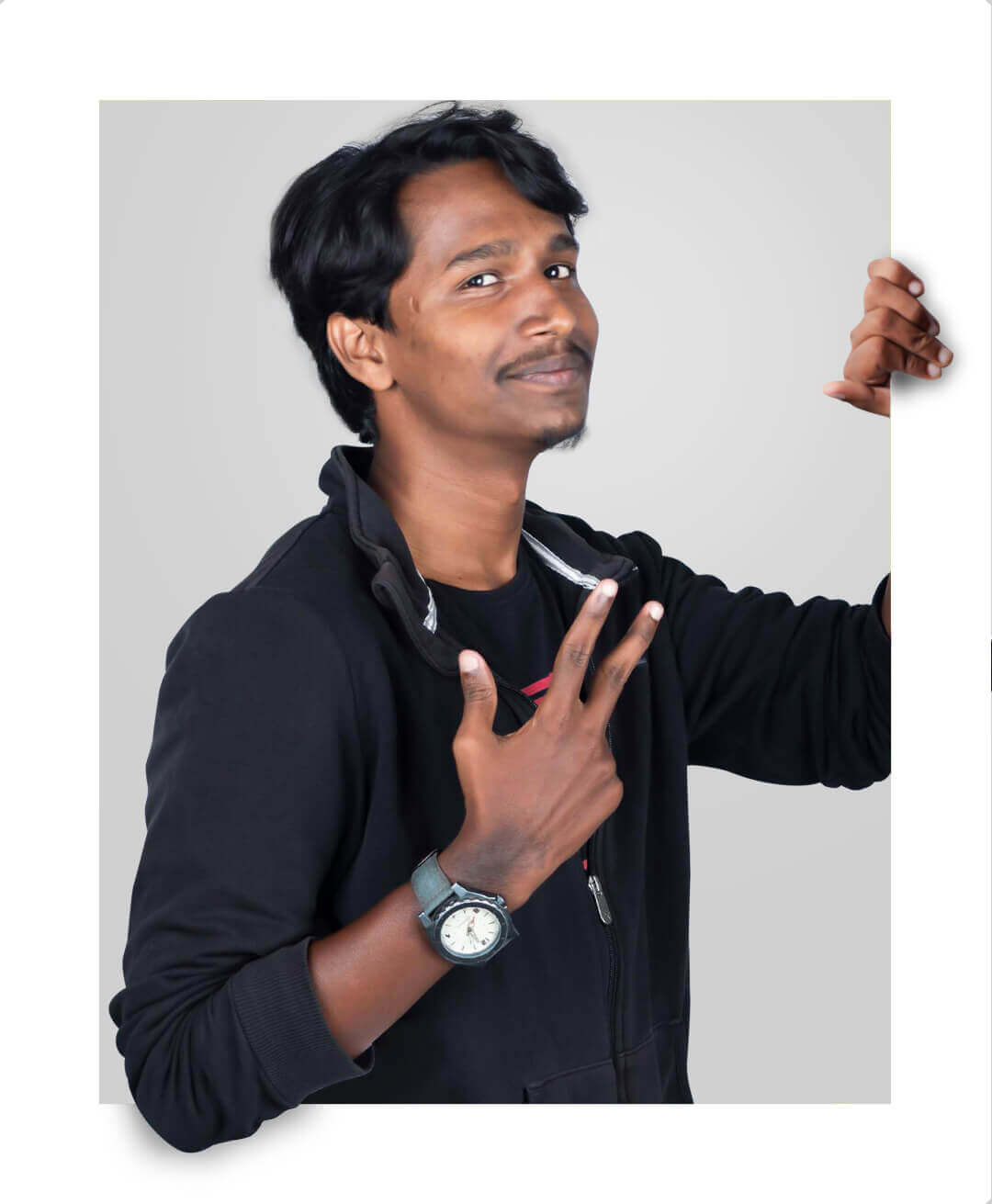 My name is Khan and I don't like Trello
Mohammed Khaan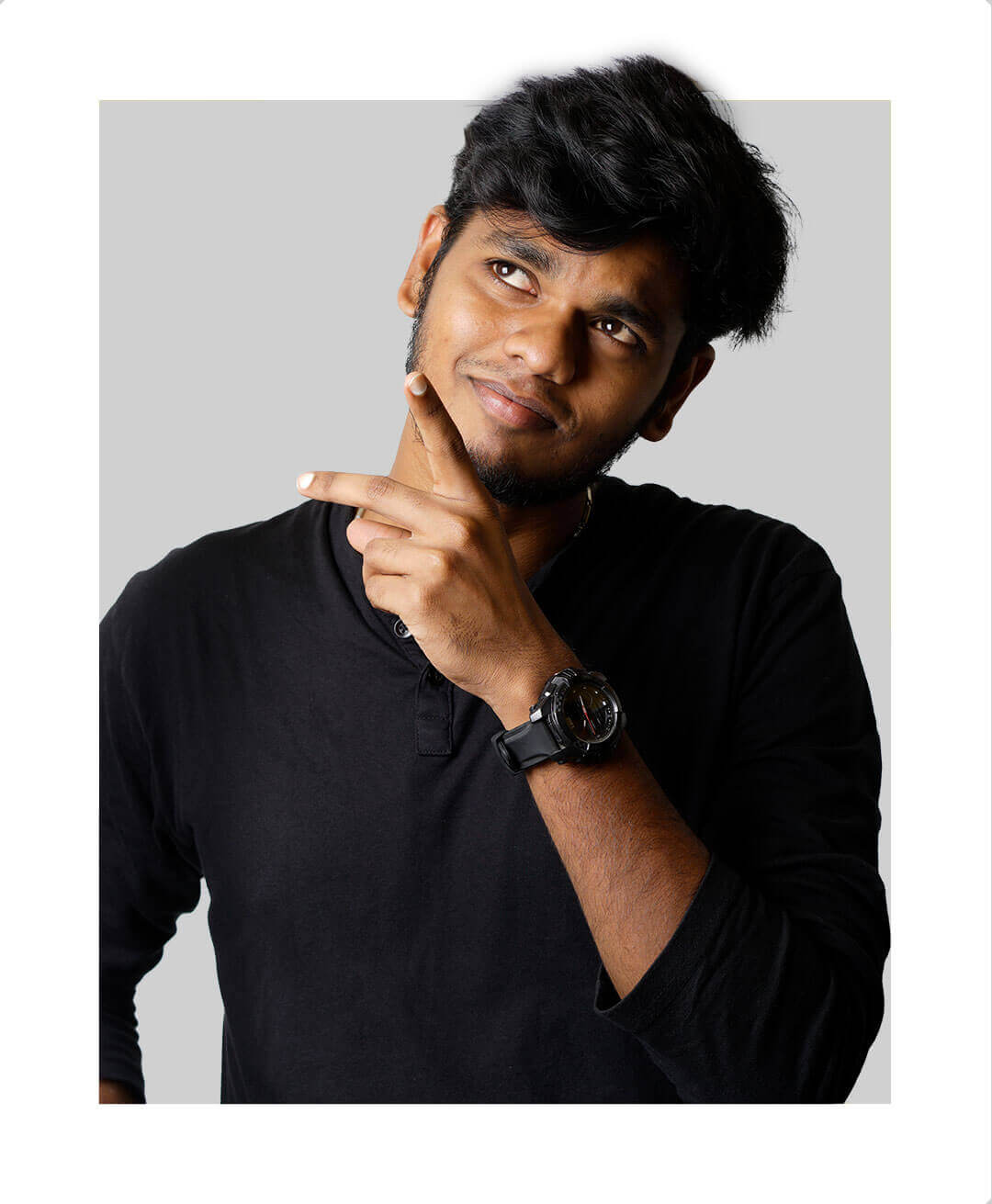 Parthi rhymses with anything funny!
Parthiban
Her thumb and nail trends content. See what we did there?
Anitha Aruchamy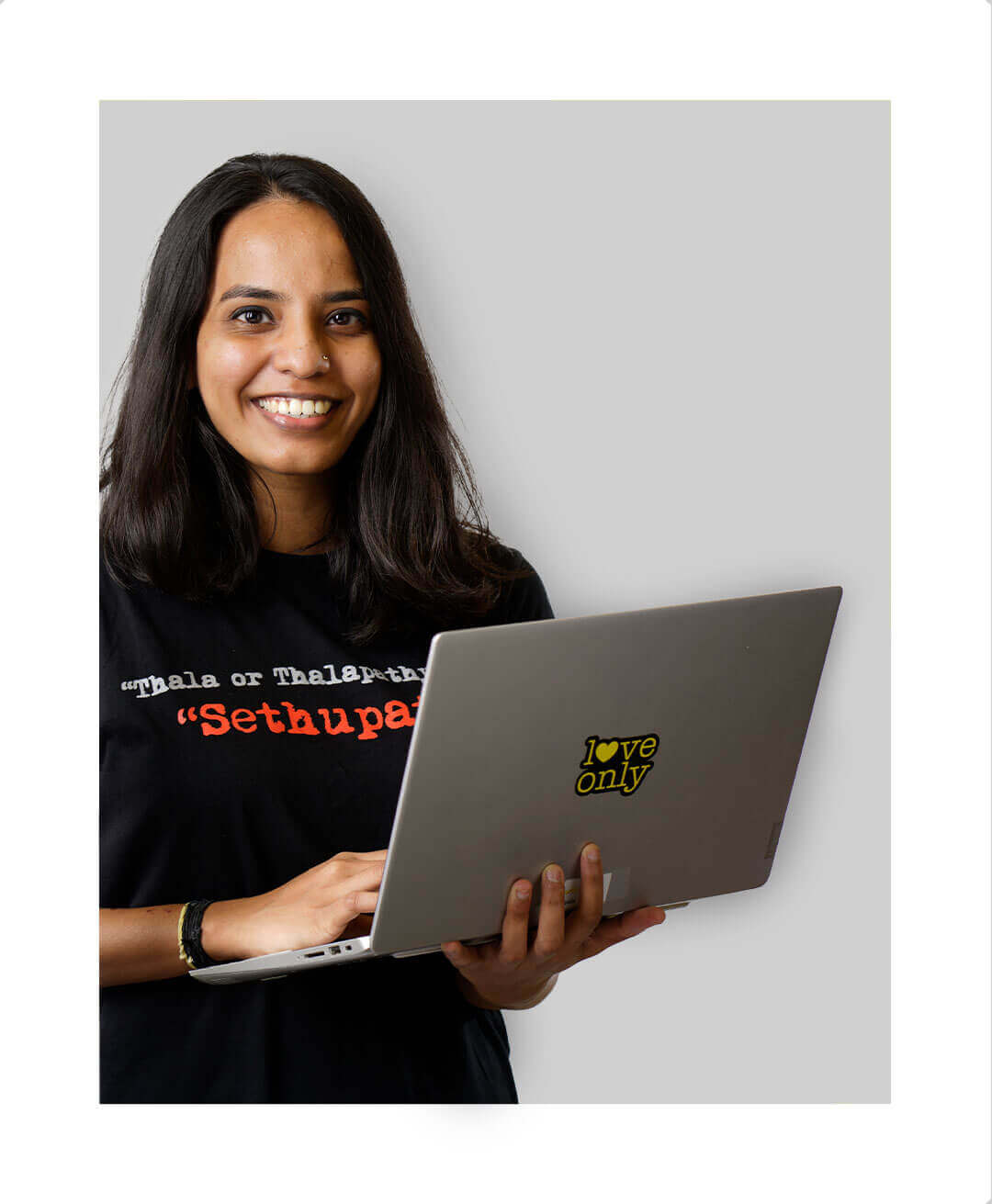 Food. Content. Hugs. And a whole lot of hiccups!
Malavika
ennik
ezhuthanalle
sare ariyu
vaykkan
ariyilello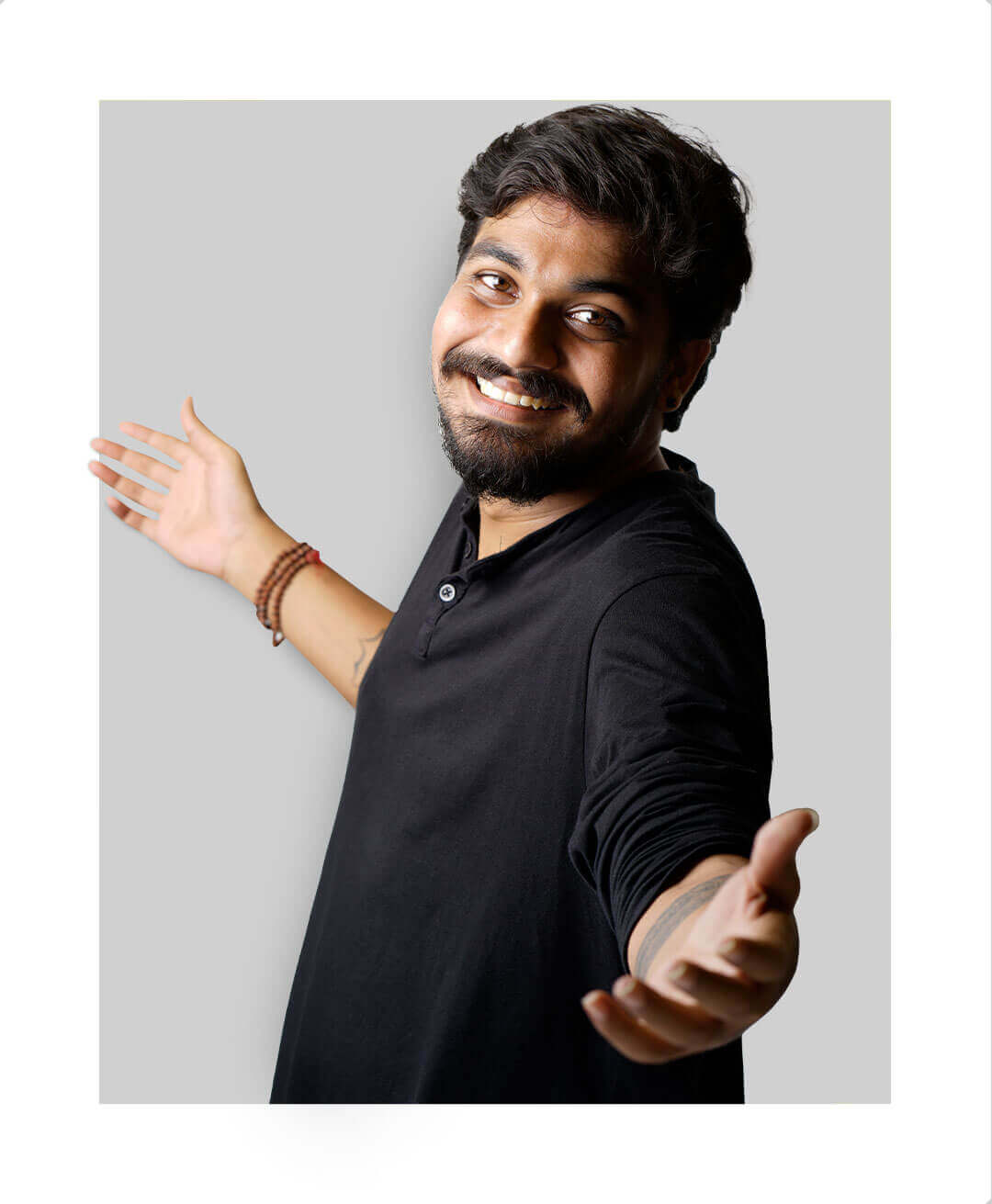 our very own Susan Wojcicki
Narenthiraan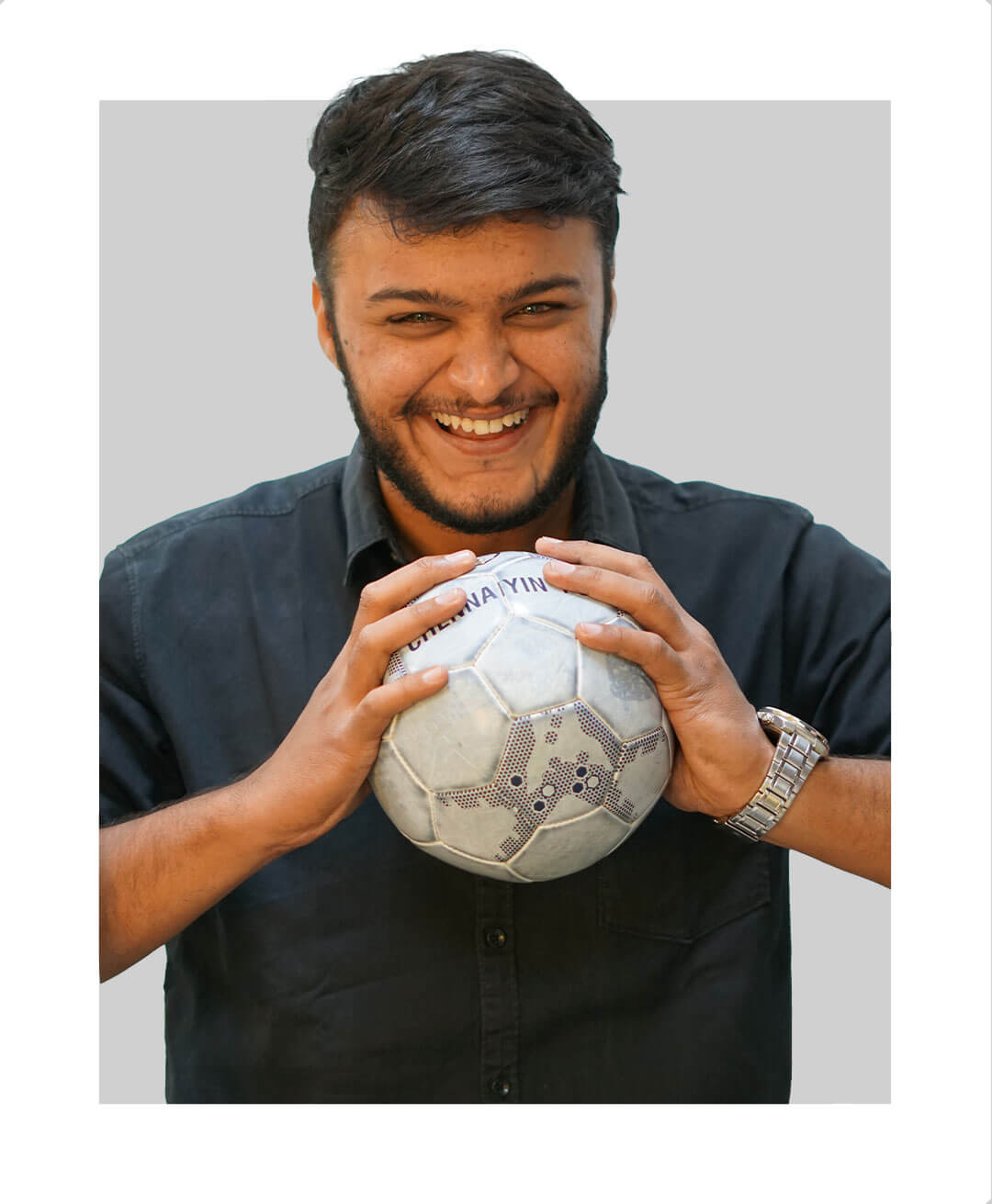 Inga enna solludhu? CFC, CFC nu solludha?
Sudarshan Venkatesan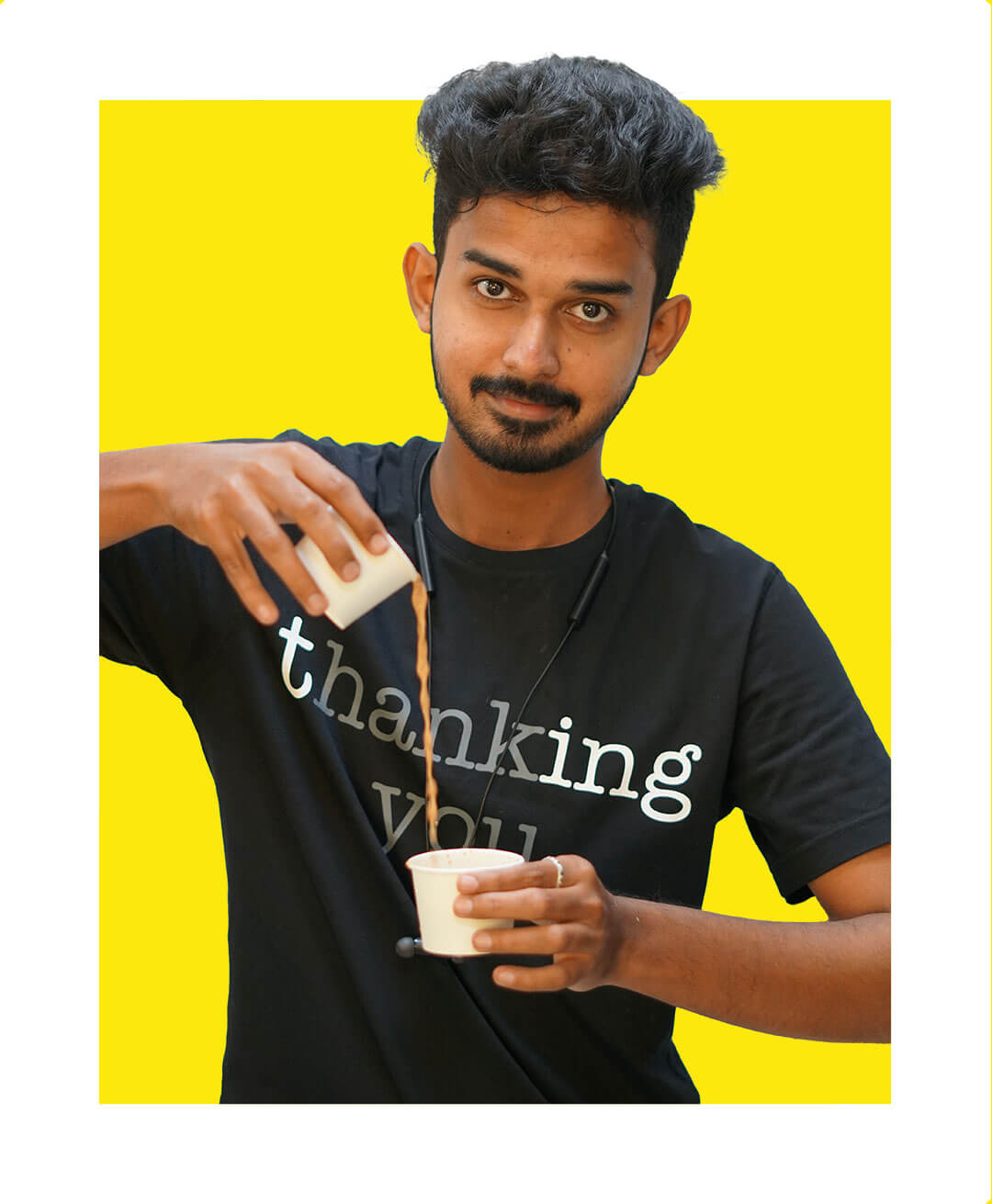 Namma veetu chinna pillai!
Hariharan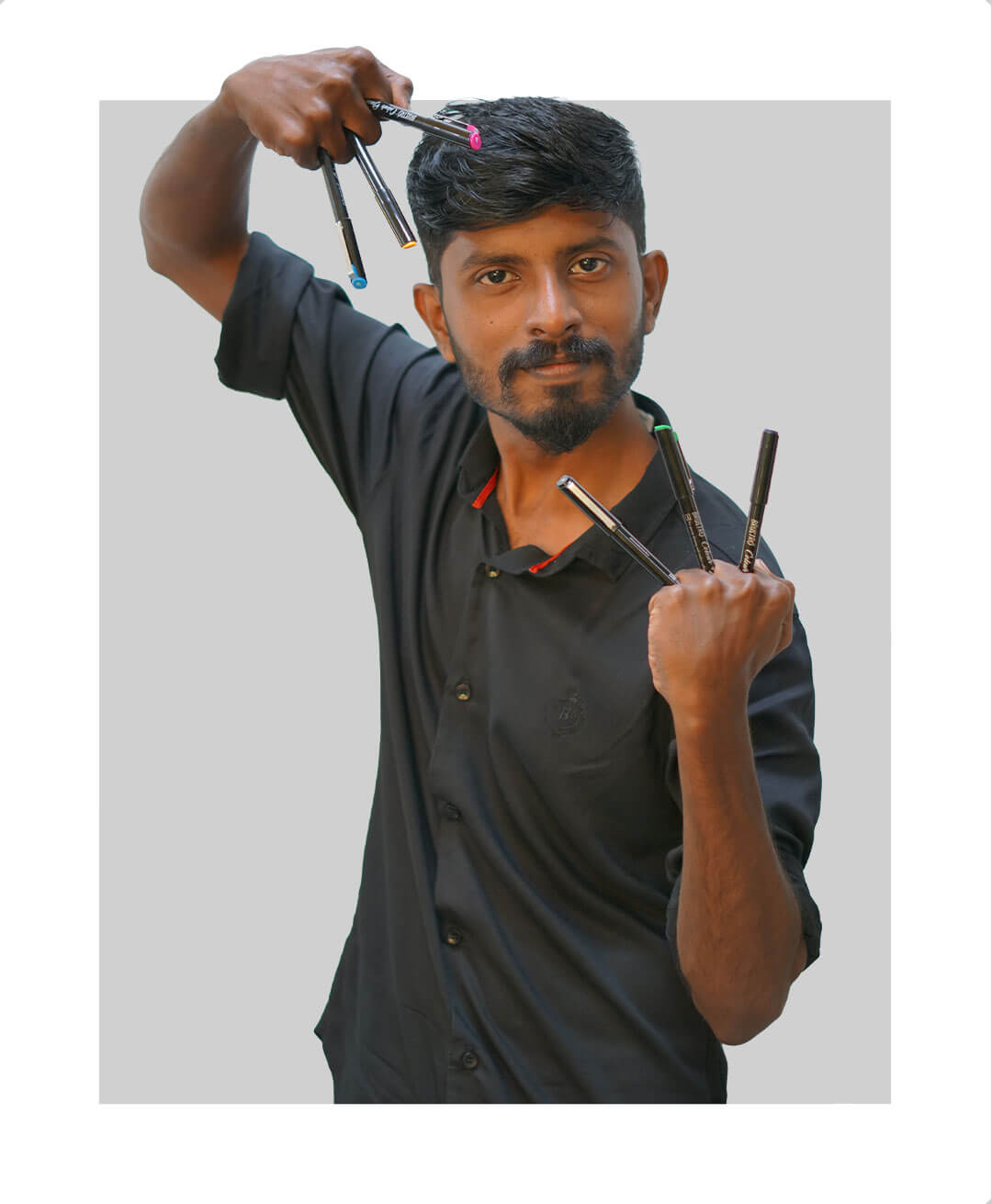 Talks, walks and sings Tamil
Siva Chidambaram
Social Media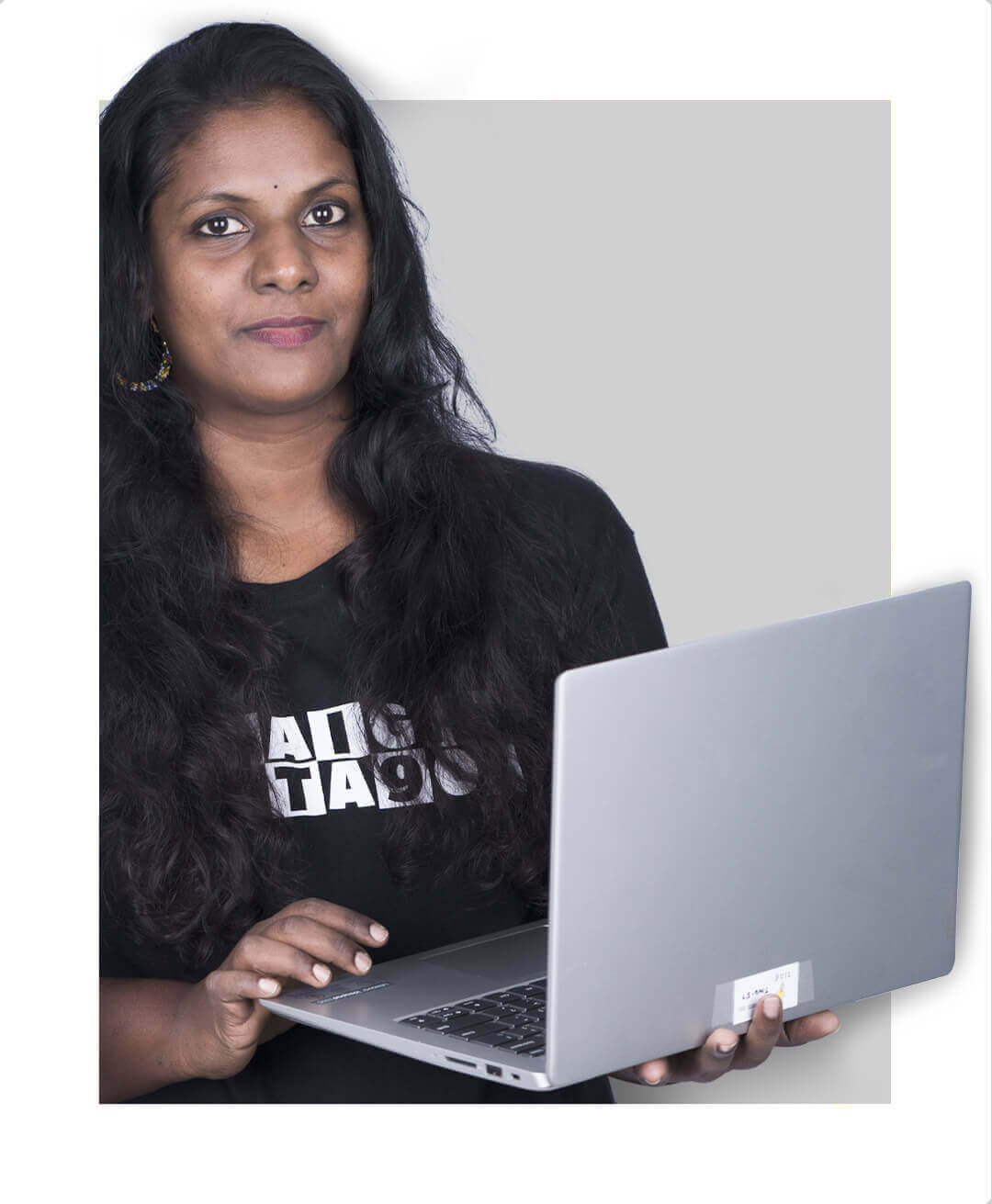 Report sill loading...
Reena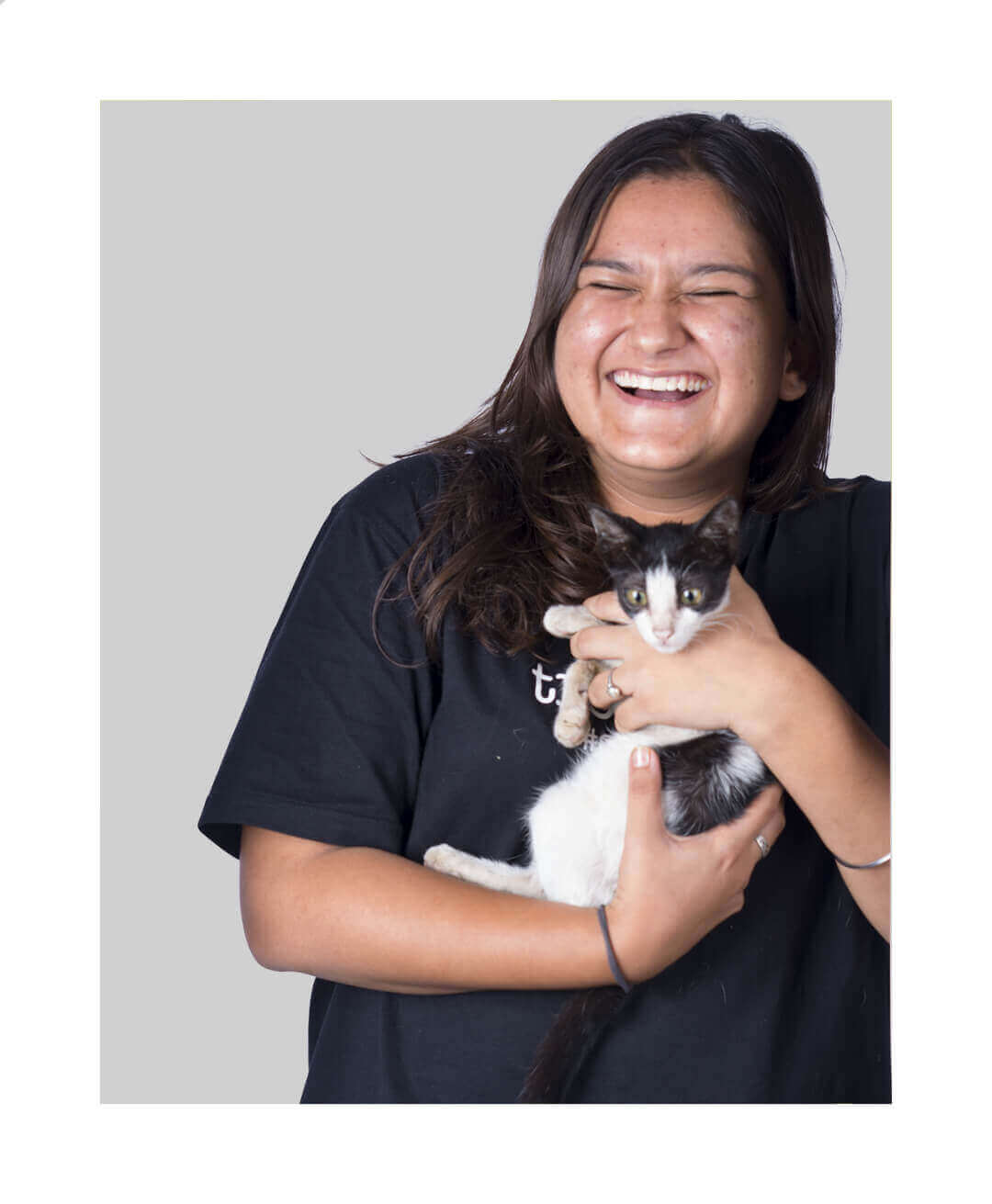 Im not careless . you ar...ouch, is that an iceberg?
Fiza Anand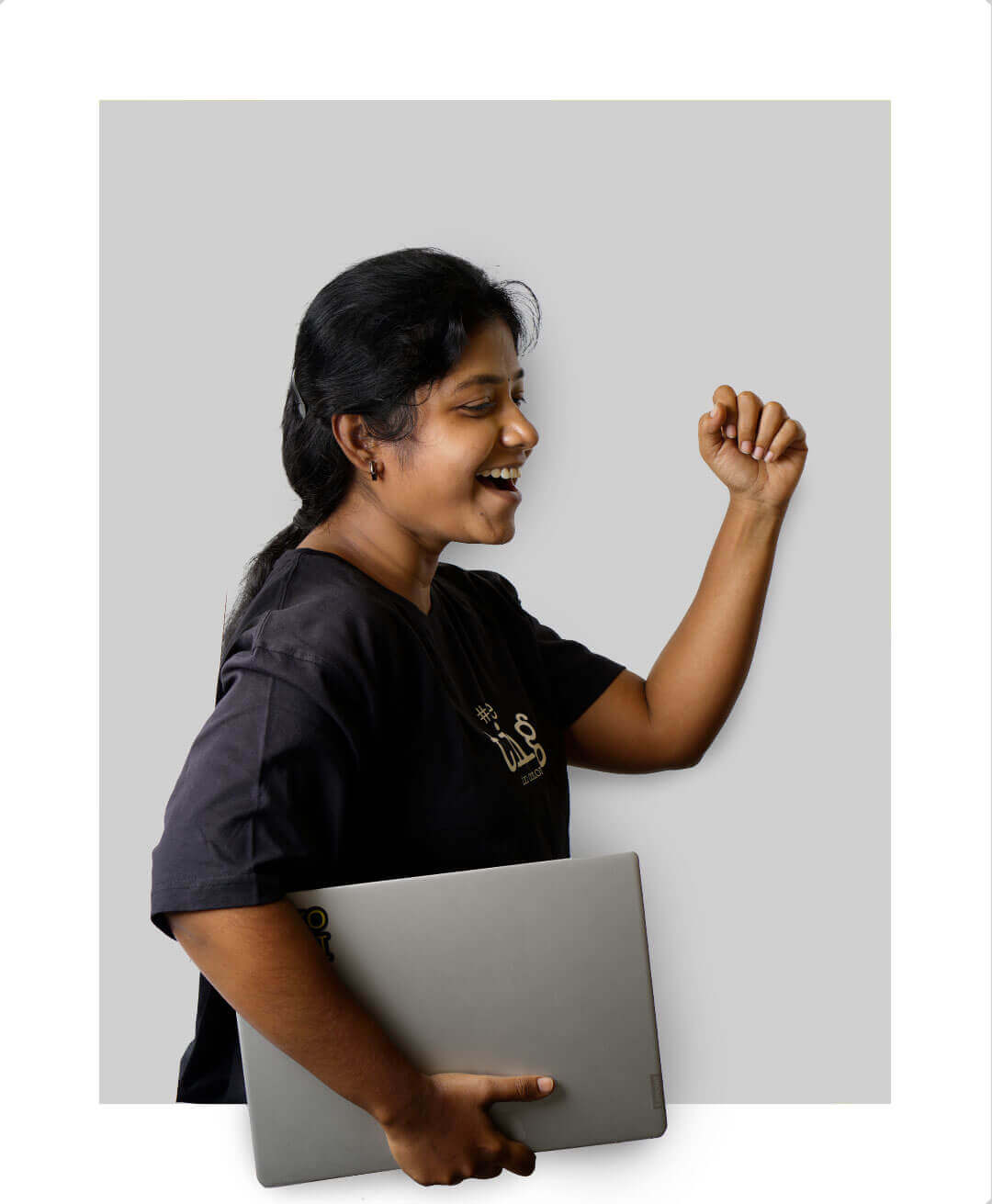 NXTu RESTu
Priyadarashini M
My convo with Friends
before : Entii bey
now : sirrrr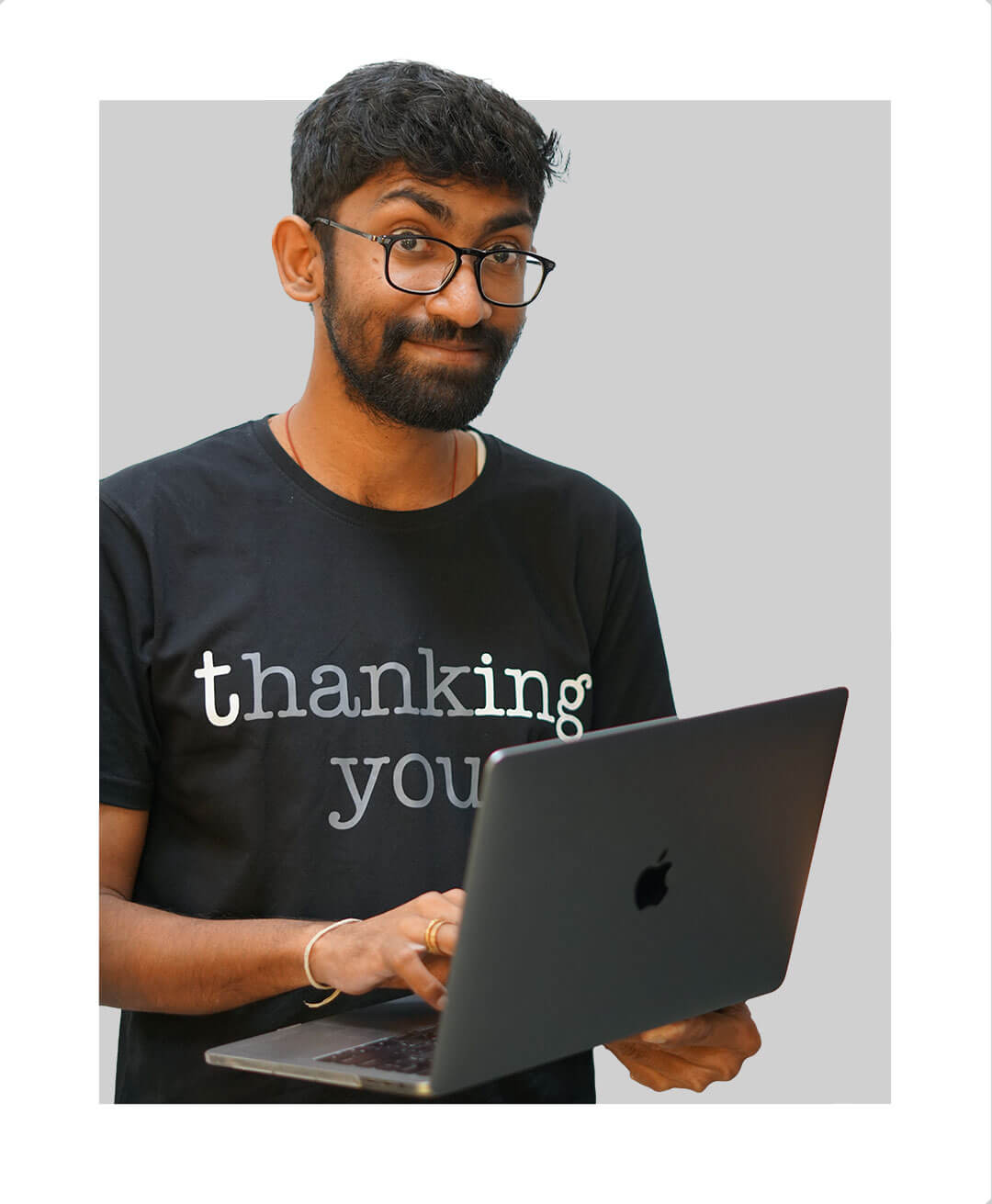 Actually buddy....
Chandrasekar
Cards were
not under
approved, da!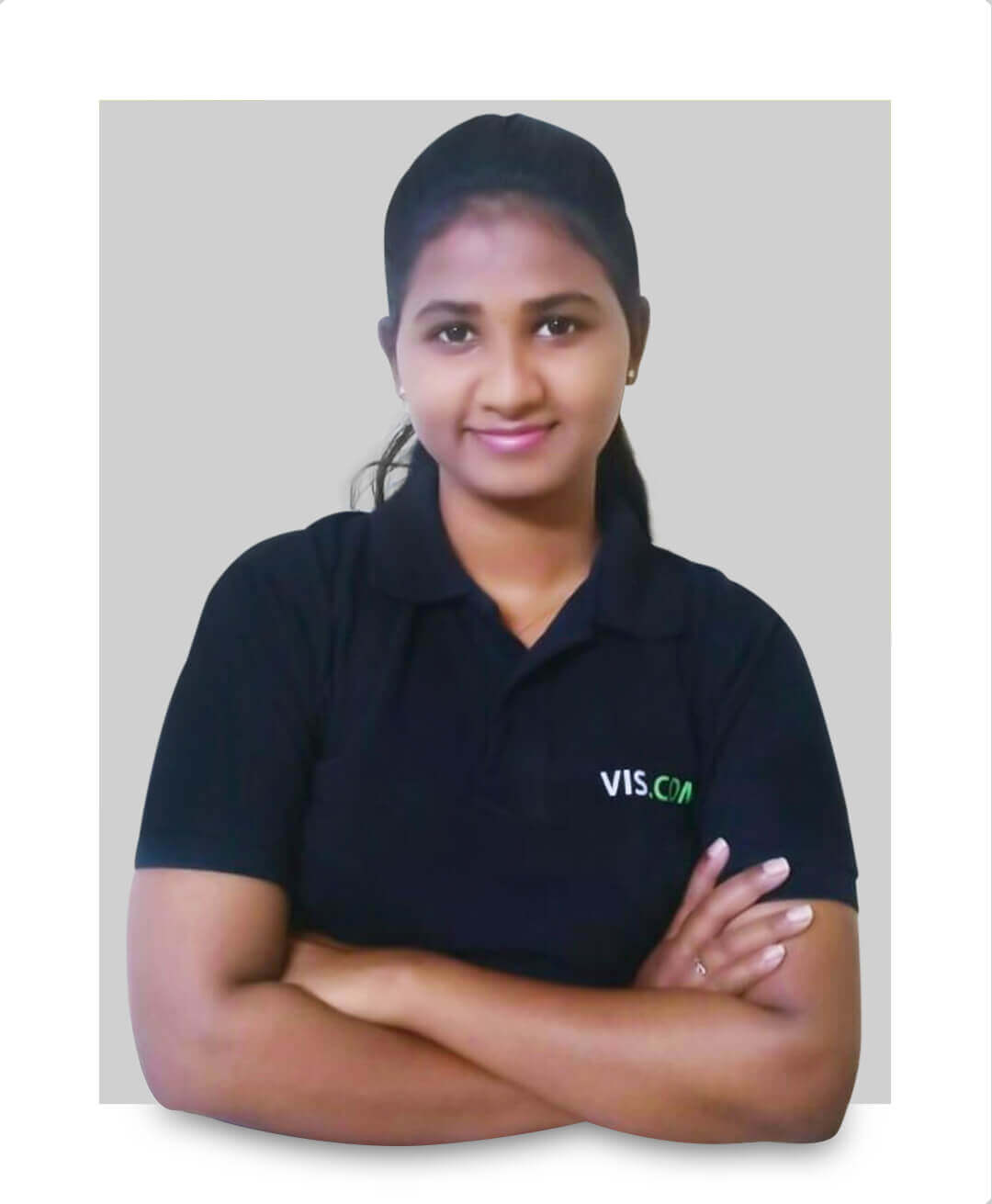 All problems, I'll handle.
Kokila K
Web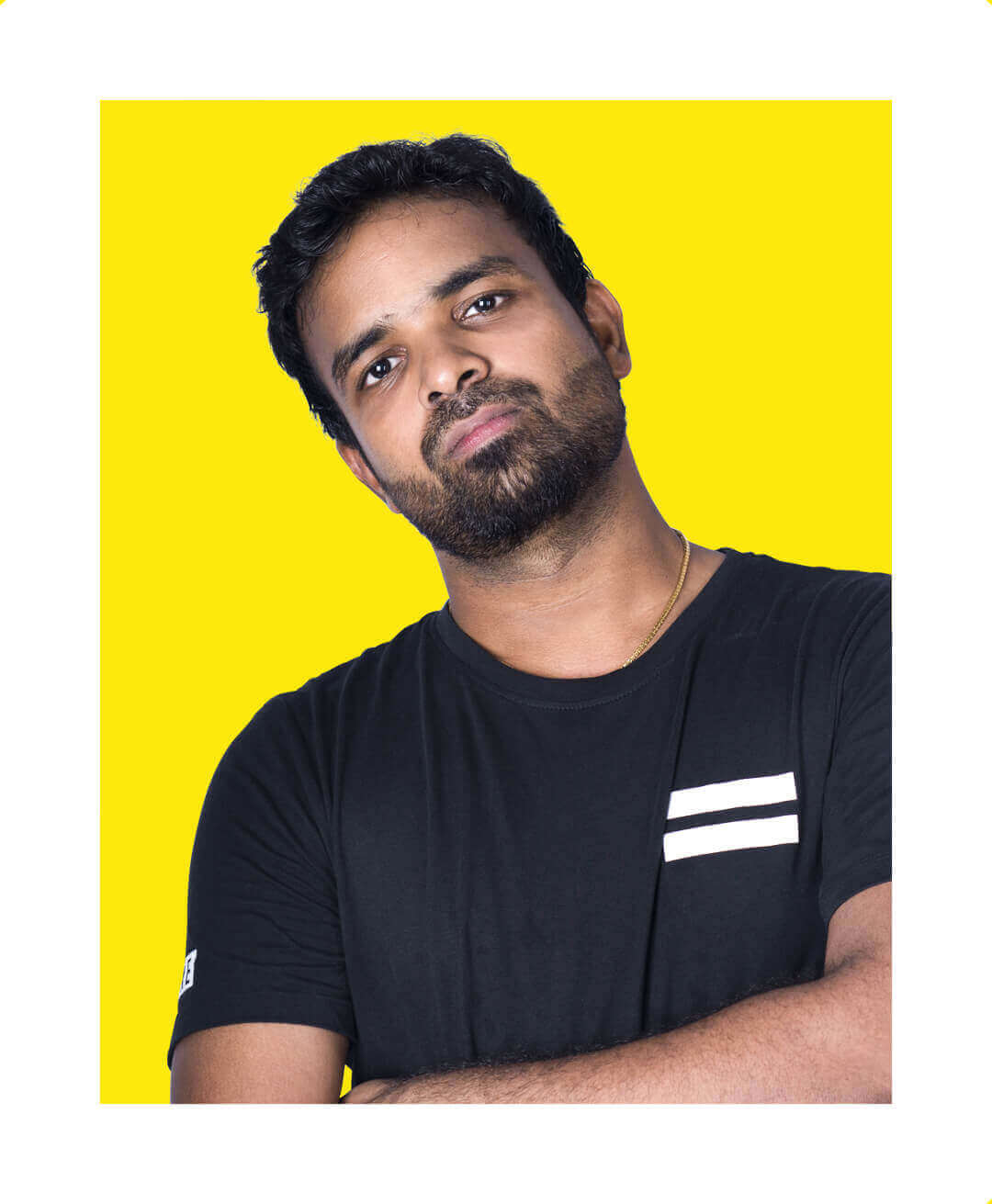 Proof that the best coders are bachelors.
Manoj Rajendiran
Ain't no belieber like him!
Jess Divyan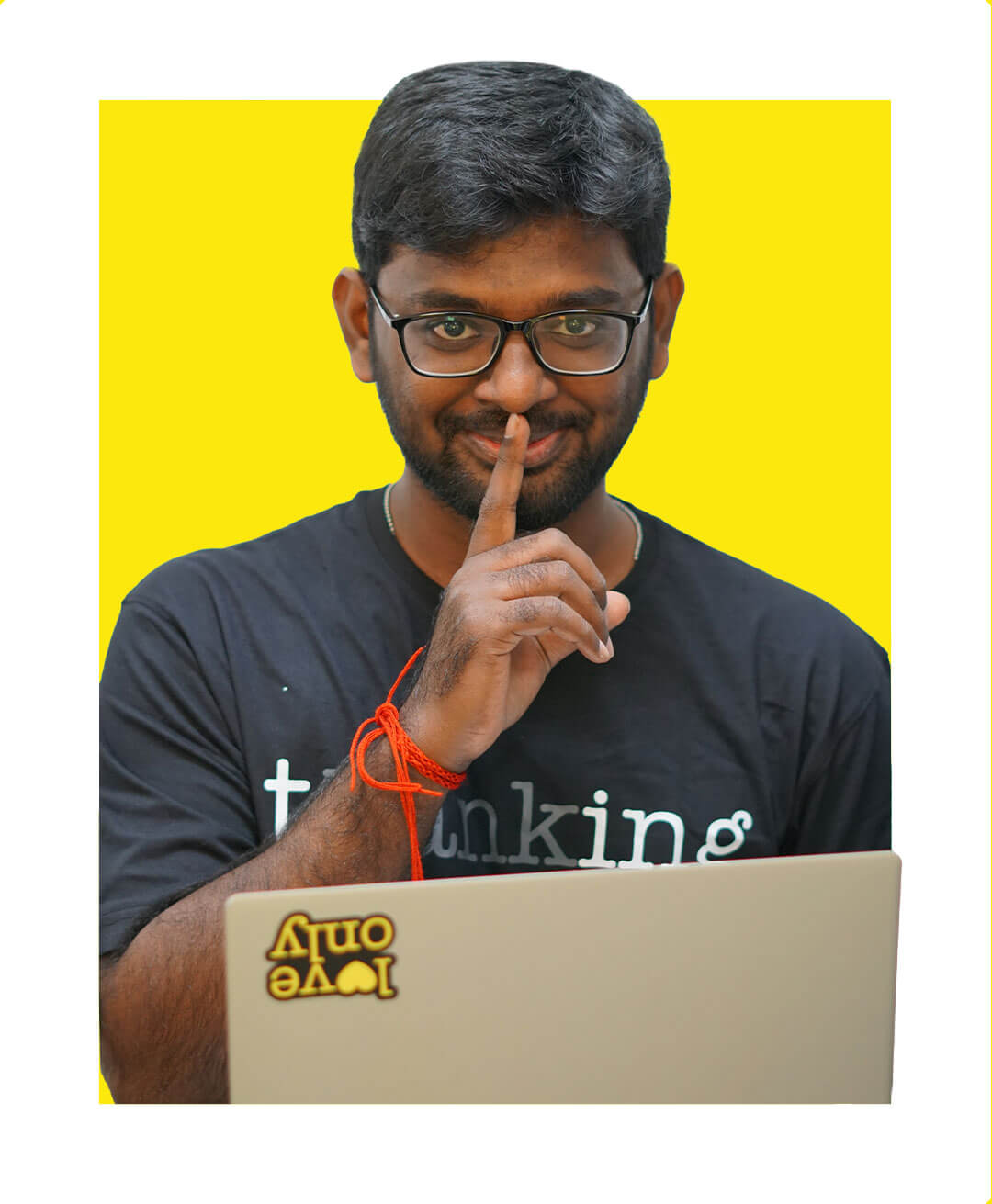 The Abimanyu of coding chakravyuh
Siddharth KP
Inga
meenkal
virkapadaadhu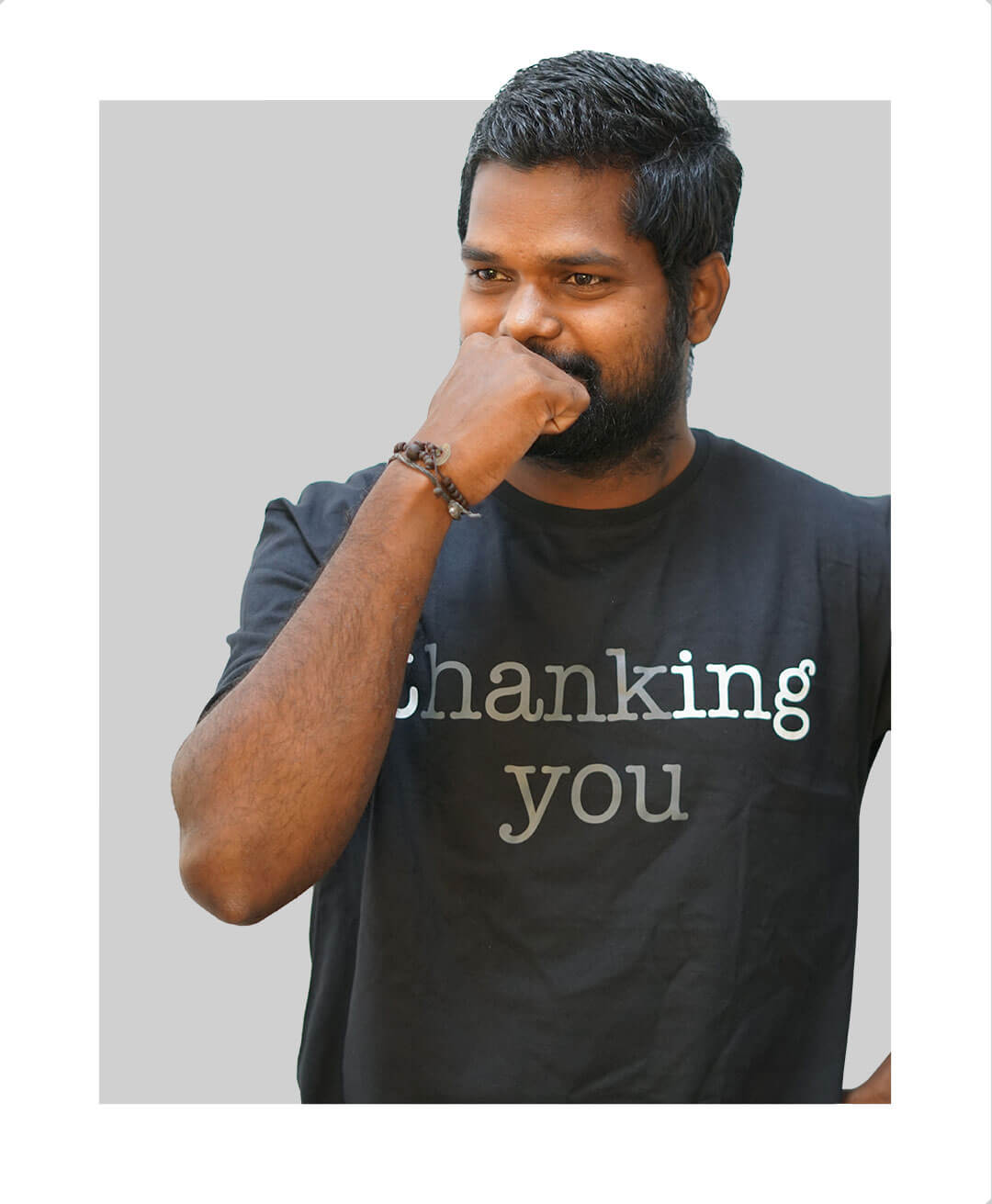 Currently loading his 7am arivu!
Dhamodharam VK
Video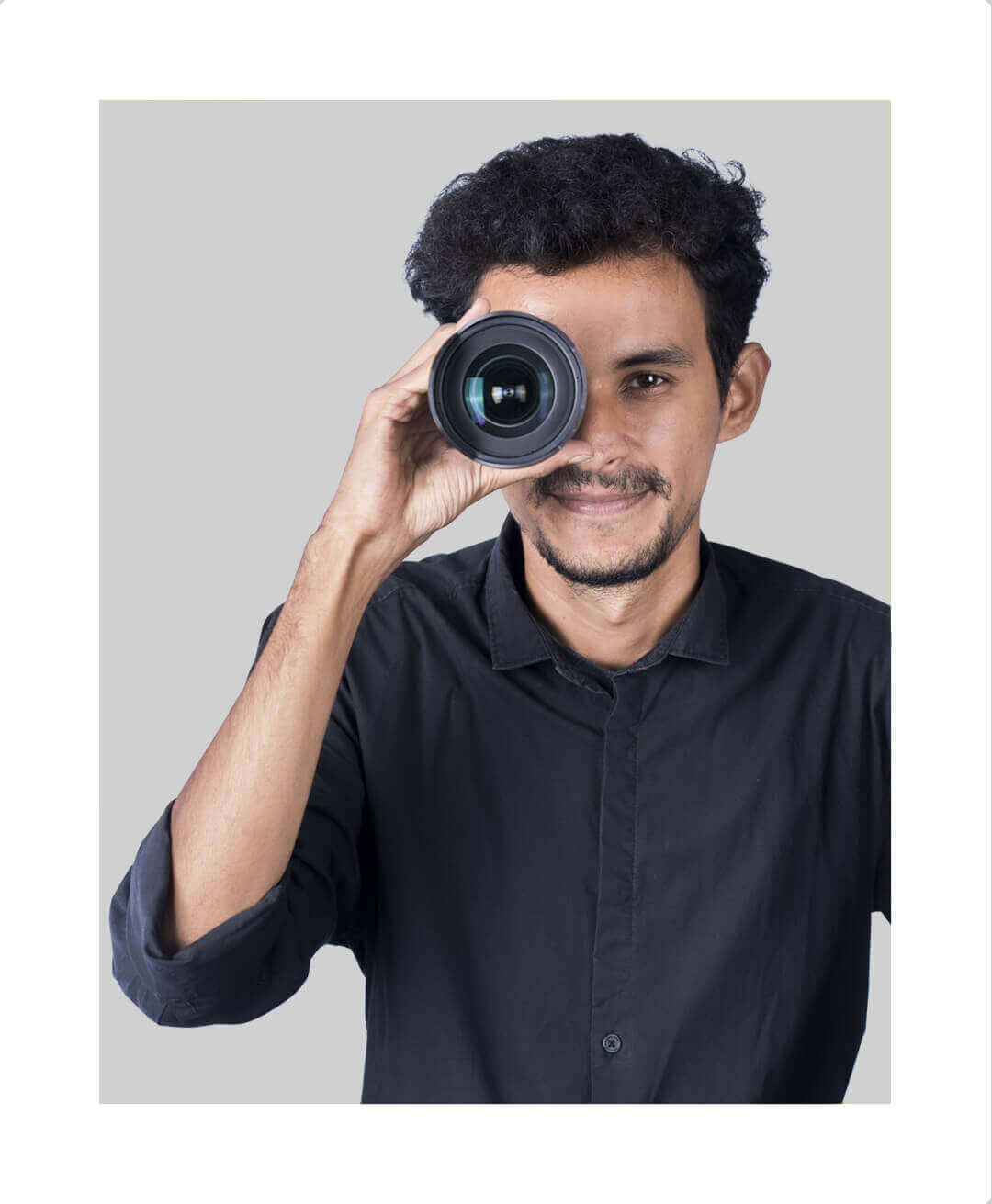 he talks as much as he shoots
Venkata Krishnan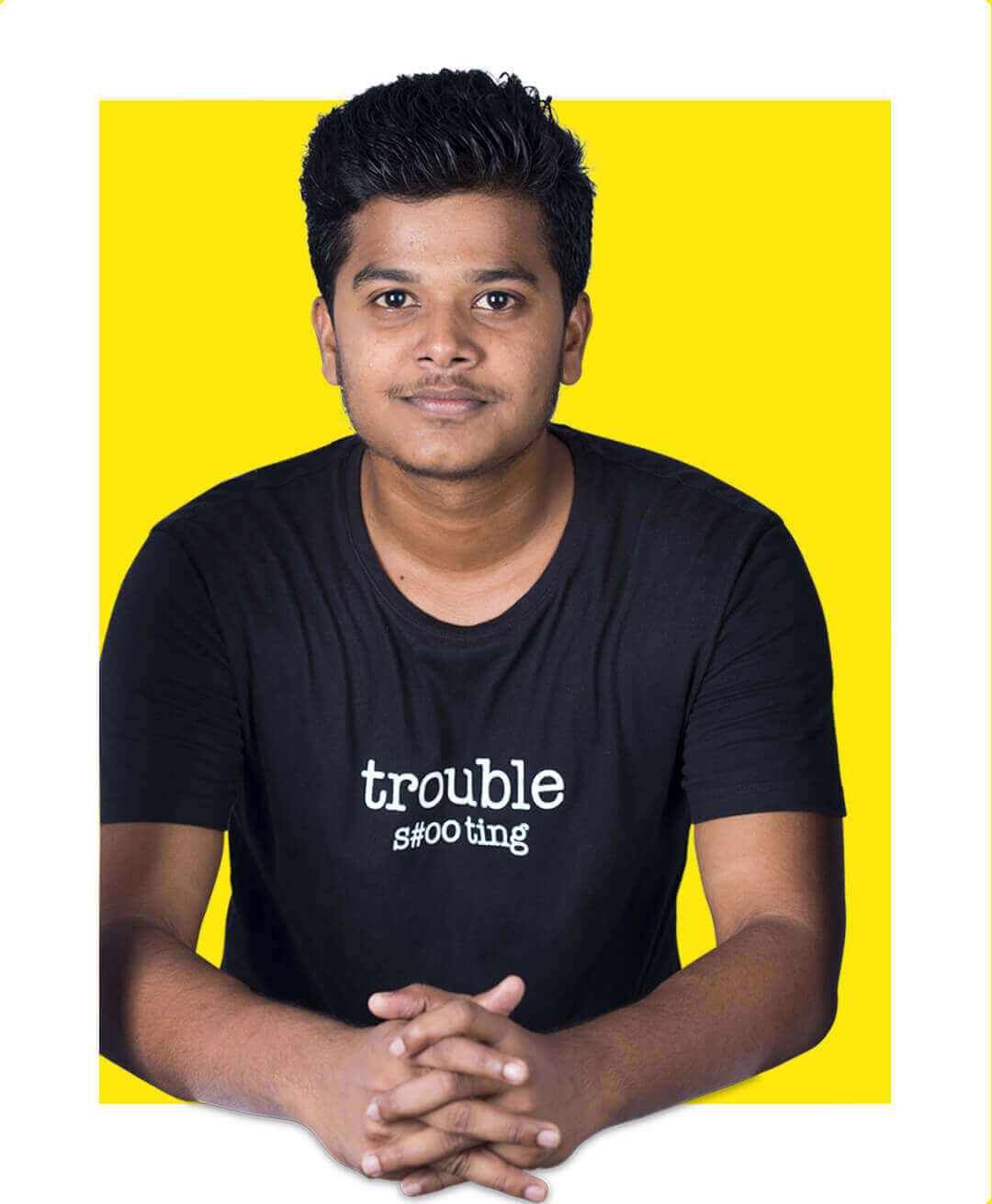 Inga oru cutting. Anga oru cutting.
Siva Namburjan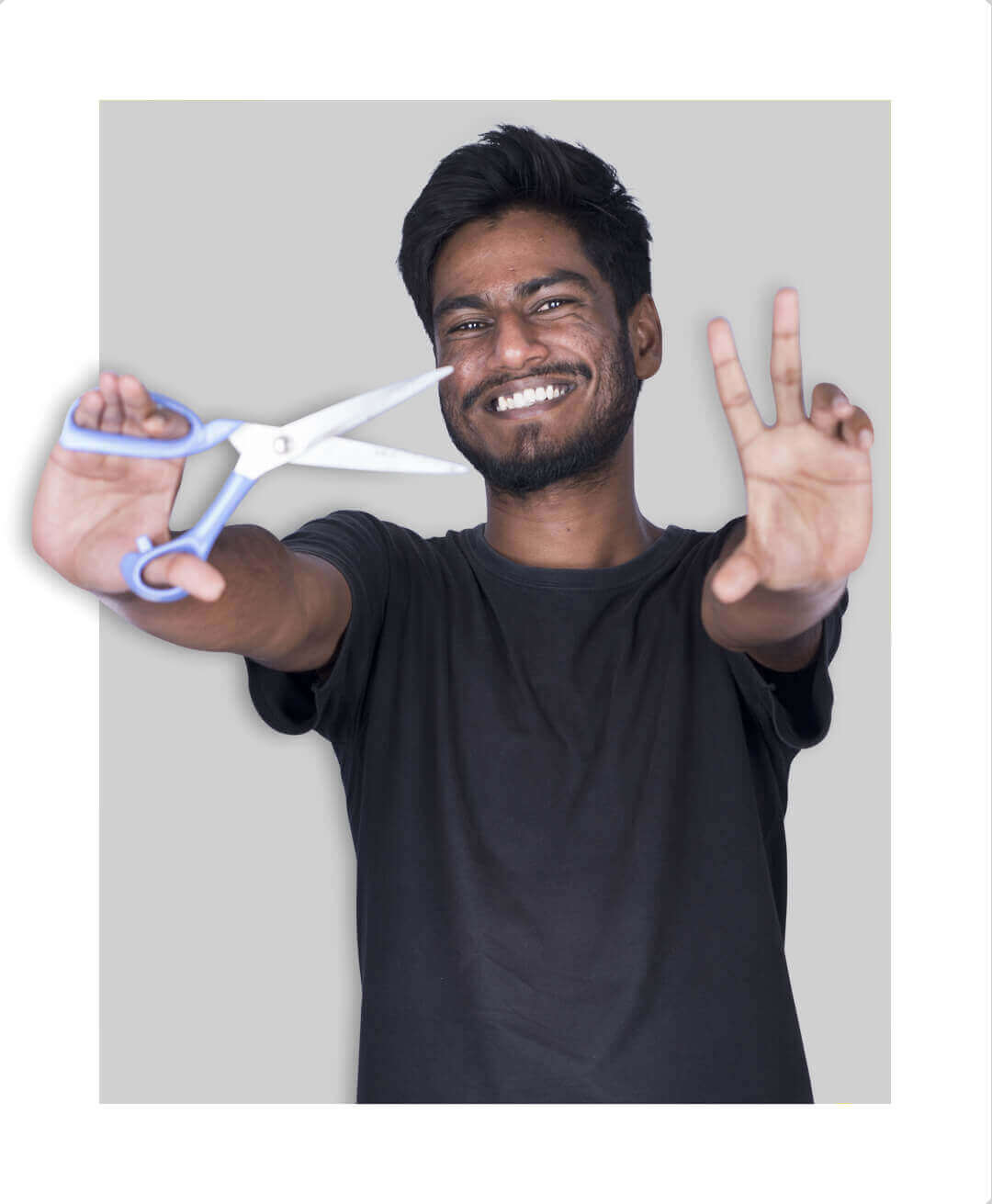 Edits like a pro. Talks like a cringe.
Senthil Kumar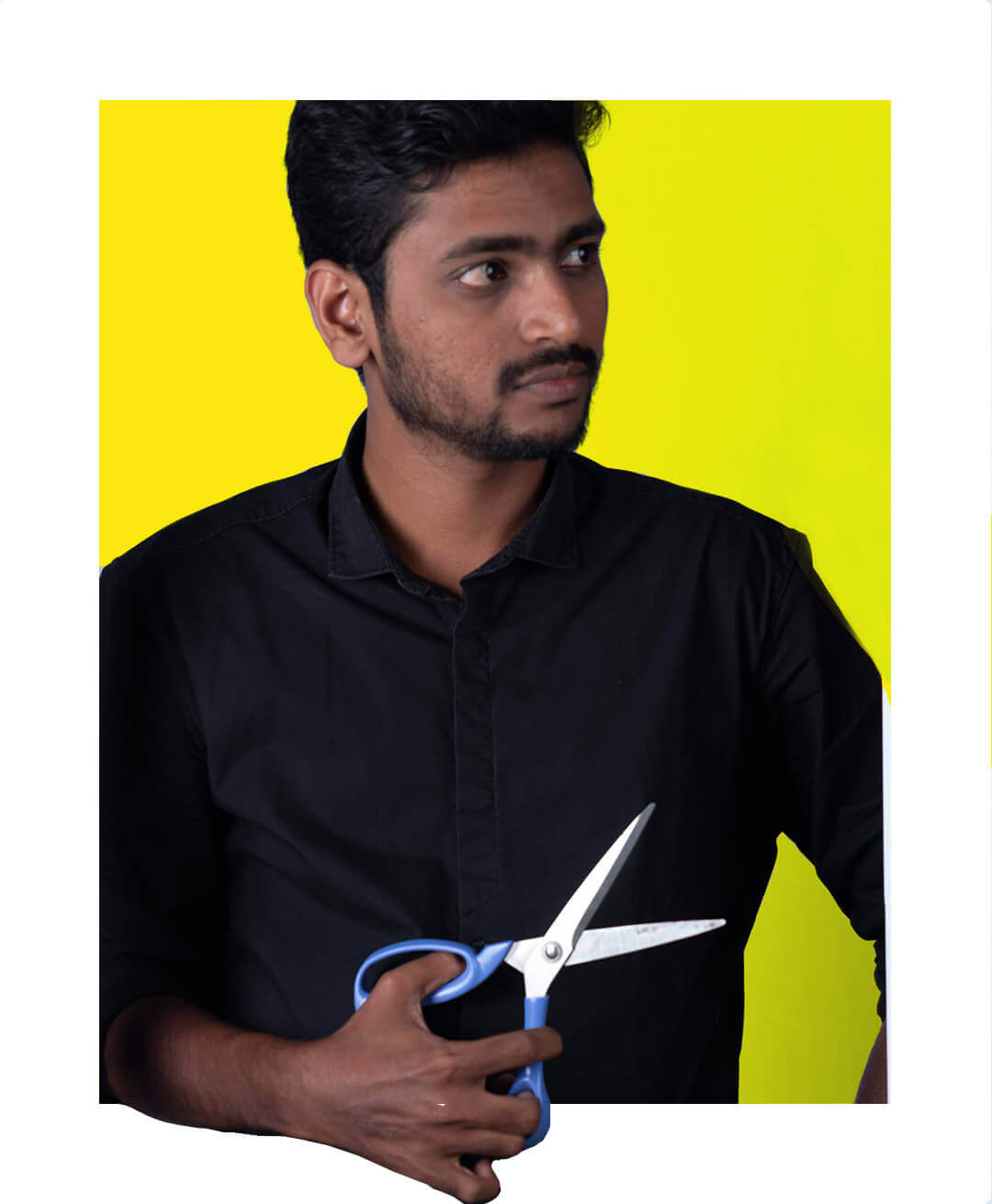 Talk less...work more...work more..talk lesser..
Kaushik Adithan
Nadi
Kulathathilek
chaduvalle
appo
camerayum
koodi chadatte.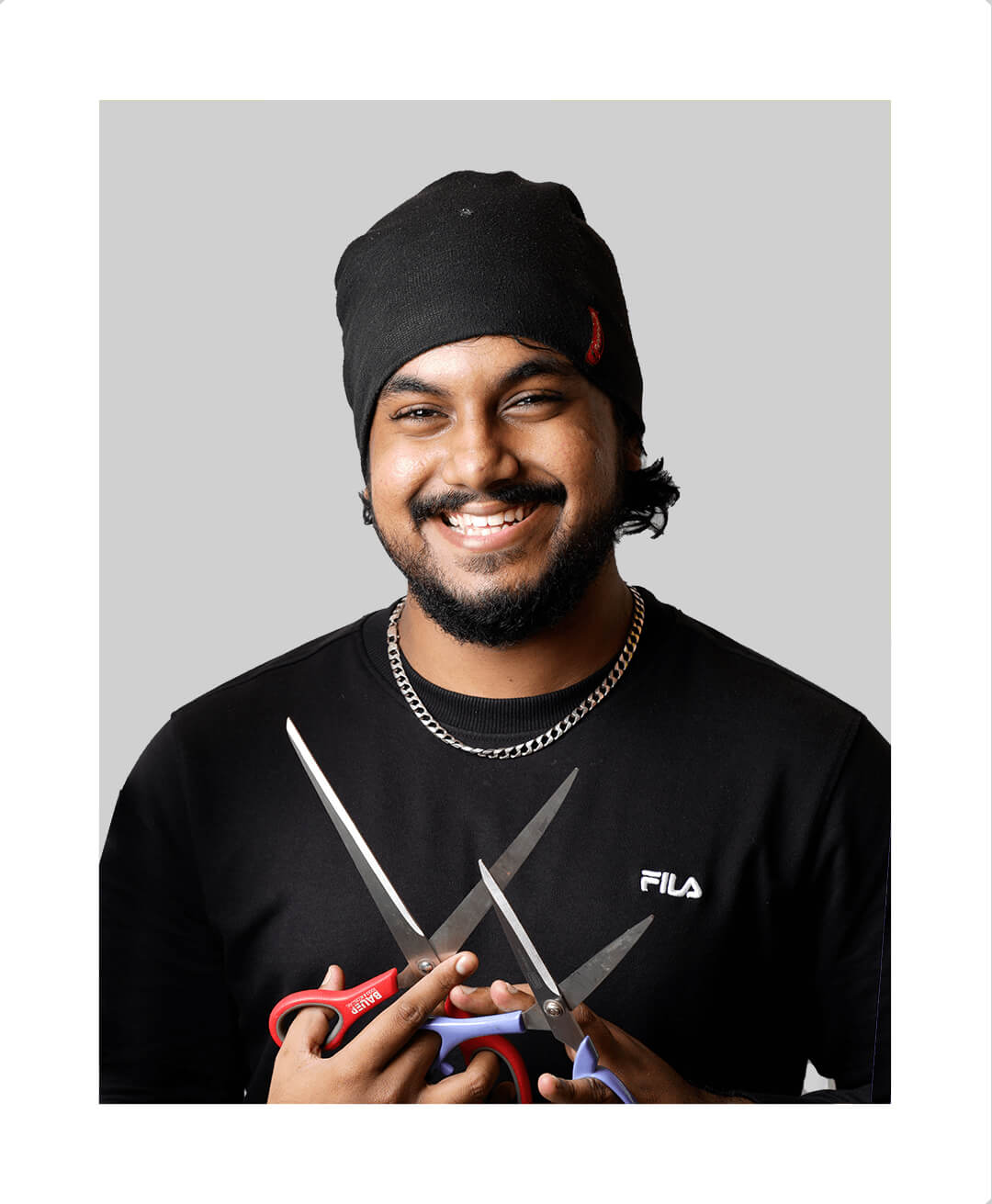 May the hard disk be with you.
Karthik S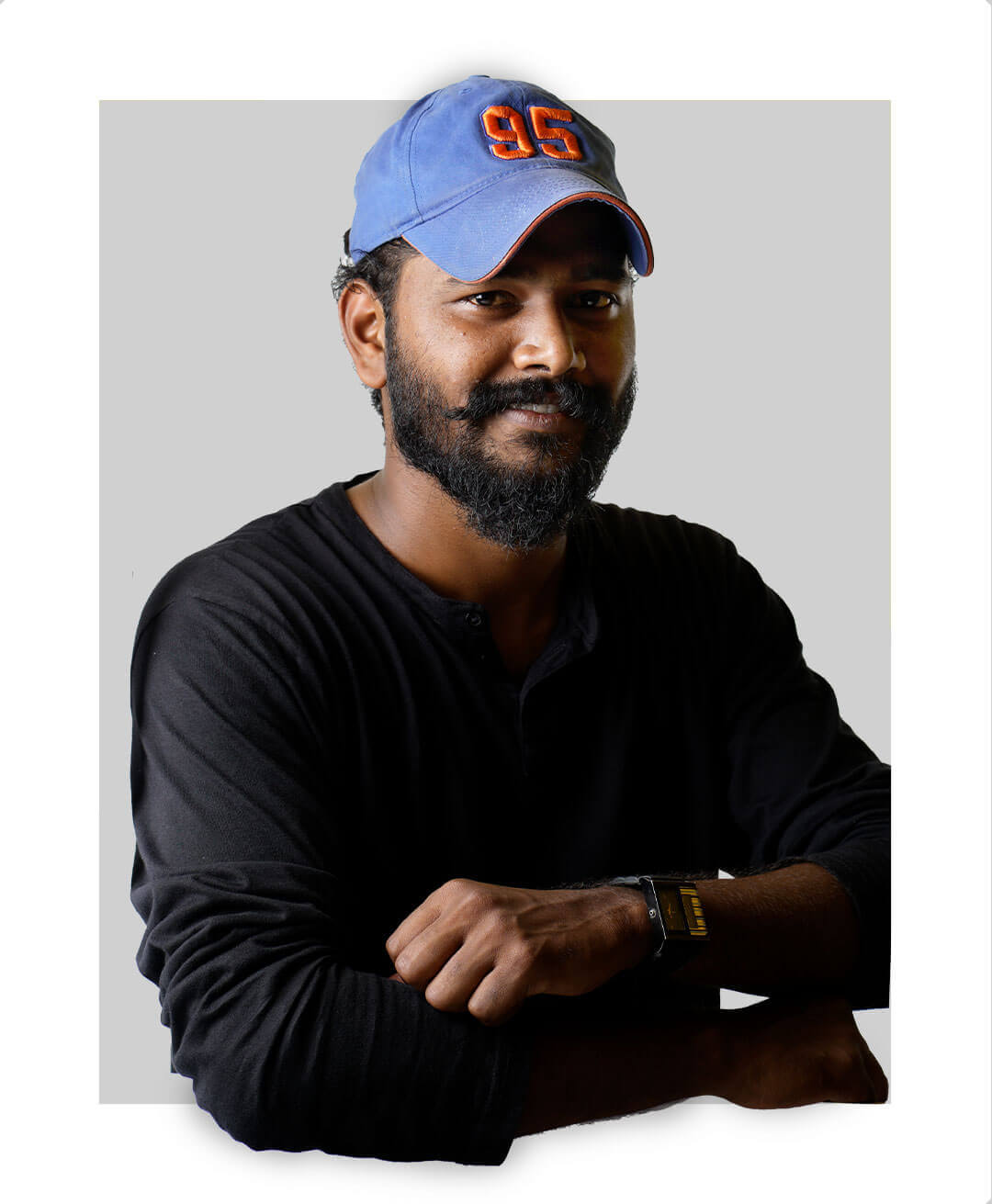 Edits like a pro. Girls call him Bro.
Anish Kumar Sekar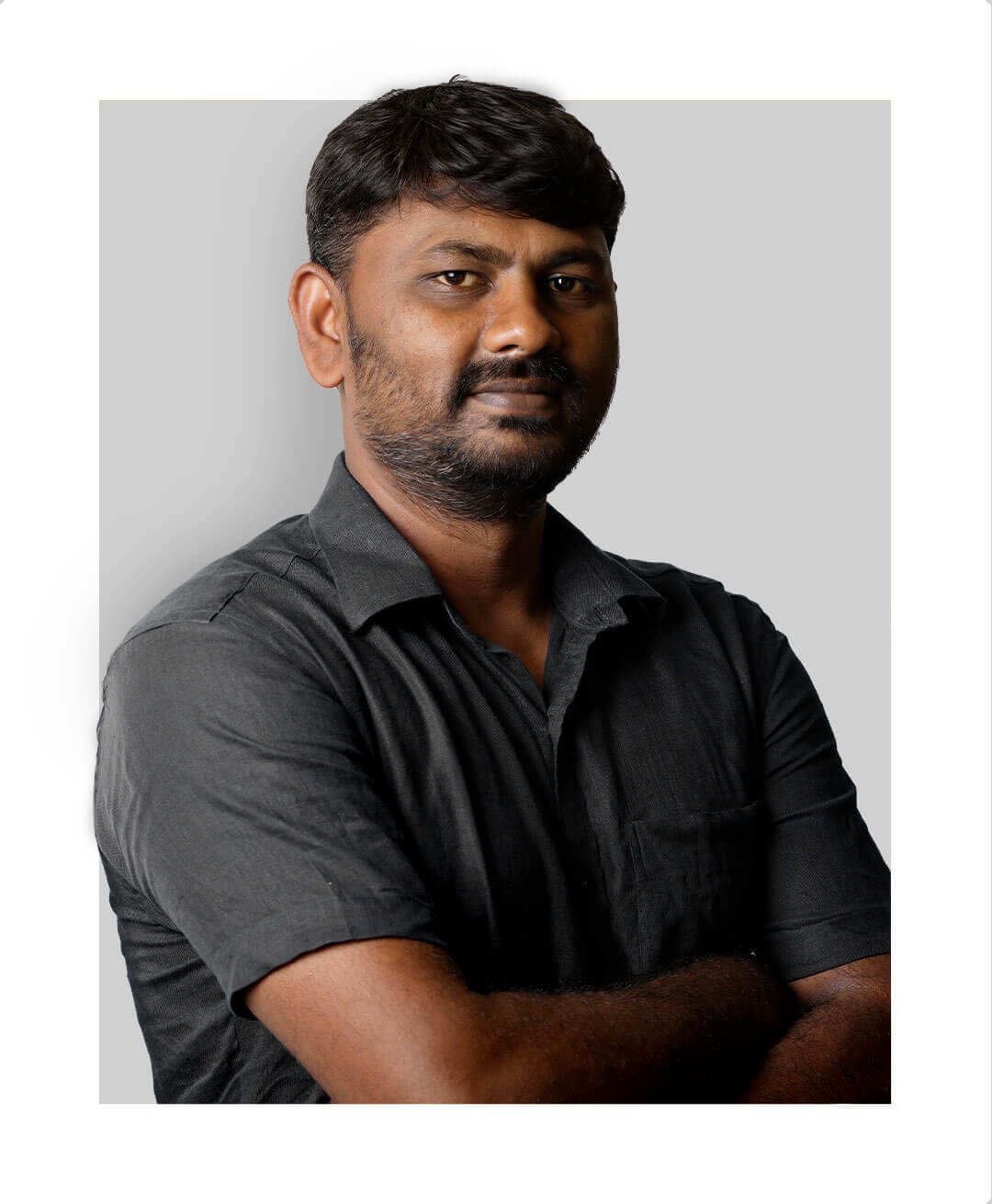 Cut. Place. Repeat. Where's my treat?
Vinoth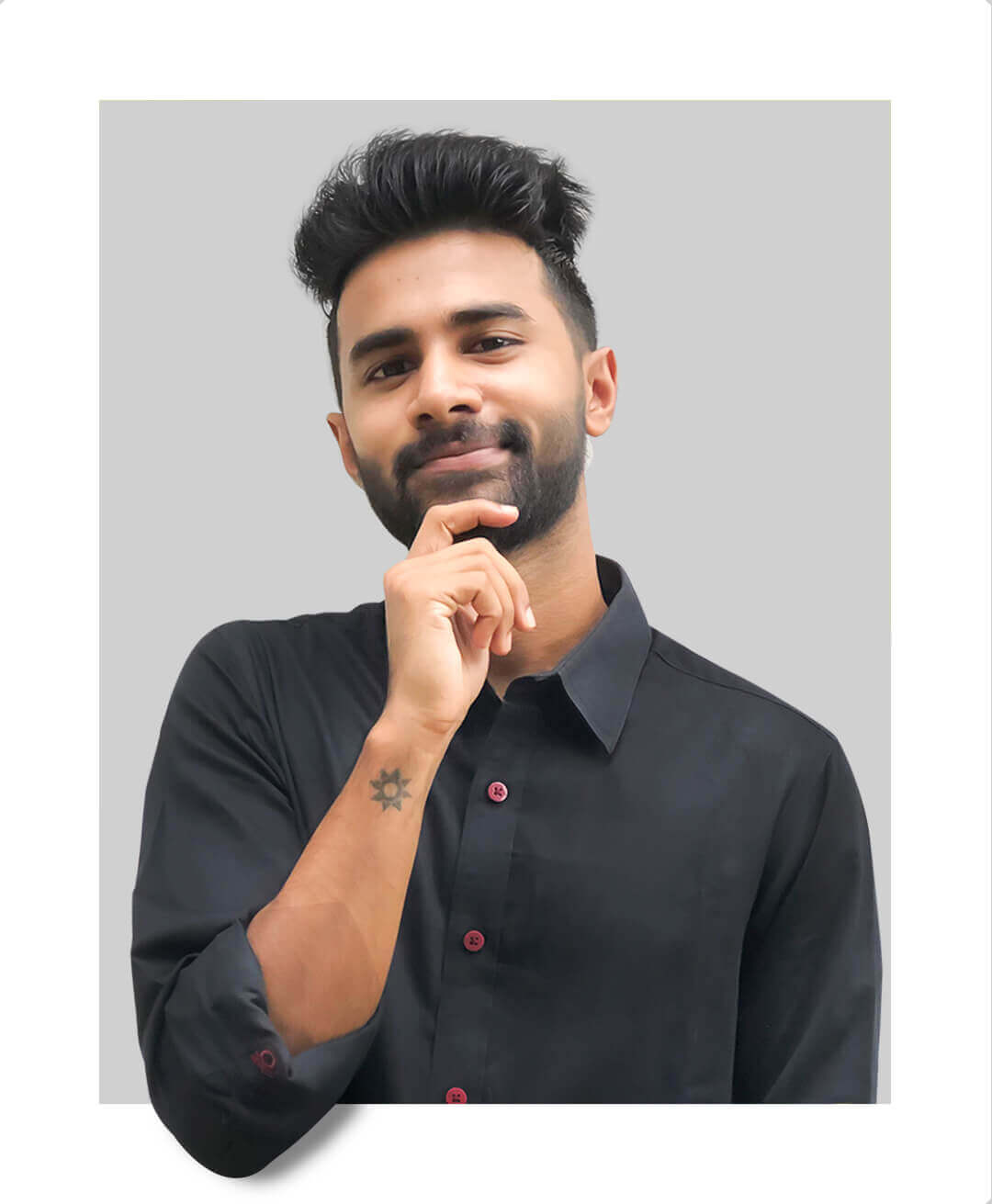 Last minute work? I got your back, fam!
Satya Suraj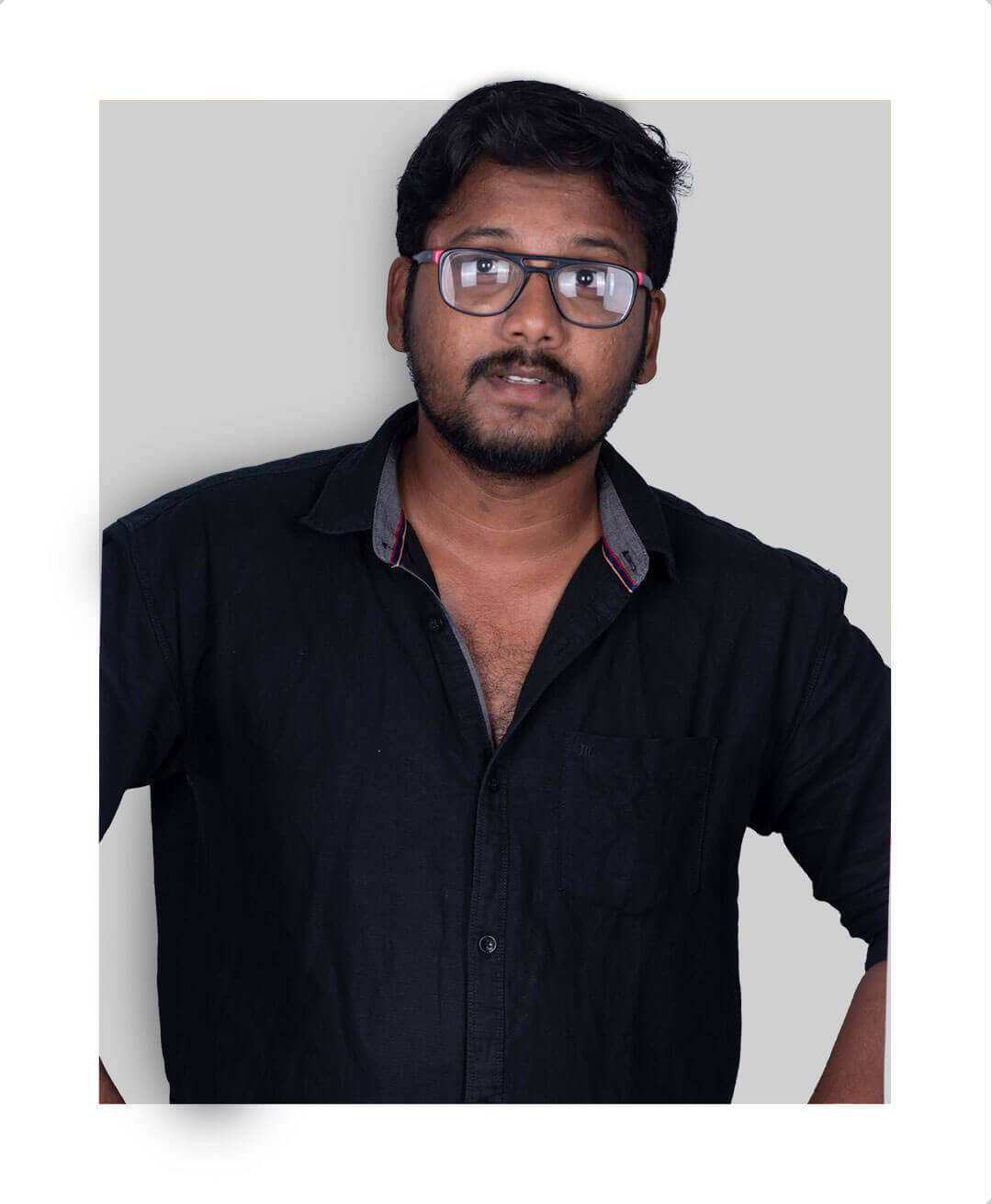 Iruku Aana illa
Navas Basha
Ey, who's
in the
bathroom ya!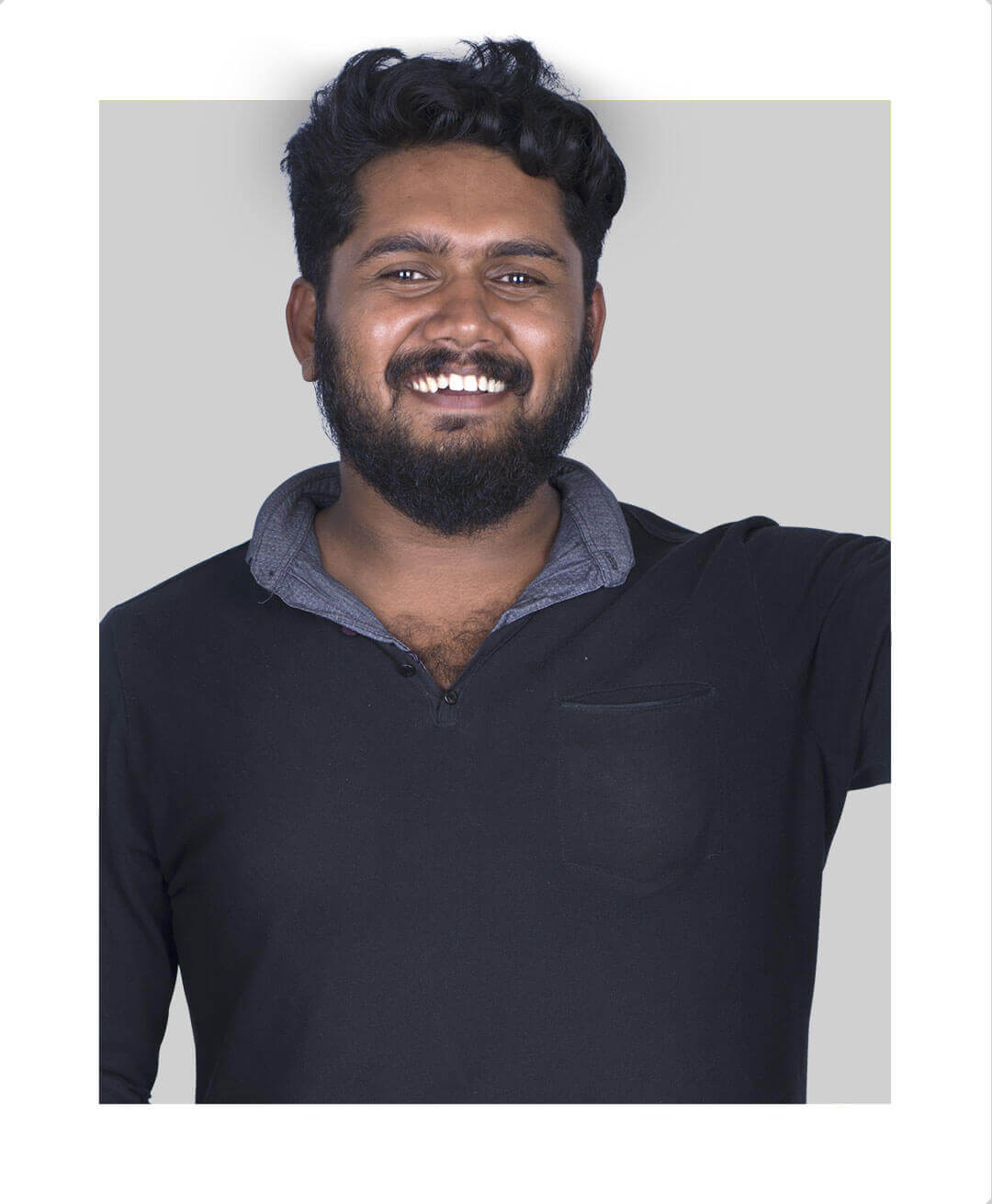 Sijithum Koshiyum
Sijith MS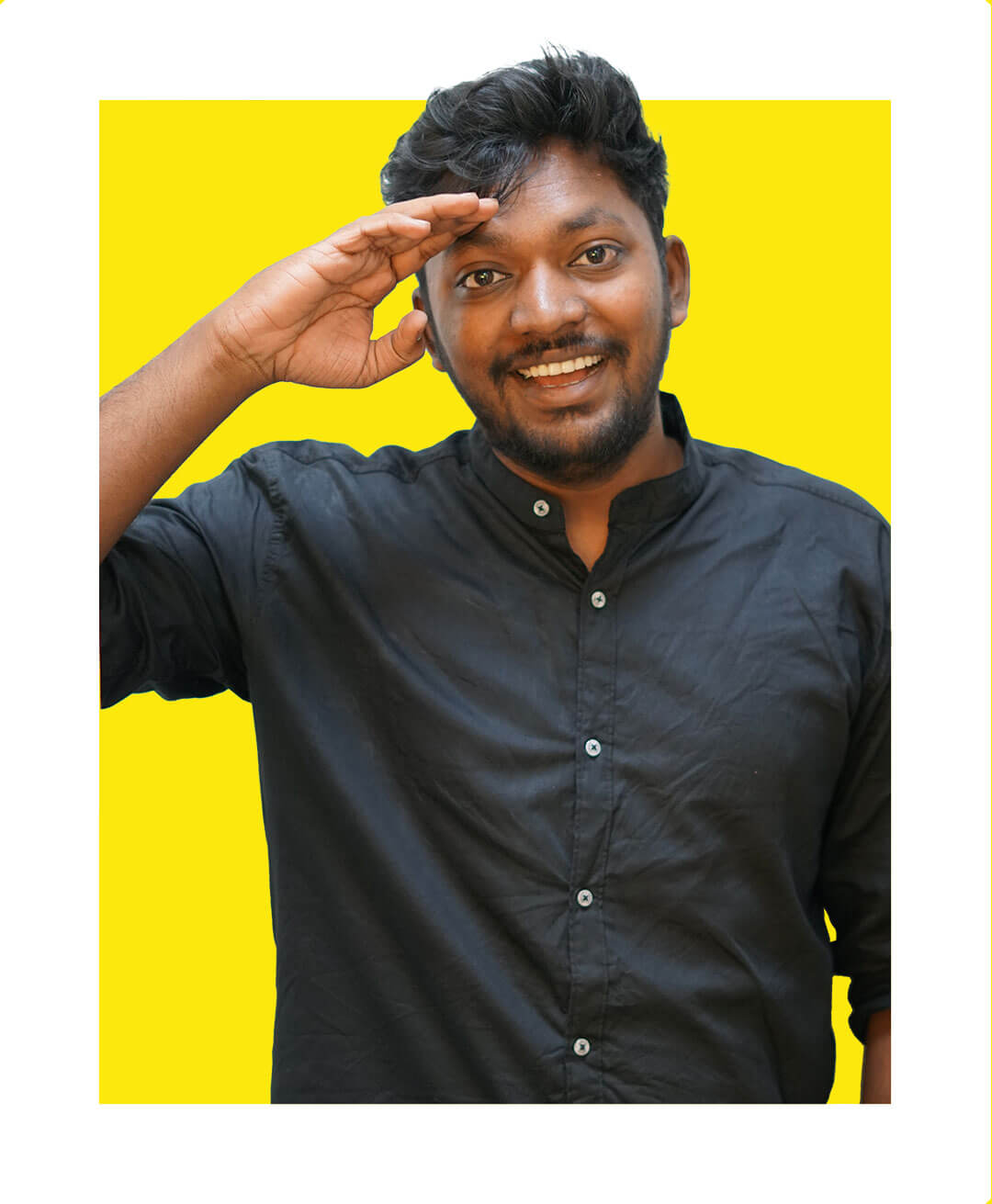 Make some noise for our desi boy!
Indian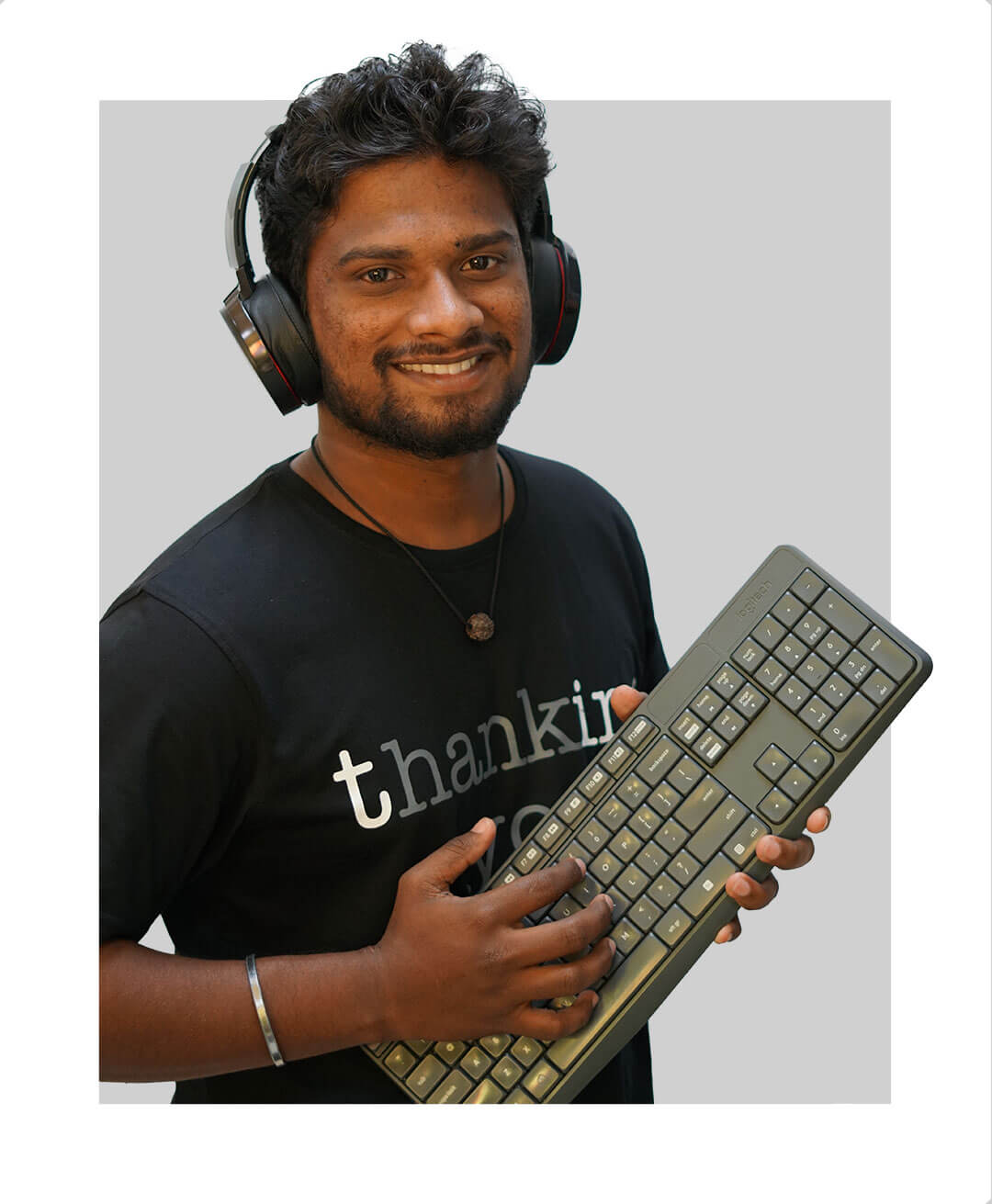 Silent aana semma talent saaar!
Siva Ganesh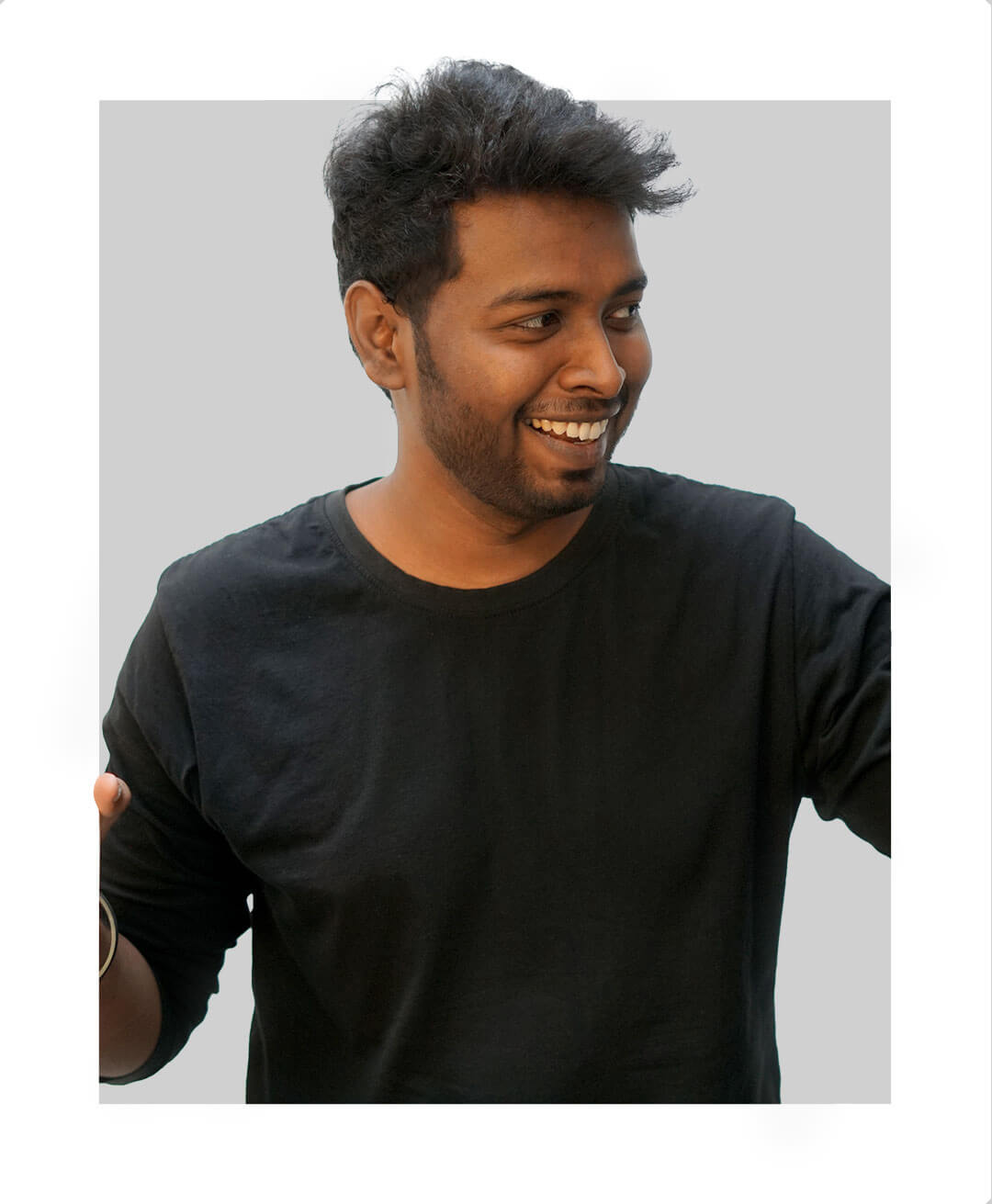 Give me the files and I'll show you some magic
Subash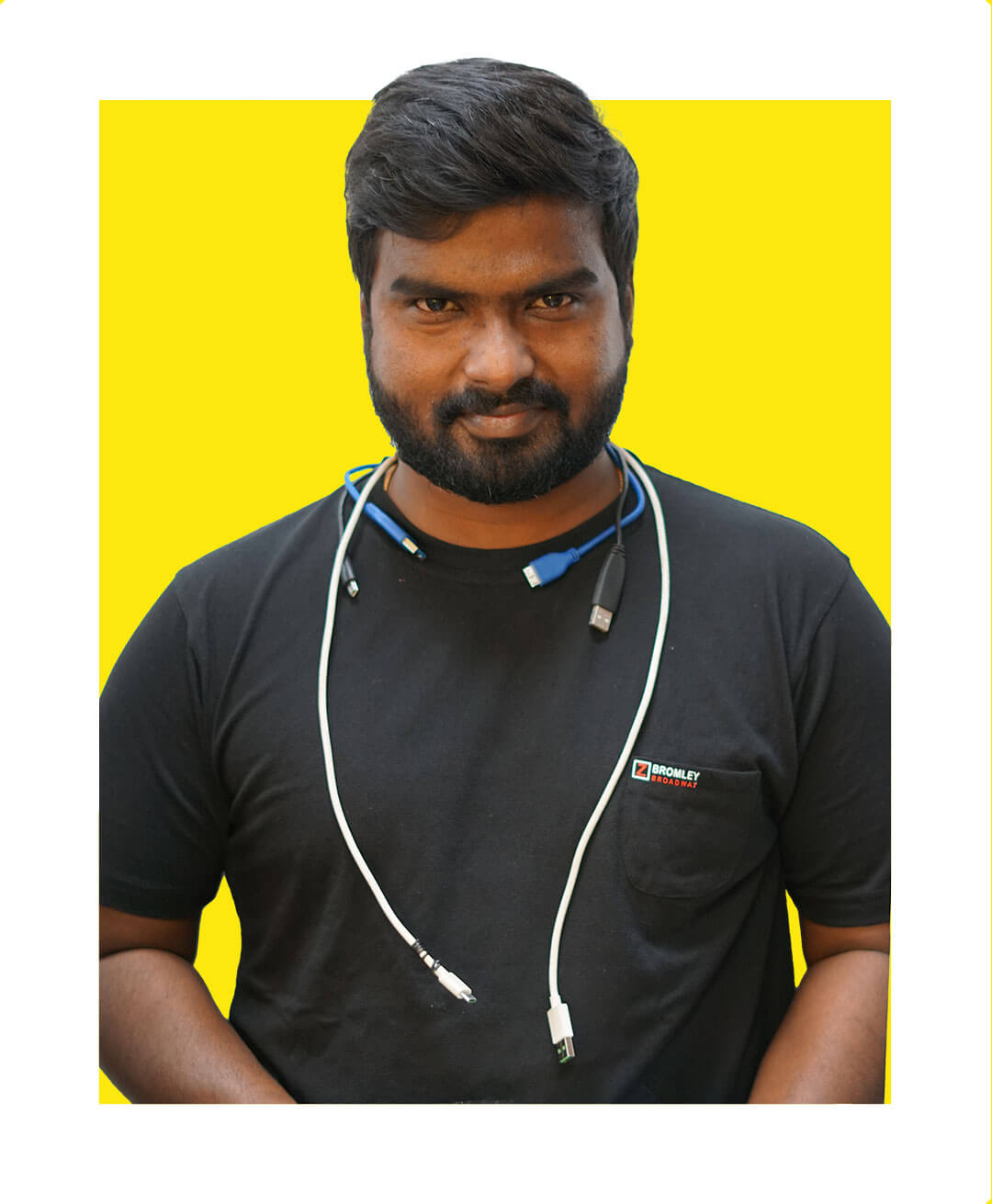 Edits faster than the breaking news bulletin
Deepan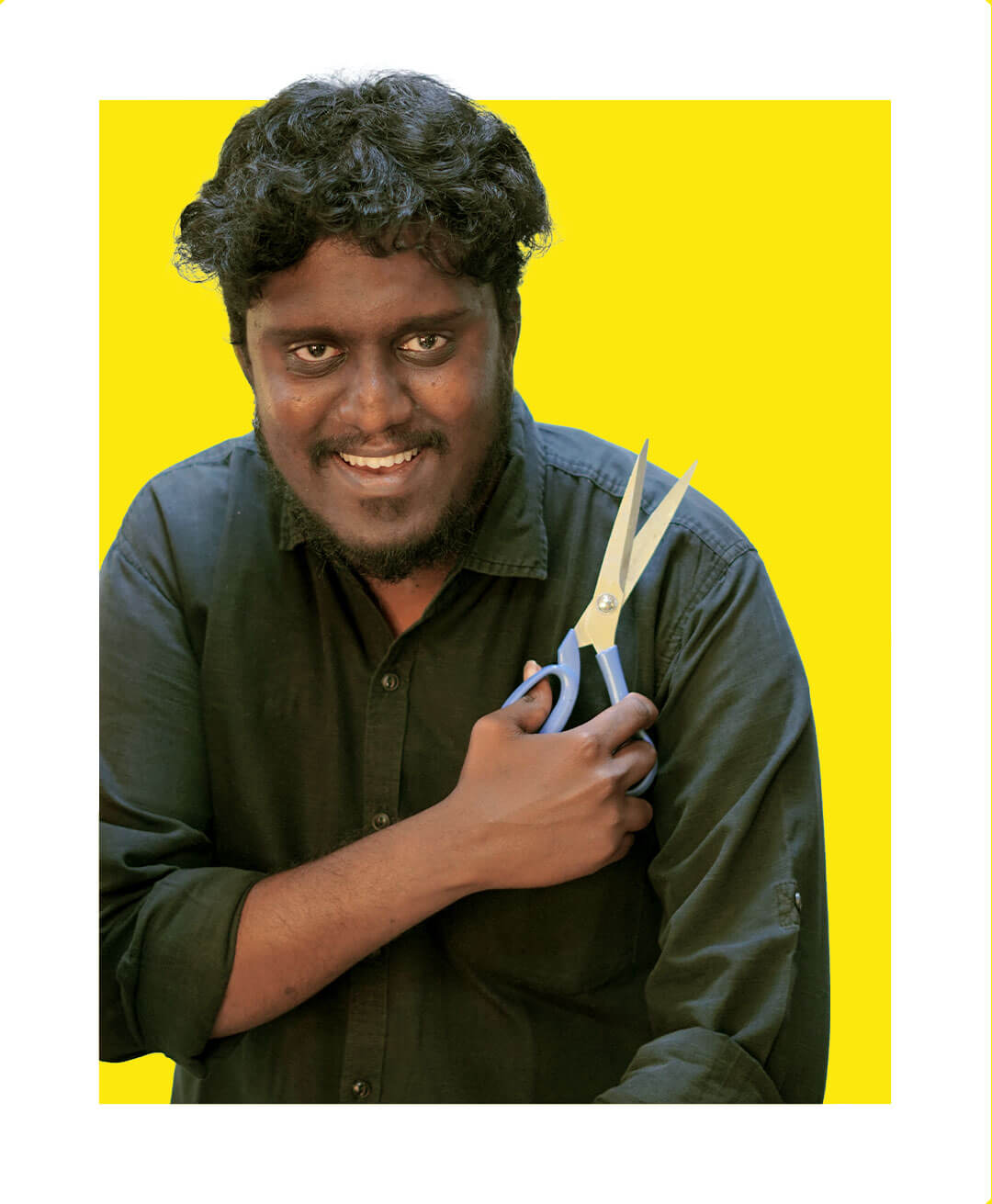 The man with a plan right here!
Arul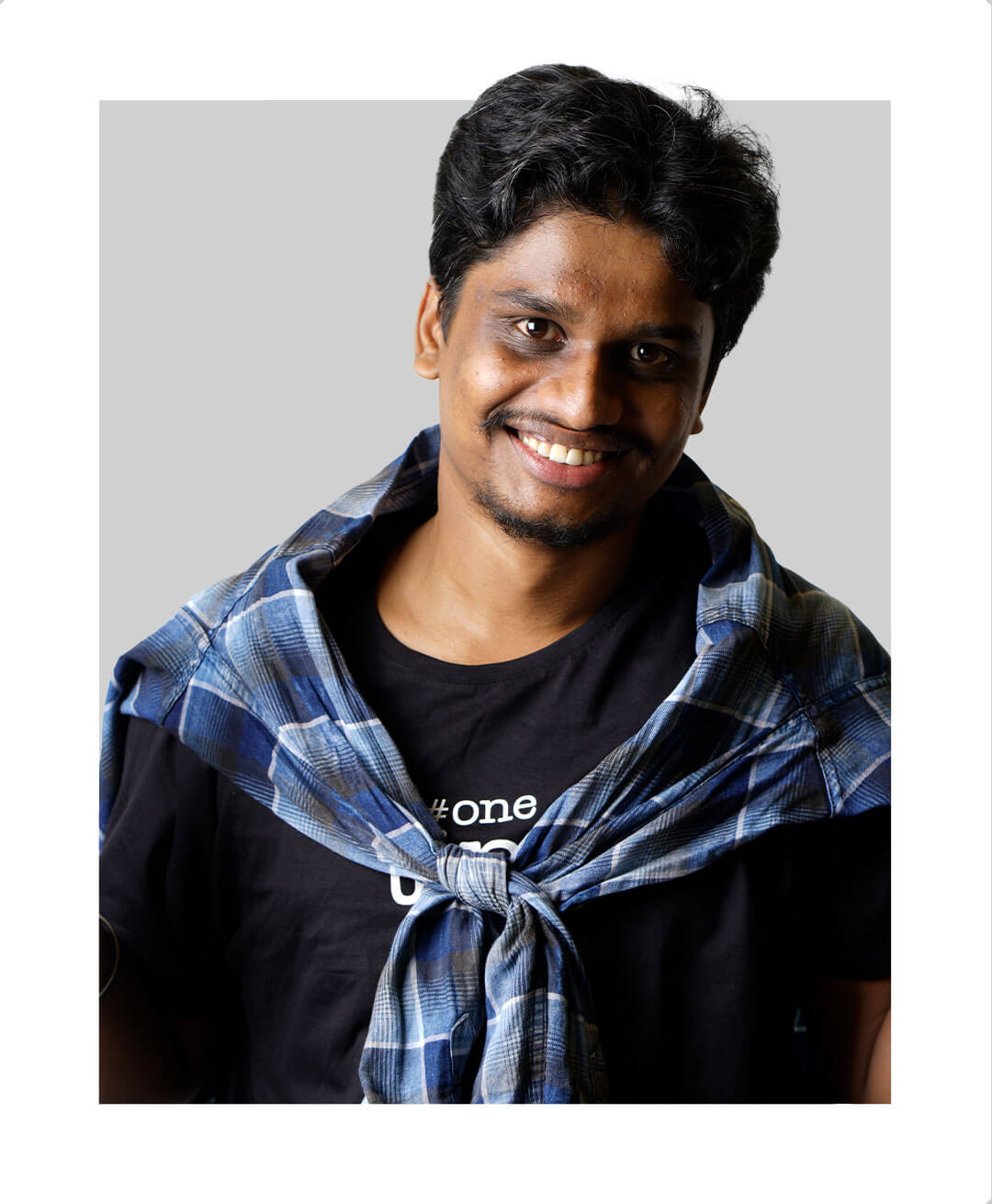 If flash was an editor...
Viswanathan Narayanan N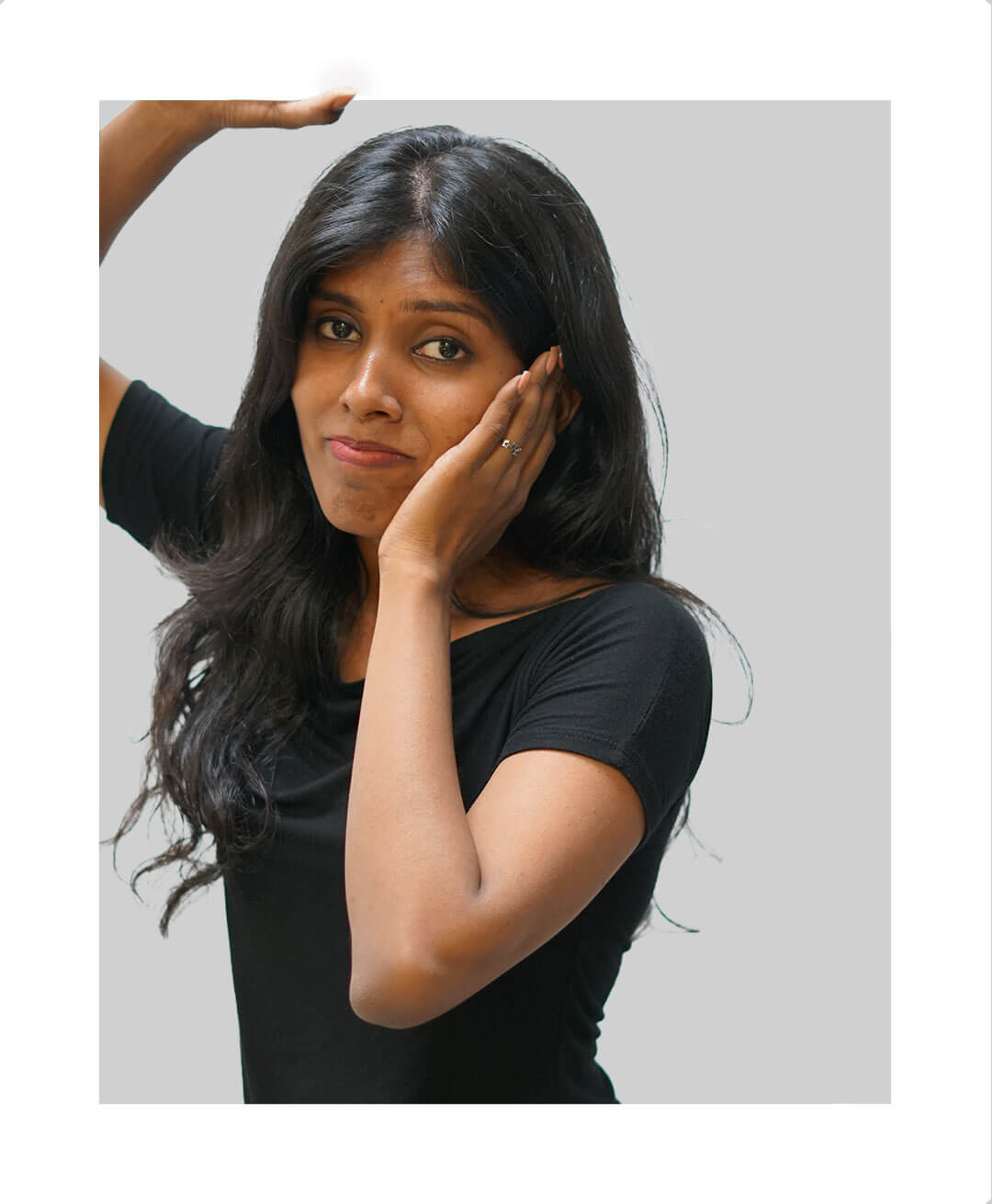 Speaks five languages in Korean
Sudha
HR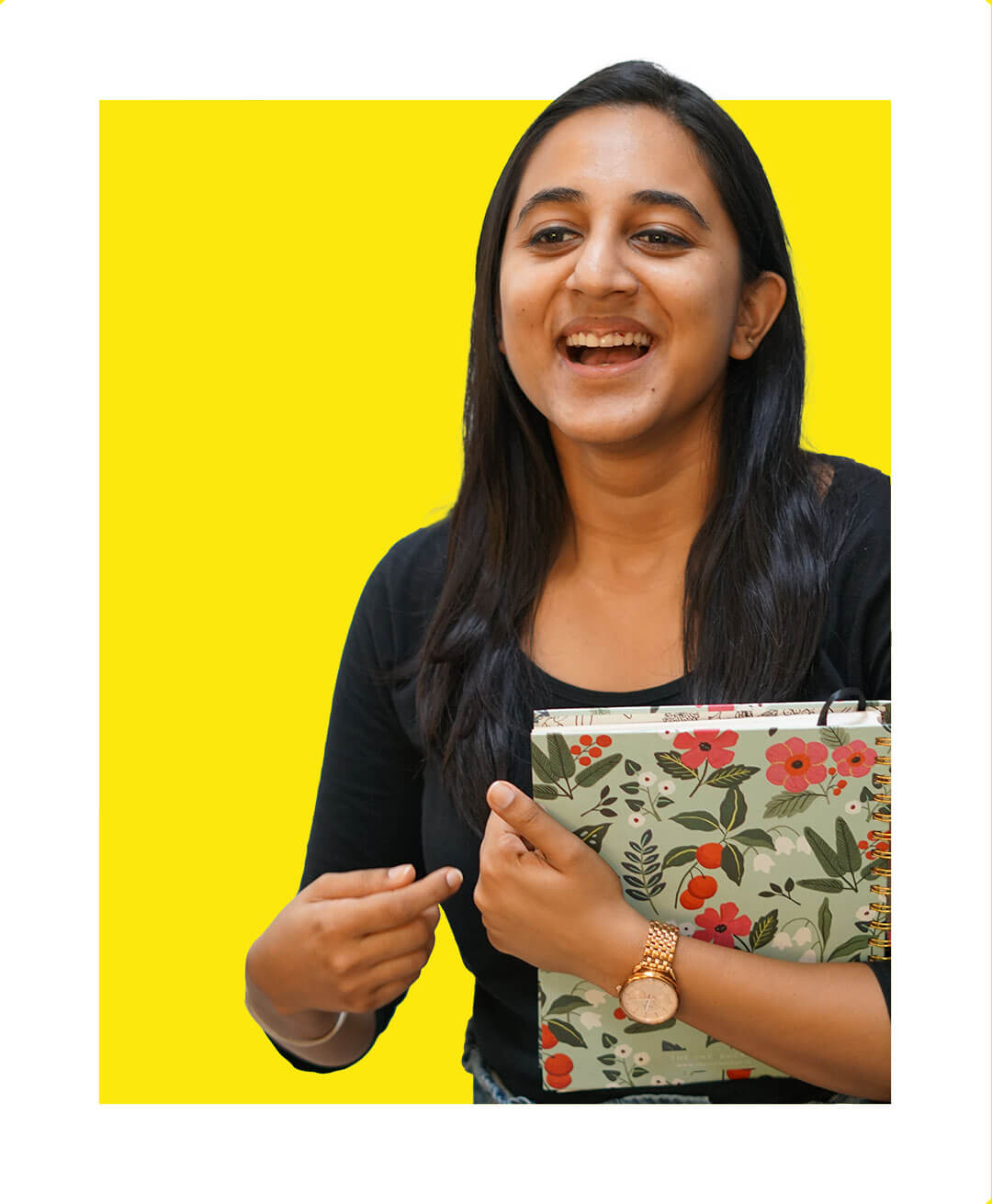 Meet our very own OG Pooh!
Sakshi Saraogi
11:00 am
full day


11:01am
half day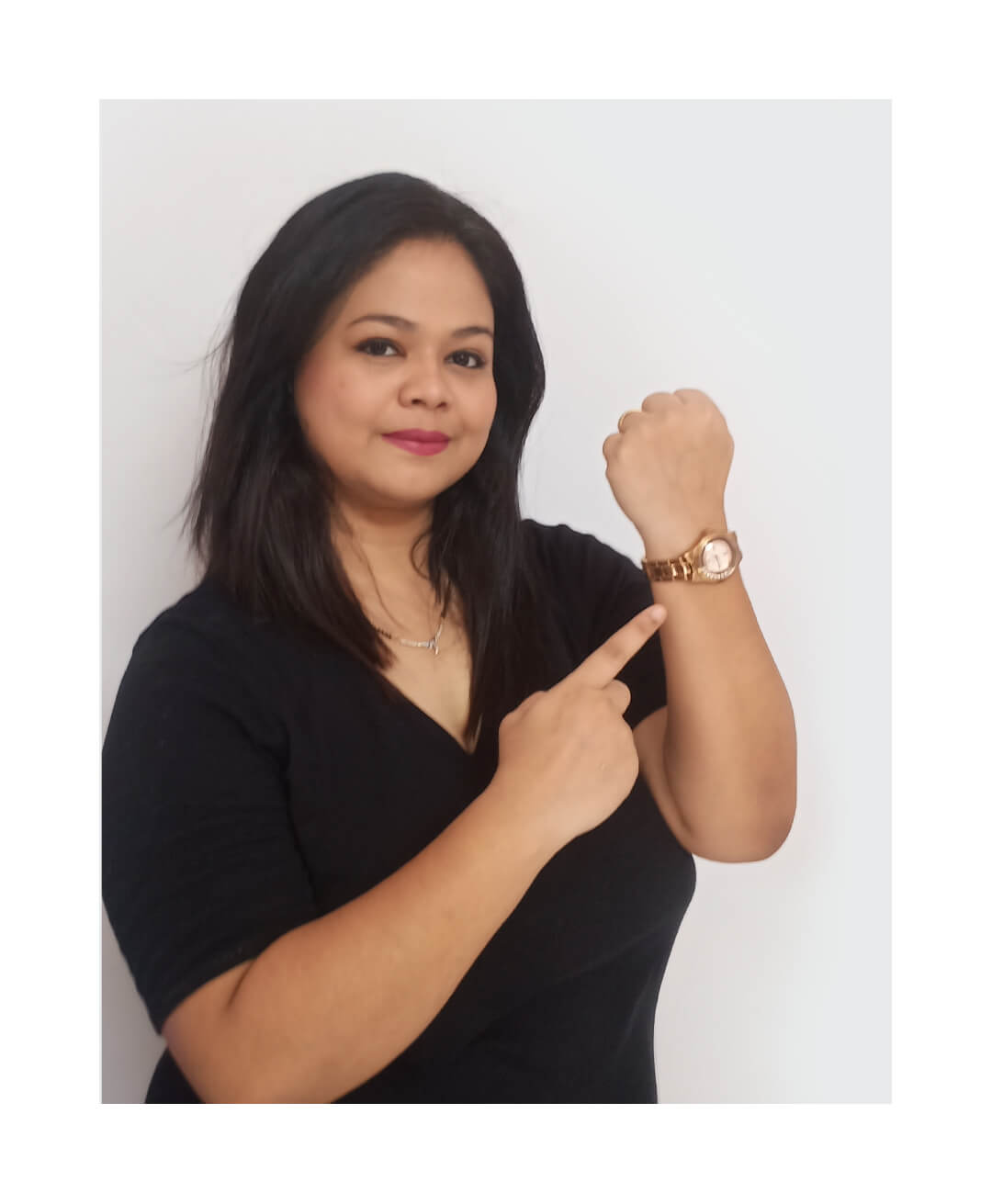 If your salary is cut, you know who to blame.
Sneha Hulawale
Accounts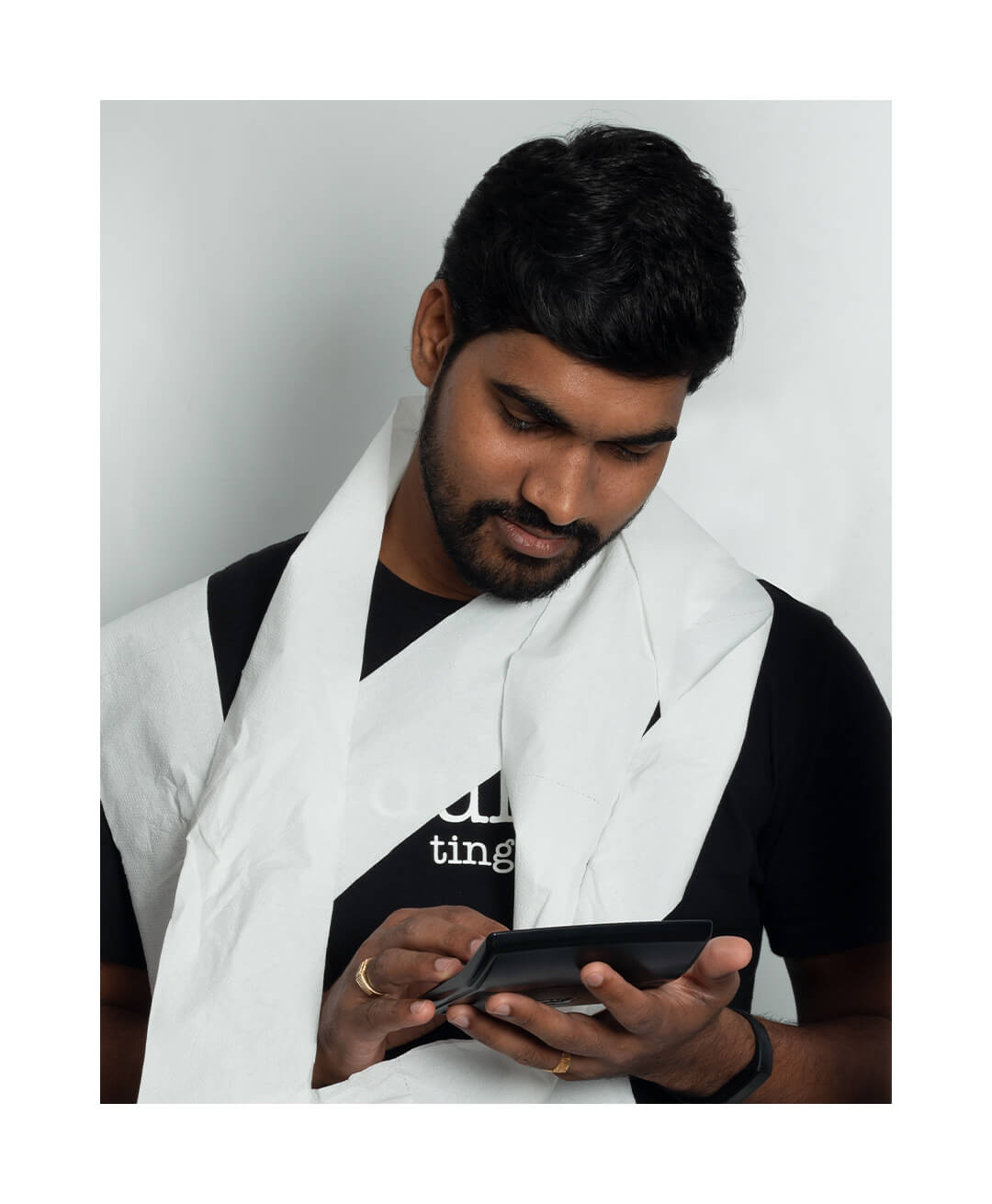 Works on Tally, Excel, & Manan's mood swings.
Dinesh Kandar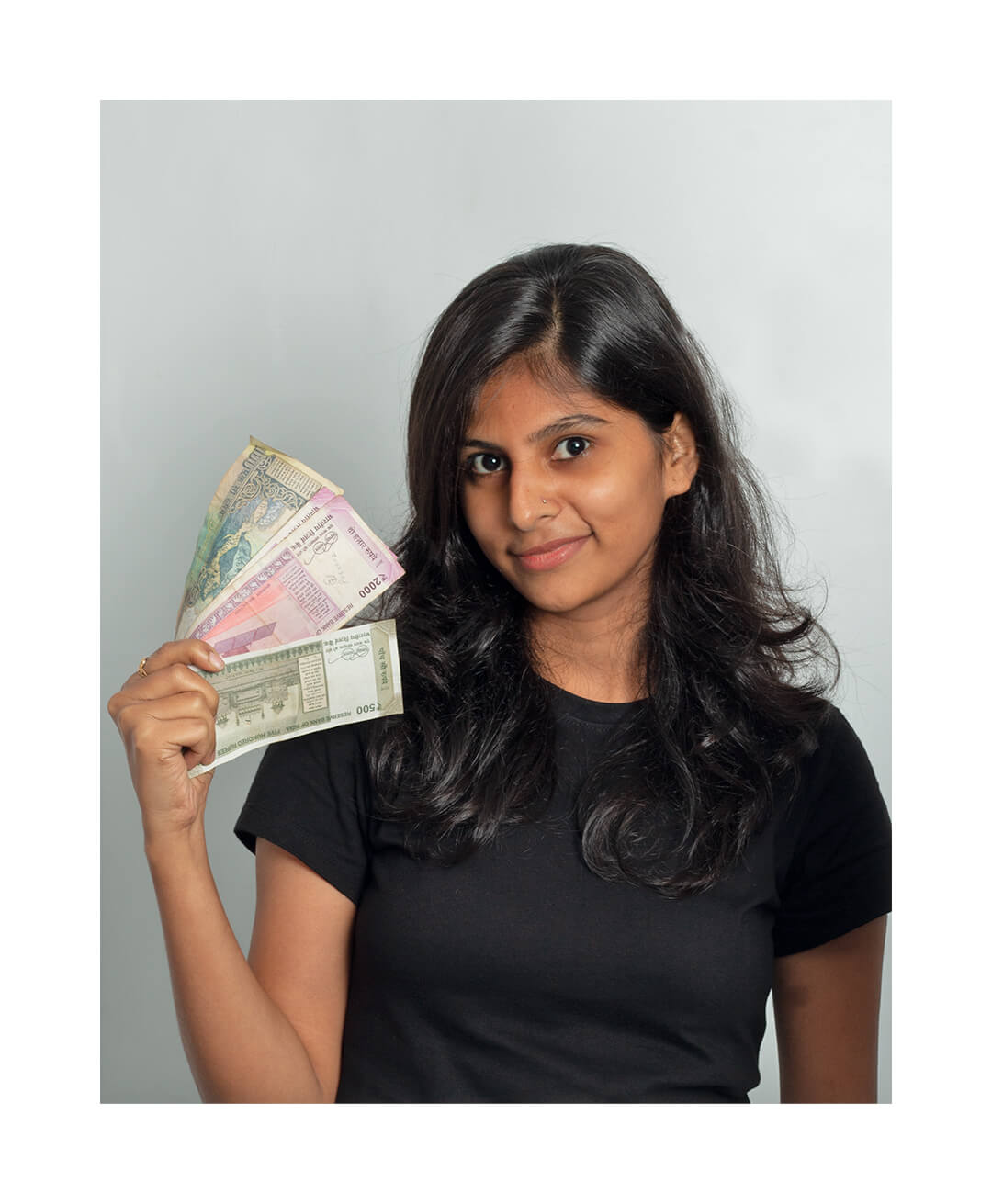 Good luck with getting your reimbursements on time.
Prajakta Kumkar
LLL
aaj koi
kaam
nahi hoga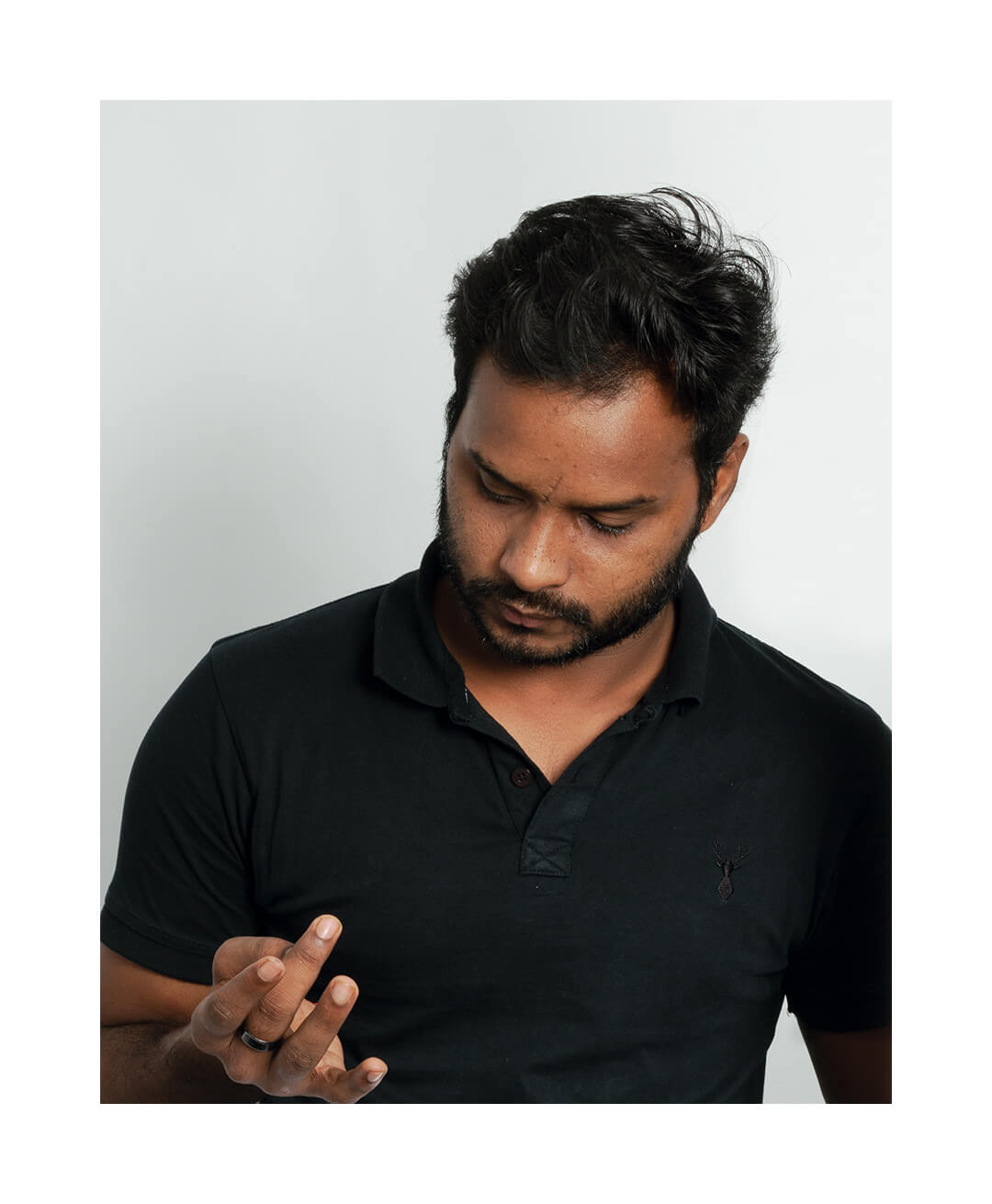 Ae payments hai mushkil…
Pritam Ram
Admin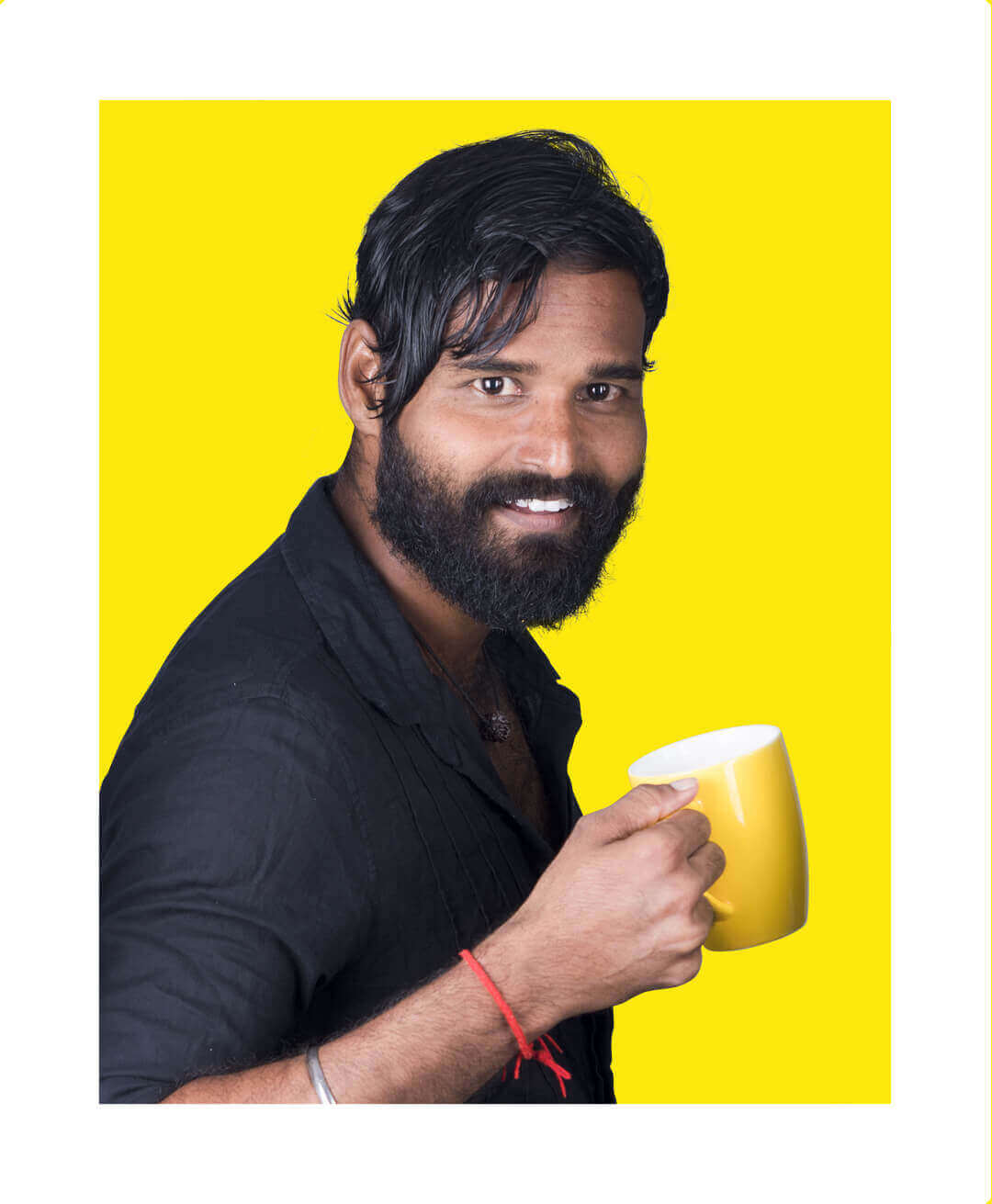 The Ganesh who is smart, & loves Apple (not Mango).
Ganesh Sekar - Office boy
Yaaruma
sonnanga
Sundays-um
leave-nu?